We are in the midst of Advent season and therefore also the pre-Christmas period. Slowly but surely you can (or have to?) start thinking about Christmas dinner. Therefore, today we present to you our best recipes for a vegan Christmas. From super simple and quick (potato salad with sausages anyone?) to special celebratory meals with roasts and a variety of side dishes, we have it all covered. In addition to the recipes, we also have a few tips ready on how you can master the shopping and cooking preparations for Christmas as stress-free as possible.
Here is an overview of the content:
Vegan Starters for the Christmas Menu
Vegan Chestnut Soup with Mushrooms and Croutons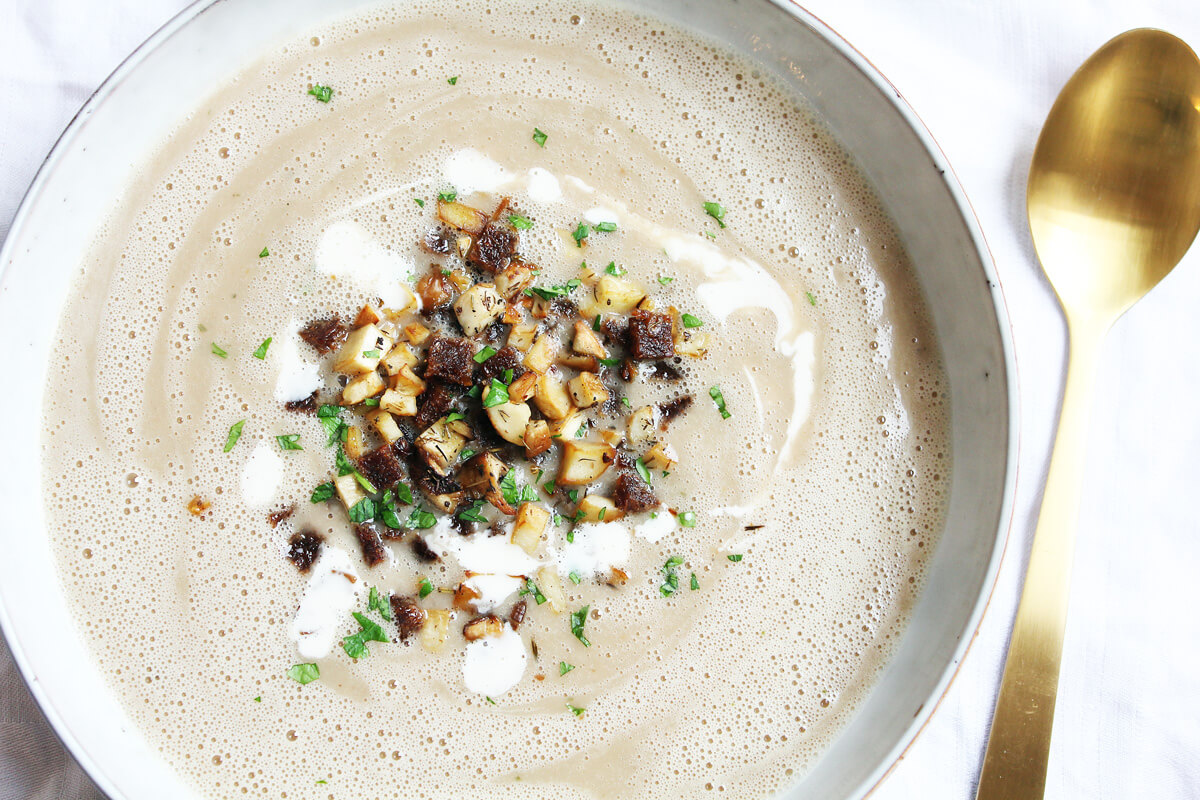 A creamy soup made from chestnuts, refined with fried mushrooms and small, crunchy pumpernickel bread cubes.
View Recipe
Beetroot Carpaccio with Apple and Walnut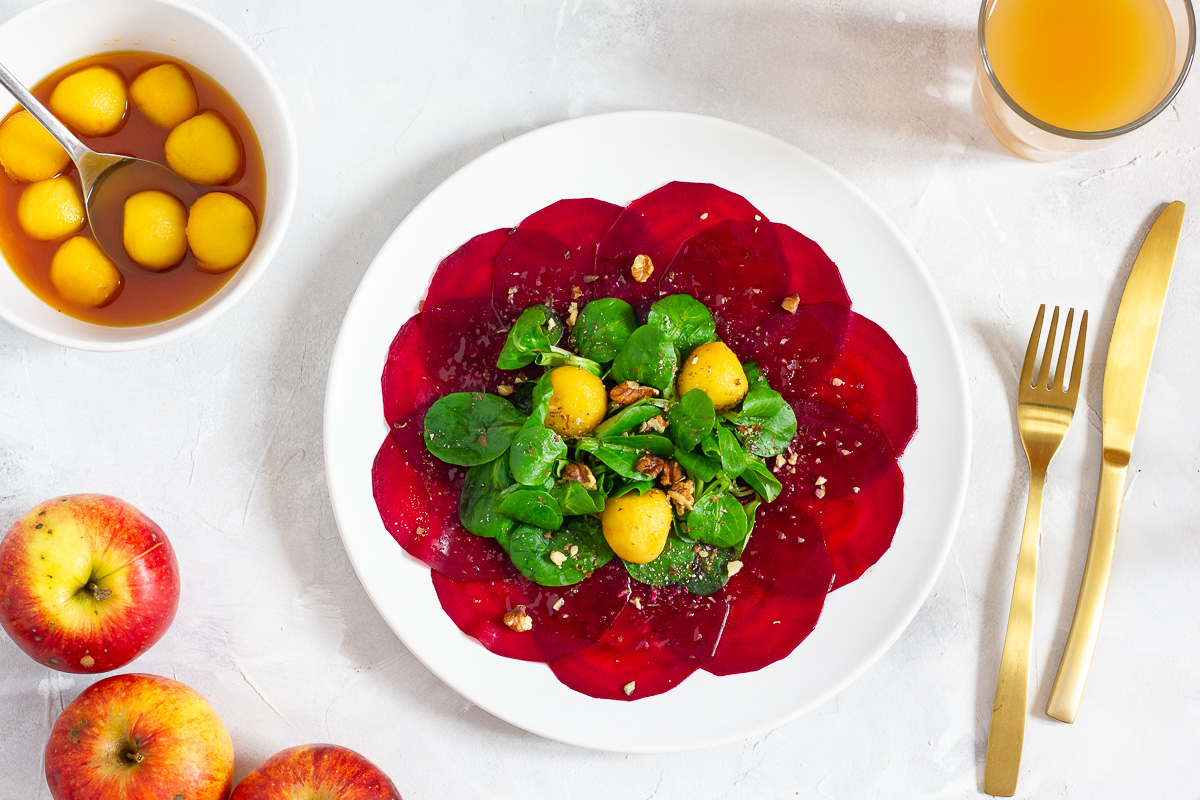 A light starter made from regional, seasonal ingredients. Thinly cut slices of beetroot are refined with marinated apple balls, lamb's lettuce and walnuts.
View Recipe
Vegan Porcini Mushroom Soup with Thyme Croutons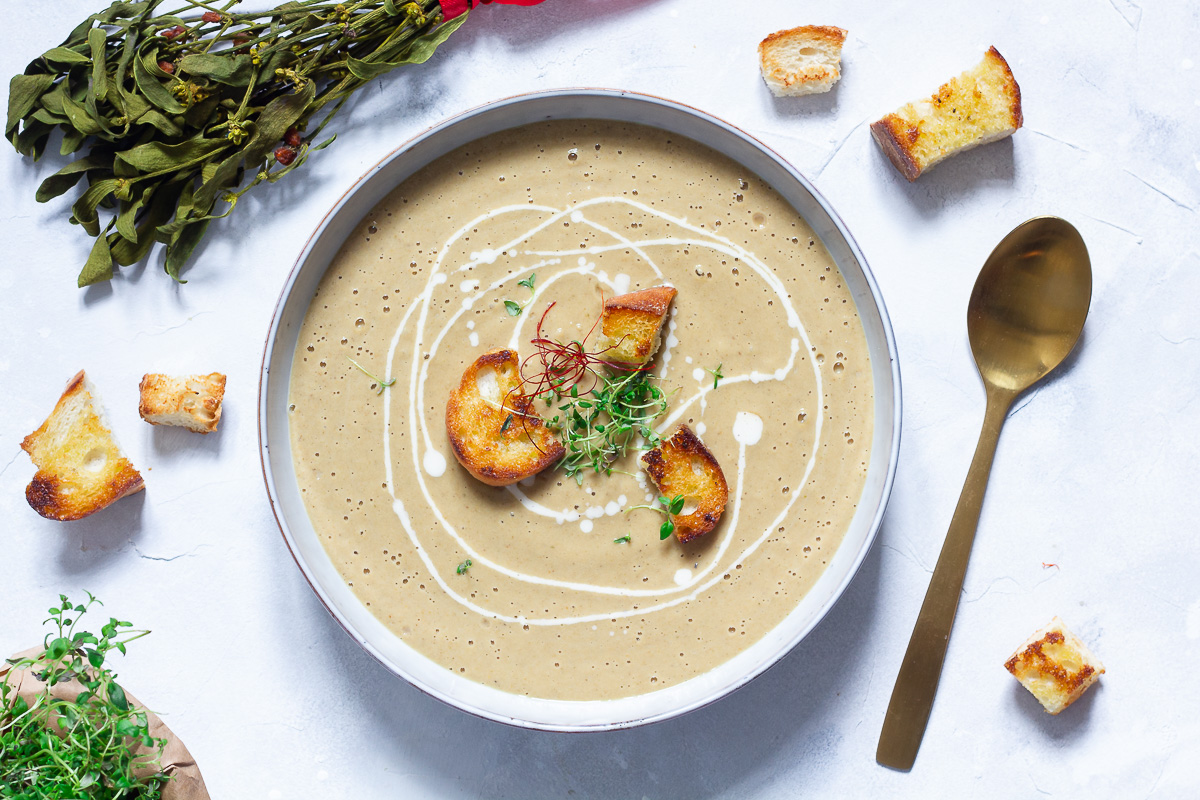 Simple to prepare, but all the fuller in flavour. And porcini mushrooms really are not on the table every day.
View Recipe
Parsnip Soup with Ginger & Coconut Milk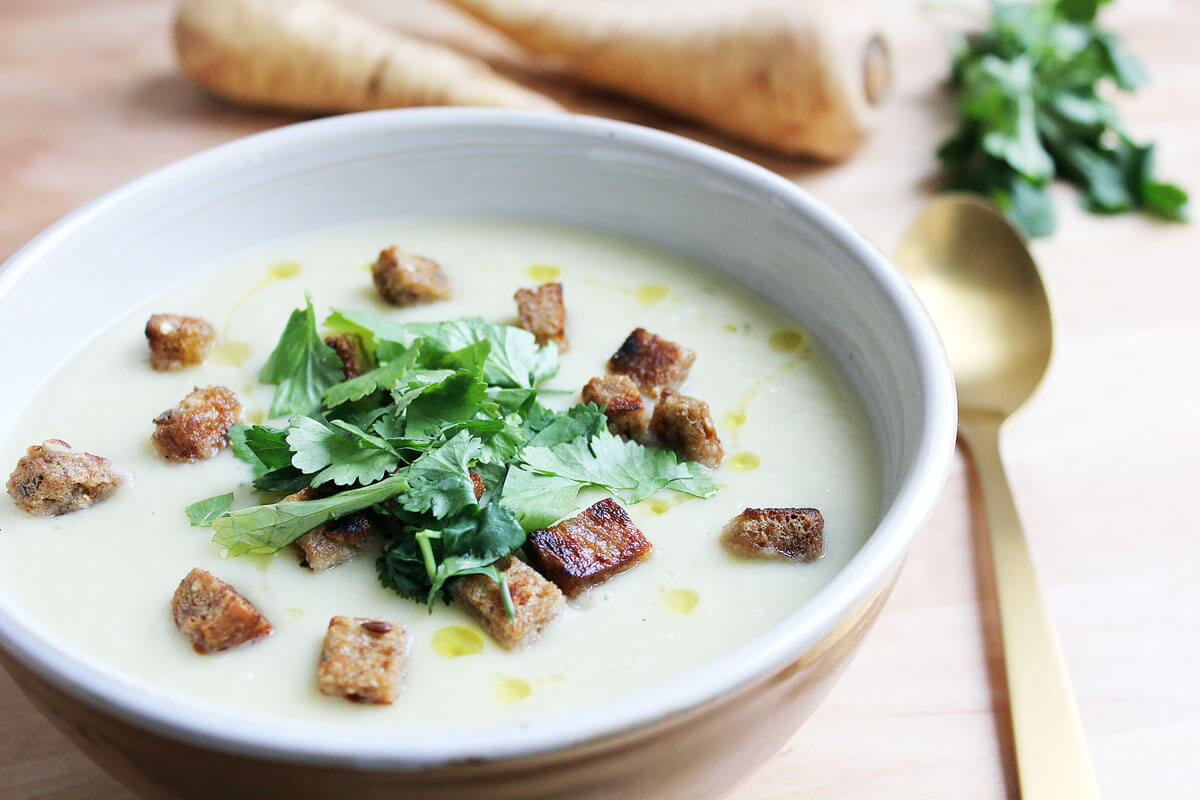 This soup has the wonderful taste of parsnip, but with the addition of ginger, coconut milk and cilantro (if you like it) it gets a slightly Asian touch. So you can dream of your next vacation right at the Christmas table.
View Recipe
Beet Soup with Orange and Walnut Crunch

Beetroot, orange and walnut. It couldn't get much more wintry. Not much more delicious either. A great colorful starter for your Christmas menu.
View Recipe
Beet Tartare with Miner's Lettuce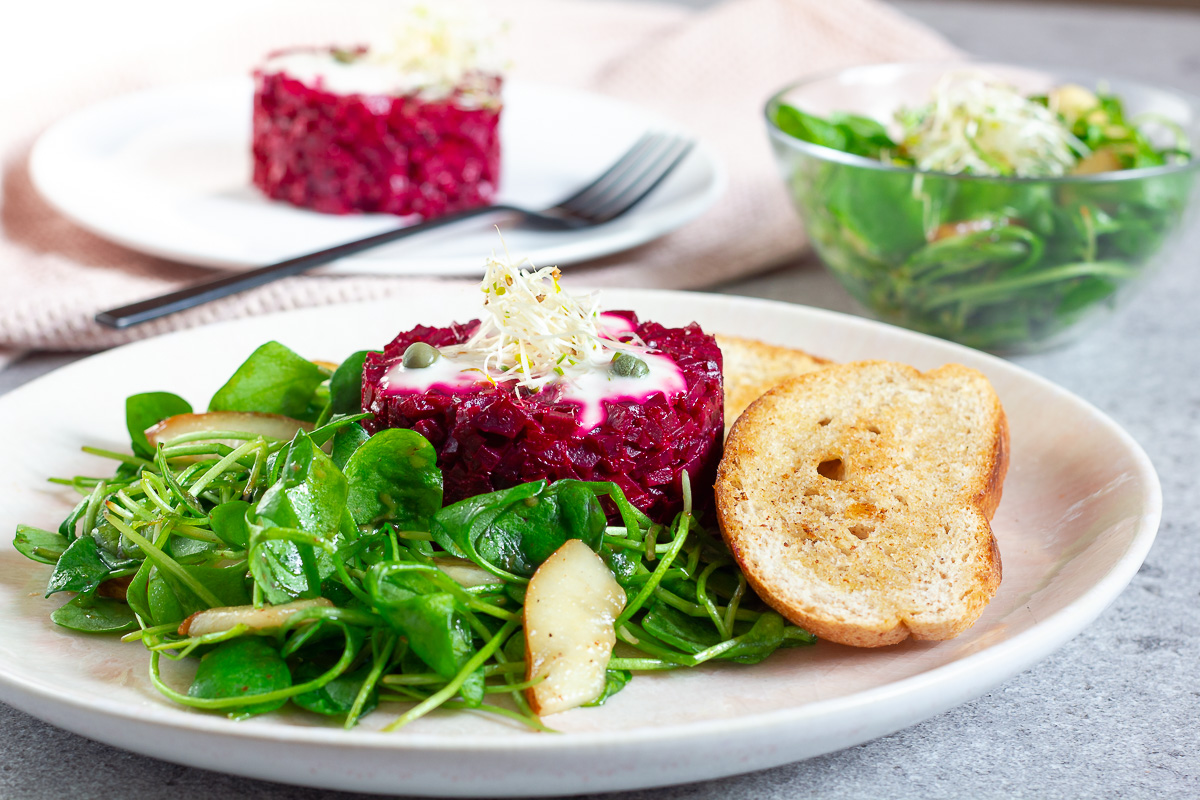 And beetroot again. The winter all-rounder can also be prepared as a fine tartare with a aromatic Postelein salad. Tastes amazing and looks even better.
View Recipe
Vegan Waldorf Salad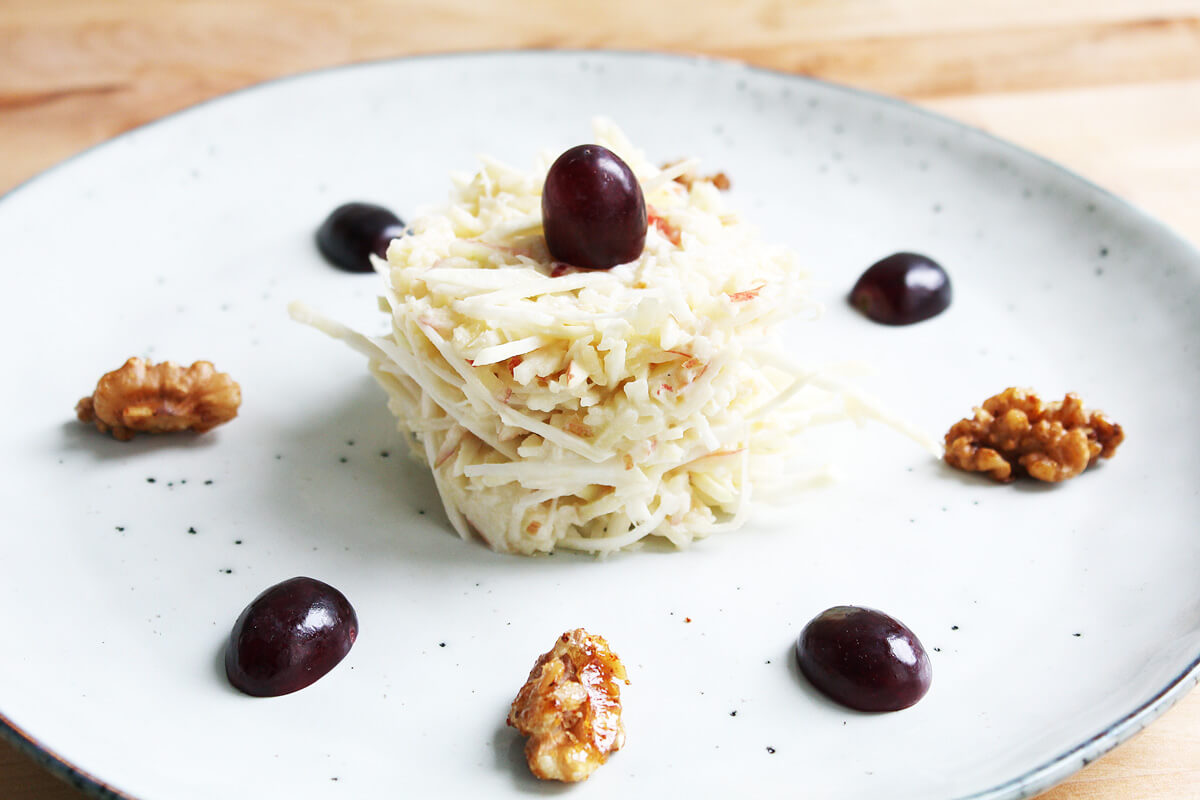 A great classic salad that is unfortunately made far too rarely. So why not start the Christmas menu with it? The ingredients (celery, apple, walnut) are in season after all.
View Recipe
Vegan Main Courses for the Christmas Menu
Vegan Lentil Loaf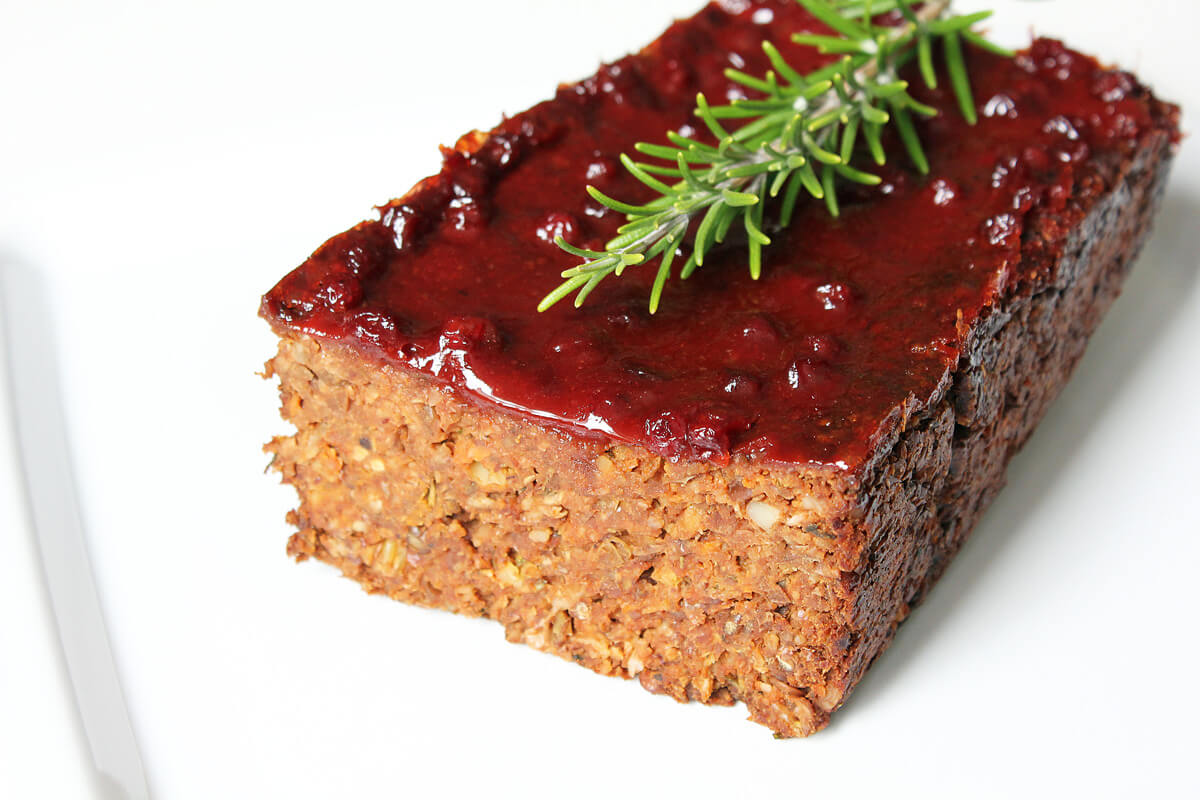 The most popular recipe on C&CC doesn't need many words. While we are writing these words, we sit drooling in front of the laptop because the image of the roast lentil smiles so nicely at us.
View Recipe
Vegan Beet Wellington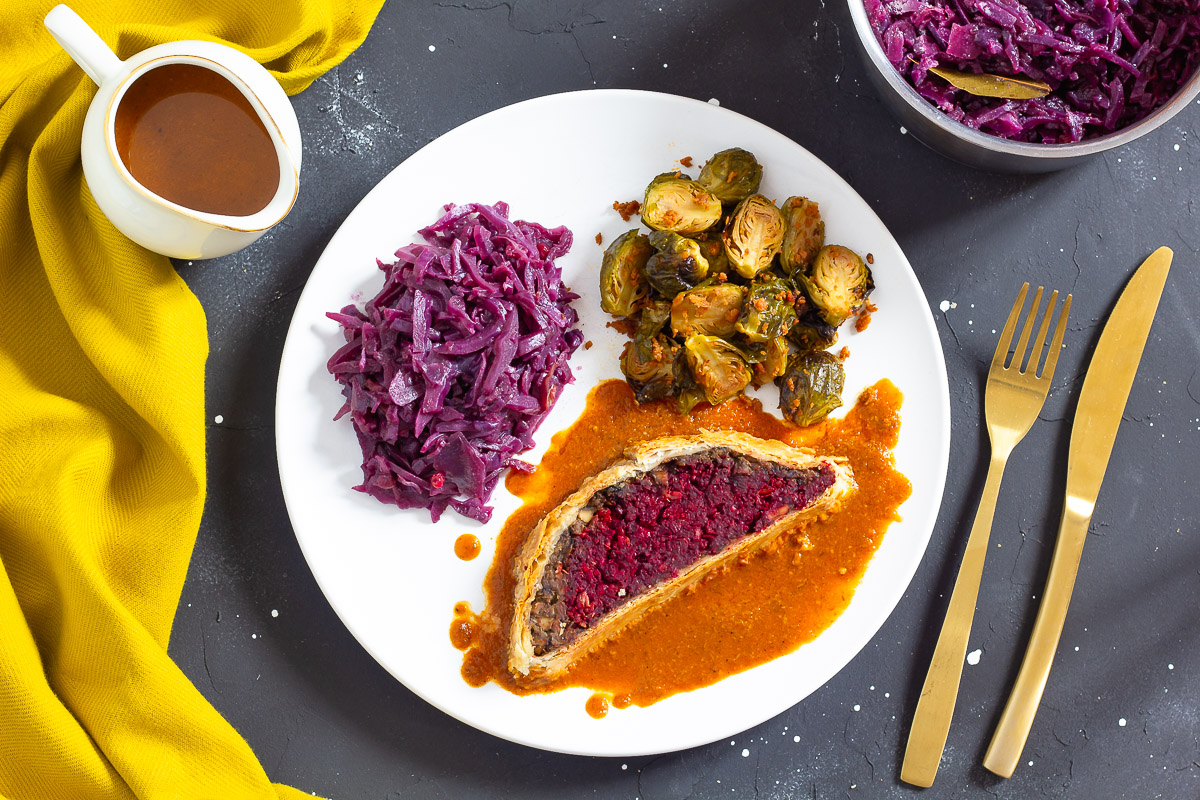 Our new lentil roast challenger. A little more work, but also more taste. A roast made from beetroot, lentils and nuts. Wrapped in a mushroom and chestnut duxelles. In puff pastry. So much flavour!
View Recipe
Vegan Rouladen in Gravy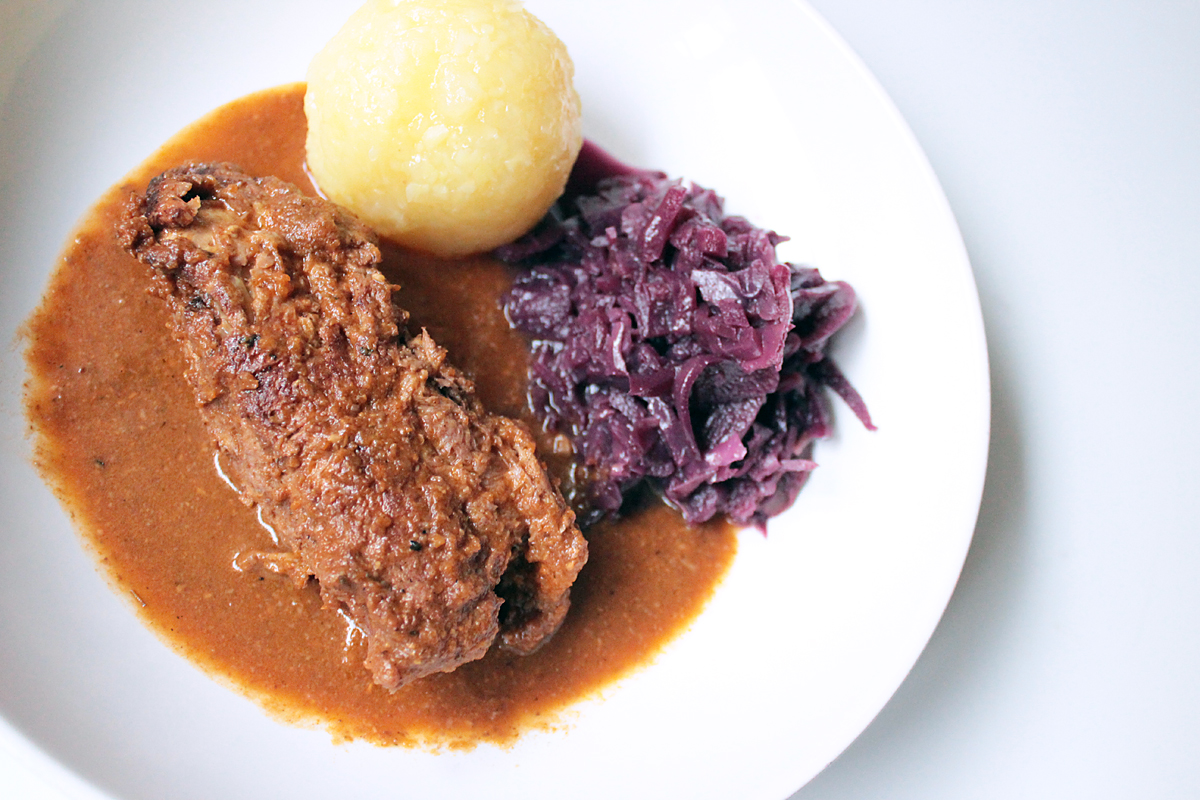 These roulades are not only a classic for our vegan Christmas days, but have also been very popular with you for a long time. Andi even sneaked them successfully in on his grandparents plate on a Christmas Eve. 😉
View Recipe
Quick Mushroom Goulash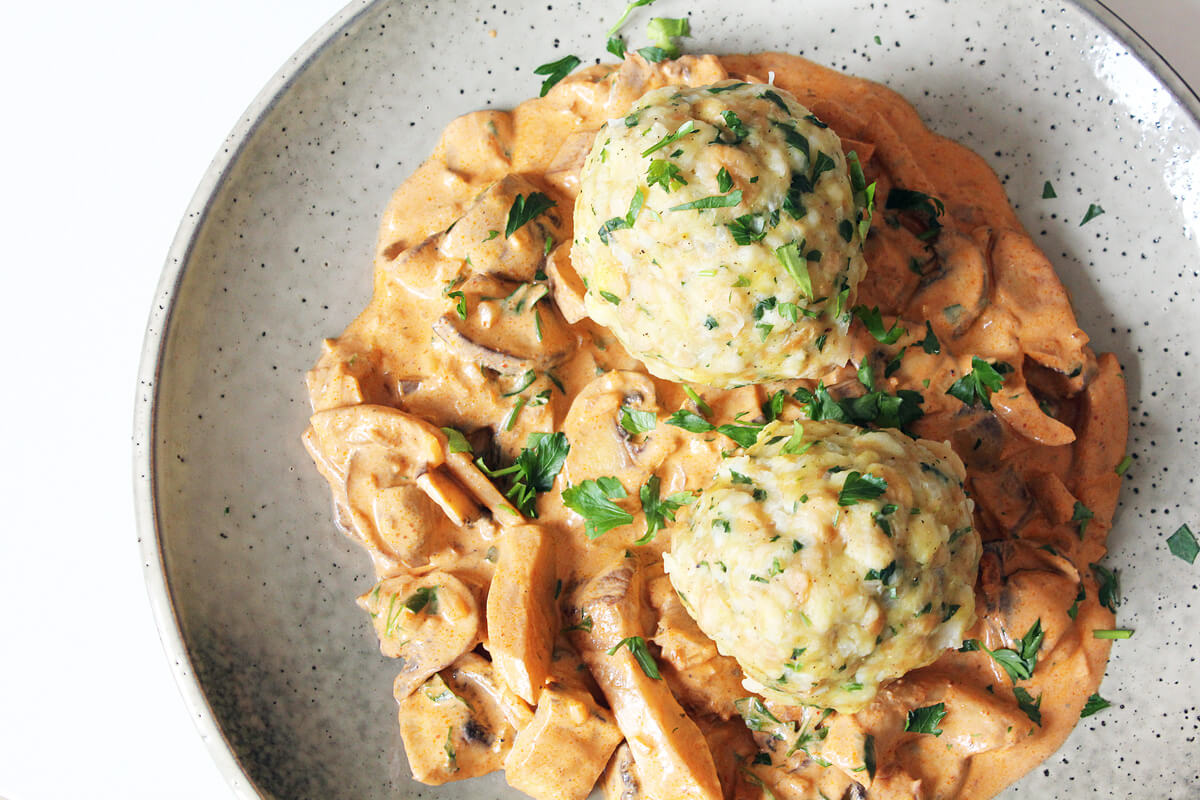 Creamy, warming and extremely tasty despite the short preparation time. So how about this mushroom goulash for Christmas?
View Recipe
Baked Celeriac with Mashed Potatoes and Creamy Cognac Pepper Sauce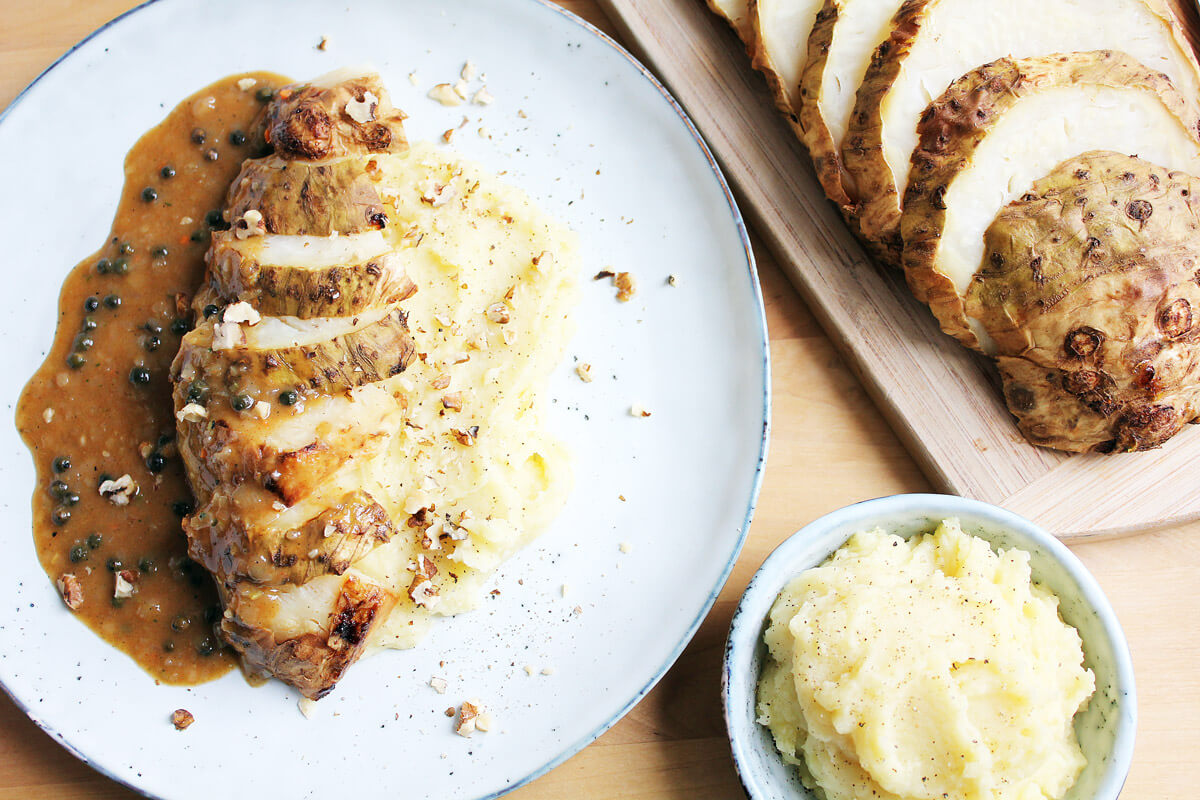 Celeriac can without much preparation actually be cooked whole in the oven and eaten with the skin(!). Baked celery is basically something like the vegan roast straight from the field.
View Recipe
Vegan Bigos – Polish Kraut Stew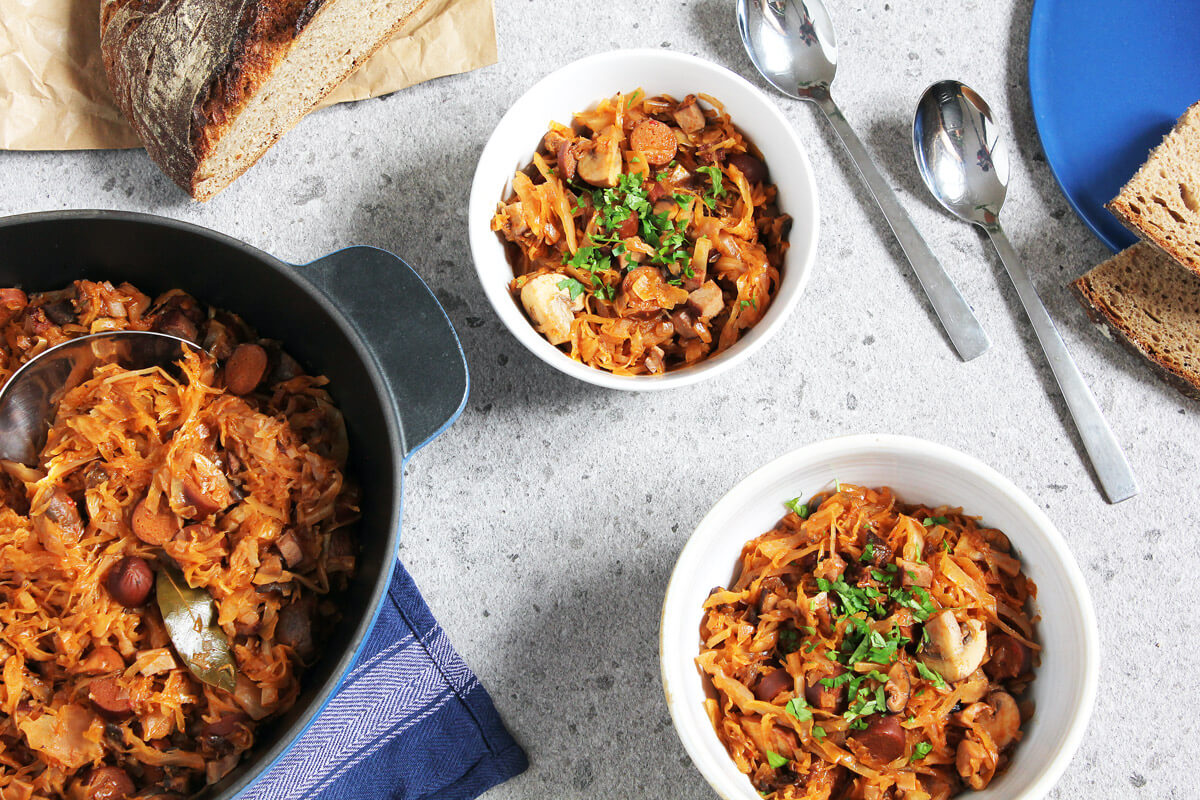 The stew made from white cabbage, sauerkraut, mushrooms and (for us of course vegan) sausages is one of the traditional Christmas dinners in Poland. We can understand very well why!
View Recipe
Vegan Potato Salad with Sausages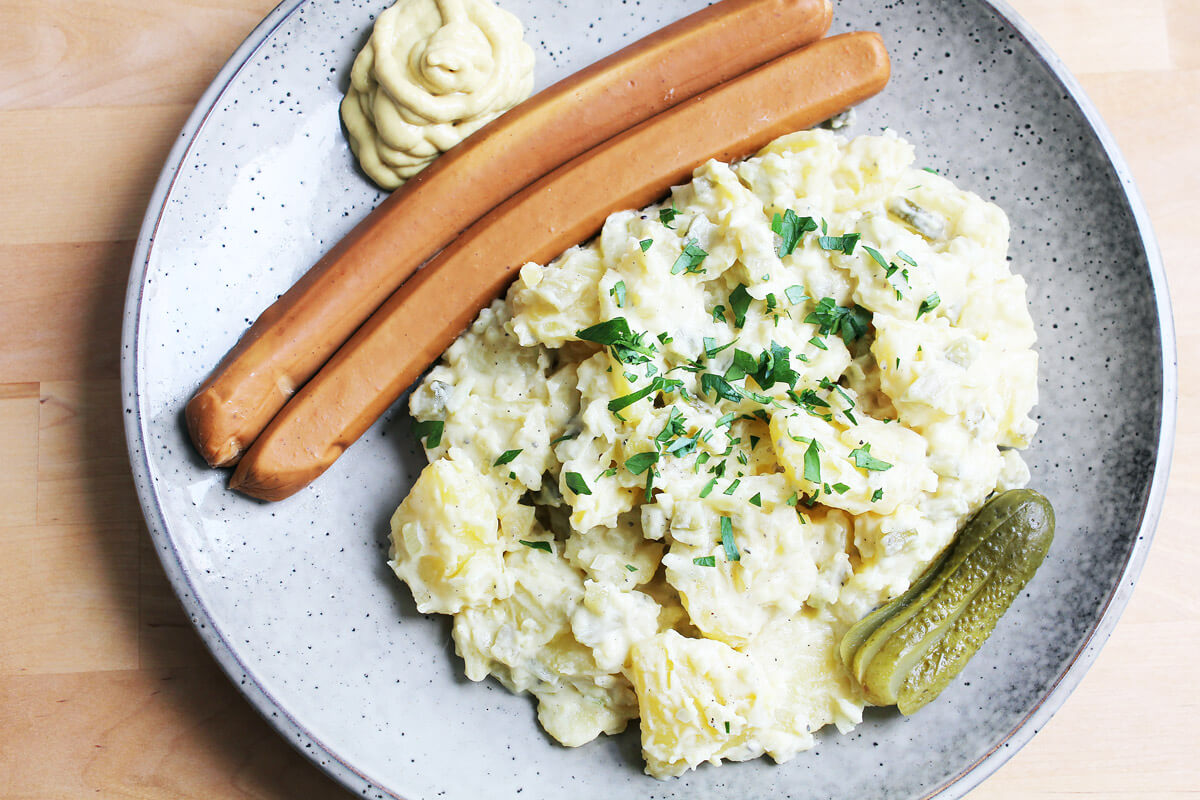 The most popular food among Germans on Christmas Eve is neither goose nor roast. Because, according to surveys, sausages with potato salad end up on the plate most often. Here's the down-to-earth Christmas dinner in our vegan version.
View Recipe
Vegan Side Dishes for the Christmas Menu
Vegan Red Cabbage with Apple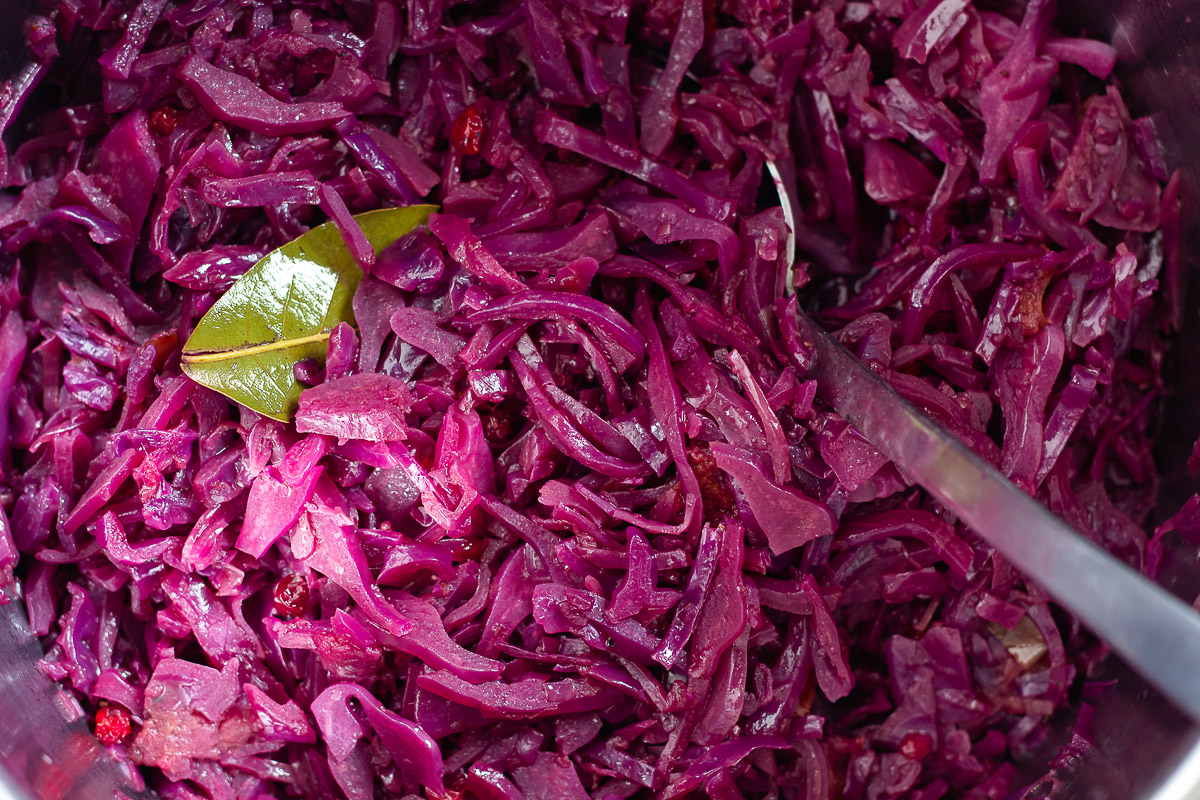 Probably the most popular side dish for roasts, roulades and other hearty dishes. We pimp the red cabbage with apple, red wine, canned cranberries and a few spices.
View Recipe
Vegan Bread Dumplings (Semmelknödel)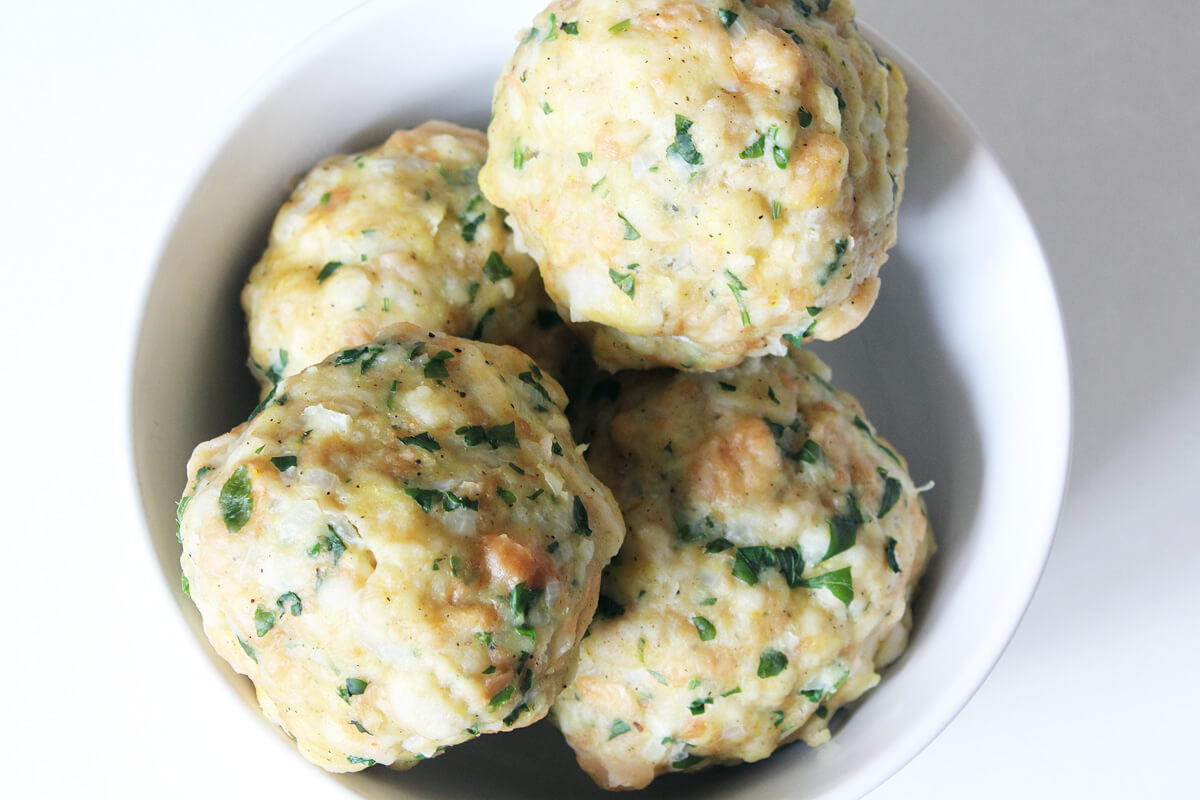 Of course, dumplings should not be missing on a good festive plate. We'll show you how you can easily prepare bread dumplings without an egg.
View Recipe
Easy Vegan Gravy (without Alcohol)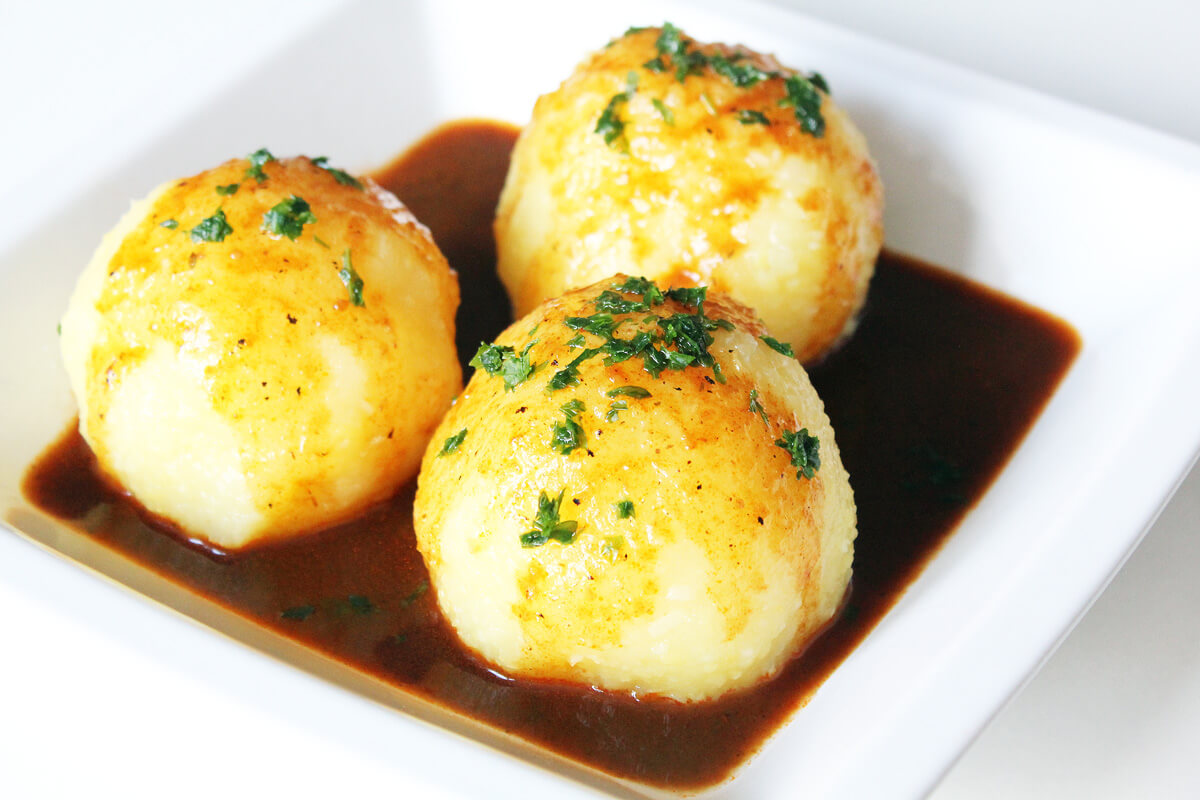 Nobody will identify this incredibly intense gravy as vegan in a blind test. We swear! The fact that only 7 very common ingredients are required for preparation makes it even better.
View Recipe
Vegan Spaetzle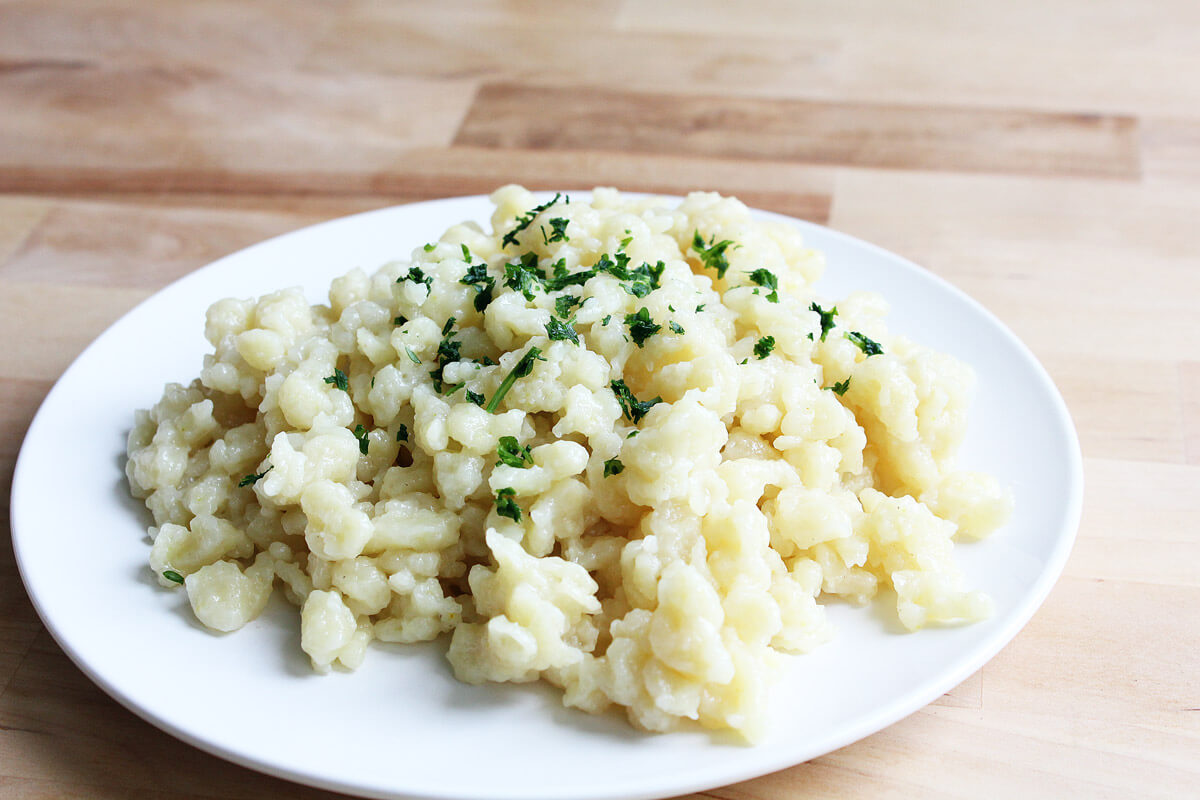 Bigos, goulash or roasts do not necessarily have to be served with dumplings. Spaetzle are also very easy to prepare plant based and are a great side dish that is probably not on your plate every day.
View Recipe
Vegan Potato Gratin Versions with Roasted Vegetables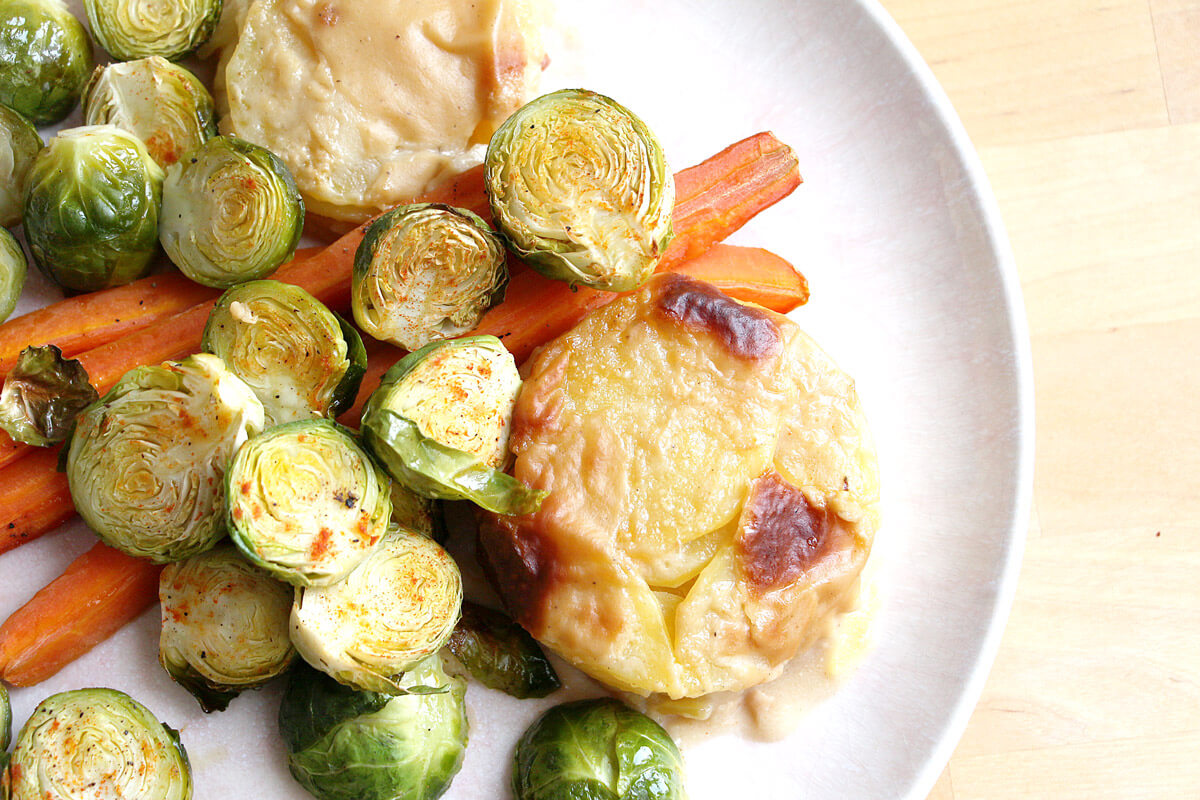 Behind this recipe there are two great side dishes for a Christmas dinner. Both potato gratin and oven-baked vegetables go well with almost every holiday meal and can be cooked together in the oven.
View Recipe
Hasselback Potatoes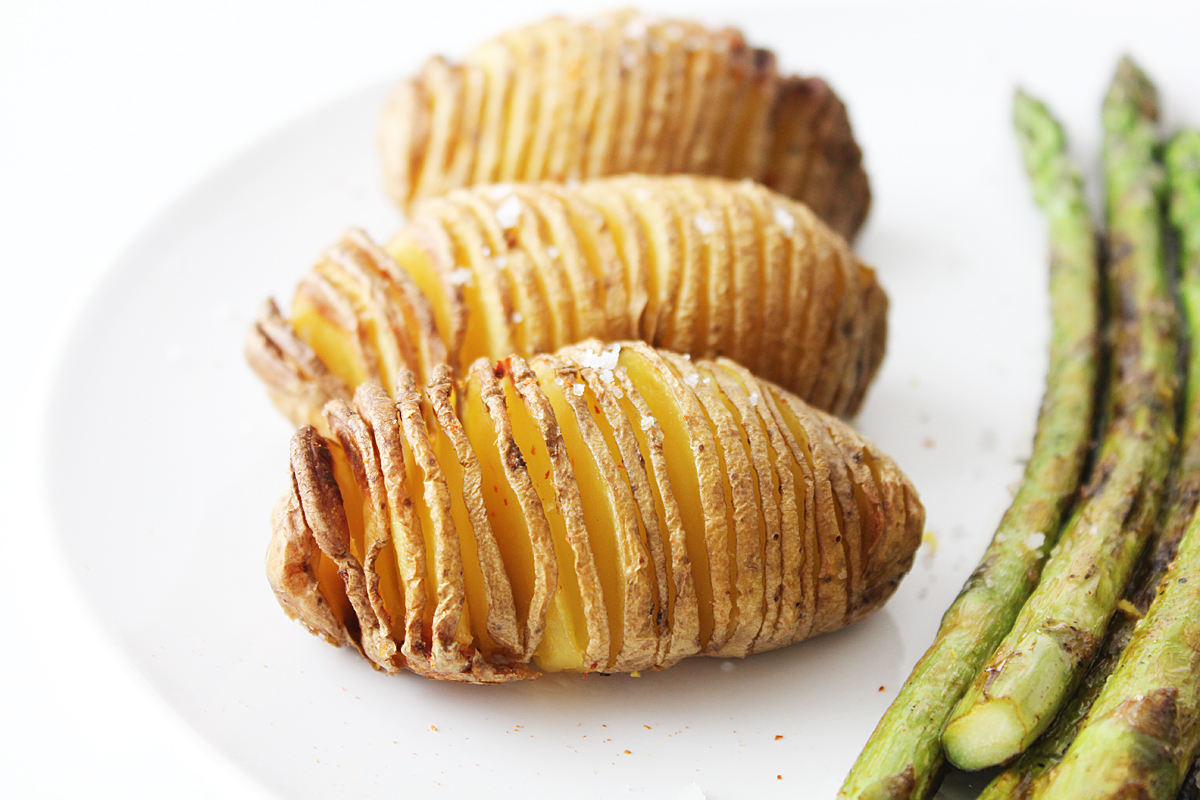 Ever heard of these Swedish accordion potatoes? Crisp on the outside and soft on the inside. A great alternative way of preparing potatoes that make a big impression.
View Recipe
Oven Roasted Brussels Sprouts with Vegan Bacon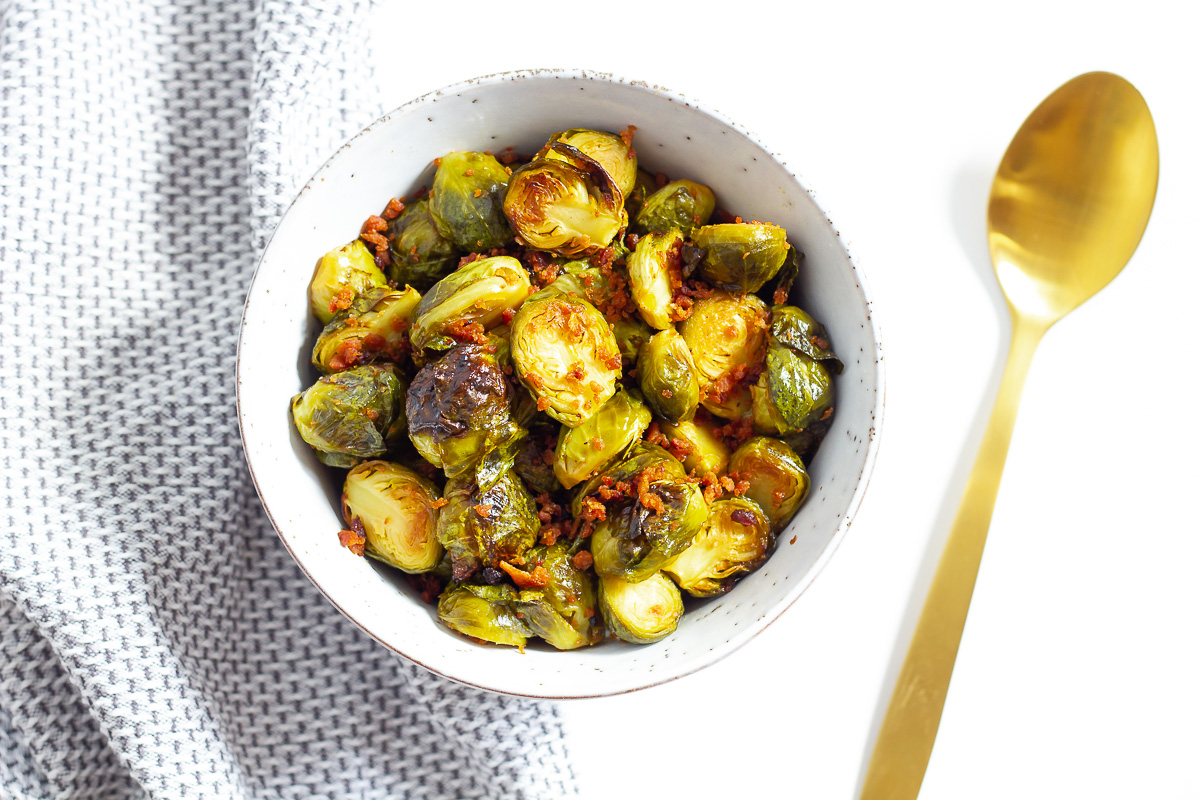 Yes, Brussels sprouts don't have to be completely cooked to death. We roast them vigorously in the oven and serve them with a few small vegan bacon cubes made from soy granules.
View Recipe
Vegan Desserts for the Christmas Menu
Vegan Baked Apple Tiramisu in a Glass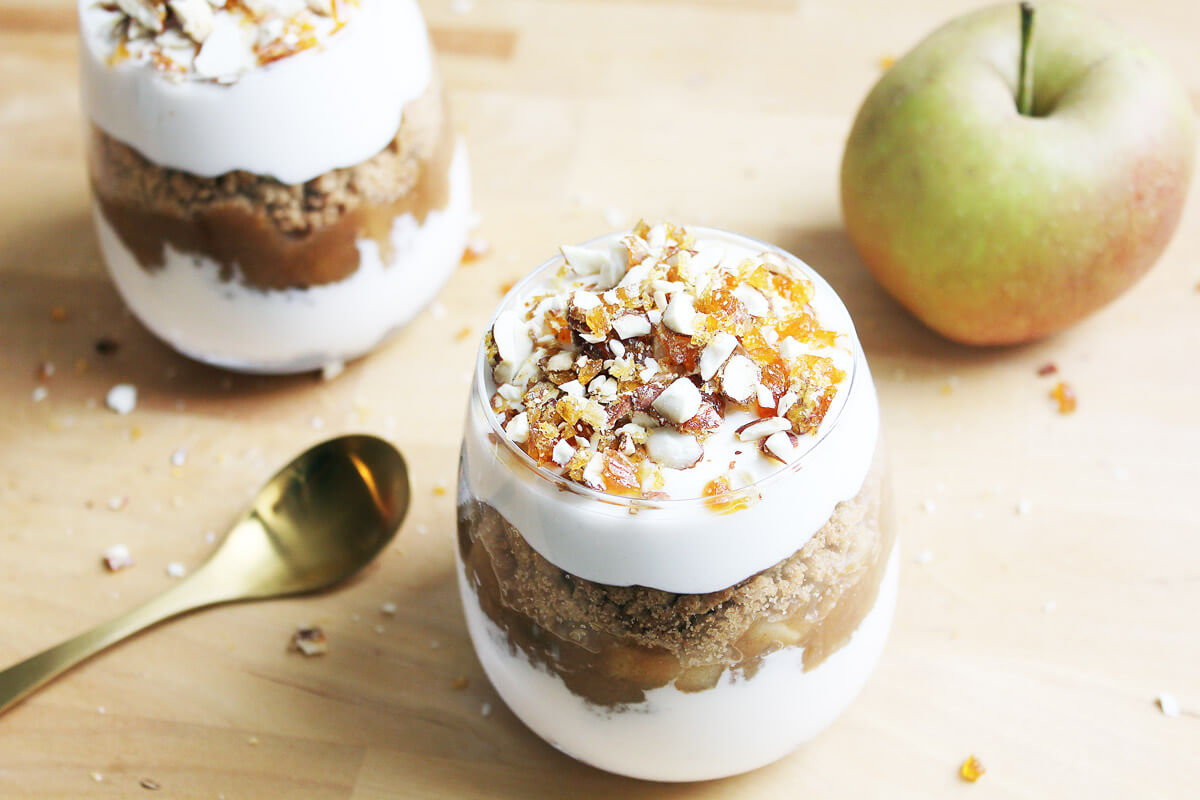 A tiramisu variation or just a damn tasty trifle? It doesn't matter, because this delicious combination of apple, cream, spices, speculoos and caramelized almonds is 100 % winter.
View Recipe
Vegane Chocolate Mousse with Orange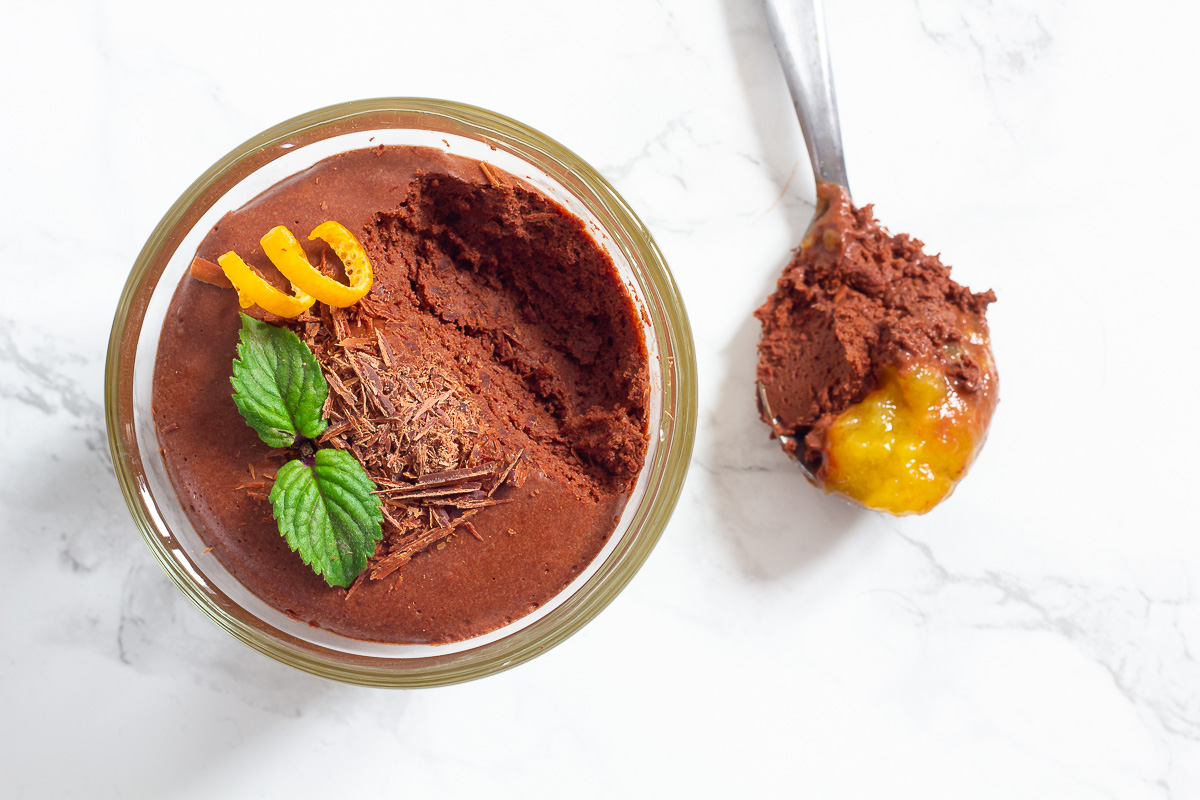 Light and airy, chocolaty, vegan and damn tasty. This chocolate mousse has the potential to become your new favourite dessert. It basically consists of only 2 ingredients and is therefore super quick to prepare.
View Recipe
Vegan Puff Pastry Apple Strudel with Vanilla Sauce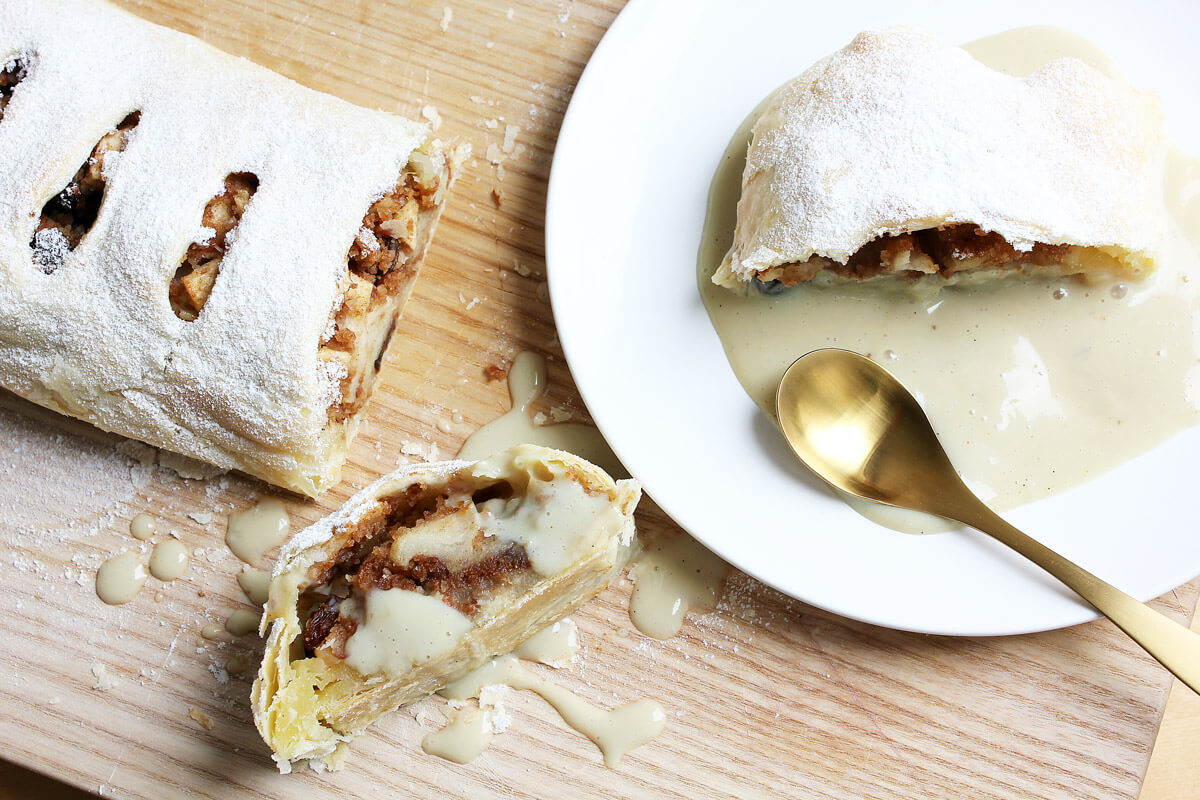 We can't think of many things, that are better than a warm apple strudel. The filling is easy to prepare and a scoop of ice cream can be added instead of vanilla sauce. This is how you stay relaxed at Christmas.
View Recipe
Easy Vegan Plum Crumble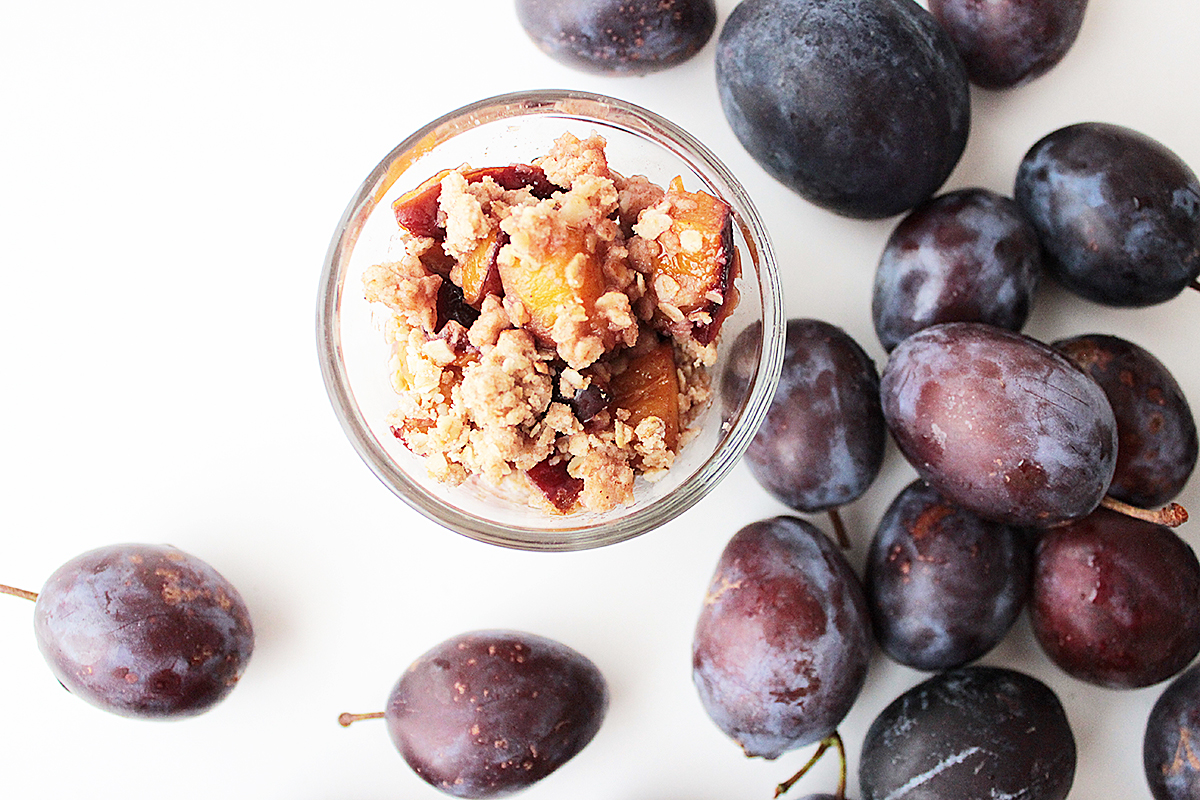 This crumble works with plums, apples and many other types of fruit. Add a little ice cream or whipped cream (vegan, of course) and the delicious Christmas menu windup is ready.
View Recipe
Special Recipes for Vegan Christmas
Vegan Raclette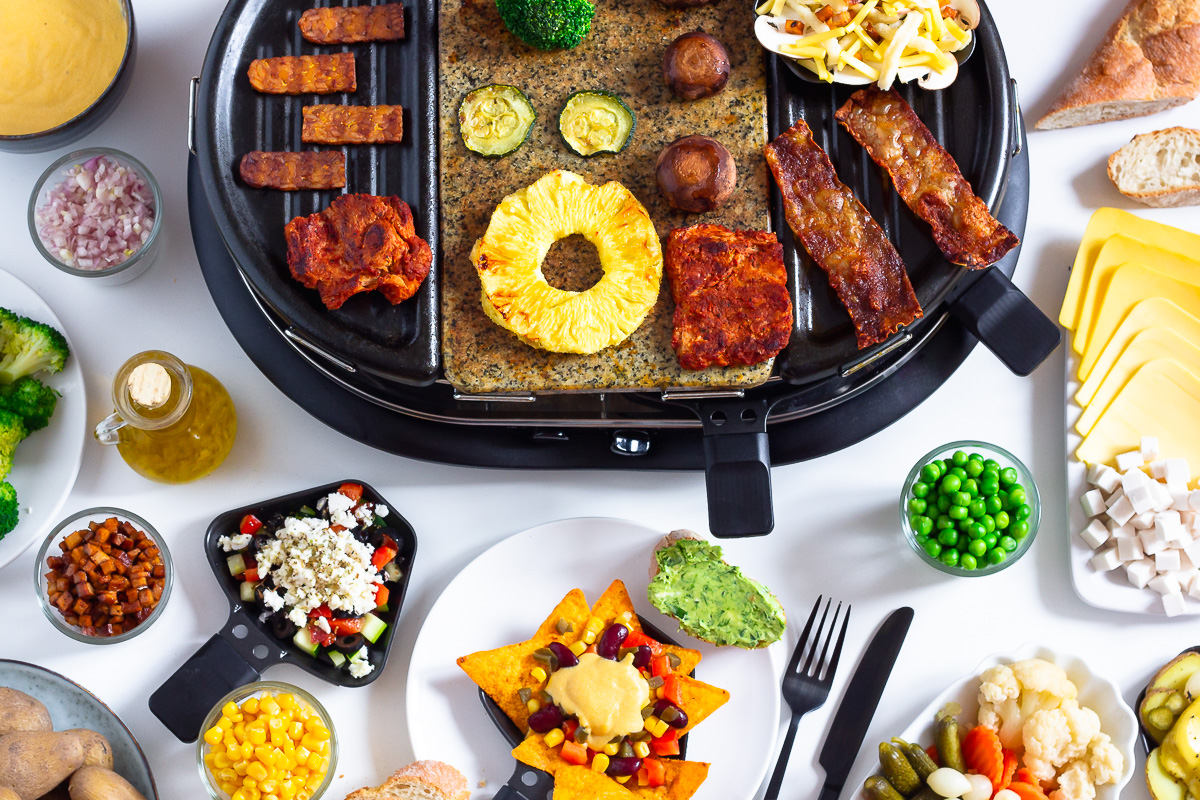 Probably the ultimate Christmas dinner for anyone who doesn't serve a classic menu. In addition, a great way to satisfy omnivores, vegetarians and vegans alike.
View Recipe
Vegan Cheese Fondue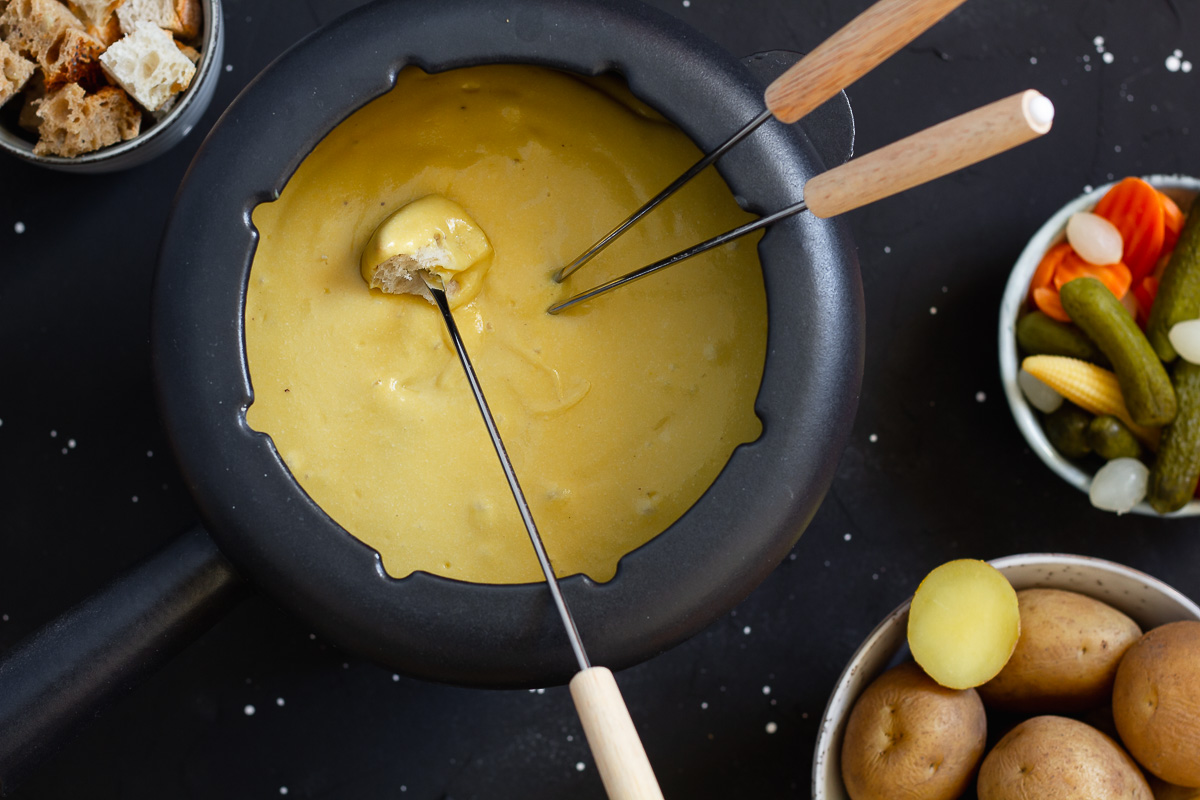 If you are looking for a change from raclette, you should try vegan cheese fondue. At least as sociable and tasty. The fondue is also easy to prepare. Cheers to Switzerland!
View Recipe
Vegan Drinks for the Christmas Days
Mulled Gin with Orange and Apple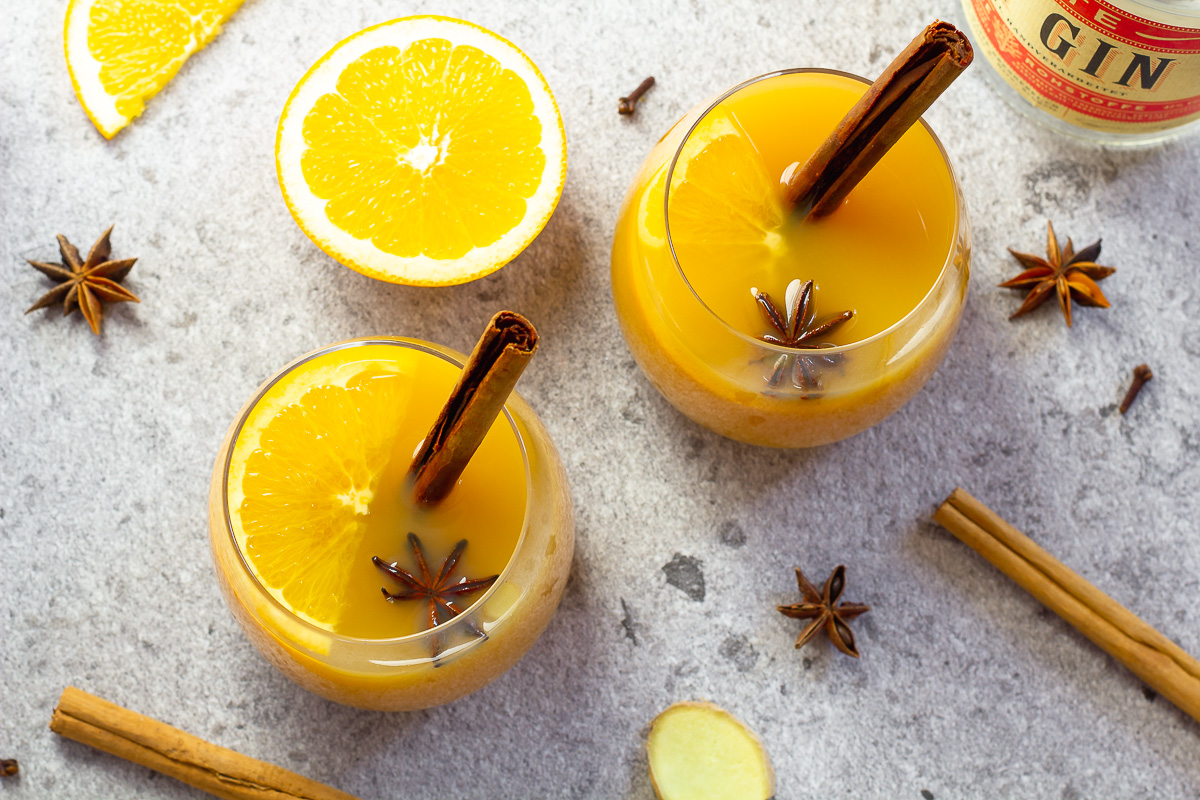 Would you like a drink after Christmas dinner? This mulled gin with orange and apple is a great alternative to conventional mulled wine. We even like it much more.
View Recipe
Winter Gin and Tonic with Orange, Cinnamon and Star Anise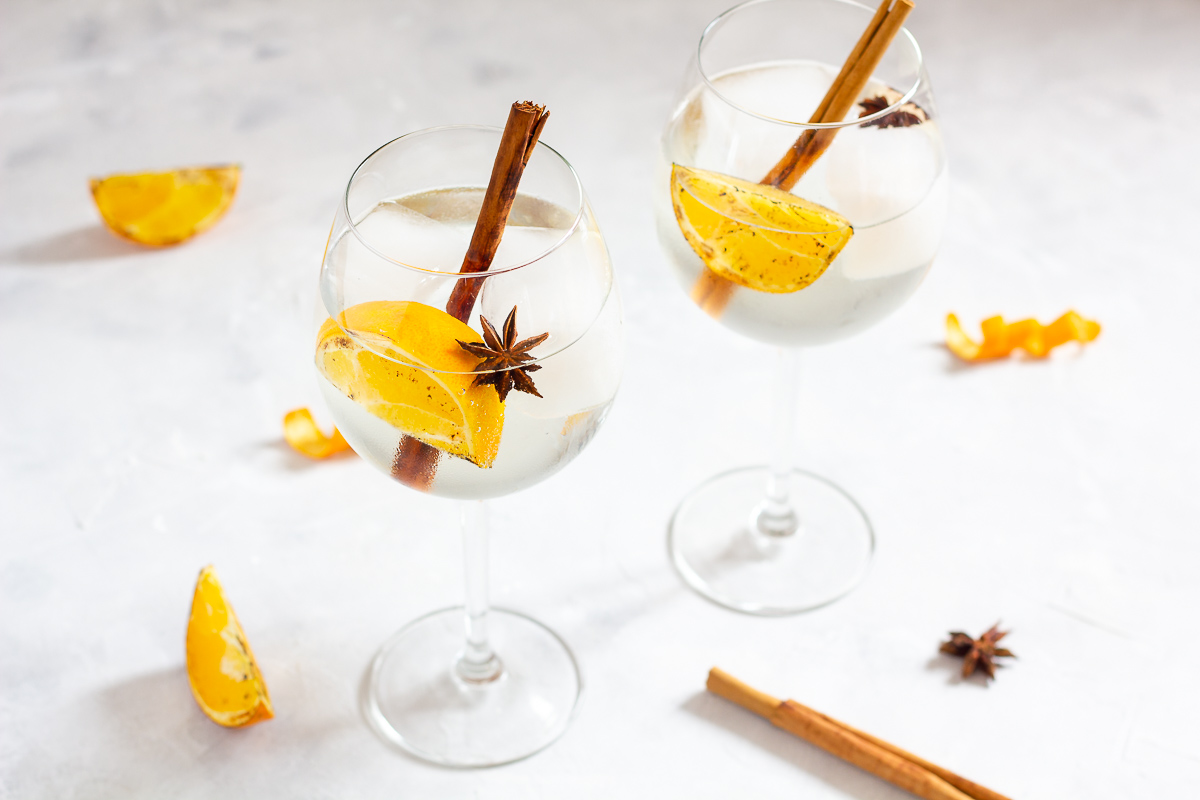 Or would you prefer to end the Christmas Eve with a cool drink? Gin and tonic can also be spiced up with a few winter spices.
View Recipe
Vegan Sweets for the Christmas Days
Burnt Sugar Almonds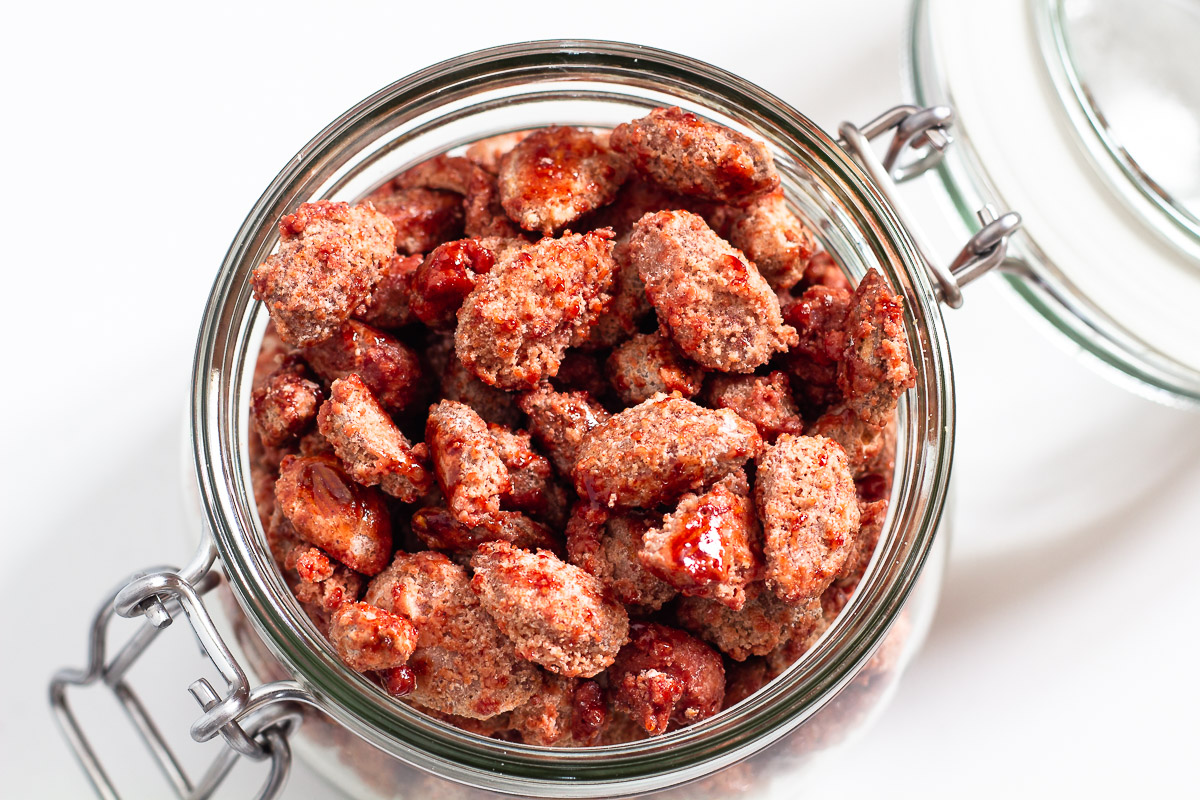 Who would have thought that the winter market classic can be easily made by yourself. We definitely eat a portion or two around the holidays.
View Recipe
Vegan Christmas Stollen (German Christmas Cake)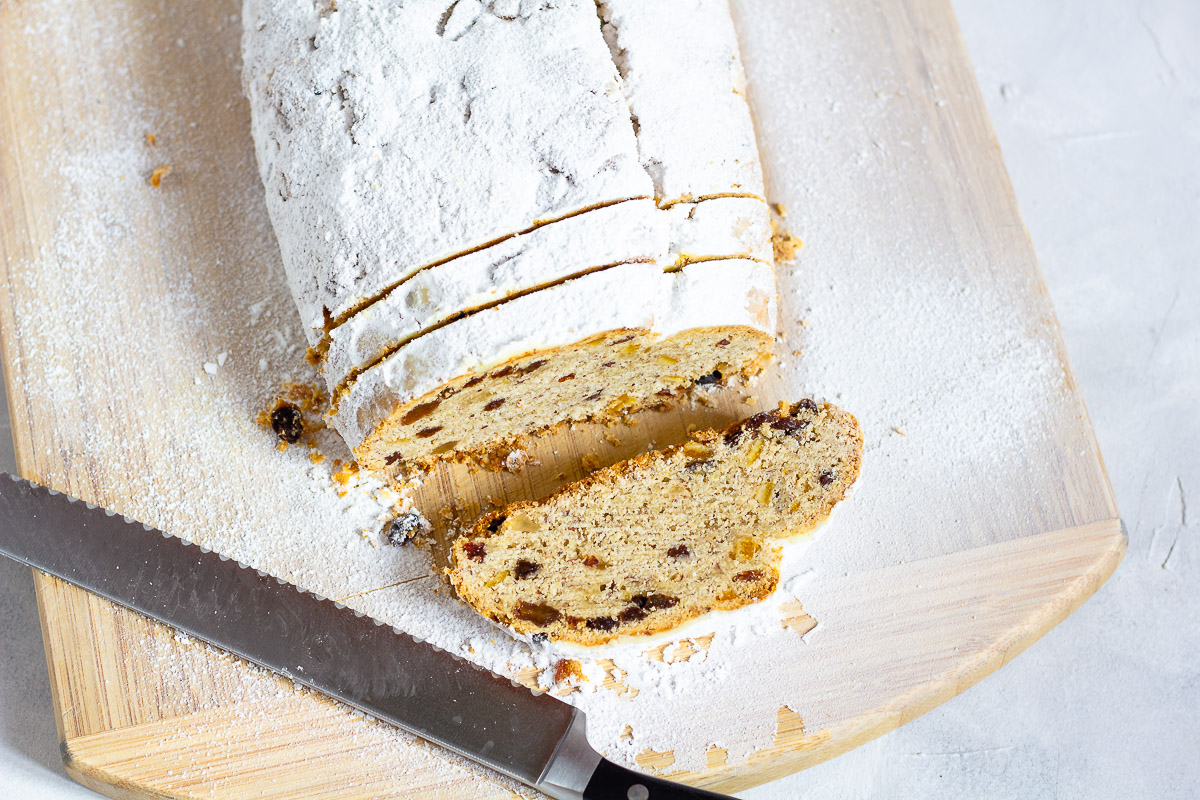 For many, Stollen belongs to December just like the namaste to the yoga class. 😉 It can be prepared several weeks in advance. Here is our vegan version.
View Recipe
Tips on Planing, Grocery Shopping & Preparation
We have already cooked several Christmas menus ourselves and have learned a lot over the years. The preparations are now pretty routine, even if the dishes actually change every year. However, the procedure always remains the same.
The first step is planning your meal. What do you want to eat at Christmas this year? Which ingredients do we need for this? And how much of them do we need? When you have worked through these questions, you will probably have a shopping list with all the ingredients you need. It's a very good start.
It can still end in stress if you only go out grocery shopping right before Christmas and try to work through this long list in one go. The shops are then overcrowded, people stressed and maybe one or the other ingredient is even sold out.
It would therefore be better if you think about beforehand which ingredients can be stored without any problems. You can then buy these a few days in advance and save yourself important time and nerves at Christmas. Depending on the planned menu, you may be able to complete individual work steps or entire dishes before the 24th of December.
That brings us to the third important aspect for a relaxed Christmas dinner after planning and grocery shopping: the preparation. So think carefully about what is easy to prepare and what can really only be made à la minute.
Sauces, soups, casseroles and stews can usually be pre-cooked well and simply warmed up or finished just in time. Desserts can also often be prepared beforehand. Sometimes they even have to. For example, to solidify in the fridge or freezer.
But even with other dishes, individual work steps can be carried out hours or days before the actual meal, without having to accept a loss of quality. Sure, vegetables should be cut as fresh as possible and lettuce should be plucked as freshly as possible. The associated dressing can usually be mixed beforehand in a screw-top jar and placed in the refrigerator. Then simply shake it up again before serving. Done.
Our last tip: take yourself enough time to cook. For example, an elaborate 3-course menu with several side dishes isn't cooked in 1 or 2 hours. We often started cooking the food for Christmas Eve at noon. That just became an integral part of the Christmas routine. Anyone in the family who feels like it comes to the kitchen, where there is chopping and sizzling going on in a relaxed way. Nice music is playing in the background. Perhaps there is also a first glass of wine or a few cookies as a snack.
And even if you are the only person in your family with cooking skills, you may still be able to give away one or two work steps. After all, you don't need to pass a master's examination to wash or peel vegetables or cut them up for soups. And children (or anti-cooks) are often quite proud afterwards when they could play a part in contributing to the Christmas dinner.