Vegan spaetzle can be found in more and more supermarkets. But mostly for hopelessly overcharged prices. And of course they can't compete with homemade spaetzle. That's why we'll show you today how to make vegan Swabian spaetzle in no time. Because for a vegan spaetzle dough without eggs it basically only needs flour, water and salt. We add 3 more ingredients though, which will upgrade the dough. Wheat semolina provides a firm consistency when bitten into. The oil makes the dough and the surface of the spaetzle smoother. And the turmeric powder improves the look, because it adds a nice yellow colour.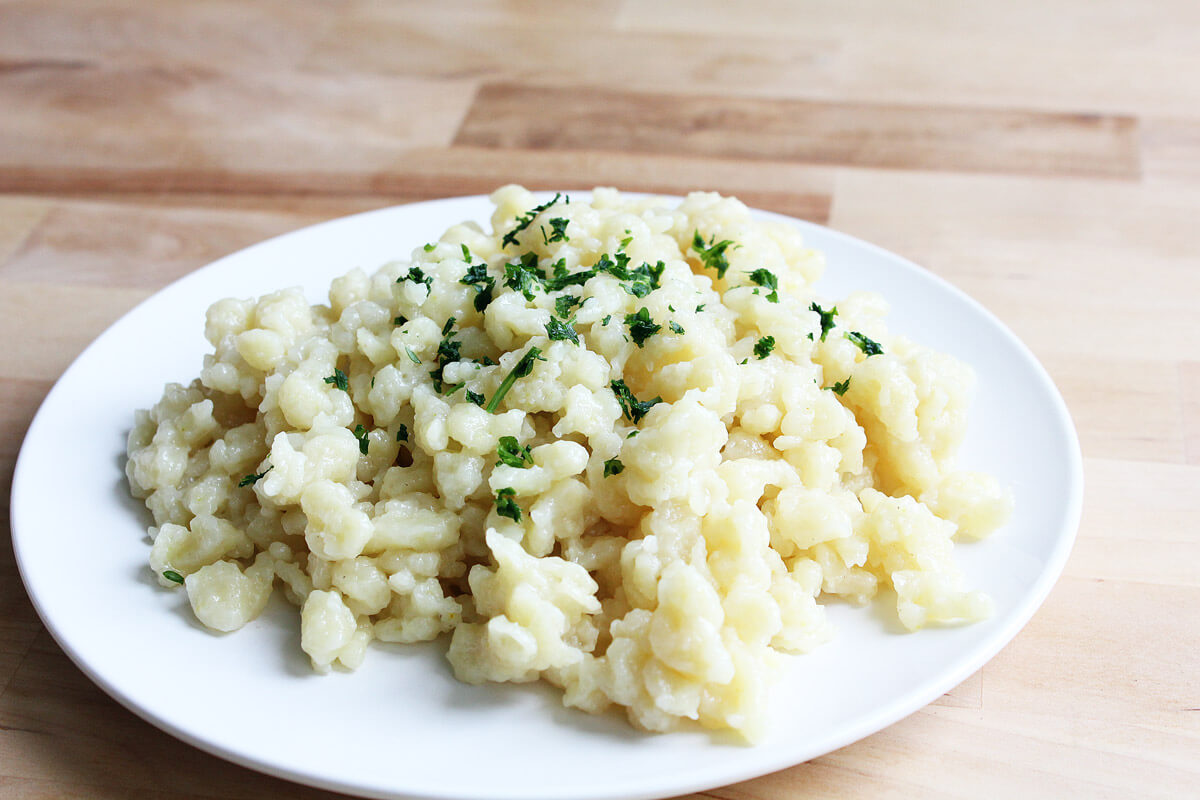 Because spaetzle are not only great as a side-dish with stews, we've written down the quickest version of vegan cheese spaetzle. For this we just heat the spaetzle in a pan with the plant based versions of cheese and butter. If you like it extra creamy, you can add a splash of plant milk, too. A couple of fried onions on top and the simple vegan cheese spaetzle are ready to serve. It can't be much easier and quicker than that.
VEGAN SPAETZLE
Ingredients for 4 servings (about  0,20 Euros each):
300 g wheat flour
3 heaped tbsp wheat semolina
min. 300 ml (sparkling) water
1 pinch of turmeric powder
1/2 tsp salt
1 tbsp vegetable oil
Preparation
1. Place flour and semolina in a large bowl. Whisk in 300 ml of (sparkling) water. Then add more water just little by little, until you have a smooth but thick, viscous dough. Add turmeric powder, salt and oil and whisk the dough well.
2. Bring a large pot of salted water to a boil, then reduce to a simmer. Now put the spaetzle dough in the water with the help of a spaetzle maker. Alternatively you can of course scrape the spaetzle from the cutting board in the water.
3. After a couple of minutes the spaetzle should swim on the top. Now take them out with a skimmer, let them drain and put them in a bowl or in the pan, depending on further usage.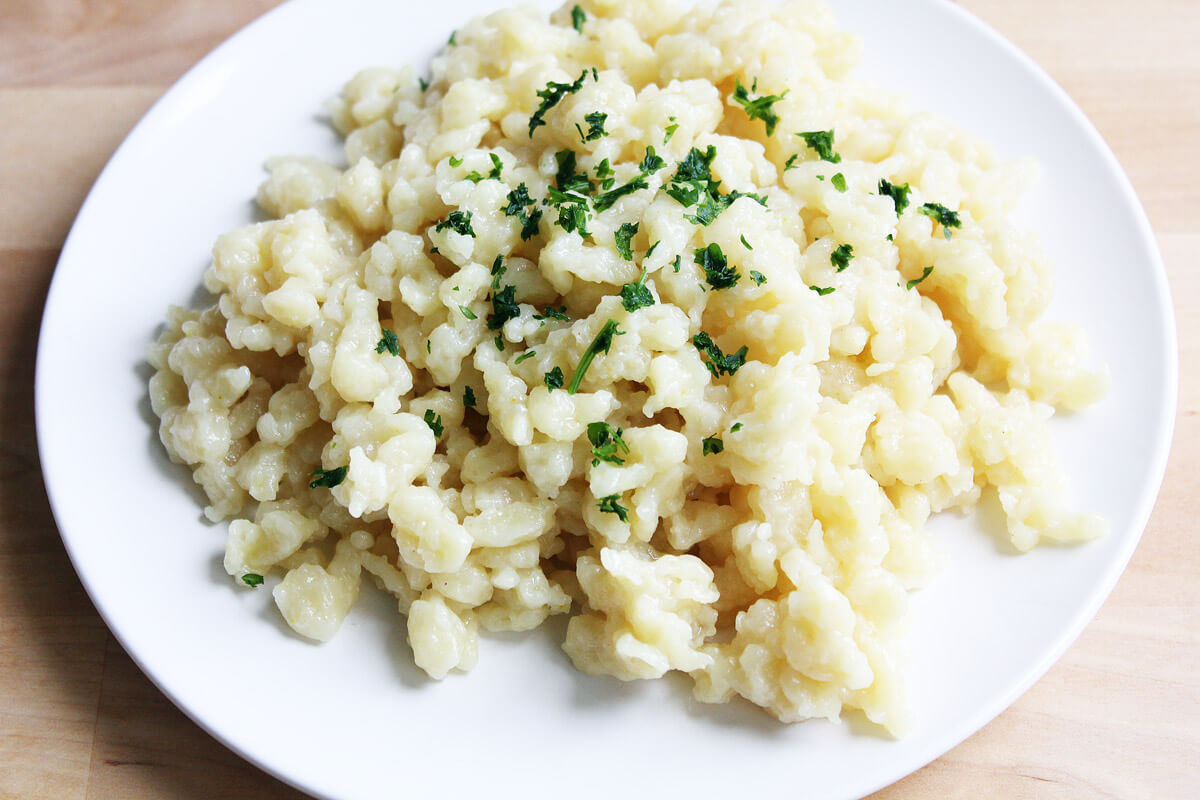 SIMPLE VEGAN CHEESE SPAETZLE
Ingredients for 3 servings (about 1,00 Euros each):
1 recipe spaetzle (see above)
150 g vegan grated cheese
3 tbsp vegan butter
optional: 1 splash of plant milk
3 tbsp fried onions
salt + pepper
1. Make the spaetzle according to the recipe.
2. Heat the spaetzle with vegan cheese and butter in a pan on medium high heat until the cheese has melted. Optionally add a splash of plant milk for a more cremy texture. Season well with salt and pepper and serve sprinkled with fried onions on top.