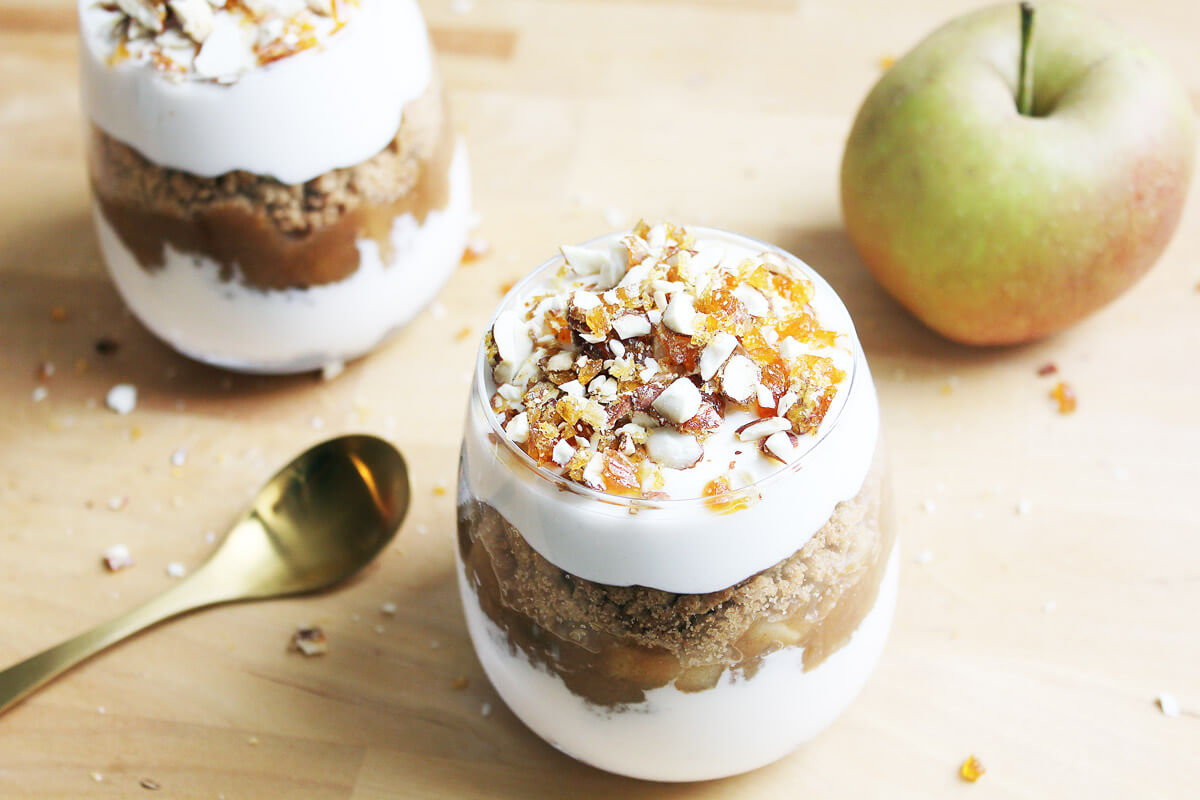 Are you looking for a vegan dessert for the Christmas dinner? Or do you just just have incredible appetite for a wintry trifle? Or are you sick of classic tiramisu and looking for a delicious variation? Whatever, because our vegan baked tiramisu with speculoos makes all of you happy.
Whether it's due to the combination of creamy and crispy? Or is the fusion of sweetness and acid crucial? Probably both. Anyway, it's really fun to slide through the different layers of the tiramisu with a long spoon.
Talking about layers: the baked apple tiramisu consists of a baked apple mixture, a vanilla quark cream, spiced shortcrust bisquit and crushed candied almonds, which are prepared super quick. Cinnamon and star anise particularly give the baked apple mass its unique flavour.
Vegan Baked Apple Tiramisu in a Glass
Ingredients
Vanilla Quark Cream
200

g

vegan quark

100

g

vegan cream cheese

2

tbsp

vanilla sugar
Baked Apple Mixture
2

large apples

,

about 450 g

5

tbsp

water

2

tbsp

raisins

1

tbsp

cinnamon powder

1

tbsp

sugar

1

tbsp

lemon juice

1

star anise
Other
85

g

vegan spiced shortcrust bisquit (speculoos)

25

g

almonds

35

g

sugar
Preparation
Peel, quarter and core the apples and cut into cubes of approx. 1 cm in size. Put in a saucepan with the other ingredients. Simmer with lid closed and medium temperature for about 15 minutes. The apples should be soft but still slightly chunky. Allow to cool before further use and remove the star anise.

Mix vegan quark, cream cheese and vanilla sugar - preferably with a mixer - to a homogeneous mass.

Grind the speculoos coarsely. This can be done by food processor, by hand or by filling the speculoos into a freezer bag and pound it, for example, with a pot or a rolling pin.

Layer speculoos, vanilla quark cream and the baked apple mixture into glasses and put them in the fridge.

Caramelize almonds with sugar in a non-stick pan at medium temperature. Carefully add the hot caramel to a baking paper to cool down. Once cooled and firm, remove from the baking paper, chop with a knife and sprinkle on the baked apple tiramisu glasses just before serving.