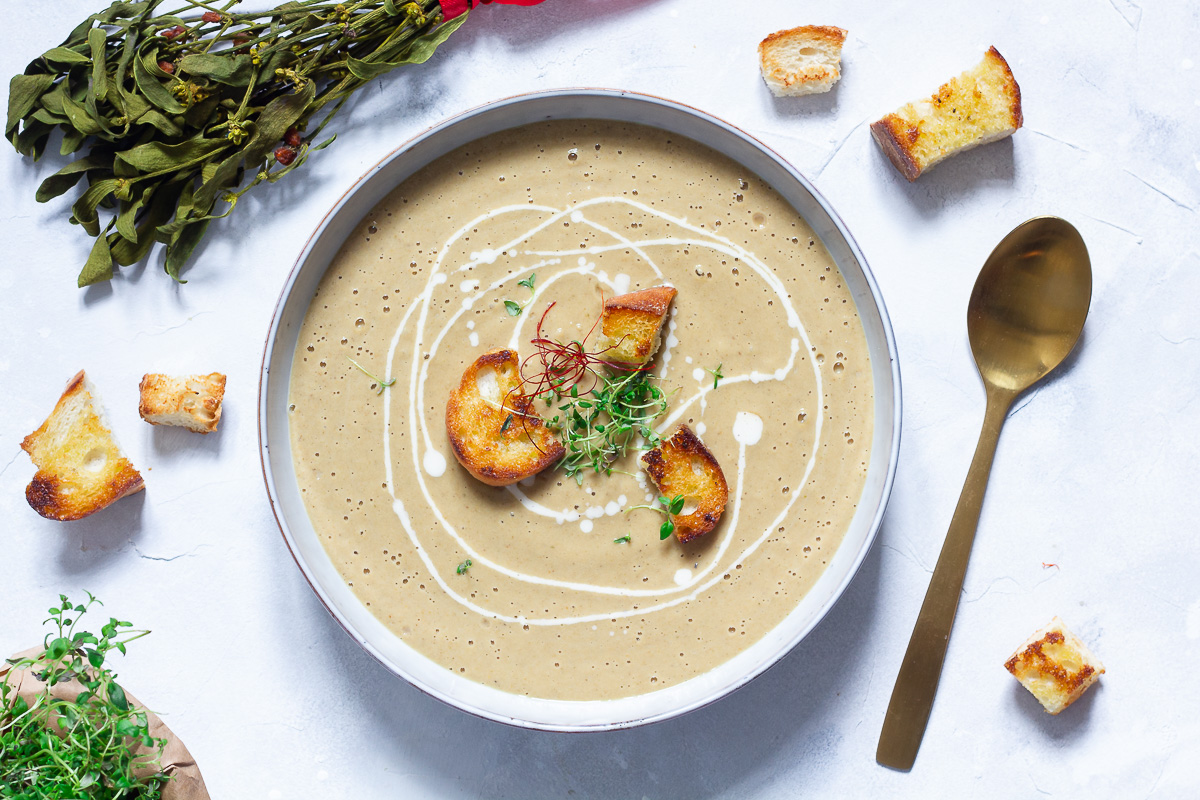 This creamy soup with an incredibly intense mushroom flavour is our suggestion this year for a starter in the Christmas menu. The preparation is very simple. And everything can be prepared wonderfully and only needs to be warmed up again at the right time. The soup's very special touch is actually only given by the ingredients used, more precisely the noble and rare porcini mushrooms.
And yes, porcini mushrooms are also hardly ever served at our table. But at the end of the year, we can indulge ourselves. Of course, the recipe also works with other mushrooms. Only the taste changes slightly. Our recommendation as a more common and cheaper mushroom alternative would be king oyster mushrooms, which also have a slight porcini flavour.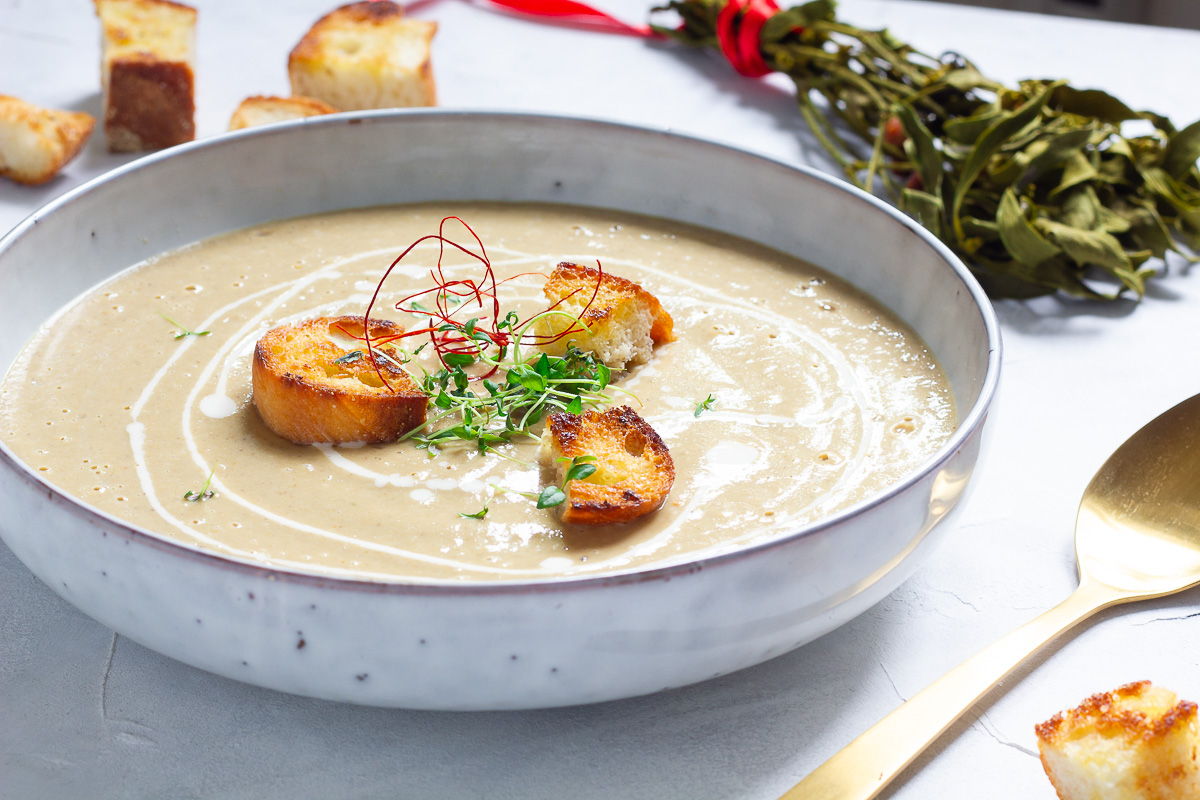 Vegan Porcini Mushroom Soup with Thyme Croutons
Ingredients
Porcini Mushroom Soup
250

g

porcini mushrooms

,

alternatively king oyster mushrooms

20

g

porcini mushrooms

,

dried

1

shallot

1

clove

garlic

3

tbsp

olive oil

50

ml

white wine

500

ml

vegetable stock

150

ml

vegan cream

,

e.g. oat cream

salt + pepper
Thyme Croutons
100

g

ciabatta

,

or other white bread

2

sprigs

thyme

Olive oil
Preparation
Put the dried mushrooms in a bowl with 200 ml water and leave to soak for at least 1 hour. Finely dice the onion and garlic. Coarsely dice the fresh mushrooms.

In a saucepan, first sauté the onions at medium heat together with the olive oil. Once they are translucent, add the fresh mushrooms and garlic. Sauté for 2-3 minutes while stirring. Deglaze with white wine and add stock.

Pour the soaking liquid of the dried mushrooms through a fine sieve into the pot. Dice the dried mushrooms and add as well. Let everything simmer gently for about 20 minutes with the lid on.

In the meantime, dice the white bread for the croutons and fry it in a pan with a good dash of olive oil on all sides at medium temperature. Pluck the thyme leaves from the stems. Add and salt lightly.

Add the vegetable cream to the soup, puree everything finely and season to taste with salt and pepper. Serve the soup with the croutons and some extra thyme if desired.
Song of the recipe:

KUOKU is the singer and producer Jasmina Quach from Hamburg and her sound fits perfectly into this dark season.
(Would you like to listen to all the songs for the recipe? Find them collected in one playlist here)