Today the culinary C&CC world tour takes us to our neighbour Poland. Bigos is a Polish national dish, although probably less well known than pierogi outside the country's borders. In winter, especially at Christmas, Bigos is served in Poland very often. No wonder: the stew made from sauerkraut, white cabbage and lots of meat is extremely hearty. Our vegan bigos also warms from the inside, but should be much lighter and healthier. Mushrooms and smoked tofu provide us with proper taste instead of meat and sausage. For the fancy version, you can also replace half of the smoked tofu with vegan paprika sausage. It costs a few cents more per serving then. Seitan and soy meat can of course also be used.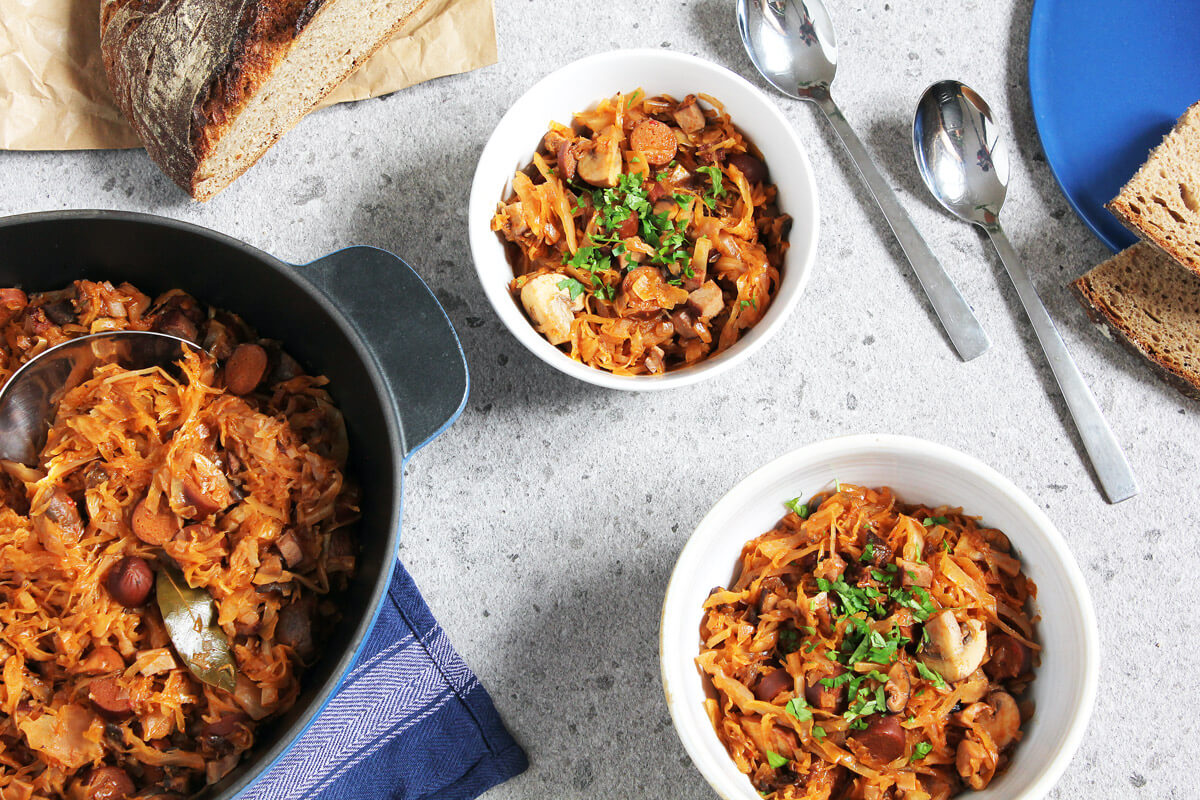 Oh, and as with almost all stews it also applies to Bigos: when warmed up, it tastes at least twice as good. The dish can easily be frozen away as well. So make sure to cook the amount specified here and do not even try to cut the ingredients down to 2 or 3 servings. You would regret it.
Vegan Bigos
Ingredients
680

g

sauerkraut

,

with juice

400

g

white cabbage

400

g

mushrooms

350

g

smoked tofu

,

optionally substitute half of with vegan paprika sausage

15

g

dried mushrooms

2

onions

1

garlic clove

3

bay leaves

3

heaped tbsp

tomato paste

1

tbsp

paprika powder

8

prunes

200

ml

vegetable stock

125

ml

red wine

5

allspice

1/2

tsp

caraway seeds

4

tbsp

vegetable oil

salt + pepper
Preparation
Pour boiling water over the dried mushrooms and let them soak for at least 20 minutes. In the meantime, prepare the remaining ingredients. Finely dice the onion and garlic. Roughly dice the prunes. Cut the smoked tofu into 1 cm pieces. Cut the mushrooms into quarters or sixths depending on their size. Cut white cabbage into thin strips. Crush allspice and caraway seeds with a little salt in a mortar.

Fry the onion with the vegetable oil in a large saucepan at medium temperature for 4 minutes. Add the tomato paste and garlic and stir-fry everything until it changes color. Deglaze with red wine and let simmer a little. Now add all other ingredients. But first dice the dried mushrooms finely and pass the soaking water through a coffee filter or a very fine tea strainer to filter out any contamination.

Bring the Bigos to a boil once at high temperature and then simmer at low temperature with the lid closed for at least 60 minutes.

Season the stew with salt and pepper. Serve with bread or potatoes.