No, this article is neither about basic products such as rice, pasta or legumes nor about the perfect stockpiling. We may write about this topic some other time. And no, the article is not about fried onions either. 😉 Instead, we want to give you some information here about special ingredients that can not be found automatically in every student kitchen.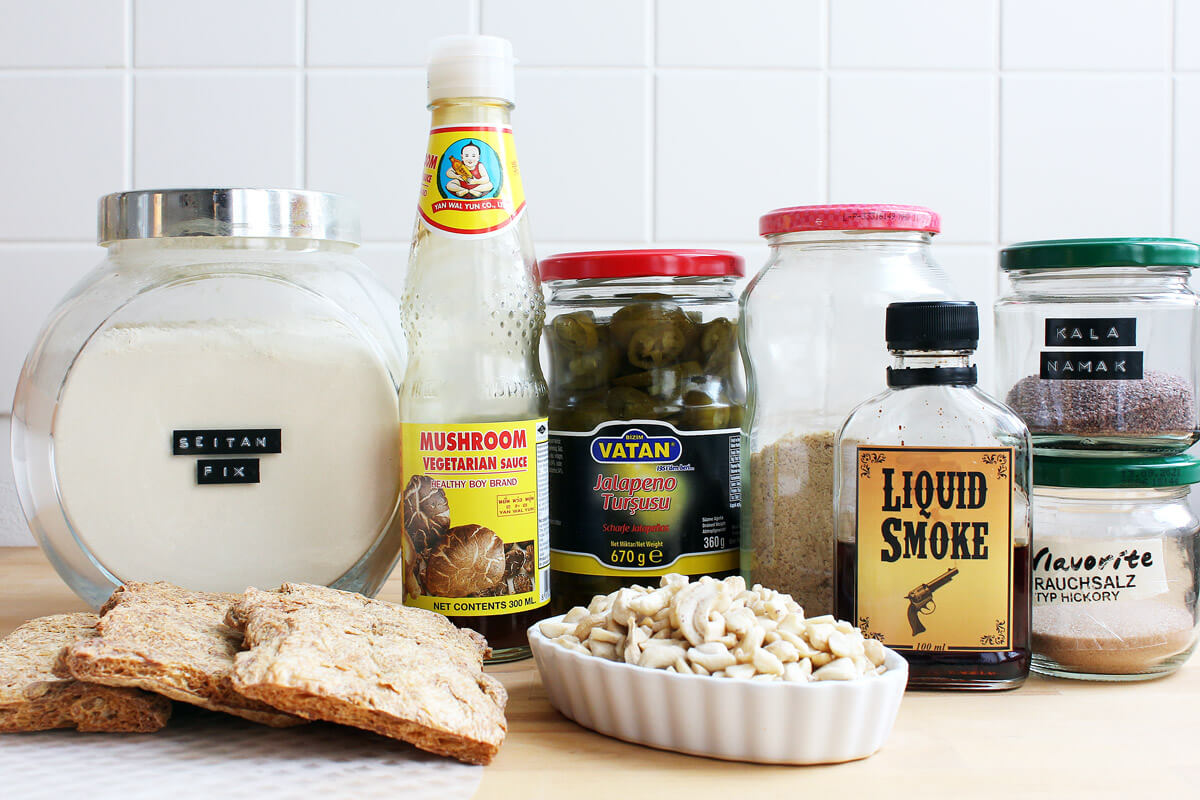 This may be because the ingredients are particularly important for a plant based cuisine. For example, yeast flakes provide a cheesy taste. And great meat alternatives can be created from jackfruit, vital wheat gluten powder or textured soy protein.
Or the products are just often used in the typical Cheap & Cheerful Cooking cuisine. Rice noodles, tempeh and mushroom sauce are perfect for the authentic Southeast Asian cuisine that we love so much. And as fans of a spicy cuisine, jalapeño slices are of course always in the fridge.
Cashews
Cashew nuts are not a particularly unusual ingredient that would be linked to vegan cuisine. But the combination of high content of fat and relatively neutral taste makes the cashew nut a great base for vegan cheese preparation. We use cashews for making vegan alternatives to grated parmesan cheese, the creamy mac & cheese sauce or for crumbly ricotta. Since cashews are mainly grown in Asia and Africa (the largest producers are currently Vietnam, India and the Ivory Coast), it is best not to cook with it every day for ecological reasons. In some cases, cashew nuts can also be replaced by more regional products such as hemp seeds or sunflower seeds.
Jackfruit
Jackfruit has had a good boost as a meat substitute in recent years. The reason for this is the fibrous consistency. For example, we made vegan chicken drumsticks or a vegan pulled pork burger from jackfruit. Jackfruit usually can be bought in cans. You can find the product in Asian markets or now also in some organic grocery stores and supermarkets. It is important that you choose the young or green jackfruit in brine. You can also buy canned ripe and therefore sweet jackfruit. This is soaked in sugar syrup and of course completely useless as a meat substitute. Since jackfruit can only be grown in tropical areas, it is better not to use this product too often from an ecological point of view.
Jalapeño Slices
We love spicy food. In addition to sriracha sauce, we always have jalapeño slices in the fridge. You can find them in supermarkets, but usually only in the foreign food section in very small glasses at completely exorbitant prices (at least here in Germany). If you have a Turkish supermarket or other grocery stores from the Balkans nearby, you should try your luck there. You can usually find a really big glass of jalapeños for only 2 Euros. Due to the insertion and the sharpness, they stay fresh for a long time in the refrigerator. We use the jalapeño rings for our vegan chili cheese burger, Mexican hot dogs or to pimp up mayonnaise.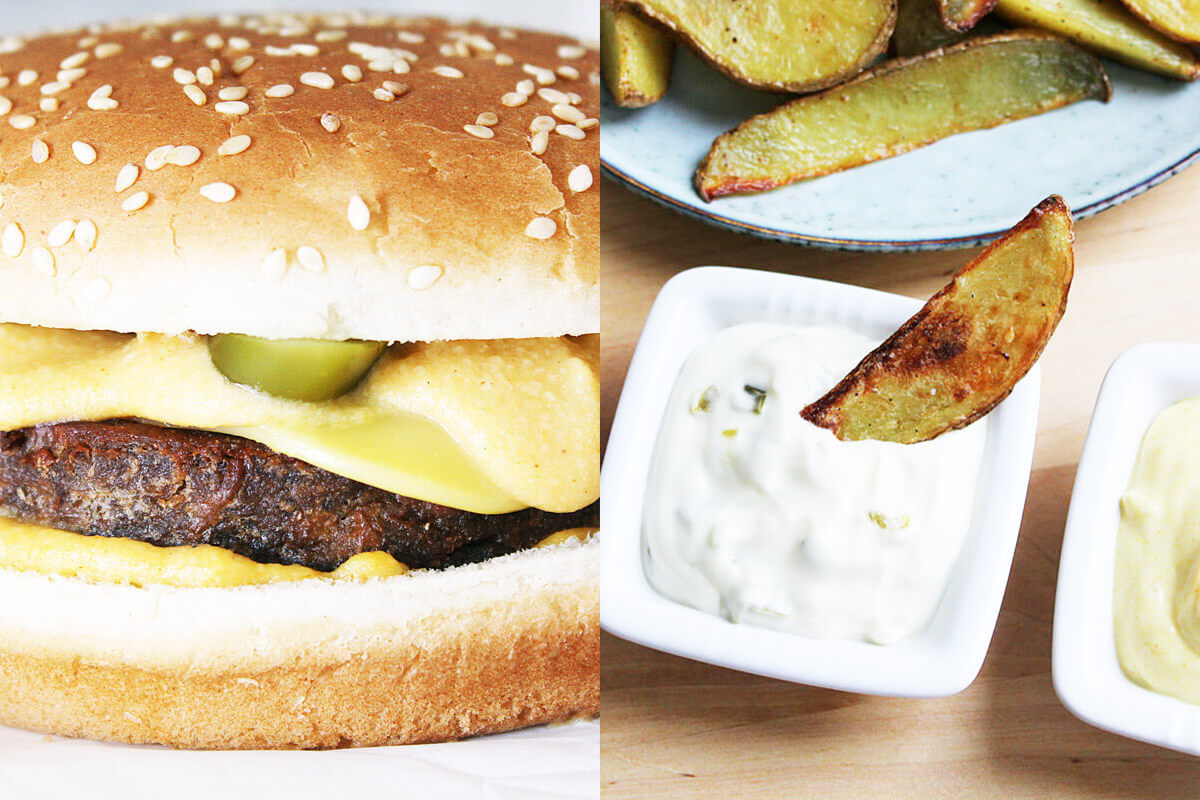 Kala Namak
Kala Namak is a special salt that usually comes from India and Pakistan, which is also known as black salt. The sulphurous smell and taste is reminiscent of hard-boiled eggs, which is why it is used in plant-based cooking to add egg flavor to dishes. We use kala namak, for example, in our vegan scrambled eggs or in vegan carbonara. The black salt can be found in spice shops, organic grocery stores and health food stores.
Liquid Smoke (& Smoked Salt)
If you like it smoky, you won't be able to avoid these two ingredients. While smoked salt tastes primarily salty and has only a slight smoke taste, liquid smoke is basically pure smoke aroma in liquid form. Accordingly, it should be used sparingly. To produce liquid smoke, smoke is condensed and the condensate is filtered afterwards. Unfortunately, liquid smoke can only been found very rarely in large supermarkets or in special vegan and barbecue shops so far. If necessary, you can also order it online. A bottle easily lasts two years. We use liquid smoke to imitate smoked products or to imitate or support grill aromas. Try our vegan bacon or these delicious Philly cheesesteak sandwiches.
Mushroom sauce
No, with mushroom sauce we mean neither a creamy cream sauce with mushrooms, nor a clear mushroom broth. We are talking about the brown, thick, Asian seasoning sauce, which strongly is reminiscent of oyster sauce. Mushroom sauce mainly consists of mushroom extract and soy sauce. It is ideally suited to give Asian stir fried dishes a full taste and the sauces a nice consistency. We use it for example in our quick udon noodles or in the miso ramen soup.
Nutritional yeast
Nutritional yeast, also known as yeast flakes, consists of rolled and dried yeast. It is therefore no longer active and cannot be used as a leavening agent for yeast dough. Yeast flakes have a strong and full-bodied flavour (umami, baby!), which is slightly nutty, but above all reminds of the taste of cheese. They are therefore very popular to create a cheese flavor purely plant-based. We use them e.g. in our vegan mac & cheese sauce, in vegan parmesan cheese or in our vegan nacho cheese dip. Since the B vitamins it contains are sensitive to heat, it is best not to heat the yeast flakes too long or too much, but rather only add them to the dish shortly before serving. Yeast flakes can be found in organic markets and health food stores, but more and more often in well-stocked supermarkets as well. Since the taste of the yeast flakes can vary greatly from manufacturer to manufacturer, you are welcome to try them out yourself and find your own favourite.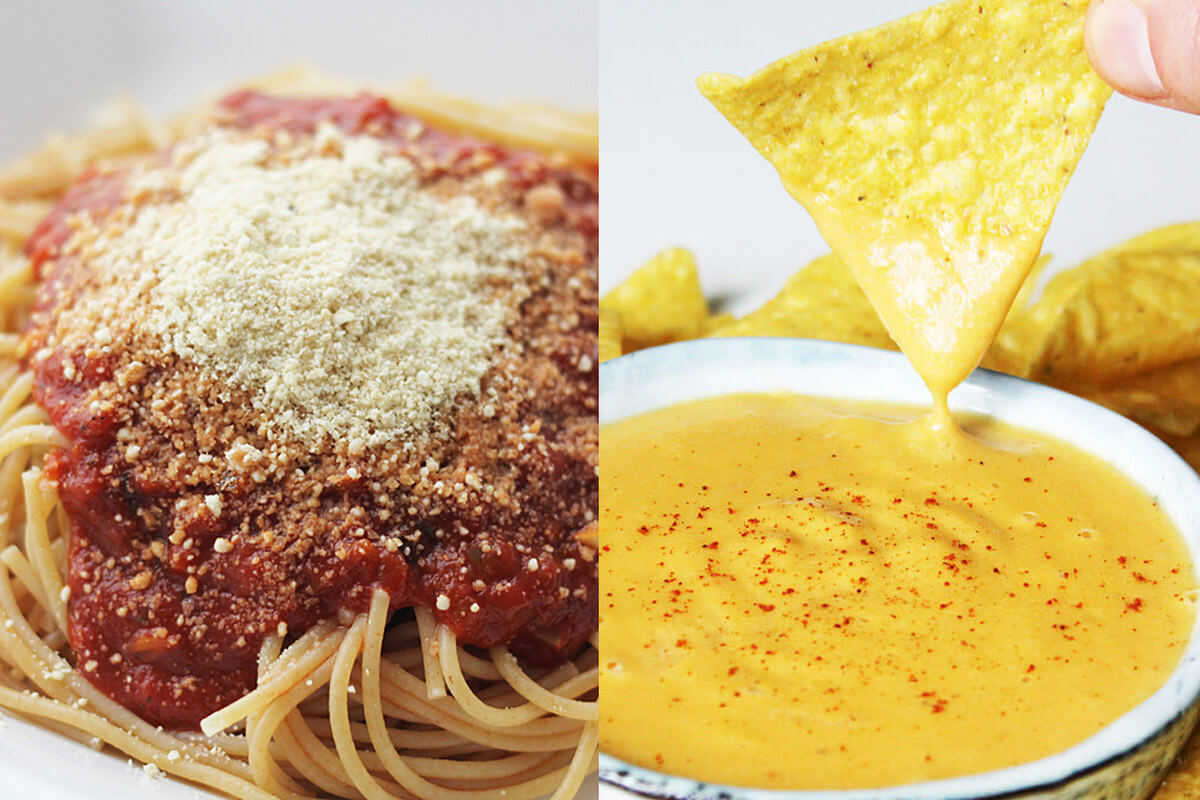 Rice Noodles
As we are fans of Asian cuisine, we naturally also love rice noodles. In all forms. For example, we use very thin vermicelli for Vietnamese rice noodle salad bún chay. The thick ribbon noodle version is served as a pho soup or as the Thai national dish pad thai. Good news for everyone with coeliac disease (gluten intolerance). Incidentally, rice noodles are gluten-free because they are only made from rice flour. You can now even buy rice noodles in supermarkets, but they are much cheaper at the Asian store.
Rice Paper
Anyone who already knows rice paper will probably think of the damn delicious summer rolls from Vietnam first. We also love them very much. But you can also use it to come up with other great things. If you fry or bake rice paper, it will be crispy. And so you can easily make vegan bacon with just a few spices or give vegan chicken legs a crispy skin. Sounds crazy, but tastes really good.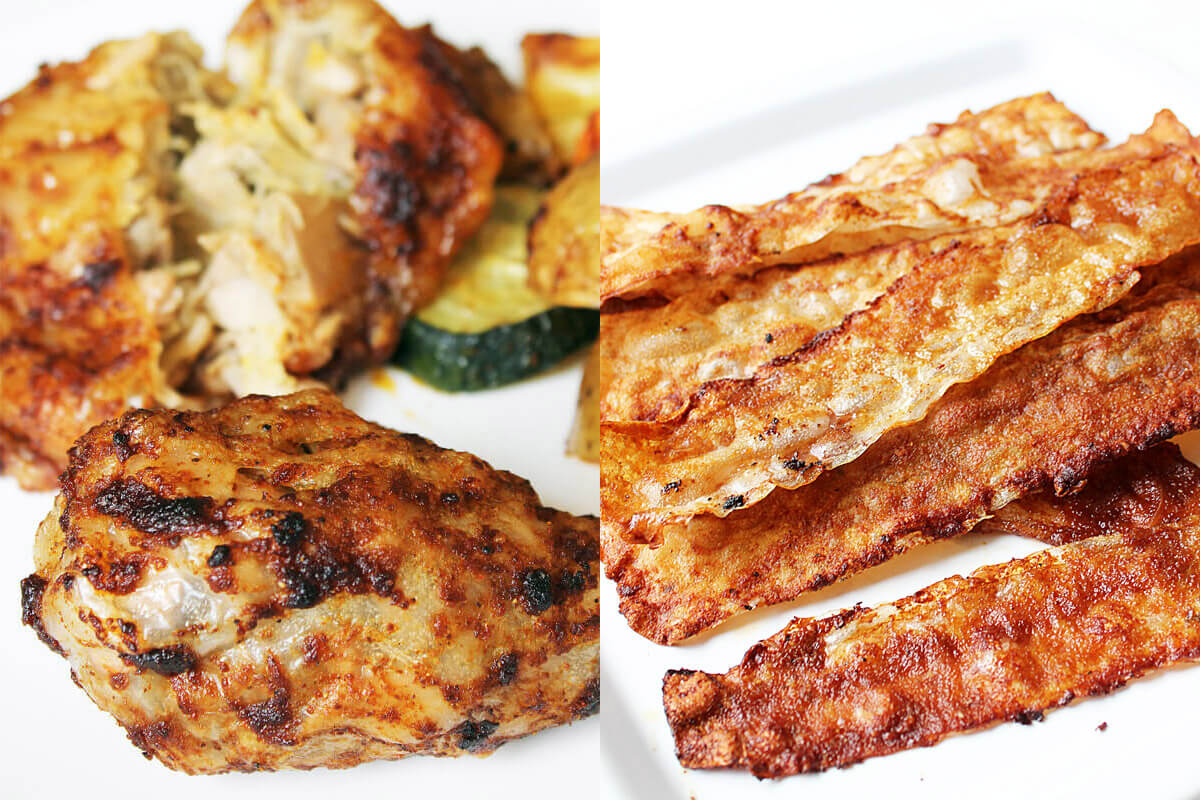 Seitan Powder (Vital Wheat Gluten Powder)
In addition to tofu, seitan is also known as a kind of meat substitute from Asia. Seitan is wheat protein and can theoretically also be made from wheat flour. A dough is kneaded from flour and water, from which then almost all of the starch is washed out, which is very time consuming. What remains is the seitan, which contains a lot of gluten. Fortunately, gluten powder or seitan powder, is now also available in stores. All you have to do is mix it with liquid and spices and you have the finished seitan. We used it for our homemade sausages or steaks for example.
Tempeh
Tempeh is made from fermented soybeans and, like all fermented products, is incredibly healthy. It is also a real protein bomb. Tempeh was probably invented in Indonesia, where it is still a basic ingredient today. In Germany, Tempeh is unfortunately not yet as widespread as tofu, which is also made from soybeans. Tempeh can be found in many organic grocery stores and Asian shops. Since you can freeze tempeh perfectly, you can buy several packs if you should come across them. By the way, we have already uploaded one or the other tempeh recipe, for example for a vegan Reuben sandwich or this delicious stir fried tempeh and broccoli.
Textured Soy Protein (Soy Meat)
Depending on the form, textured soy protein is probably better known under the names soy granules, soy flakes, soy chunks, or soy steaks. Basically, the soy meat substitute is always defatted soy flour, a by-product of soybean oil production, which is then pressed into the desired shape and texture. It contains a lot of protein, little fat and hardly any taste. For use, the dried soy protein is usually soaked in hot water or hot broth, then squeezed out to finally season it and process it like meat. From Hungarian goulash to Indian butter chicken to kebab and grilled steaks, textured soy protein can be used to prepare almost anything that should look and taste like meat.