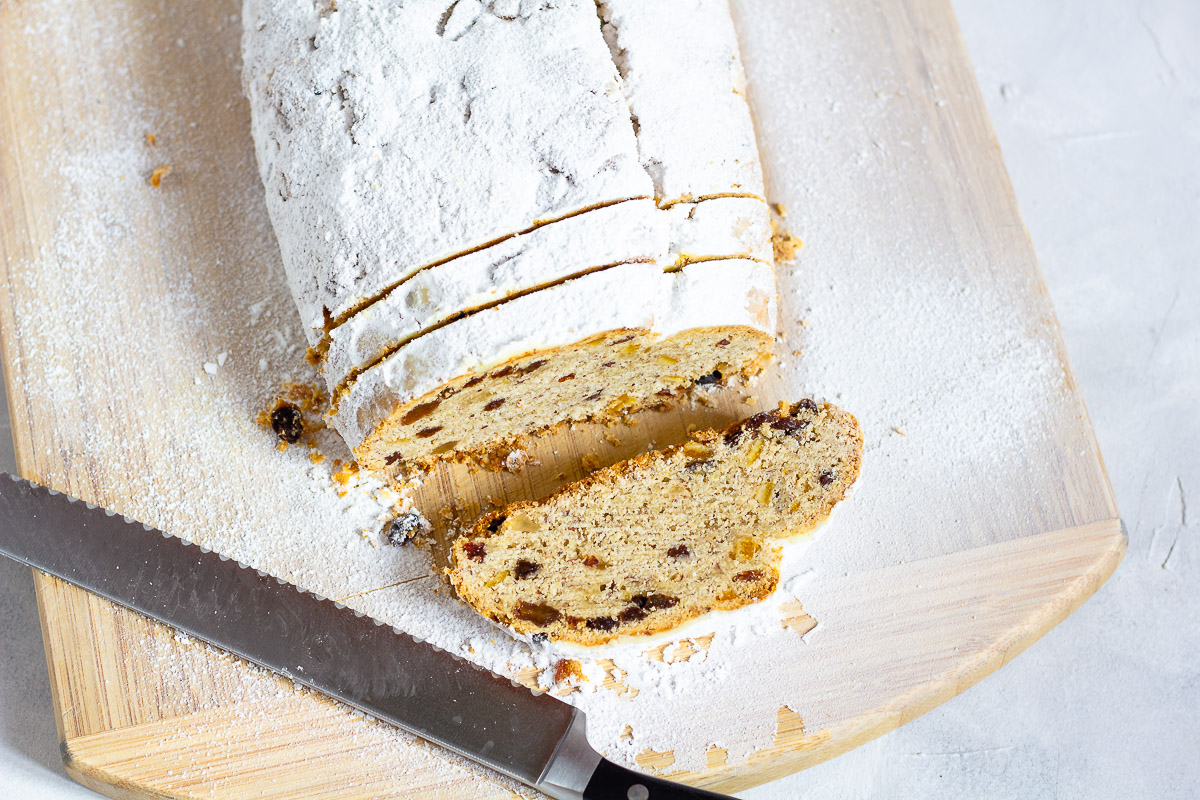 Christmas stollen or Dresden stollen. The bread-shaped cake made from yeast dough has many names. Depending on the ingredients and proportions used, it can also be called butter stollen, almond stollen, marzipan stollen, nut stollen or quark stollen. However, it always consists of plenty of butter, flour, milk (or quark), egg and spices. In addition, fillings such as raisins, almonds or marzipan are added to the dough. Although it tastes delicious all year round, it has a tradition especially in winter and Christmas time.
We prepare our vegan Christmas stollen rather classic. Except that we of course replace butter, milk and egg with vegan butter (or margarine) and plant milk. 😉 But the remaining ingredients are very much based on the traditional Dresden Christmas stollen. So a few ground almonds make the dough more tasty. We use raisins, orange peel and lemon peel marinated in rum for the filling. A little lemon zest, cinnamon, ginger and cardamom then add our individual final touch of taste. Both the filling and the spices can of course easily be modified according to your own preferences.
The preparation of stollen requires some waiting time (soaking the raisins + the dough has to rise + 50 minutes baking time), but otherwise it is actually pretty easy. In our opinion, the yeast dough with fat and sugar is much more forgiving of inaccuracies than its savoury counterpart. So if you can handle the dough of pizza and pide, you won't have any problems here. Nevertheless, of course, the same basic rule applies: if the dough is too crumbly, you should add some liquid to it. If it is too sticky, a little more flour may be added.
After rising, the dough is simply shaped into an longish loaf with your hands. For the special stollen look, one half is rolled out flat (e.g. with a rolling pin) and then folded over the other half. But that's not difficult at all. To support the explanations in the preparations, we also took a small series of pictures. So nothing can go wrong this way. And the inner values ​​are of course way more important than outer appearance anyways!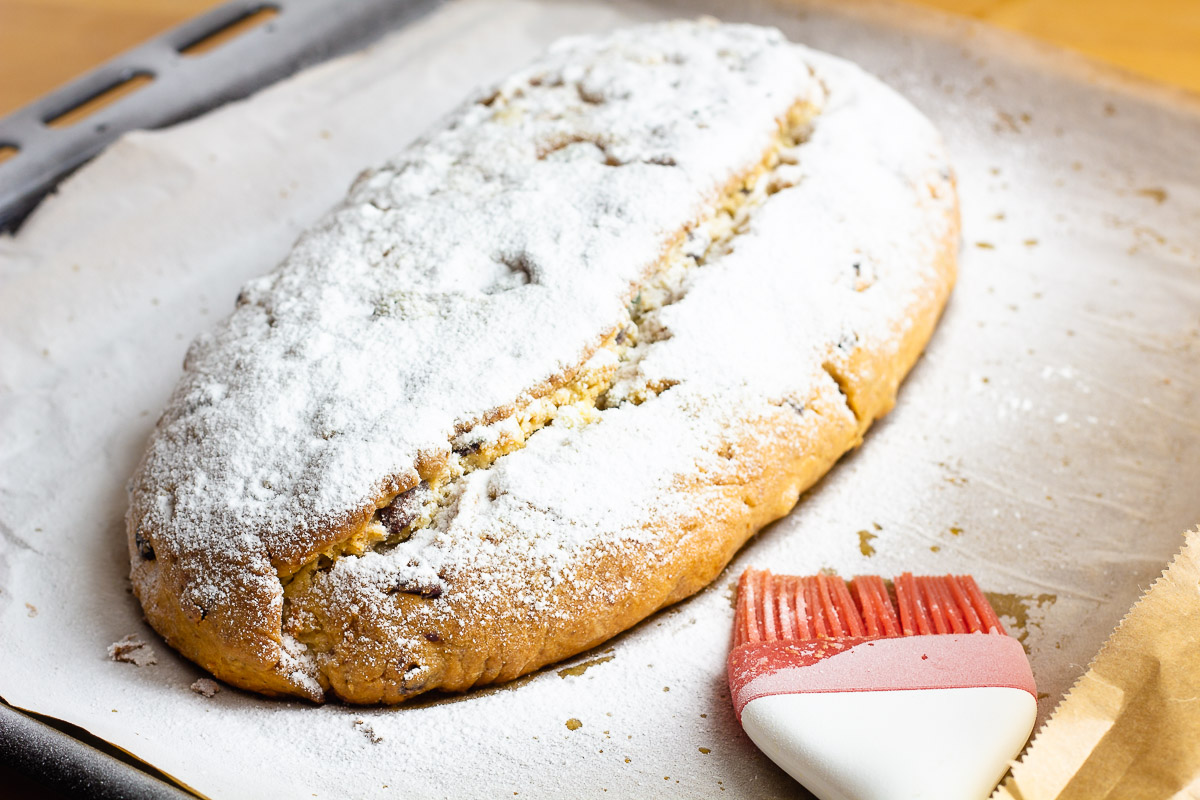 Vegan Christmas Stollen (German Christmas Cake)
Ingredients
Dough
500

g

wheat flour

75

g

almonds

,

ground

2

packets

dry yeast (= 7 g each)

,

equivalent to 1 cube or 42 g of fresh yeast

50

g

sugar

15

g

vanilla sugar

1

tsp

lemon peel

,

grated

1

tsp

cinnamon powder

1/4

tsp

ginger powder

1

pinch

cardamom powder

200

g

vegan butter

,

room temperature

125

ml

plant milk

,

room temperature
Raisin Mix
100

g

raisins

70

g

candied orange peel

30

g

candied lemon peel

50

ml

spiced rum

,

alternatively apple or orange juice
After Baking
70

g

vegan butter

,

melted

powdered sugar
Preparation
Put the raisins, orange peel and lemon peel in a jar or bowl. Pour the rum over it and let it soak for 1 hour. This step can also be done the evening before, so that everything soaks through even better over night.

Put the dry ingredients of the dough (flour, ground almonds, dry yeast, sugar, vanilla sugar, lemon peel as well as cinnamon, ginger and cardamom powder) in a large bowl and mix together.

Add the vegan butter in pieces and the vegetable milk (only 100 ml at first!) and knead everything into a smooth dough. Add the raisin mixture including the liquid and knead briefly. Possibly add the rest of the plant milk if the dough still seems too dry. Then cover it in a warm place and let it rise for about 2 hours.

Place the dough on a baking sheet lined with baking paper and shape into a long loaf. Roll out about half of the stollen to the long side with a rolling pin and fold over the thick part. Shape again with your hands and press any raisins on top a little bit into the dough so that they don't burn in the oven.

Cover the stollen again and let it rise briefly. Meanwhile, preheat the oven to 175 degrees top and bottom heat.

As soon as the oven is preheated, put the stollen in and bake for about 50 minutes. If it gets too dark on the outside during baking (after all, every oven is different), cover with aluminum foil.

After baking, brush the stollen with the melted butter. Finally dust generously with powdered sugar and let cool down completely.

In order to intensify the flavour, the stollen is traditionally wrapped airtight in cling film or aluminum foil and then stored in a dark, cool and damp place for at least 1-2 weeks, e.g. in the basement, in the attic or simply in the coolest place in the apartment. The zero waste alternative to cling film or aluminium foil would be wrapping it in fabric with subsequent storage in e.g. a tin can. But the stollen already tastes delicious right after it has cooled down.