Our vegan waldorf salad is a reinterpretation of a proper classic. This raw vegetable salad was created during the 1890s in the Waldorf Hotel in New York City, a precursor of todays Waldorf=Astoria hotel chain. It was subsequently published in a cookbook called The Cook Book by "Oscar" of the Waldorf. The original recipe however is very short and merely tells you in a nutshell to dress apple and slices of celery with a good mayonnaise.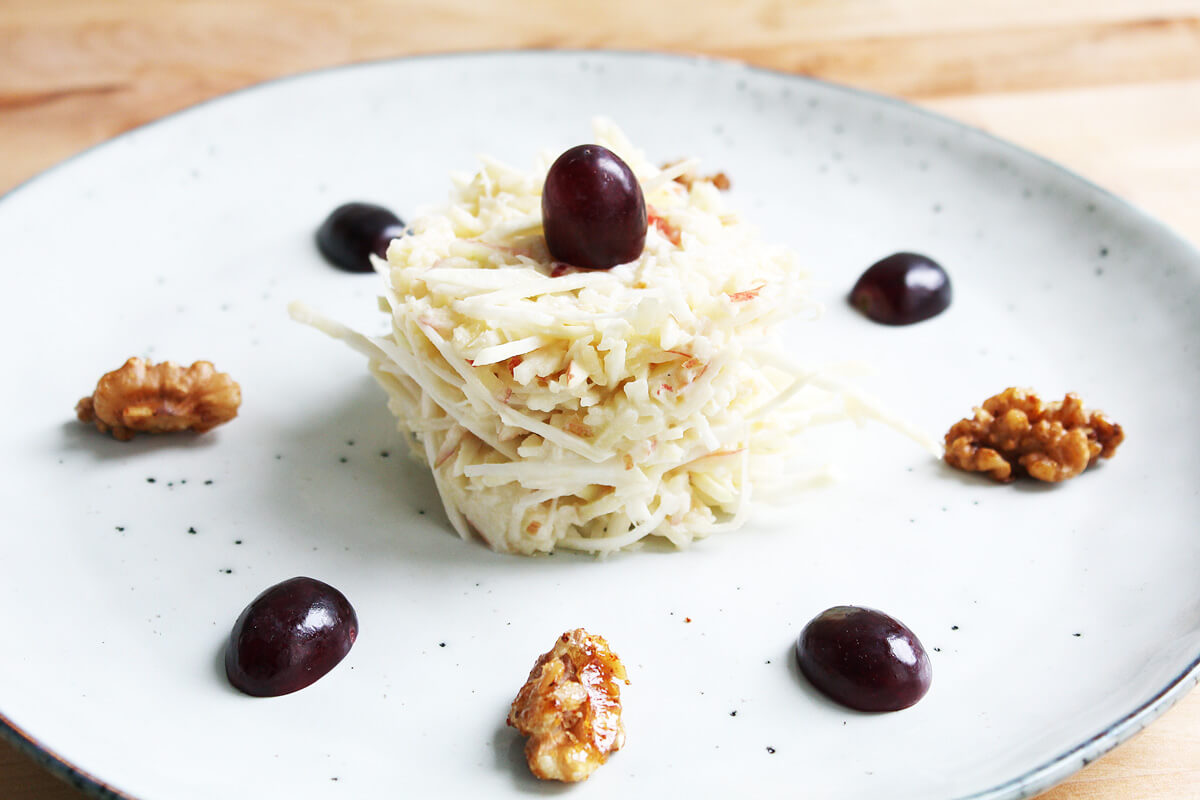 Throughout the years the recipe got refined. The Waldorf=Astoria hotels today serve walnuts and grapes with the salad and in order to make the meal more fresh and light the mayonnaise in the dressing got substituted by yoghurt and crème fraîche.
In our vegan version we are using a mix of soya yoghurt and vegan mayonnaise. The perfect balance between lightness and flavour. If you want to prepare the waldorf salad without mayonnaise, you can use yoghurt as well. The caramalized walnuts and a smack of paprika flavour perfectly complete this otherwise slightly sour salad. Thus we'll be serving it more often as a fresh side dish or as a quick appetiser.
VEGAN WALDORF SALAD
Ingredients for 2 large servings (about  1,25 Euros each) or 6-8 appetiser servings:
SALAD
2 sour apples (about 450 g)
350 g celeriac or celery root
75 g walnuts
2 tsp sugar
1 pinch of paprika powder
100 g red grapes
DRESSING
5 tbsp soya yoghurt
3 tbsp vegan mayonnaise
3 tsp lemon juice
salt + (white) pepper
TO SERVE (OPTIONAL)
some leaves of romaine lettuce
Preparation
1. Mix a dressing of yoghurt, mayonnaise and lemon juice and season it with a pinch of salt and pepper.
2. Caramelize walnuts with sugar in a pan and sprinkle with a pinch of paprika powder. Cut all grapes into quarters.
3. Slice apples and celeriac into julienne (= thin strips) by using a vegetable slicer or slice as thinly as possible with a knife. Mix them directly with your dressing to prevent your apple slices from turning brown. Add grapes and walnuts as well and mix well. Serve on some leaves of romaine lettuce if you like or use a food ring for a nifty arrangement of the salad.