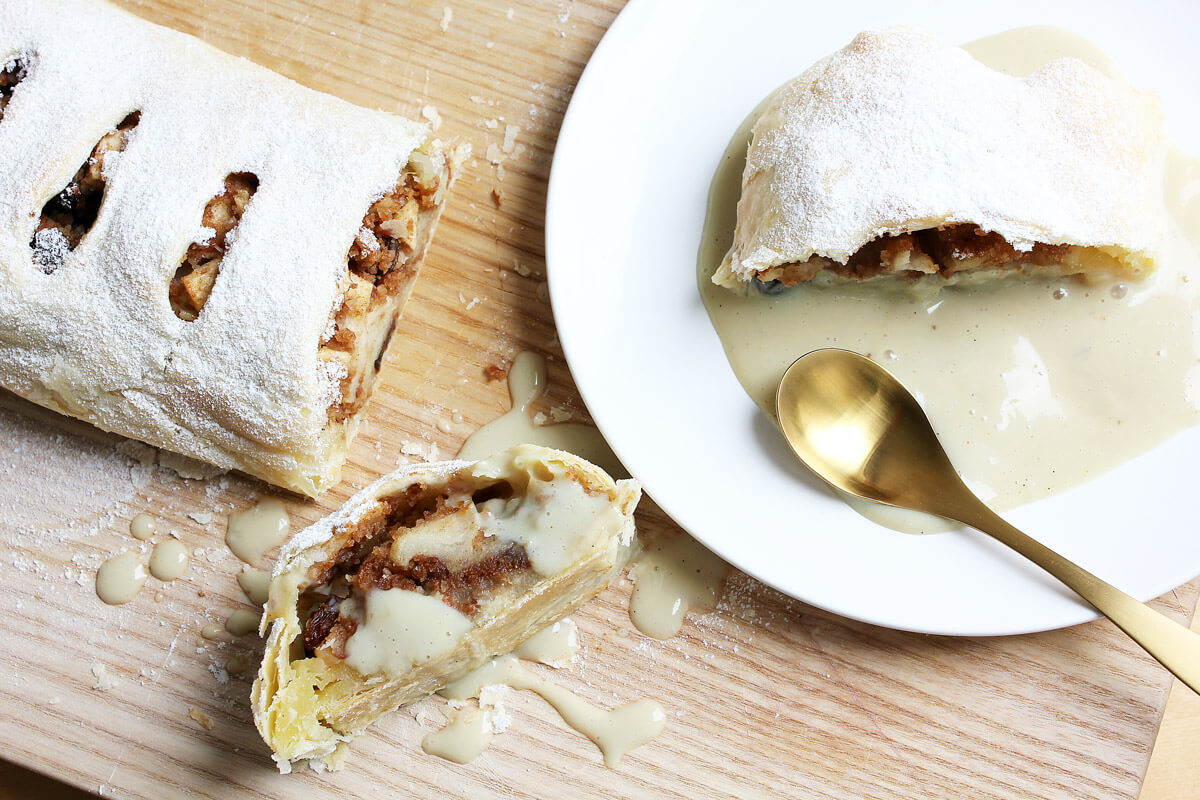 Although apples are available as stock items in Germany all year round, the apple season actually starts in late summer and extends into autumn. Today we show you a real classic apple dish. Our vegan puff pastry apple strudel with vanilla sauce is unbelievably tasty, yet easy and fast to make.
We save ourselves the time-consuming preparation of the strudel dough, which must first rest after being kneaded together. Instead, we just use store-bought puff pastry. The version with home-made strudel dough will certainly be uploaded some other time. When the apple strudel is in the oven, there is still time to make a delicious vanilla sauce. The creamy sauce goes so well with the crunchy apple strudel. But vanilla ice cream or whipped cream fit more than just okay with the Austrian pastry dish as well.
We kept the filling of our vegan apple strudel very classic. A traditional Viennese apple strudel is filled with apples, rum raisins, breadcrumbs, cinnamon and sugar. Every now and then nuts are used, too. We pimp our stuffing with some chopped almonds. Walnuts or hazelnuts would also fit very well.
By the way, vanilla is very labor-intensive in cultivation, making it one of the world's most expensive spices. Therefore, two money saving tips: Never throw away a vanilla pod after cooking with it. Simply rinse well with water after use, allow to air dry completely and then put it in sugar. This easy you have homemade vanilla sugar. If you really want to skip on fresh, real vanilla, you can simply use vanilla flavoured plant milk for the vanilla sauce.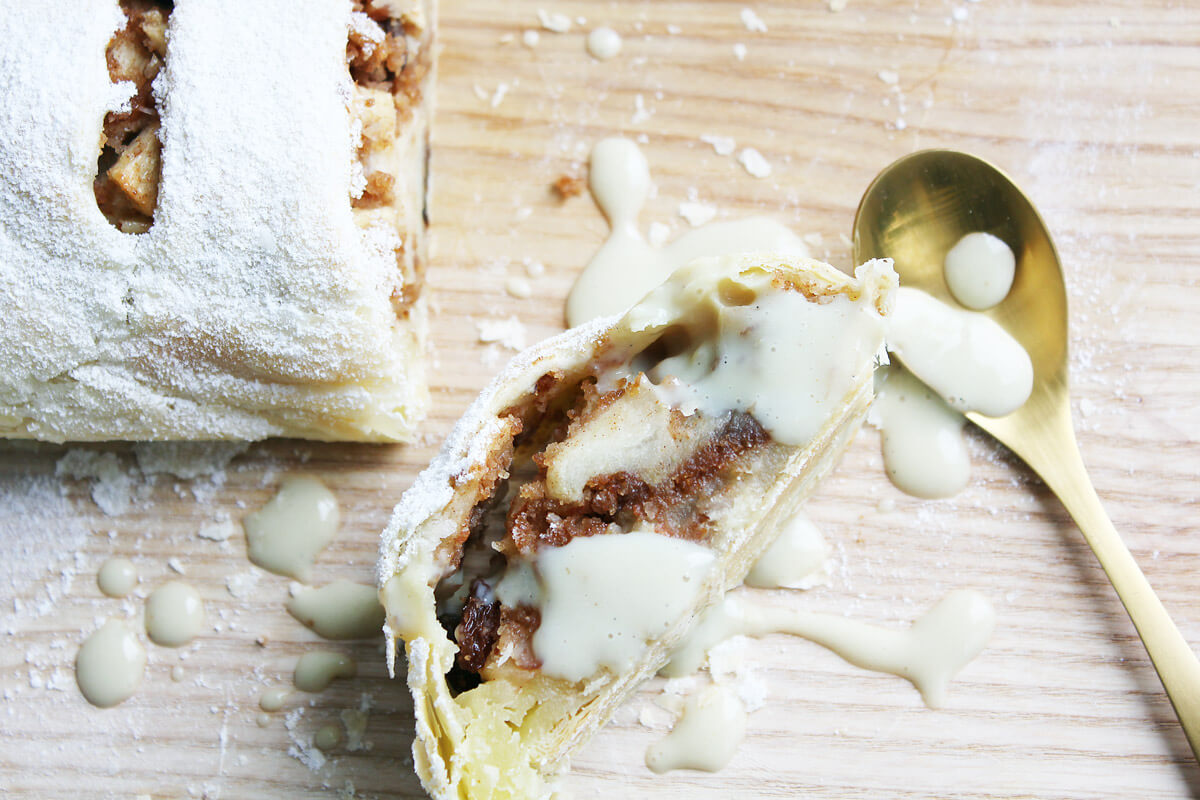 Vegan Puff Pastry Apple Strudel with Vanilla Sauce
Ingredients
Apple Strudel
1

pack

vegan puff pastry

,

is equivalent to 275 g

475

g

apples

2

tbsp

lemon juice

50

g

raisins

1

tbsp

rum

30

g

breadcrumbs

1

tbsp

vegan butter

30

g

sugar

40

g

almonds

1

tsp

cinnamon

1

tbsp

plant milk

icing sugar
Vanilla Sauce
1

l

plant milk

1

vanilla pod

4

tbsp

cornstarch

60

g

sugar

1/4

tsp

turmeric

,

optional
Preparation
Apple Strudel
Mix the raisins with the rum. Finely chop the almonds.

Peel, core and cut the apples into eighths, then slice them. Put in a large bowl and drizzle with lemon juice.

Melt the vegan butter in a pan. Add breadcrumbs and sugar and toast until golden. Stir from time to time. Add to the apples together with the rum raisins, almonds and cinnamon and mix well.

Roll out the puff pastry on a baking paper. Put the apple mixture on it. Leave some free space on each side. Now turn in the short sides of the puff pastry and roll up from the long side. Turn the seam down. Cut the puff pastry a few times at the top and brush with the plant milk. Bake in the preheated oven at 200 degrees Celsius for about 30 minutes.

Serve dusted with icing sugar. It goes well with vanilla sauce (recipe see below) or vanilla ice cream.
Vanilla Sauce
Mix the cornstarch with about 50 ml of the plant milk.

Halve the vanilla pod and scrape out the seeds. Slowly bring the remaining plant milk with vanilla seeds and pod in it to a boil.

Add the sugar and cornstarch to the boiling plant milk. Whilst stirring, simmer for about 1-2 minutes.

Finally, remove the vanilla pod and stir in the turmeric for the color. Serve the vanilla sauce warm or cold.