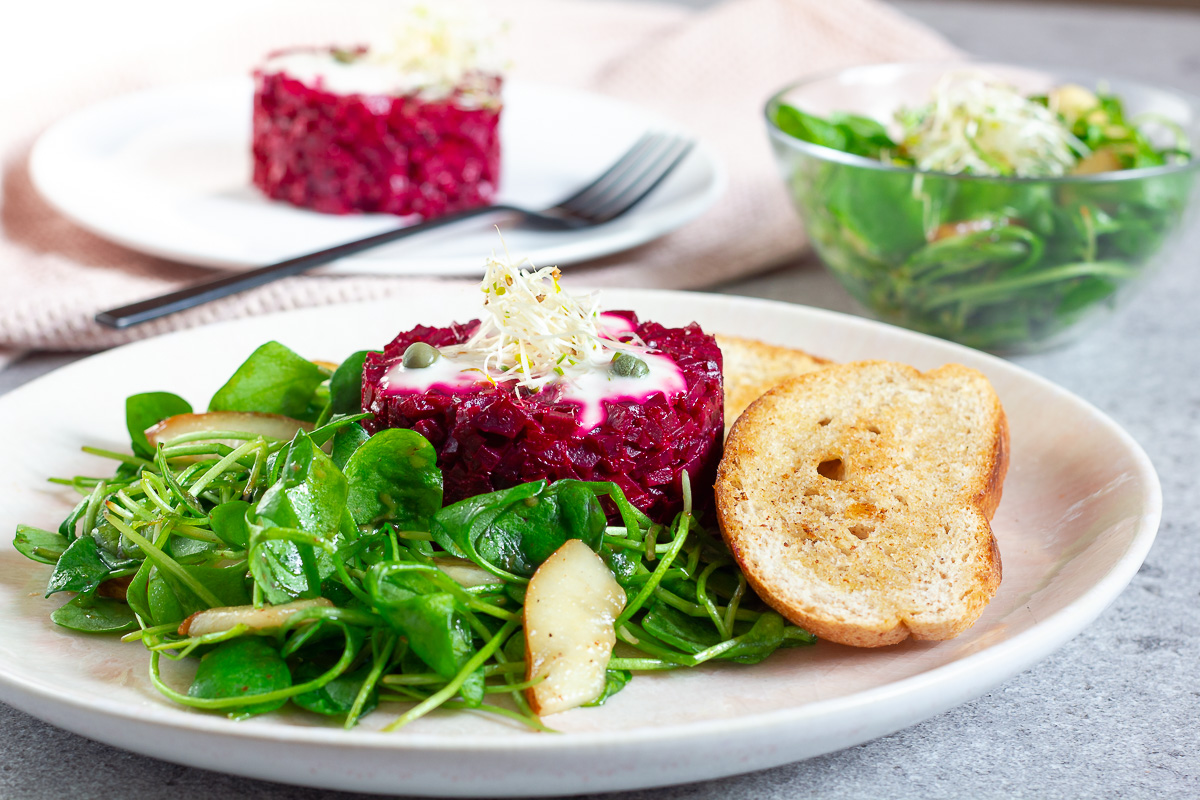 Beet tartare with miner's lettuce salad sounds pretty crazy at first. And admittedly, it looks really fancy too. The preparation is simple though and the ingredients are down to earth. The recipe is even super regional and seasonal. Because beetroot, miner's lettuce and pear came to us to Berlin with the current vegetable box from Frankfurt/Oder. The rest of the ingredients are stock items that can be bought in jars all year round. Yeah!
We have already conjured up a lot out of beetroot: from roast over soup, stew and curry to burgers. That's a good thing, because beetroot is not only delicious, but also available everywhere right now as a real winter vegetable and also really healthy. So beetroot definitely deserves more attention. It is low in calories, but at the same time contains many vitamins and minerals. Because they are cooked in the oven, a lot of these remain in the turnip.
Today there is a meatless tartare made from beetroot. To do this, it is first cooked in the oven, then peeled and finally cut into fine cubes. The tartare is seasoned with gherkins, capers, lemon juice, mustard, mayonnaise, horseradish, a dash of tabasco, salt and pepper. There is also a quick salad made from miner's lettuce (also called Indian lettuce or winter purslane) and pear. And crispy bread toasted in the pan. You want to be replete after all. 😉
Warning: many horseradish preparations in jars are not vegan, but instead contain egg or dairy products. So please check the ingredients carefully. For example, Schamel has an organic horseradish that is vegan. In organic markets, you could also find small jars labeled "Horseradish Mousse" from Vitam. Fresh horseradish is of course also perfectly suitable. If you can't find horseradish without animal ingredients at all, you can use wasabi paste instead. You can now find them in most supermarkets in the section for Asian products.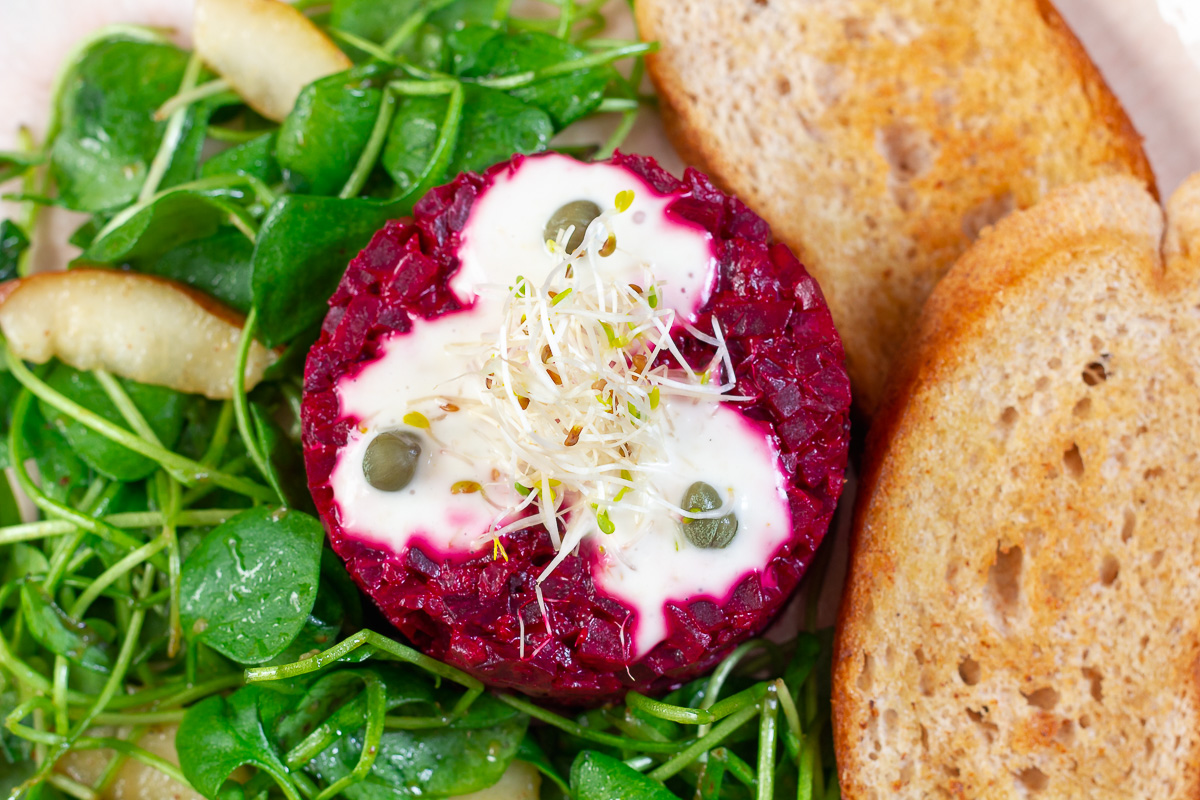 Beet Tartare with Miner's Lettuce Salad
Ingredients
Beet Tartare
500

g

beetroot

2

tbsp

gherkins

,

chopped

1

tbsp

capers

,

chopped

1

tbsp

lemon juice

1

tsp

mustard

3

tbsp

vegan mayonnaise

2

tsp

horseradish (fresh or from the jar)

,

grated

1

dash

tabasco

Salt + pepper
Miner's Lettuce Salad
100

g

miner's lettuce

,

alternatively lamb's lettuce

1/2

pear

2

tbsp

olive oil

2

tsp

balsamic vinegar

1/3

tsp

mustard

Salt + pepper
Preparation
Wash the beetroot and cook with the skin in the oven on a baking sheet lined with baking paper at 180 degrees Celsius for about 60 minutes. If you use cooked beetroot, just let them drain.

In the meantime, wash the miner's lettuce and dry. Cut the pear into bite-sized pieces. Mix together olive oil, balsamic vinegar and mustard to make a quick dressing. Season with salt and pepper. Mix with Postelein and pear.

Mix the mayonnaise and horseradish together. Once the cooked beetroot has cooled down slightly, peel and dice it very finely. Chop capers and pickles. Mix 2/3 of the horseradish mayonnaise with the remaining ingredients of the tartare and season with salt and pepper.

Arrange the beet tartare nicely (e.g. with the help of a metal ring or with the help of a small bowl turning it upside down). Place the rest of the horseradish mayonnaise on top and sprinkle with cress. Spread the miner's lettuce salad around it. Serve with roasted bread.

As a starter, the specified amount is sufficient for 4-6 servings.
Notes
As a starter, the specified amount is sufficient for 4-6 servings.
Song of the recipe:

Alice Phoebe Lou is a great artist from South Africa who has been living here in Berlin Neukölln for many years now. Despite her success, she remains true to her roots as a street musician and still regularly plays free concerts in the park.
(Would you like to listen to all the songs for the recipe? Find them collected in one playlist here)