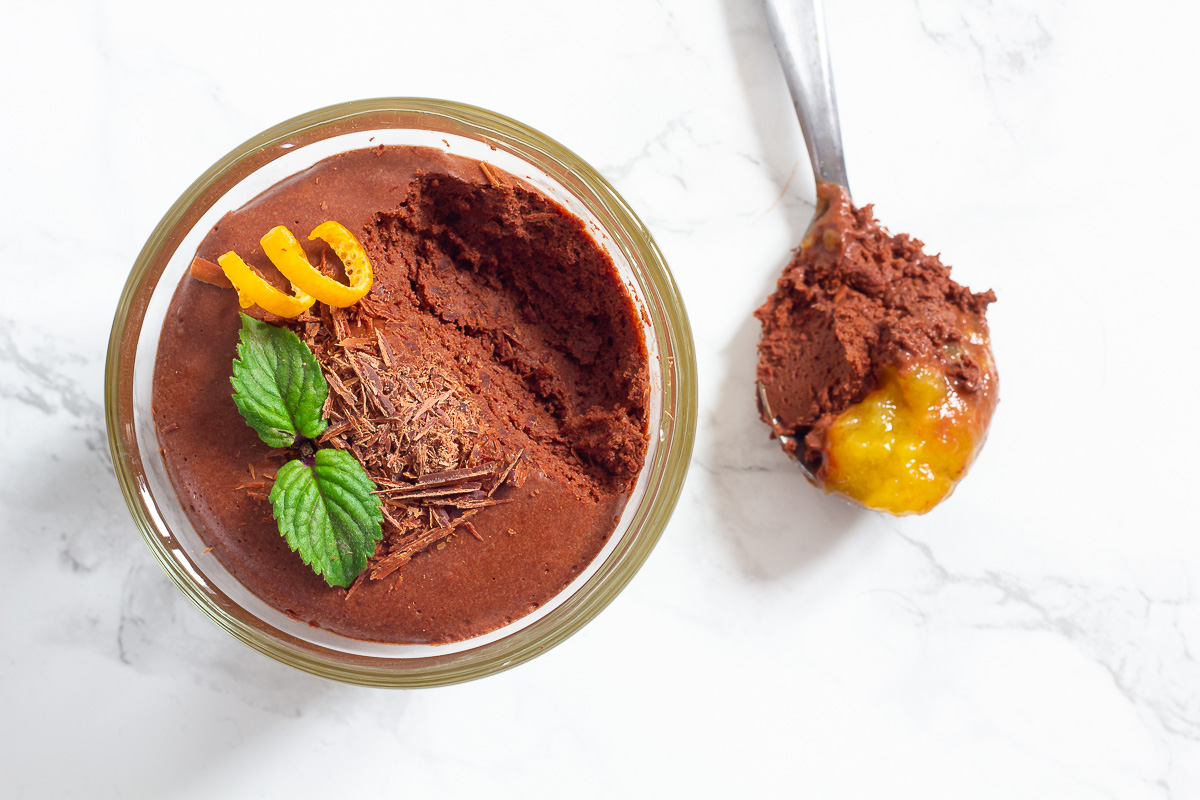 Light and airy, chocolaty, vegan and damn tasty. This chocolate mousse has the potential to become your new favourite dessert. It basically consists of only 2 ingredients and is therefore prepared in a few minutes.
For the mousse we first whip up chickpea water to a vegan whipped egg white, called aquafaba. To be on the safe side, we add some cream of tartar and lemon juice for stability, as well as some sugar for the taste. In theory, it works without the three additional ingredients. In the second step, we melt dark chocolate. Both are then carefully mixed together. That's it. The vegan chocolat mousse is done.
Almost at least. Because in addition to the really short preparation time, you unfortunately have to plan around 1-2 hours for the mousse to set in the refrigerator. The waiting time is probably the most difficult part of the preparation. 😉
Since we are currently planning our Christmas menu and we think a pure chocolate mousse is too boring for that, we serve it with a simple orange jelly. To do this, we boil orange juice (freshly squeezed or from the bottle) with a little sugar and agar-agar and let it cool down. Finished. Yes, the jelly is just as simple and easy to prepare as the mousse.
Agar-agar, by the way, is a plant-based thickener obtained from algae. Algae in a dessert? Don't worry, agar-agar is tasteless and can therefore be used as a vegetarian or vegan alternative to gelatin without hesitation. You can find it as a powder in supermarkets and organic stores. In order to develop its thickening power, it has to be boiled. It then sets when it cools down.
A little tip: agar-agar becomes liquid again when heated. So if you realize that you didn't use enough agar-agar for the desired texture, you can simply boil the jelly again and add some additional agar-agar powder.
This dish is not only a great dessert for Christmas, by the way. Also for the rest of the year, this chocolate dream puts up a good show. In terms of taste, chocolate can be combined with almost any fruit (keyword flavour pairings) that has a certain sweetness and acidity. Instead of orange juice, just try passion fruit, cranberry or pineapple juice. Or leave out the jelly at all and serve fresh strawberries or raspberries with it during summer. The mousse tastes wonderful even without some fruit on the side. For example, just add a dollop of vegan whipped cream and/or a few chopped nuts on top.
What is your favorite combination with chocolate?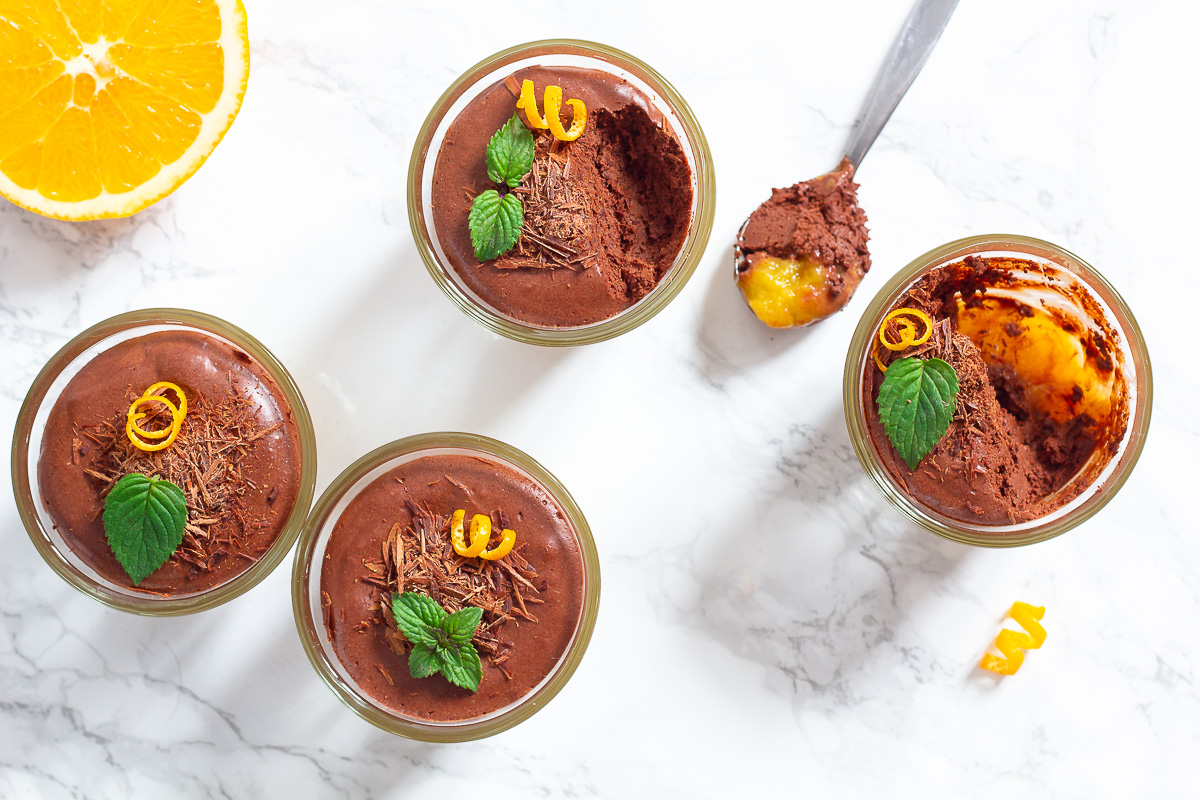 Vegan Chocolate Mousse with Orange
Ingredients
Chocolat Mousse
150

g

dark chocolate

,

plus a little more for serving

approx. 125

ml

chickpea water

,

liquid from 1-2 glasses/cans chickpeas

1

pinch

salt

,

only if the chickpea water does not yet contain salt

1/2

tsp

cream of tartar

1/2

tsp

lemon juice

2

tsp

sugar
Orange Jelly
250

ml

orange juice

2

tbsp

sugar

1/2

tsp

agar-agar
Preparation
Mix agar-agar with a small portion of the orange juice. Bring the remaining orange juice with sugar in a saucepan to a boil. Stir in agar-agar and cook for about 2 minutes. Let it cool down a little, fill into glasses and let it set in the refrigerator for 30 minutes.

Whip the chickpea water with cream of tartar and lemon juice and, if necessary, a pinch of salt (only if the chickpea water does not contain salt) with an electric whisk on full power until the mixture has the desired consistency. This usually takes a couple of minutes. Add the sugar after 2/3 of the time.

Break the chocolate into pieces and melt over simmering water. Let it cool down slightly. Carefully fold the aquafaba (= whipped chickpea egg white) carefully into the chocolate in portions. Now also pour the mousse into the glasses and, depending on the size of the glasses, put them in the refrigerator for at least 1-2 hours.

Serve sprinkled with grated chocolate. If you used fresh oranges for the orange juice, you can also add some orange zest to the chocolate mousse.