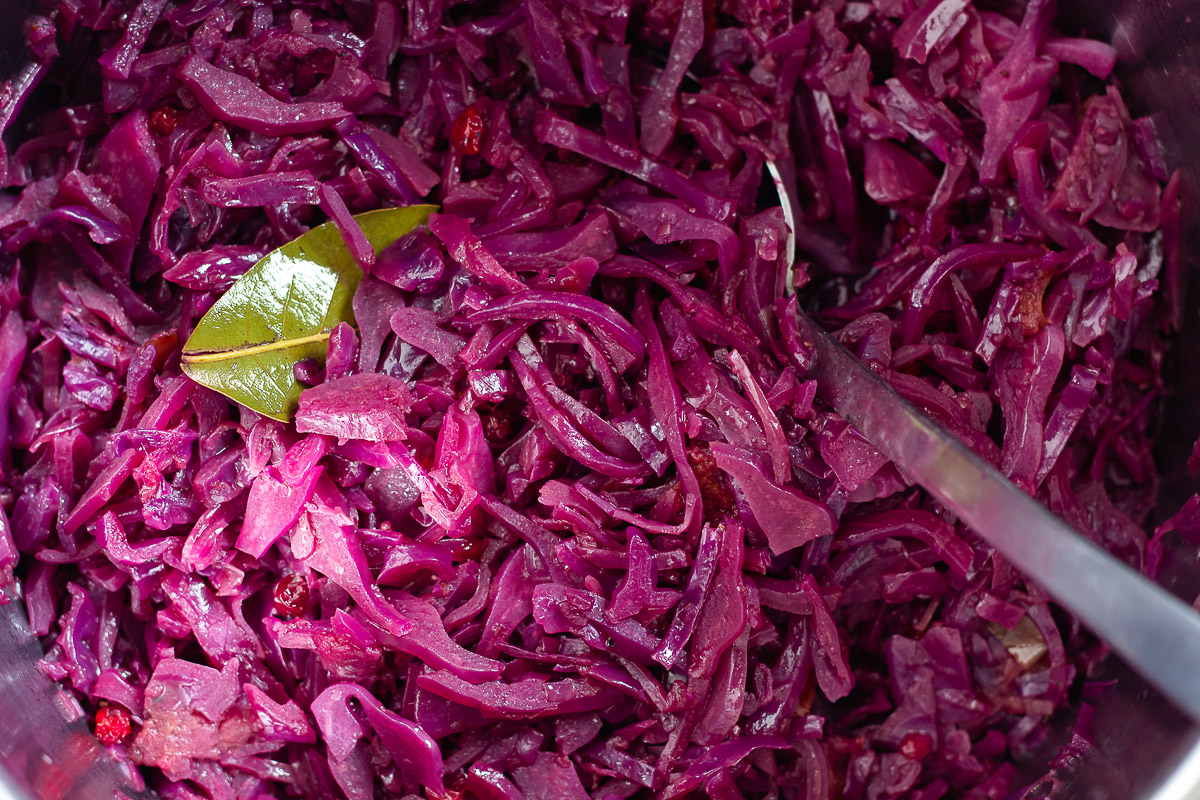 Red cabbage is probably THE German side dish for a Christmas dinner, along with dumplings. It is often refined with apples. The fruity sweetness and acidity go very well with cabbage. And even if you can buy pre-cooked red cabbage that isn't tasting so bad, even in glasses, we prefer to make it ourselves.
The preparation of the fruity red cabbage with apple is not that much work. Chop some red cabbage, onion and apple, sweat and simmer. That's it. Sure, the cooking time is at least 60 minutes. But you can use the time for other things. The red cabbage is already grown up and can simmer all by itself. It doesn't even have to be stirred in between. So you can just put your feet up and enjoy the great smell that is blowing through your apartment.
We have cooked red cabbage countless times in the past few years, but to be honest, we weren't always fully satisfied. Sometimes the cabbage was still quite firm even after 2 or 3 hours of cooking. Another time it was a little bit too dry. The cabbage looked almost brittle, didn't shine. But now we've got the hang of it and know how the red cabbage with apple is guaranteed to end up juicy and shiny on the plate.
Secret ingredient number 1 is vegan onion lard. This ensures shine and a really good taste. Sure, because it's fat. But a little fat is totally okay. Half a tablespoon is enough per serving, so don't you worry. Vegan onion lard is available under the name "ZwiebelSchmelz" in pretty much every supermarket and in most drug stores. It's usually bottled in glass and you can find it next to the vegan spreads.
The second important ingredient is red wine. Red cabbage should be cooked with some liquid to get really juicy. Red wine not only brings a good taste to the cabbage, it also helps with the coloring. As a non-alcoholic alternative, we would therefore recommend red grape juice first. Apple or orange juice are also delicious, but they don't add to the red color. When using juice, the sugar can be omitted. If there is neither wine nor juice in the house, you can also add vegetable broth with a dash of vinegar.
The secret ingredient number 3 is the cranberry jam. It also provides extra shine. And it adds another level of sweetness and acidity to the dish. This complements the apple wonderfully. It results in a highly complex taste profile despite a fairly manageable list of ingredients.
Red cabbage tastes best with traditional Sunday meals such as roulades or roasts (like our delicious lentil loaf). It can also be served as a very simple dish with mashed potatoes or dumplings. If you've already got some red cabbage on hand, it'll be pretty quick. Therefore, in our opinion, it is worthwhile to have some in the freezer. We therefore recommend that you always cook at least the amount specified in the recipe, even in a 2-person household.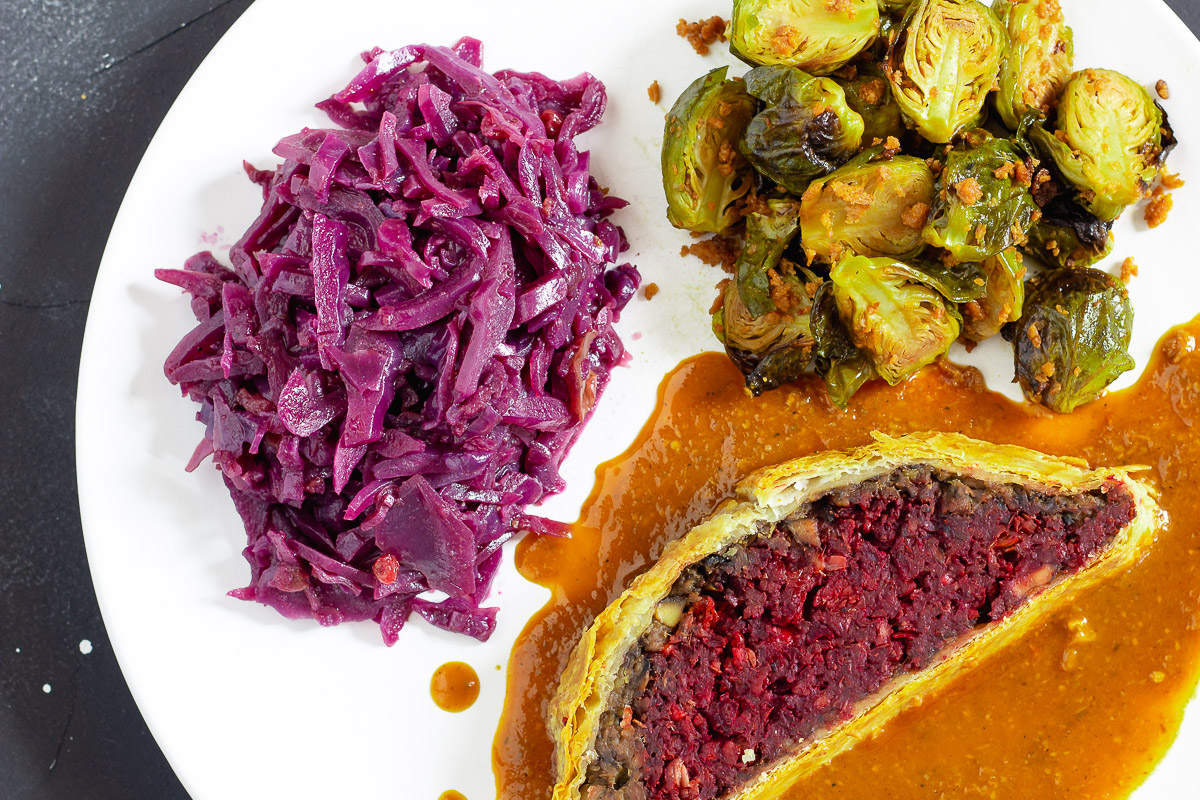 Vegan Red Cabbage with Apple
Ingredients
1

kg

red cabbage

,

is equivalent to approx. 1 small head

2

onions

1

apple

3

tbsp

vegan onion lard

,

alternatively vegan butter or vegetable oil

3

tbsp

sugar

200

ml

red wine

1

bay leaf

3

cloves

3

allspice

1

tsp

salt

1/2

tsp

pepper

3

tbsp

cranberry jam

,

alternatively jam of your choice

2

tbsp

apple cider vinegar
Preparation
Remove the outer leaves from the red cabbage. Quarter it and cut out the stalk. Then slice or cut the cabbage into thin strips. Finely dice the onion. Core the apple and chop it roughly.

First fry the onion with the onion lard in a large saucepan over medium heat. Then add red cabbage, apple and sugar and let it caramelize a little. Deglaze with red wine. Add salt and pepper. Add the spices (e.g. in a spice bag or tea strainer) and simmer with the lid closed at a low temperature for 60-90 minutes.

Remove the spices from the red cabbage. Season the red cabbage with apple cider vinegar, cranberry jam and, if necessary, more salt and pepper.