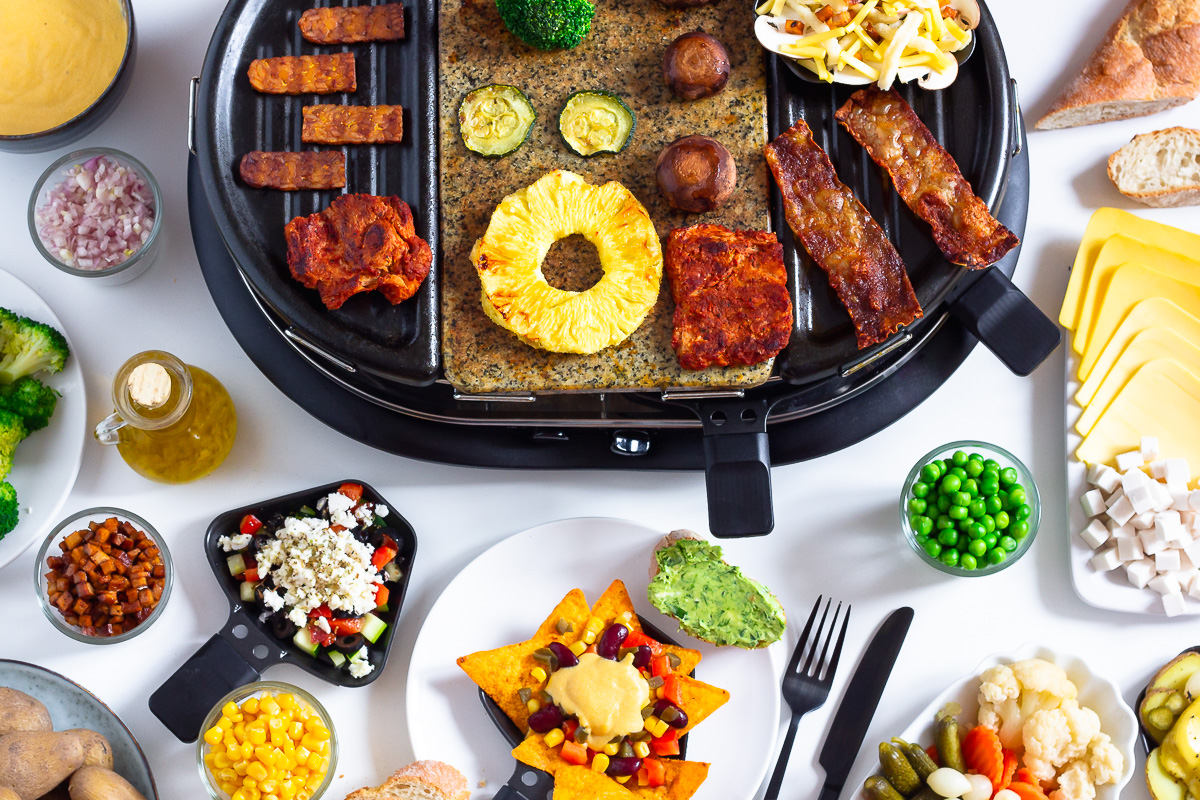 The end of the year is coming closer and closer. And there have probably been not many years in which so many people longed for the end of the current year as in 2020. But regardless of these special circumstances, the end of the year is also the time when the raclette grill is most frequently pulled out of the closet.
Because Christmas and New Year's Eve are THE typical days for raclette, at least in Germany. Actually not that surprising. After all, Swiss raclette is just like fondue (be sure to check out our vegan cheese fondue!) a very sociable meal. In addition, the most diverse diets and taste preferences can be individually satisfied. We have also celebrated New Year's Eve with friends and our small table grill a couple of times. And in Andi's family, Christmas Eve is often used for a raclette feast.
And because raclette is such a special meal for many, we have dedicated a very special article to this subject today. The posting has therefore become a little longer than our normal recipes. Oops! Considering that, we tried to structure the article in the best possible way. So you will find below:
Basic Tips
We start our raclette guide with some valuable tips for planning and having a successful raclette evening.
The Raclette
First of all and very important of course: no raclette without a raclette grill. The raclette grill should be big enough so one or two pans are available for each person. If there are enough side dishes and ingredients that can be prepared on top of the raclette, one pan should be sufficient from personal experience. But you can't go wrong with two pans per guest. At least for the particularly impatient ones. 😉
Planning and Preparation
The preparation for a raclette usually starts a few days in advance. Namely with the planning. In the first step, it is extremely helpful to write a shopping list. So you won't forget anything when going grocery shopping. We have divided the typical ingredients for this into different categories and even gave rough gram figures per person for the most important categories. If you use it to plan the quantities in advance, you can at least avoid sitting on 3 sacks of potatoes after the raclette.
It will probably not work without having leftovers. In our opinion, that's okay. Firstly, many ingredients (such as pickled vegetables) can be stored in the refrigerator for a few days after they have been opened. Secondly, in most cases we just use the raclette grill again the next day. Or we prepare delicious stews with the leftovers. Beans, potatoes, corn and vegetables can for example be turned into a wonderful vegan chili.
After planning and shopping, the third step is: preparing the ingredients. If you want to make vegan meat and cheese alternatives by yourself, you can usually do this a few hours or days in advance. Tofu, tempeh, soy meat or seitan usually taste even better the longer they steep in their marinade. But also our vegan mozzarella or the cheese sauce can be kept for a few days if stored chilled and sealed.
On the other hand, we would cut fresh fruit and vegetables only a few hours before the actual raclette. So they are as fresh as possible when the guests arrive. Another step of preparation on the same day: pre-cook ingredients such as potatoes.
At the end we put everything in beautiful bowls that can then be passed back and forth at the table. If you are more pragmatic, you can of course also simply put canned goods directly in the can or in the jar on the table.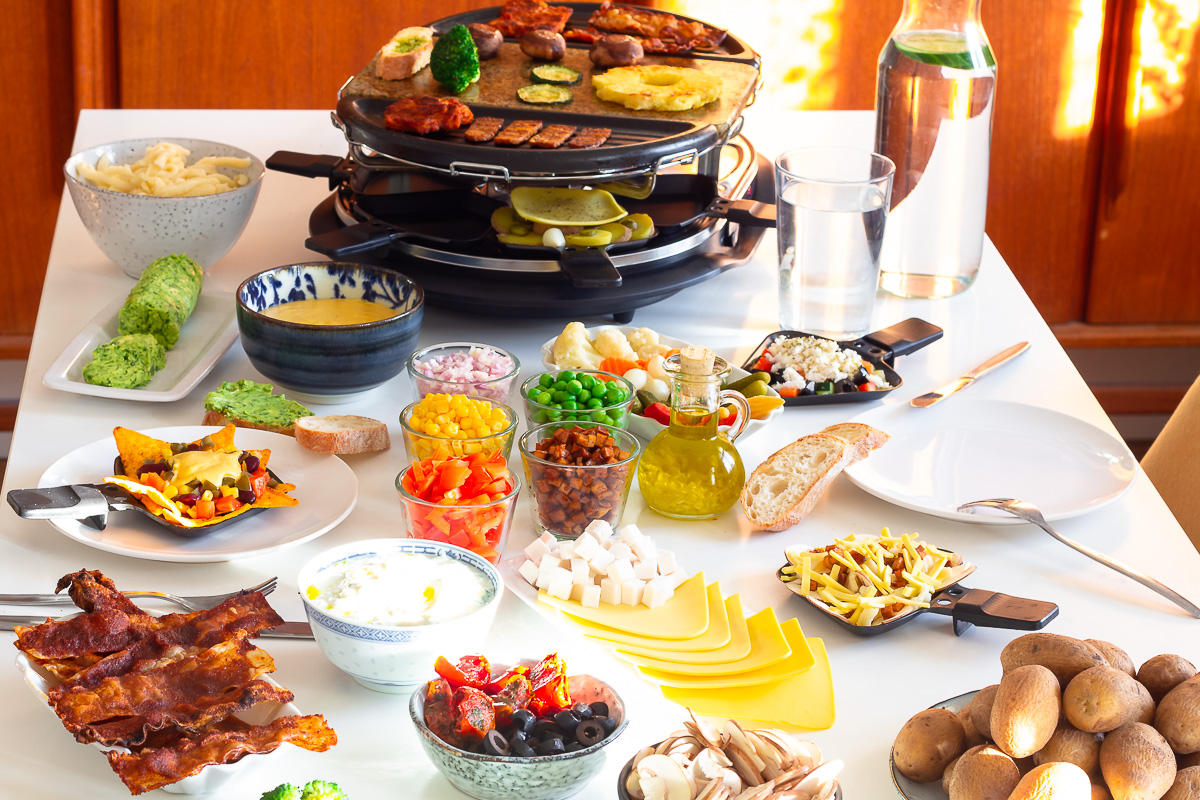 Ingredients For A Vegan Raclette
Are you wondering which ingredients should not be missing at a vegan raclette? Many people feel that way and you are in the right place here. We share our thoughts on the most important ingredients of a good raclette meal with you below.
Vegan Cheese
The main component of a real raclette is of course the cheese. For the traditional Valais-style raclette, half a wheel of cheese is melted next to a fire. As soon as the top layer has become soft, it is scraped onto a piece of bread or a plate to be eaten.
The raclette grill for the table is a more modern invention. But cheese also plays an important role in this. Originally the pans were only intended to be used to melt the cheese slices. This has evolved in such a way that nowadays a variety of ingredients are put in the pans and baked with the cheese.
Of course, vegans don't have to skip on the cheese enjoyment at a raclette. Firstly, you can buy meltable cheese alternatives in many supermarkets and discounters. The cheese slices of a large almond cheese manufacturer are one positive example. But there are also delicious vegan alternatives for other cheeses such as feta or camembert.
Secondly, we have already uploaded a few great recipes for homemade vegan cheese to our blog, which also do a good job on the raclette. For example, we love our cheese sauce, which works very well both in the pans and as a dip. Our vegan meltable mozzarella cheese is a delicious alternative, too. The simplest homemade version to gratinate is probably the vegan bechamel, a roux seasoned with nutritional yeast flakes.
Required amount: about 100 – 150 g per person
Faux Meat
Modern raclette grills usually have a cover made of metal or stone. Of course, this should primarily store the heat from the heating element and deflect it downwards. But it is also a wonderful option to heat other ingredients outside of the pans. In addition to vegetables, meat is often fried on top of the raclette grill. We also love to prepare our vegan meat there.
What should never be missing at our raclette table are marinated soy grill steaks . They are super easy to prepare and have already satisfied so many meat eaters. We still haven't got enough of them either. We also can't imagine a good raclette without our vegan bacon made from rice paper . In addition, we usually also prepare marinated tempeh or tofu (with soy sauce, sesame oil and 1-2 spices) for the hot plate on top.
However, all meat substitutes can actually be prepared on the raclette grill. Sausages, gyros, nuggets, burger patties, schnitzel or steaks. Everything is possible.
Small cubes of smoked tofu (seasoned with a little soy sauce and liquid smoke) are a great option for the pans. It's basically vegan bacon. Vegan mince is also tasty combined with other ingredients in the pans.
Required amount: about 150 g per person
Filling Side Dishes
In addition to bread, boiled potatoes are the absolute raclette classic. You can gratinate them in the pan with cheese or fry them on top of the hot plate. Our second favourites in this category are clearly spaetzle , a kind of Southern German pasta. A cheese spaetzle pan is very difficult to resist.
Do you want to try something different? Potatoes and spaetzle can also be replaced with pre-cooked noodles and gnocchi.
We also like to put a bowl of tortilla chips on the table for raclette. They are extremely versatile. As part of a Tex-Mex pan, simply baked with cheese as nachos or dipped in cheese sauce as a snack.
Required amount: about 250 g per person
Pickles
Along with cheese and potatoes, pickled vegetables are probably the most important component of a Swiss raclette. Pickles or gherkins and pearl onions are the absolute classics. There are also jars of mixed vegetables to buy. The so-called mixed pickles usually contain cucumbers and onions as well as baby corn, peppers, carrots and cauliflower.
Sauer eingelegtes Gemüse ist neben Käse und Kartoffeln die vermutlich wichtigste Komponente eines Schweizer Raclettes. Essiggurken oder Cornichons sowie Perlzwiebeln sind hierfür die absoluten Klassiker. Es gibt auch Gläser mit gemischtem Gemüse zu kaufen. Die sogenannten Mixed Pickles enthalten neben Gurken und Zwiebeln in der Regel noch Baby-Maiskolben, Paprika, Karotte und Blumenkohl.
Jalapeño rings, sweetcorn, olives, sun-dried tomatoes, artichoke hearts or capers also are nice on the raclette table.
Required amount: about 100 g per person
Fresh Vegetables
Of course, we can not and do not want to go without fresh vegetables for raclette. Ingredients such as mushrooms, zucchini, aubergine, peppers, onions or tomatoes are served finely diced or slied raw on the table.
You can pre-cook particularly crunchy vegetables such as broccoli, cauliflower or carrots a little. It is best to cook them briefly in boiling salted water and then rinse with cold water. This way the vegetables keep their bite and their beautiful colour. However, unlike legumes, which must be cooked, this process is optional. Because the vegetables mentioned can also be eaten raw without hesitation. So your personal taste decides.
Required amount: about 150 g per person
Legumes
As already mentioned briefly: legumes should not be eaten raw. Okay, you would never think of sliding dried kidney beans, white beans or chickpeas into your mouth anyway. But green beans and peas should also be cooked through. For the raclette pleasure, it is important to pre-boil them in salted water beforehand and rinse them with cold water.
Incidentally, we also think of kidney beans as a great choice for Tex-Mex pans or gratinated nachos. Green beans can be wonderfully wrapped as a packet in vegan rice paper bacon and fried on the hot plate.
We personally don't think chickpeas are perfectly suitable to be used in a raclette. We rather put them on the table as a hummus dip.
Fruits
For us, fruit is not a main component of a good raclette. But one or the other fruity option can turn a standard raclette into an extraordinary one. Fresh pineapple sliced, for example, can be wonderfully caramelized on top of the raclette. But they could also find their place in the pans. Do you remember toast hawaii? 😉 This is where the cranberry jam comes into play as well.
Figs also work in combination with other ingredients in the pan. But they can also be halved or quartered and fried on top. Grapes, on the other hand, are a refreshing snack. And they make every table more attractive.
Bananas are a really good dessert option for raclette. For example, they can be cut into slices and caramelized with a little agave syrup in a pan. Or you can pack them directly with their skin on the raclette grill. Preferably with chocolate and peanut butter. Our grilled banana doesn't have to be grilled on a real barbecue.
Sauces + Dips
Even if the traditional raclette does not require sauces, we find them extremely useful in the modern version. A toasted slice of bread tastes even better with some hummus or baba ghanoush on top. And the fried potatoes can be wonderfully combined with tzatziki .
Or how about some barbecue sauce or a fruity and spicy salsa for the faux meat? Some vegan mayonnaise or aioli isn't that bad either, especially with the potatoes.
Oily herb sauces like pesto or chimichurri are perfectly suitable for dipping or to be added directly to the pan as well.
Other
We still have a few little things in mind. Let's start with spices. Salt and pepper should of course not be missing on any table. You could also add some paprika powder or cayenne pepper to it. Do you love cumin powder on every dish? Then don't hesitate and make it part of your raclette! Herbs, whether dried or fresh, can give a special touch just like the spices do.
Some oil / fat at the table has also proven to be extremely useful, whether for frying on top of the raclette grill or for the pans themselves. Olive oil, vegetable oil or vegan butter are a plausible choice here. But we take the extra step for extra good taste. We pimp some olive oil with garlic and / or chilli. And usually we also have a homemade herb or wild garlic butter in the freezer that is just waiting to be taken out for a special feast.
One or more salads as a side dish can bring a little lightness to the otherwise rather heavy raclette. Especially if you are limited to one pan per person due to your raclette grill, it can be extremely useful to have a few more side dishes on the table that taste good even without using the raclette.
Of course, the right choice of drinks should also be considered. Those who like it more festive may serve vegan wine, sparkling wine or craft beer with their raclette. A light and alcohol-free thirst quencher is water flavoured with cucumber, mint, lime or berries. Basically tap water de luxe. And there is nothing wrong with having a digestif on hand. Our experience has shown that after an large raclette meal there are always inquiries about one. Even if alcohol does not scientifically help digestion. The imagination or numbness does help. 😉
Special Option 1: Pizza Raclette
We tried pizza raclette for the first time a few years ago and immediately liked it. For this you simply prepare a regular pizza dough with yeast. It is then put covered on the table and everyone can take something, press it into the pan and top it as desired.
In addition to the dough, a tomato sauce is also required. The quick version: season canned tomatoes with salt, pepper, oregano and basil. Or everyone just seasons it to his or her own taste at the table.
Special Option 2: Pancake Raclette
And some more dough. But this time the sweet version for the dessert. Because pancakes can also be baked in the usually non-stick pans. Simply put a bowl with some pancake batter on the table. This goes first in the pan and finally a few sweet treats such as fruit, chocolate or nut butter on top. Delicious!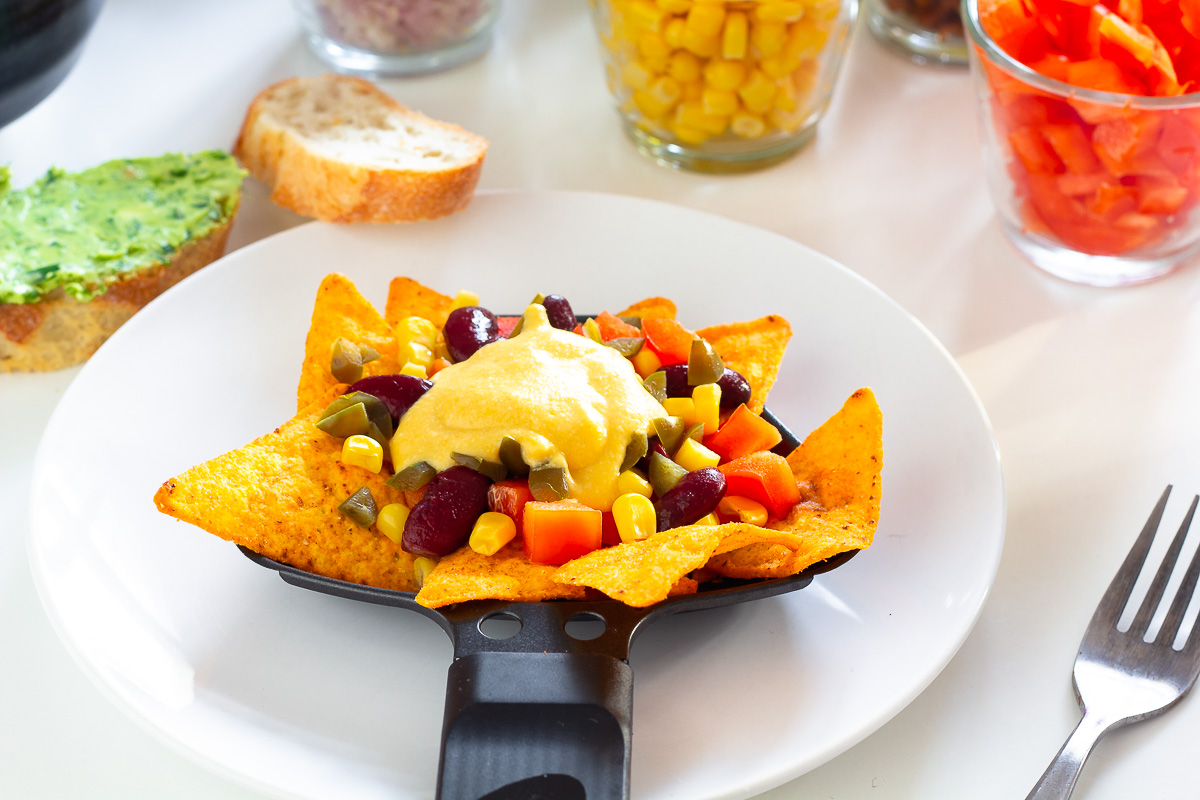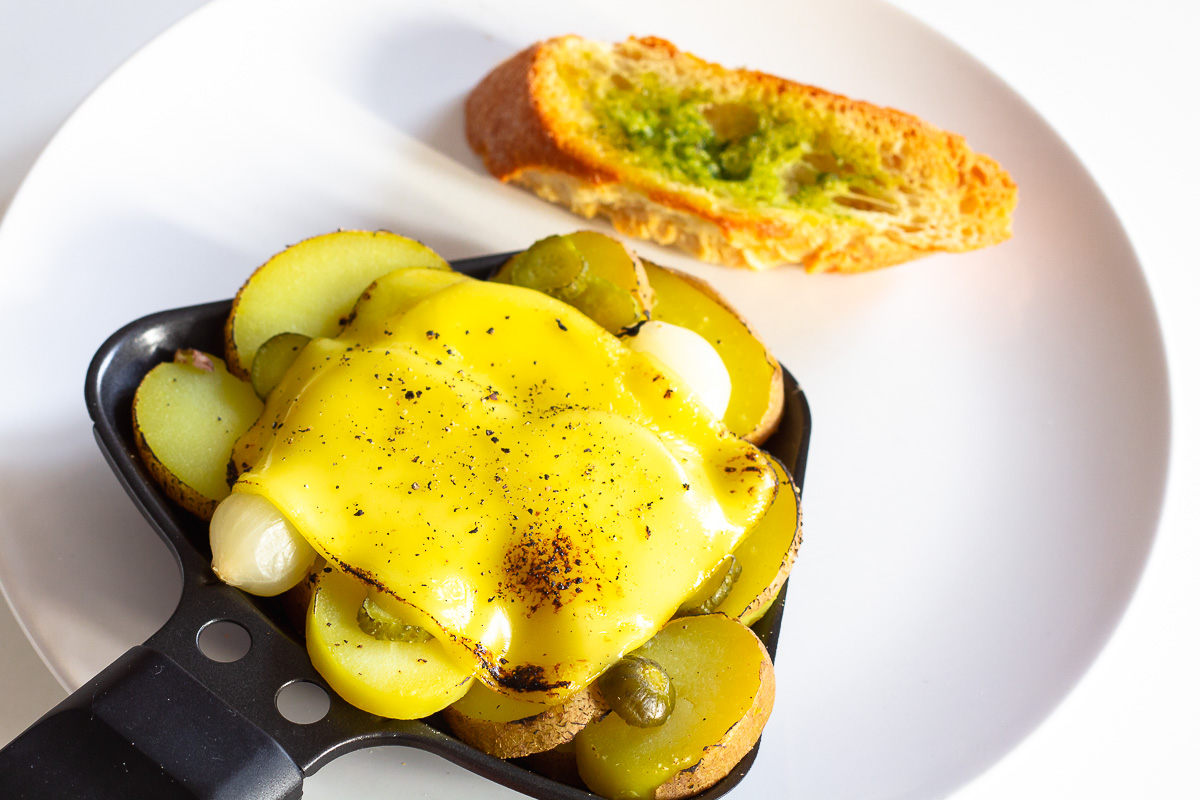 Tasty Vegan Raclette Combinations
Okay, now we've talked a lot about the right preparation and composition of ingredients. But what do I really pack into the pan when sitting at the table? What actually fits together? The more packed the table is, the bigger the chance of an overload.
We have therefore written down some great combinations that we think work very well together. In the end, of course, you decide what you personally like. But maybe we can help you out with a idea or two to take home.
Classic: potato + pearl onion + cornichon + cheese (sauce)
Tex Mex: tortilla chips + beans + bell pepper + corn + jalapeño + cheese sauce
Cheese Spaetzle: spaetzle + onion + smoked tofu + mushroom + cheese (sauce)
Greek: (dried) tomato + olive + zucchini + onion + garlic (oil) + feta
Garden Vegetables: broccoli + bell pepper + corn + peas + cheese (sauce)
Hawaii: pineapple + smoked tofu + cheese slice + cranberry jam
Gnocchi: gnocchi + green pesto + cocktail tomatoes + cheese slice
Pizza Verdure: pizza dough + tomato sauce + zucchini + eggplant + bell pepper + mozzarella
Banana Pancake: pancake batter + banana + chocolate chips + peanut butter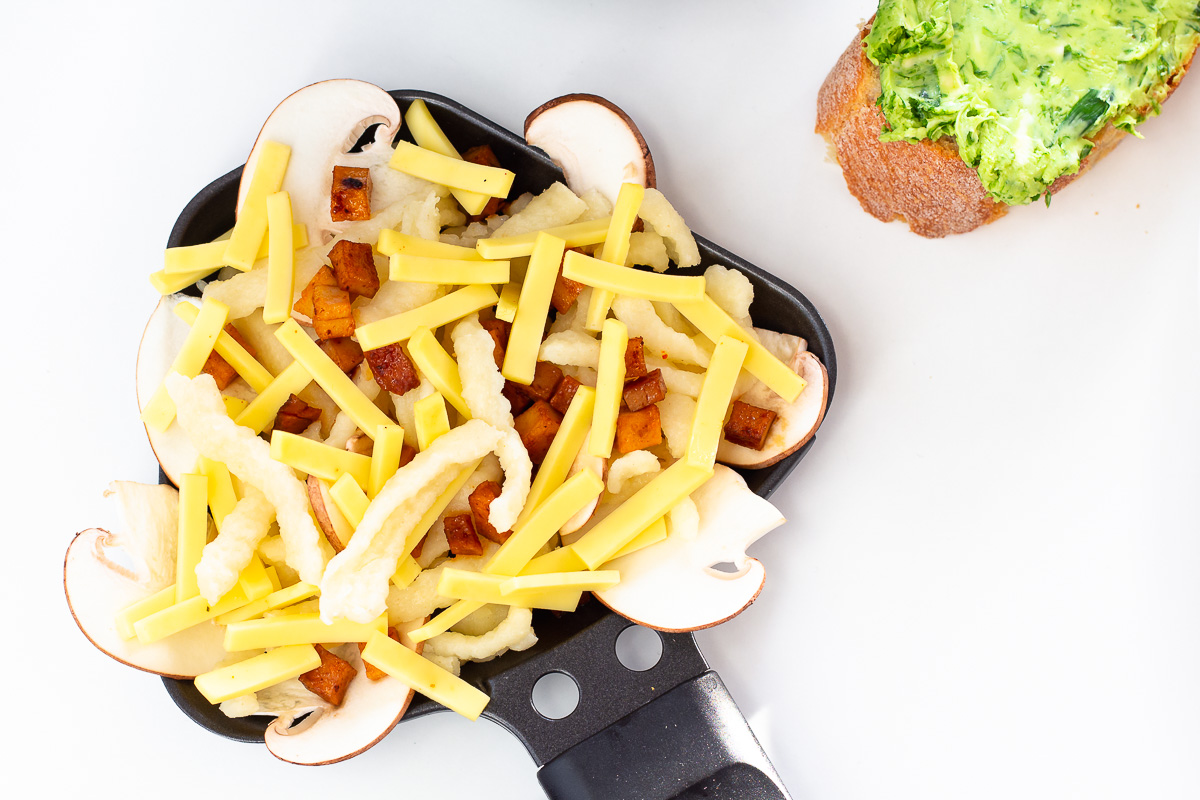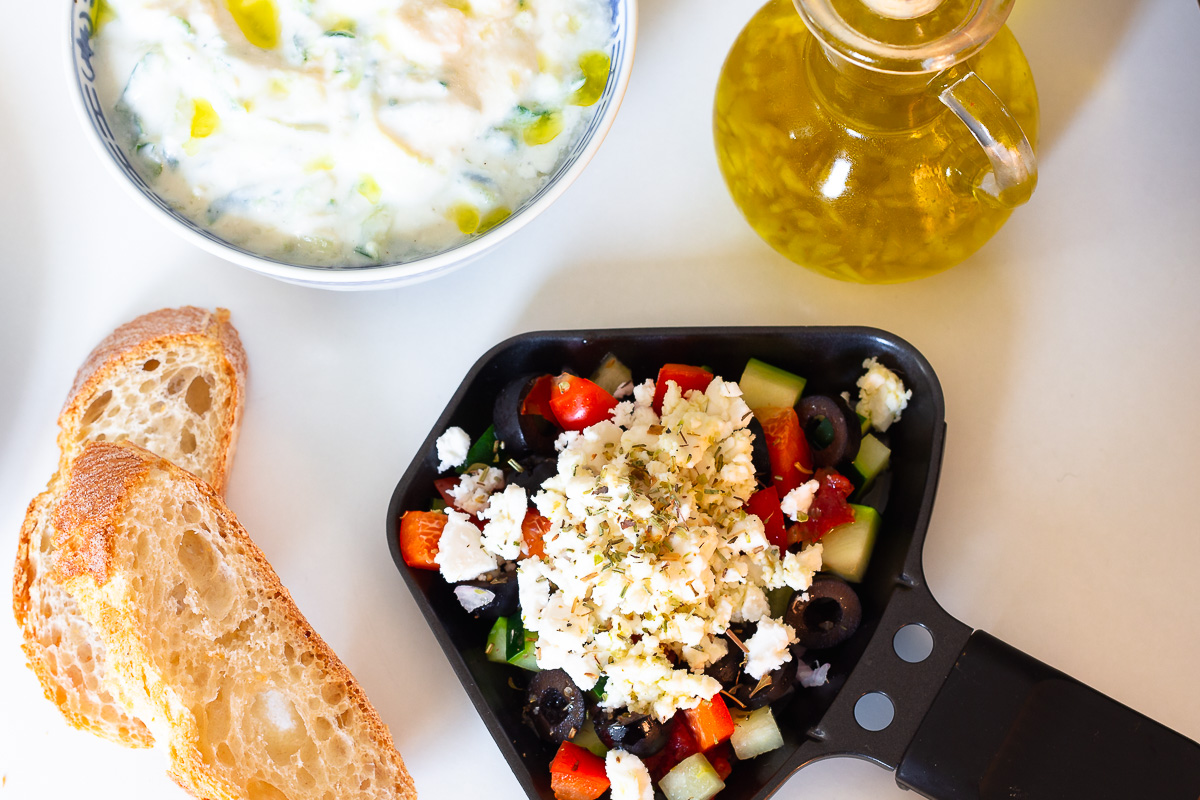 Ingredient List For Vegan Raclette
Finally, we have put together a list of the most important ingredients for a vegan raclette for you, including links to suitable recipes. We also uploaded the whole thing again as a printable PDF.
Vegan Cheese (about 100 – 150 g per person)
vegan meltable cheese slices or shreds
vegan feta
Faux Meat (about 150 g per person)
tempeh or tofu (marinated with soy sauce & sesame oil)
meat substitute products like sausages, gyros, nuggets, schnitzel, …
soy mince
bacon dices made from smoked tofu
Filling Side Dishes (about 250 g per person)
potatoes, precooked
vegan spaetzle, precooked
pasta, precooked
vegan gnocchi, precooked
bread
tortilla chips
Pickles (about 100 g per person)
pearl onions
cornichons
jalapeño slices
corn
olives
dried tomatoes
artichoke hearts
capers
Fresh Vegetables (about 150 g per person)
mushrooms, e.g. brown mushrooms
cocktail tomatoes
zucchini
bell pepper
broccoli
cauliflower
onion
Legumes
kidney beans
peas
green beans
Fruits
pineapple
banana
fig
grapes
Sauces + Dips
Other
spices, e.g. salt, pepper, paprika powder
herbs
garic or chilli oil
vegan herb or wild garlic butter
salads
drinks of choice, e.g. vegan wine, beer, sparkling wine or infused water (with cucumber, lime, mint, etc.)
Special Option: Pizza Raclette
pizza dough (covered in a bowl)
quick tomato sauce made from canned tomatoes, salt, pepper, oregano & basil
Special Option: Pancake Raclette
fruits, e.g. banana, apple, berries
nut butter, e.g. peanut butter
vegan candy, e.g. cookies, chocolate (bars), mini marshmallows