Wohoo! It is asparagus season again in Germany. Of course I also enjoy to have some classic asparagus with sauce hollandaise but I really like to pan-fry or grill green asparagus and serve it with a light dressing. As asparagus goes very well with potatoes I decided to pair my pan-fried green asparagus with Hasselback Potatoes, the Swedish version of roasted potatoes. The Hasselbacken restaurant in Stockholm first served these potatoes (Hasselbackspotatis) and I did my very own vegan version of those crispy yet tender beauties.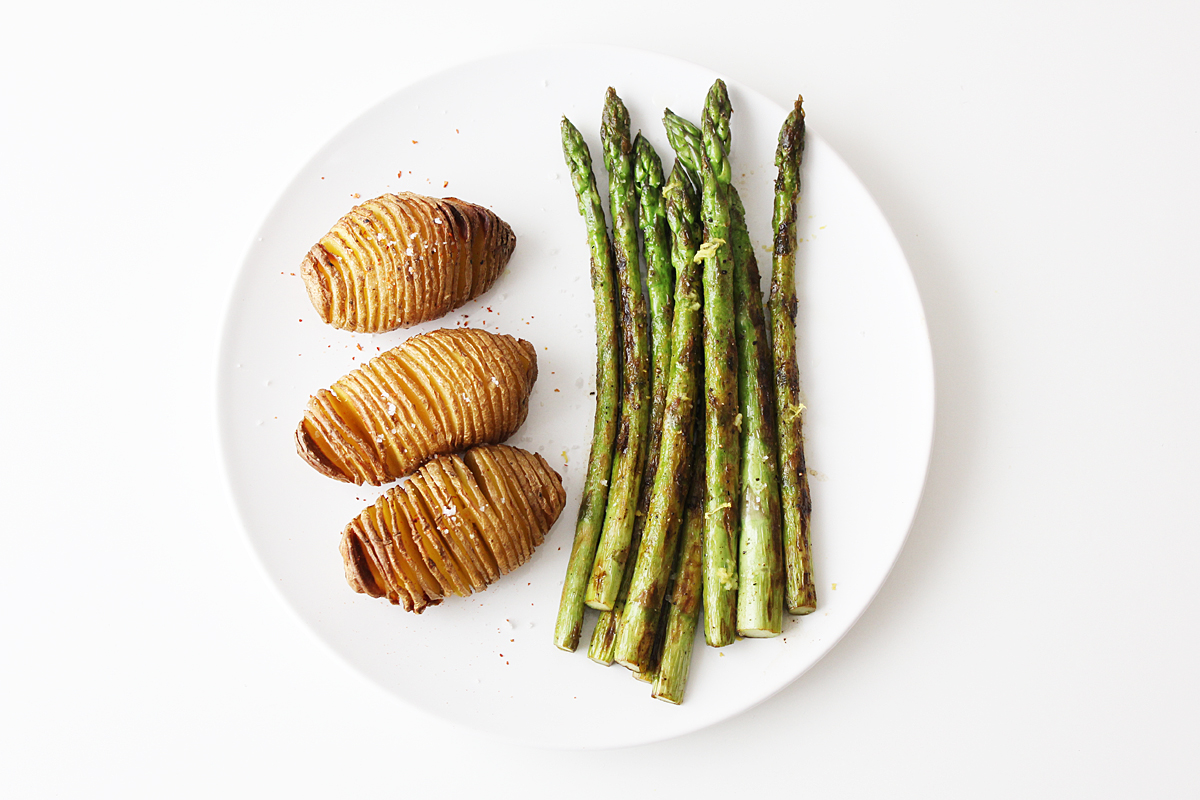 GREEN ASPARAGUS AND HASSELBACK POTATOES
Ingredients for 2 servings (2,25 euros each):
400 g green asparagus
3 garlic cloves
1 organic lemon (zest & juice)
6 medium-sized potatoes
red pepper flakes
Sea salt & freshly ground black pepper
olive oil
Preparation
1. Preheat the oven to 200 degrees Celsius. Clean the potatoes and slice them carefully from top to bottom but don't cut all the way through. Put them in a baking dish and drizzle every potato with about 1 tsp olive oil. Sprinkle with salt and bake for 50-60 minutes until the potatoes are tender inside and crispy outside. Season with salt and red pepper flakes.
2. Cut off the woody ends of the asparagus. Crush the garlic. Heat a large pan at medium-high heat. Add a good splash of olive oil, garlic and the green asparagus. Stir-fry for about 5-7 minutes.
3. Add zest and juice of the lemon and season with salt and black pepper. Serve with the Hasselback Potatoes.