Potato Gratin is a hearty dish from France. It's quickly and easily prepared. Its baking time is turning it into a dish that won't be ready on the table within 15 minutes. But you can use the cooking time by preparing some sides or by putting your feet up and relax. We had some veggies and tofu with it that we added in the oven at the right time. If you prefer more meat-like sides, you might also go with our seitan steaks oder soy steaks instead.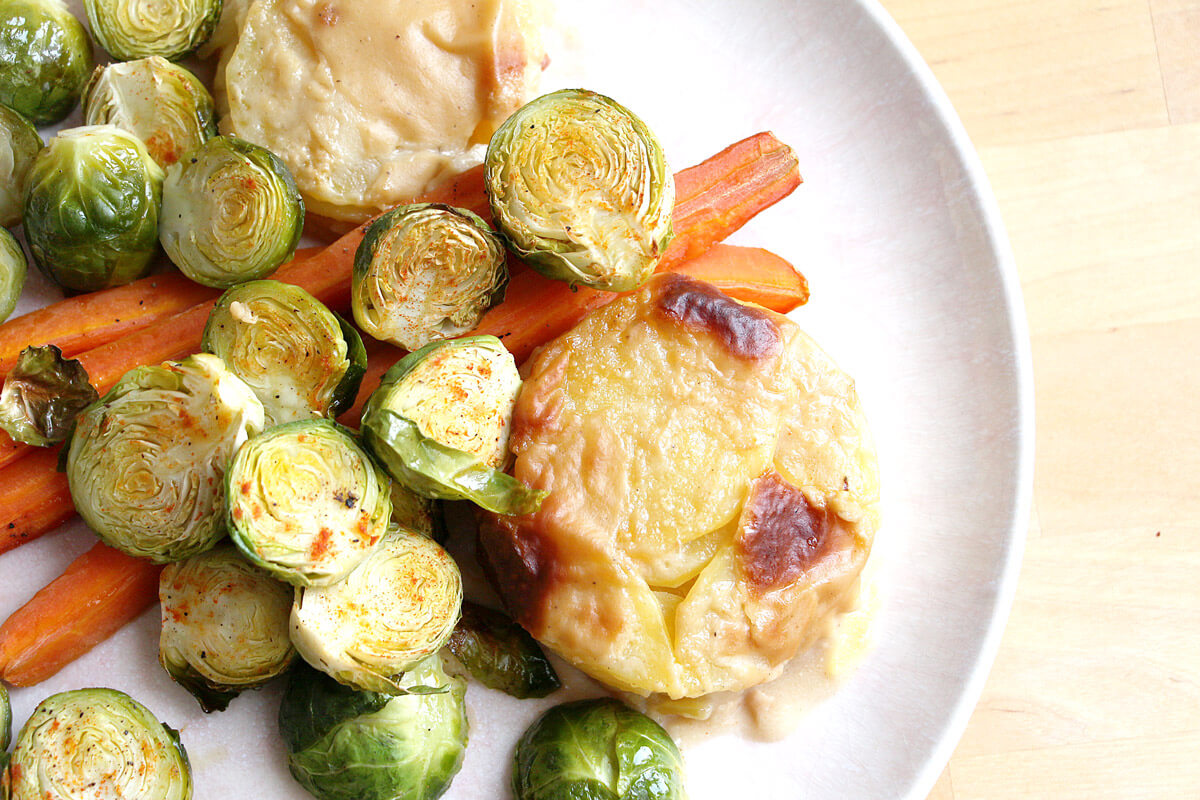 And to sweeten your time in the kitchen, Lisa created fitting to the recipe a playlist with music in (mainly) French language, too.
VEGAN POTATO GRATIN VERSIONS WITH ROASTED VEGETABLES
Ingredients for 4 servings (about 2,00 Euro each):
POTATO GRATIN
1,2 kg potatoes
250 ml vegan cream
200 ml vegan milk
2 heaped tbsp nutritional yeast flakes
a pinch of nutmeg, grated
1 tsp paprika powder
a pinch of salt + pepper
OPTIONAL: "CHEESE" TOPPING
2 tbsp vegan butter
2 tbsp flour
350ml oat milk
4 heaped tbsp yeast flakes
a pinch of salt
optional: 100 g vegan grated cheese
SIDE DISHES
600g seasonal vegetables, e.g. bush beans, cocktail tomatoes, brussel sprouts, carrots, bell peppers, brown mushrooms, …
400 g smoked tofu
fresh herbs, e.g. rosemary, thyme, sage, oregano, …
a pinch of salt, paprika powder and pepper
Zubereitung
1. Preheat the oven to 180 degrees. Wash and peal, if necessary or desired, the potatoes and slice them into 2-3 mm thin slices using a vegetable slicer.
2. Mix vegan cream, milk, nutritional yeast flakes, nutmeg and paprika powder. Season with salt and pepper.
3. For quick and easy version with crispy potatoes: Drape the potatos upright in the form and pour over the liquid. So the upper halves of the potatoes get crispy and the rest gets juicy and soft.
3. For more traditional version with "cheese" topping: Stack the potato slices horizontally and pour over the liquid. Melt the vegan butter in a small pot and mix it with the flour, deglaze it with vegan milk and let it cook on medium heat while stirring until it turns creamy and thick. Season it with salt and yeast flakes. Pour it over the gratin and top with your bought vegan cheese in case you like it really cheesy.
4. Put the gratin in the oven for about 70 minutes at 180 degrees.
5. In the meantime cut the tofu in 100 g pieces. Slice them crosswise about 1 centimeter deep using a knife. Fill the slits with fresh herbs. Bake it for about 25 minutes in the same oven. Wash, cut and season fresh vegetables and bake them for the time they need (usually about 20-30 minutes). Get everything out of the oven at the very same time, serve and enjoy. Bon appétit!