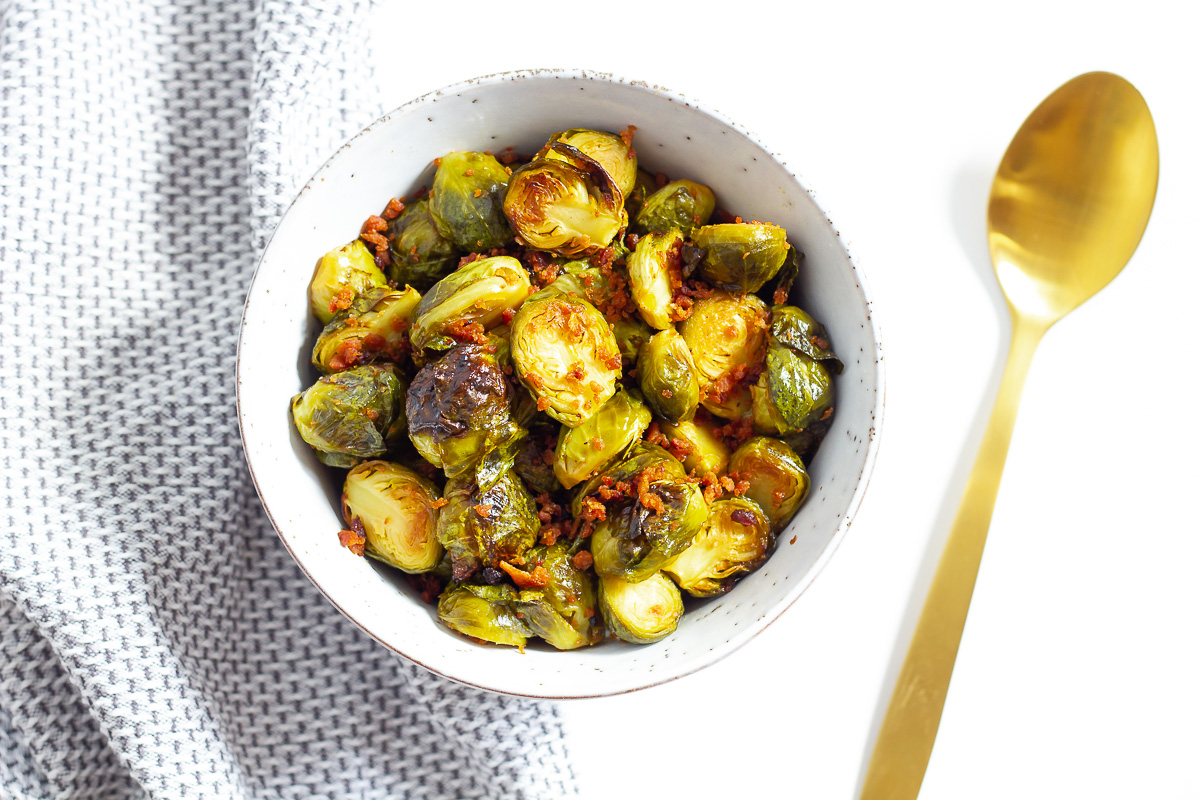 Brussels sprouts are one of those vegetables that were left behind for a long time. And that's probably only because it was always served boiled to death. Fortunately, that has changed. And so the little brussel sprouts, as they are misspelled so often, have become increasingly popular in recent years. Quite rightly, if you ask us. Because brussels sprouts are not only delicious, they are also extremely rich in vitamins and nutrients.
Today we marinate the brussels sprouts raw and then simply cook them in the oven. On one hand, this has the advantage that we don't throw away the healthy nutrients with the cooking water. On the other hand, the cabbage also gains flavor due to the roasted aromas that arise during baking. And that's what it's all about for us in the first place. Flavour!
For even more explosion of flavours, we add some vegan bacon cubes. We make these quickly ourselves from dried soy granules (the small version of TVP). Without any major soaking or pre-cooking process. Super simple, super cheap, super tasty.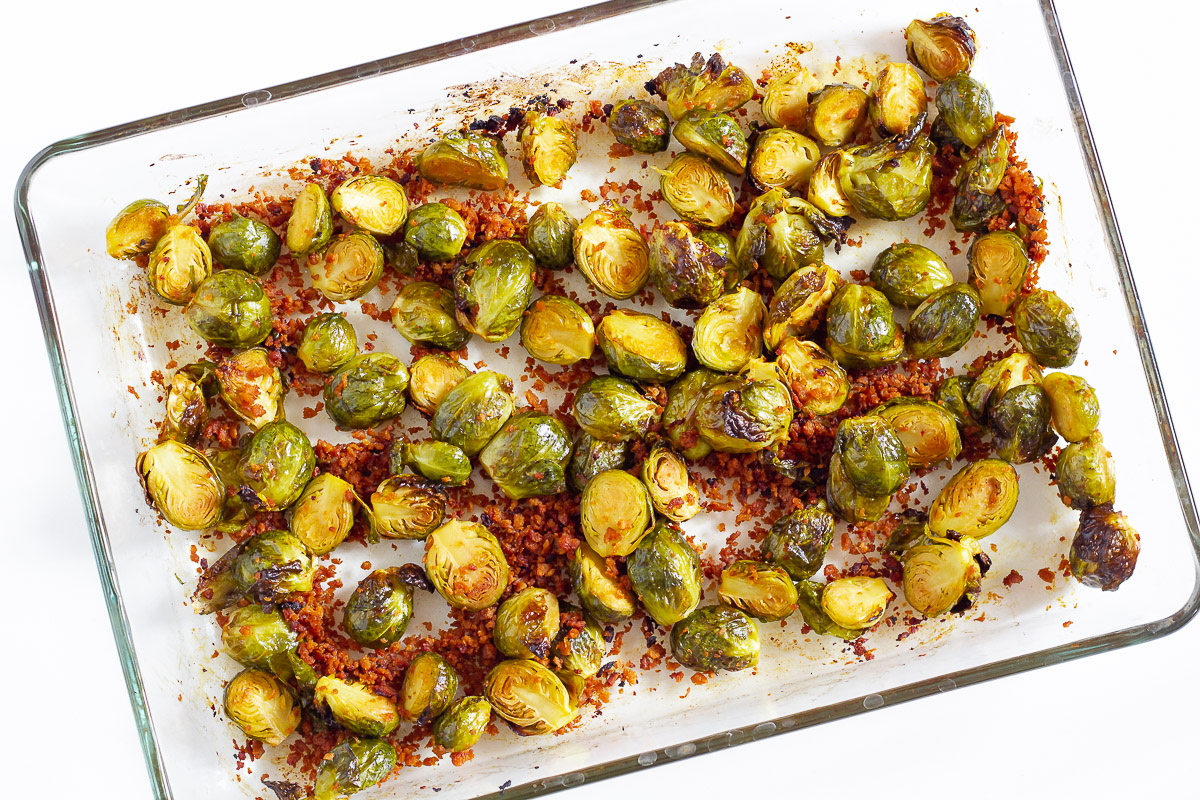 Oven Roasted Brussels Sprouts with Vegan Bacon
Ingredients
Oven Roasted Brussels Sprouts
1

kg

brussels sprouts

4

tbsp

maple syrup

1

tsp

apple cider vinegar

,

alternatively lemon juice

1

tsp

salt

1

tsp

paprika powder

chilli flakes

,

optional

4

tbsp

olive oil
Vegan Bacon Cubes
30

g

soy granules

1.5

tbsp

soy sauce

1

tsp

maple syrup

1

tsp

vegetable oil

1/3

tsp

liquid smoke

1/3

tsp

smoked paprika powder

1/3

tsp

garlic powder

1

pinch

pepper

2

tbsp

water

,

boiling
Preparation
For the baked Brussels sprouts, mix all the ingredients (except for the brussels sprouts of course) into a marinade. Clean the brussels sprouts (wash, remove the dry stalk and, if necessary, remove dry leaves), cut in half and mix with the marinade.

For the vegan bacon cubes, mix all the ingredients except the water and soy strips in a bowl. Add the boiling water and the soy granules and mix well.

Preheat the oven to 200 degrees Celsius. Place the brussels sprouts in a baking dish or on a baking sheet lined with baking paper and bake in the oven for a total of 30 minutes. Add the soy bacon cubes after about 10 minutes of baking time. 10 minutes later, turn everything once or stir well. If you like, you can in the end also turn on the grill function of your oven for even more roasted flavour.