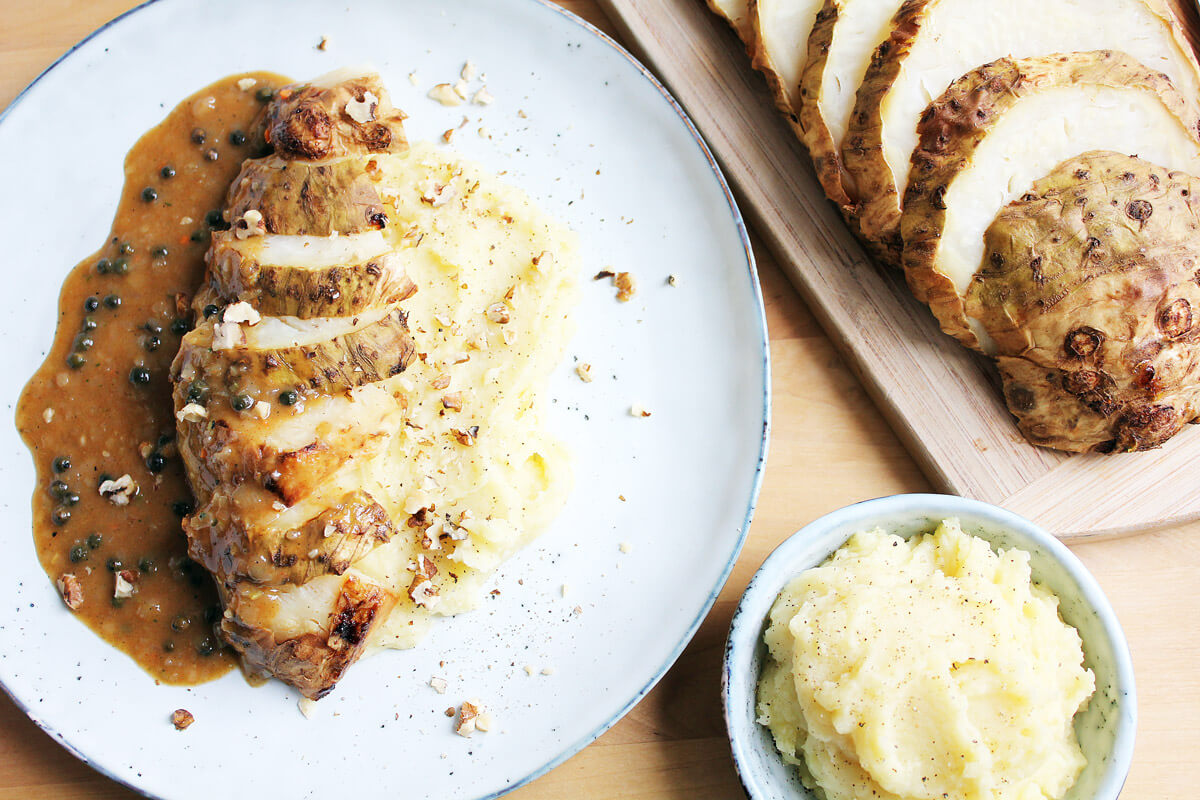 The simplest things are sometimes the best. When it comes to cooking, it is often only a question of the right seasoning or method of preparation in order to get a lot of taste out of humble ingredients. Today's recipe definitely falls into this category. Basically, we serve seasonal and regional celeriac with potatoes. The dish is not that profane though. The whole celeriac bulb goes in the oven with its skin on. In this way an incredibly intense taste evolves. The potatoes are also cooked in the oven with their skins on before they are mashed so that no aroma can be lost in the cooking water. And because the dish still can be a bit fancy, we serve a special pepper sauce with it. A vegan gravy or mushroom sauce works just as well. All of this together is called baked celeriac with mashed potatoes and creamy cognac pepper sauce. Yummy!
Besides of the heat from the oven, the celeriac only needs two more ingredients: olive oil and salt. It really doesn't get much easier than this. And even for the mashed potatoes no fancy ingredients are needed to get a great taste. We use salt, pepper, nutmeg as well as vegetable milk and vegan butter. You can also use some walnut oil for a finer taste. But it doesn't have to be. Even the list of ingredients for the creamy cognac pepper sauce is quite manageable. Just as it should be with delicious plain cooking.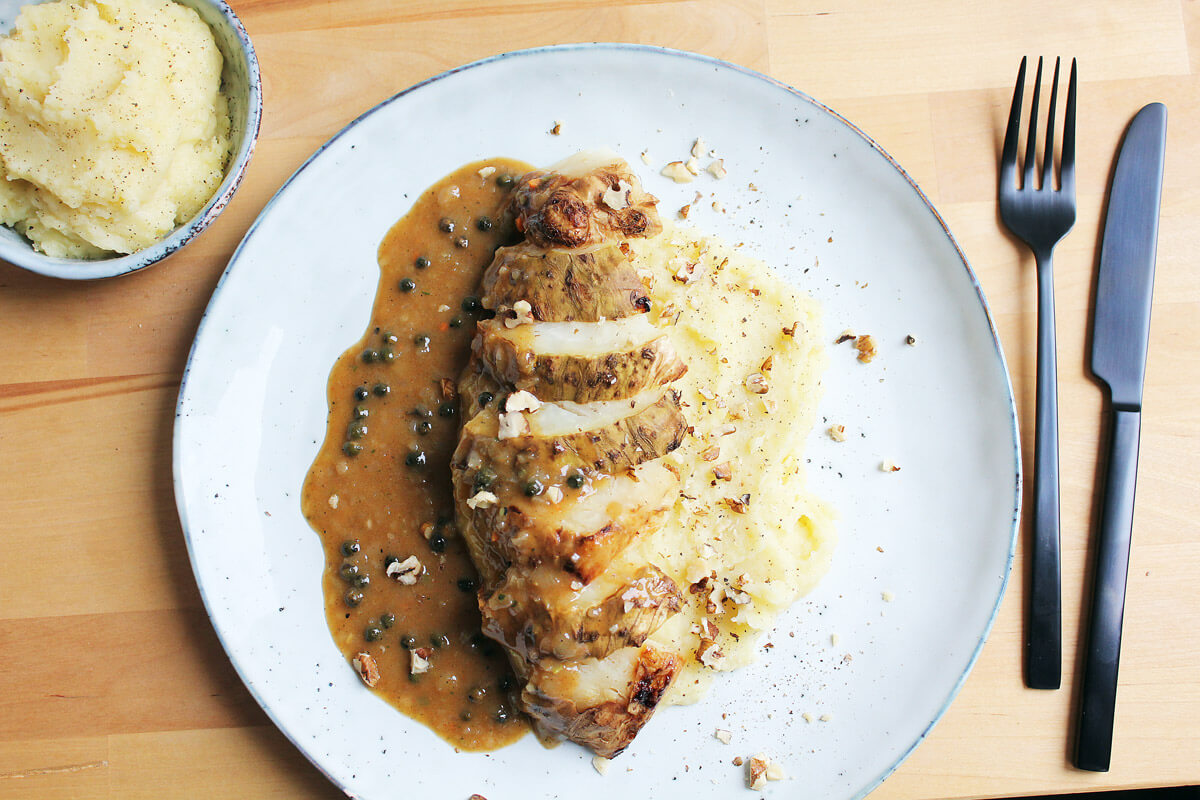 Baked Celeriac With Mashed Potatoes
Ingredients
BAKED CELERIAC
1

celeriac

,

about 1 kg

1

tbsp

olive oil

1/2

tsp

salt

optional: 2 tbsp walnuts

,

chopped
MASHED POTATOES
1

kg

potatoes

,

starchy

5

tbsp

vegan butter

,

optionally substitute 2 tbsp with walnut oil

200

ml

vegetable milk

nutmeg

,

grated

salt + pepper
CREAMY COGNAC PEPPER SAUCE
1

shallot

300

ml

vegan cream

200

ml

vegetable stock

8

cl

cognac

3

tbsp

green pepper corns

1

tsp

paprika powder

1/2

tsp

salt

1

tbsp

cornstarch

olive oil
Preparation
Wash and scrub the celeriac thoroughly. Cut off the root so that the celeriac bulb can stand on a flat surface. Put on baking paper, rub with oil and salt and cook in the oven at 180 degrees for about 2 hours.

Wash the potatoes with their skins on, also put them on the baking paper and cook in the oven for about 1 hour until they are tender. In the meantime, prepare the cognac-pepper-cream sauce.

For that finely dice the shallot. Sauté colorless in a pan over medium heat with a little olive oil. Deglaze with the cognac. Let it boil down briefly. Add vegetable stock, vegan cream, pepper corns and paprika powder. Season with salt and simmer for 5 minutes at a slightly higher temperature. Mix the cornstarch with a little cold water and stir into the sauce. Let it boil for another 1-2 minutes before serving.

Press the hot potatoes through a potato press (alternatively peel and mash them). Heat the vegetable milk together with the vegan butter. Mix the potatoes with it. Season the mashed potatoes with salt, pepper and nutmeg.

Take the celeriac out of the oven. Serve sliced ​​with the mashed potatoes and creamy cognac pepper sauce. Sprinkle with chopped walnuts if you like.