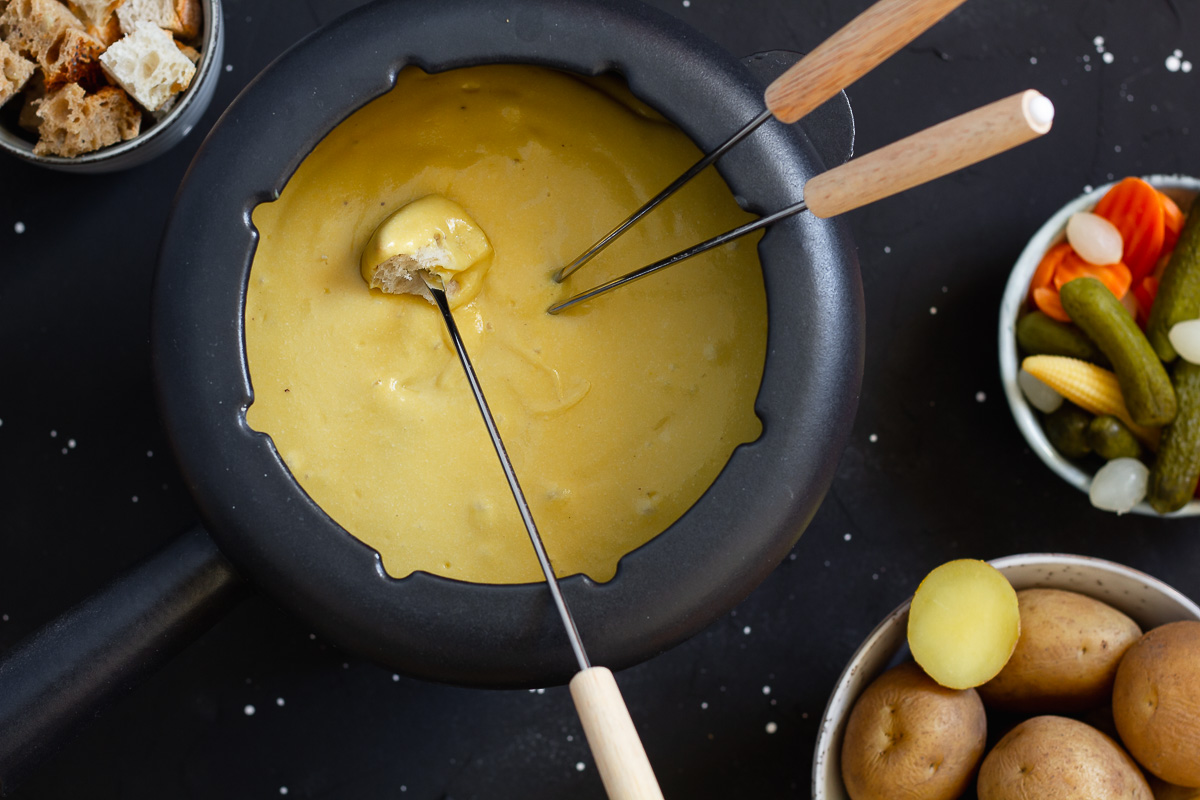 Cheese fondue is an absolute classic in Swiss cuisine. But in Germany people like to enjoy the melted cheese dish, too. Especially on New Year's Eve the fondue pot (caquelon) is often taken out of the cupboard. No wonder, as fondue, just like raclette, is an extremely sociable meal. The meal can be finally prepared and feasted together in a relaxed atmosphere at the table. For hours, if you like. Before that, only a few preparations are required and luckily they don't have to be finished à la minute.
But how is the cheese fondue made vegan? It's actually quite simple. And if you are thinking of a vegan meltable cheese from the supermarket, you are wrong. We still like to put that in moderate portions on burgers. To be honest, it would be too expensive and unhealthy for us for the amount required here. Especially since we have a much better alternative. You should already be familiar with the principle, if you've tried our vegan nacho cheese dip, our mac & cheese or the vegan chili cheese nuggets.
The vegan cheese fondue is therefore based on a quick "cheese sauce" with potatoes, carrots and cashews. A few spices are of course also in it. The nutritional yeast flakes are especially important for the cheesy taste. For the special cheese fondue flavour, we add white wine and kirsch (or cherry brandy). If you want to avoid alcohol in your food, you can use vegetable broth plus a little lemon juice instead. Other alternatives would be (rather not too sweet) grape or apple juice.
As a side dish or dip ingredient to our cheese fondue, we serve the relatively classic combination of bread, potatoes and pickled vegetables (pearl onions, gherkins, corn, peppers, carrots). Other vegetables such as broccoli or celery are also ideal. As an absolute rebel, you could put tofu or seitan on your skewers and dip it in the vegan cheese. Feel free to tell us in the comments which ingredients you like best for fondue or what you think is totally gross.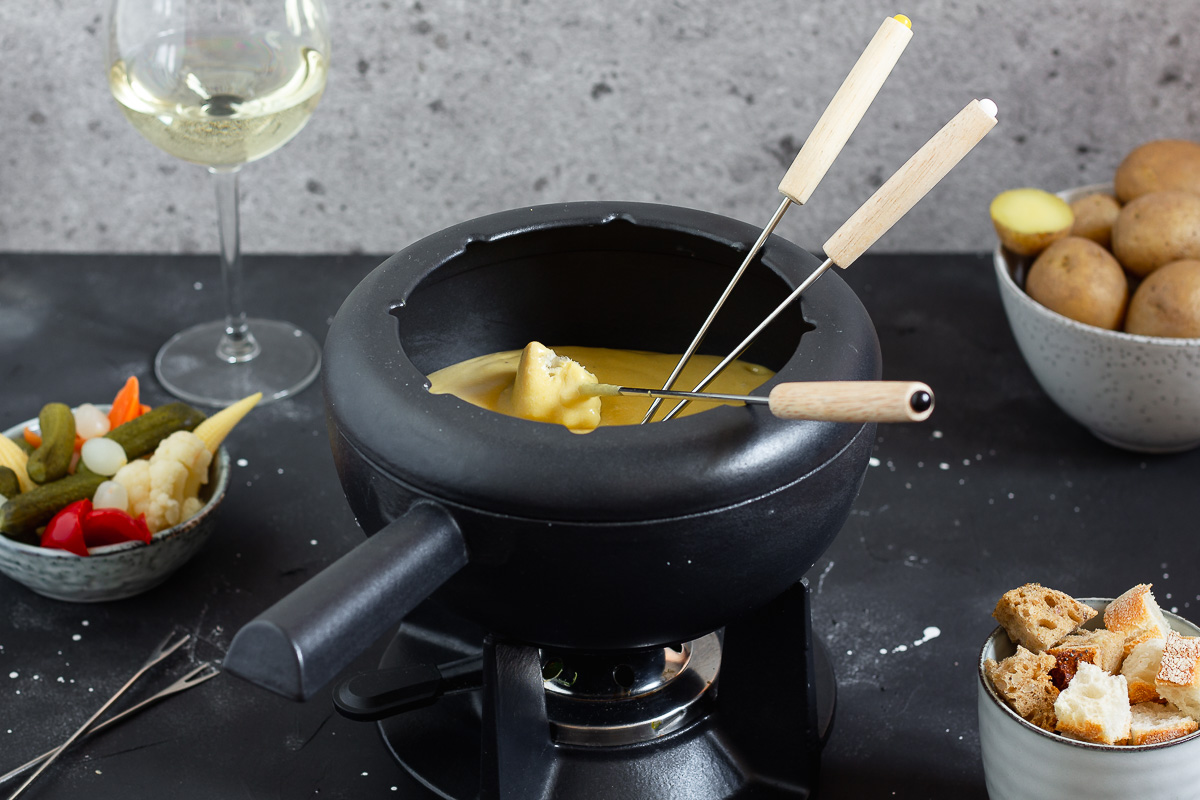 Vegan Cheese Fondue
Ingredients
Cheese Fondue
2

medium-sized potatoes

,

corresponds to approx. 350 g

1

medium-sized carrot

,

corresponds to approx. 100 g

1

onion

1

clove

garlic

500

ml

water

2

tsp

salt

100

g

cashew nuts

4

tbsp

nutritional yeast flakes

4

tbsp

tapioca starch

2

tbsp

vegan butter

1

tsp

mustard

150

ml

white wine

1

tbsp

kirsch (cherry brandy)

,

optional

pepper
Side Sishes
(White) Bread

Potatoes

Pickled vegetables

,

e.g. pearl onions, corn, gherkins, peppers, carrots, ...
Preparation
Roughly dice the potato, carrot, onion and garlic. Simmer with cashew nuts, salt and water in a sufficiently large saucepan with the lid closed and at medium temperature for about 15 minutes, until the vegetables are completely soft.

Then finely blend the vegetables including the cooking water with the other ingredients in a blender.

Fill back into the pot and bring everything to the boil briefly, stirring constantly. Simmer at low temperature until the desired consistency is achieved. If necessary, stir in a little more tapioca starch if the mixture is too thin. Mix in a little water, vegetable stock or white wine if it's too thick. Season to taste with salt and pepper.

Either pour into a fondue pot or simply put it directly in the saucepan on the table. If doing so, briefly warm the pot on the stove again in between.