Christmas is coming closer and the search for Christmas dinner ideas starts – just like every year – all over again. Rouladen (or Roulades) in gravy is a traditional German dish and best suited for Sunday or Holiday meals. So why not include it in your Christmas feast?! I remember serving vegan rouladen on Christmas eve to my grandparents and they didn't realise that no meat was involved. I think that's a compliment, so you might want to try this recipe as well.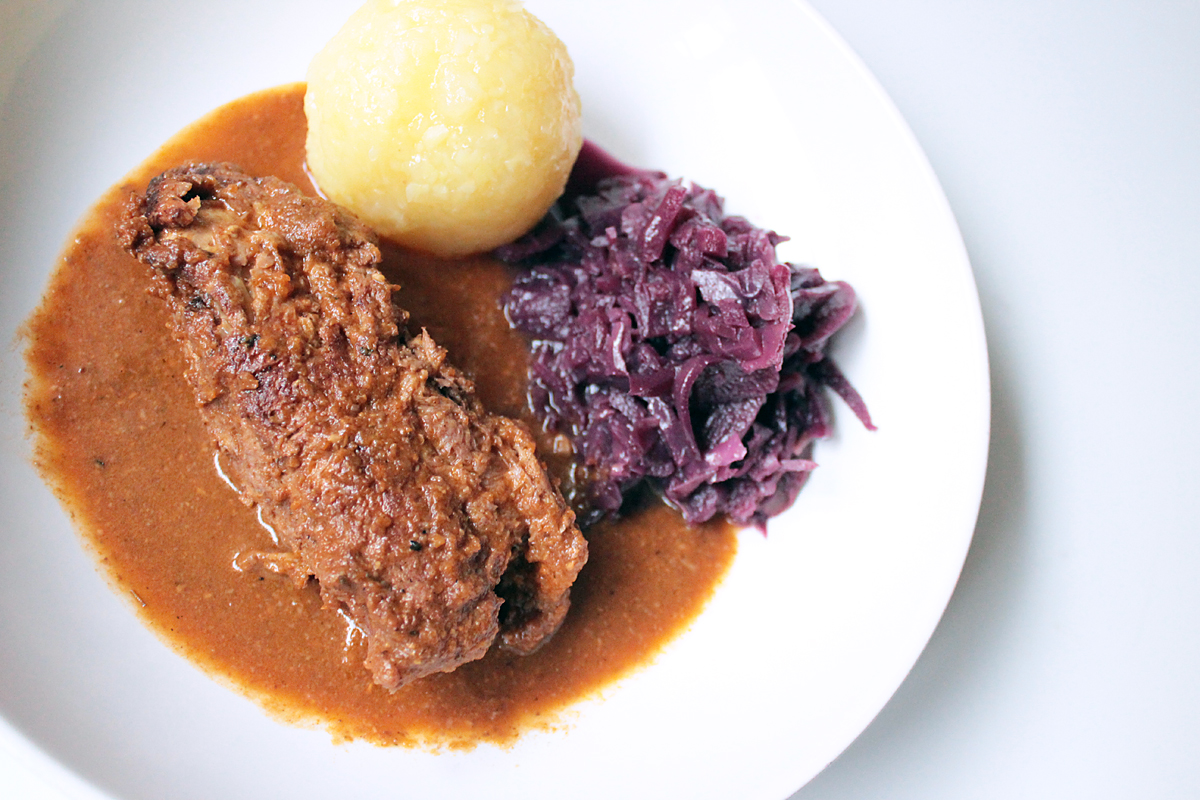 Ingredients (4 servings, 1,75 € each)
ROULADEN
4 soy big steaks (dried soy meat)
600 ml vegetable stock
8 tsp mustard
1/2 onion, diced
3 gherkins, sliced
100 g smoked tofu
salt & pepper
at least 4 tbsp vegetable oil
GRAVY
2 carrots, roughly chopped
1 onion, roughly chopped
150 g brown mushrooms, roughly chopped
2 tbsp vegetable oil
1 tbsp tomato purée
1 tbsp flour
200 ml red wine
600 ml vegetable stock
2 bay leaves
1/2 tsp dried rosemary
1/2 tsp dried thyme
1 tbsp soy sauce
Preparation
1. Soak the dried soy meat in hot vegetable stock until soft. Meanwhile slice the smoked tofu and fry from both sides in 1-2 tbsp vegetable oil until golden brown but still soft. Drain the steaks (save the stock for later use!) and press as much excess water out of it as possible (e.g. between 2 cutting boards)
2. Halve the steaks to make them thinner. Spread each steak with 1 tsp mustard. Top with gherkin, onion and smoked tofu. Season with salt and pepper. Roll up from from short side and secure with toothpick or kitchen string.
3. For the gravy fry carrots, onion and brown mushrooms in vegetable oil over medium-high heat until golden brown. Add tomato purée and flour and roast until sticky and caramelised but try to not burn it. Pour in red wine and vegetable stock. Add bay leaves, rosemary, thyme and soy sauce. Bring to a boil, reduce heat and let it all cook for at least 30 minutes. When vegetables are soft, remove the bay leaves, blend everything and – if you like – pass through a sieve. If gravy is too thick, thin down with more vegetable broth.
4. Heat at least 3 tbsp vegetable oil in a large skillet over medium-high heat. Fry the vegan rouladen from all sides until brown. Pour gravy over the roulades. Cover the skillet and let it simmer for 15 minutes. Serve for example with dumplings and red cabbage.