What is the most popular German meal on Christmas Eve? Duck? Goose? Roast meat? Raclette? Fondue? Fish? None of those! Because according to surveys, Germans actually have sausages and potato salad on their plates most frequently on December 24th. The lavish feasts happen rather with the family on the Christmas holidays. On Christmas Eve, on the other hand, something quick, easy and cheap is fine. For everyone who follows this tradition, and of course for everyone else, we are presenting our recipe for vegan potato salad with sausages right before the festive season.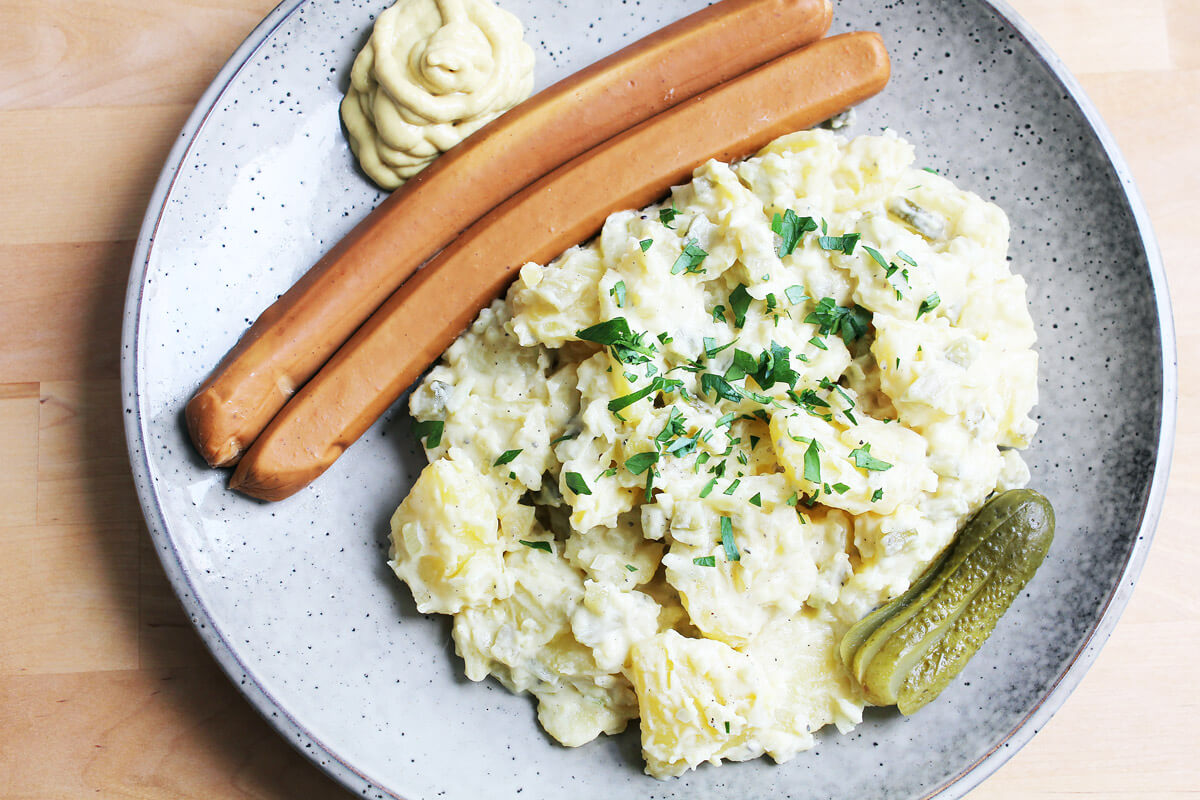 For the potato salad, we chose the version with mayonnaise. It's winter after all. So it can be a little more hearty. By the way, the mayo version of the potato salad is traditionally preferred especially in northern, western and eastern Germany. We also supply a recipe for the slightly lighter South German version with vinegar and oil when it gets a little warmer outside. We especially enjoy that much more with a summerly barbecue buffet.
VEGAN POTATO SALAD WITH SAUSAGES
Ingredients for 4 servings (about  1,50 Euros each):
8 vegan sausages
1 kg potatoes, waxy
1 onion
4 gherkins
2 tbsp mustard
8 tbsp vegan mayonnaise
6 tbsp gherkin pickle juice
1 tbsp white wine vinegar
1/2 tsp kala namak
salt + pepper
optional: fresh parsley
Preparation
1. In a saucepan cover the potatoes with lightly salted water, bring to the boil and cook for about 20 minutes at medium temperature with the lid closed. Let them cool down slightly, peel and cut into slices.
2. Dice the pickled cucumbers. Chop the onion very finely. Mix together with the remaining ingredients to make a dressing.
3. Mix the potato slices with the dressing. Season with salt and pepper. Serve sprinkled with chopped parsley if desired.
4. Heat the sausages in hot water and serve with a blob of mustard to the potato salad.