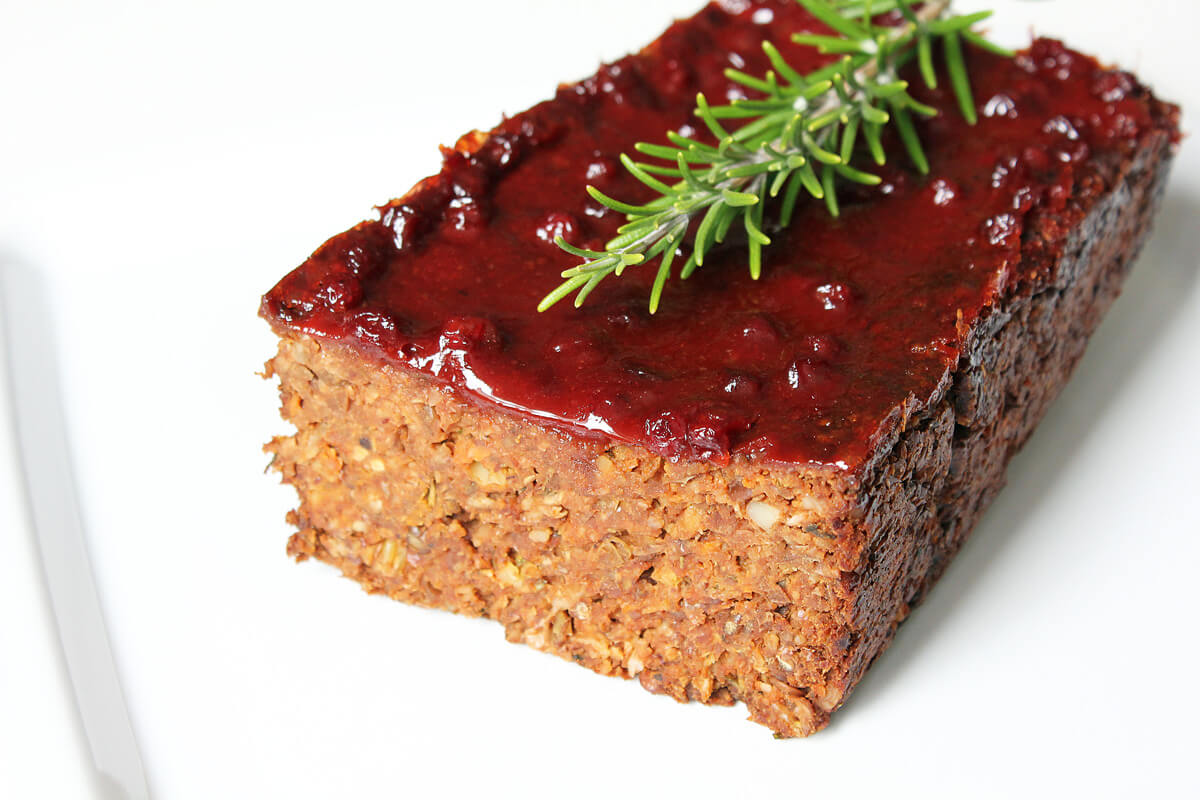 Every year in December the same old question comes up: what do we have for Christmas dinner? This year our tasty rouladen get a break and instead we'll serve vegan lentil loaf. It's reminiscent of meat loaf and needs no "classic meat substitute products" like seitan or tofu. Besides brown lentils, mushrooms, vegetables and nuts are responsible for a lot of flavour and the right texture. You'll only need some more herbs and spices but that's actually it. The preparation is super easy, because in this recipe the food processor and the oven do most of the work. We like that, because it leaves you with plenty of time for other stuff like starter, side dish, dessert, presents or whatever you can think of spending a nice time. Buzzword "Christmas, festival of love". 😉
But back to topic: our vegan lentil loaf doesn't necessarily need a sauce due to it's tasty glaze. But since we are deeply in love with our super easy vegan gravy, we would still recommend it with the loaf. And if you serve a dry side dish like potato or bread dumplings, there's no getting round a gravy anyways. The lentil loaf is by the way pretty heavy. So 1 or 2 slices will get you stuffed. But if you don't eat the whole loaf, you can terrifically freeze away the leftovers.
Vegan Lentil Loaf
Ingredients
LENTIL LOAF
200

g

brown lentils

1

medium-sized carrot

1

medium-sized onion

2

cloves

garlic

200

g

mushrooms

200

g

nuts/seeds

,

we used 100 g walnuts + 100 g sunflower seeds

75

g

oats

2

tbsp

flax seeds

1

tbsp

dried thyme

1

tbsp

dried rosemary

2

tbsp

minced parsley

1

heaped tbsp

tomato paste

1

tbsp

soya sauce

(smoked) salt + pepper
GLAZE
2

tbsp

lingonberry jam

,

or jam of your choice

2

tbsp

tomato ketchup
Preparation
Cook the lentils according to package instructions and let them drain. Finely grind the flax seeds. Roughly chop the mushrooms, carrots and onions.

Blend all ingredients for the loaf in a blender until you still have small chunks of lentils, nuts and vegetables. This works best if you blend them in portions and don't fill the blender too much. Combine all ingredients. Season the mixture with (smoked) salt and pepper, put it in parchment paper lined loaf pan and smooth down the top.

Bake in the oven for 30 minutes at 180 degrees Celsius. Quickly mix the ingredients for the glaze. Spread the glaze on top of the loaf and bake for another 20 minutes. Remove from the oven and allow to cool for at least 15 minutes before cutting into slices, so the loaf will better stick together.