Hot dogs are great because they can be prepared quickly and still be super diverse. It doesn't always have to be the classic combination of mustard, ketchup, pickles and fried onions (which is of course tasty as well!). Instead you can become real creative when it comes to the toppings. So today we show you, how to create mexican hot dogs in just a few simple steps. Sweet corn, fiery jalapeños, the freshness of lime and cilantro. Also a lightning-fast tomato salsa and some crunchy tortilla chips. Ready is your mexican inspired hot dog variation. Simple yet tasty!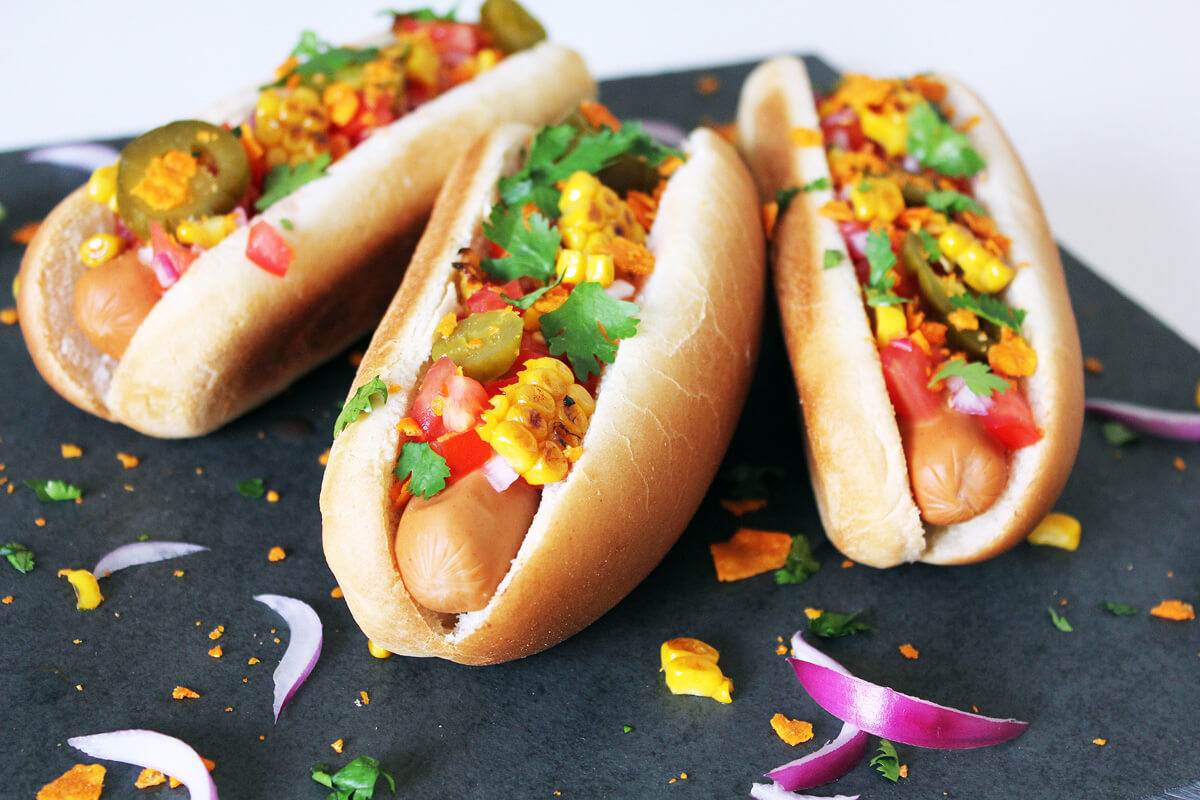 MEXICAN HOT DOGS (VEGAN)
Ingredients for 2 servings (about 1,50 Euros each) = 4 hot dogs:
4 hot dog buns
4 vegan hot dog sausages
2 medium-sized tomatoes
¼ red onion
juice of ¼ Limette + some extra if wanted
1 tsp agave syrup
1 cob of corn (precooked)
pickled jalapeño slices
1 hand full of tortilla chips
a couple of cilantro leaves
olive oil
salt + chili flakes or powder
Preparation
1. Cut the corn off the cob. Fry in a pan with a splash of oilve oil and lightly season with salt.
2. Finely dice the tomatoes and red onion. Mix with agave syrup and lime juice. Season with salt and chili.
3. Pour boiling water over the hot dog sausages and let them heat a couple of minutes. Meanwhile warm the hot dog buns in the oven at 180 degrees Celsius.
4. Split the hot dog buns open. First put some tomato salsa in it. Then top with sausage, some more salsa, corn, jalapeños and a couple of cilantro leaves. Finally crumble tortilla chips in your hand and sprinkle over the hot dog for some extra crunch. If you like, you can squeeze some more lime juice over the mexican hot dogs for the ultimate boost of freshness.