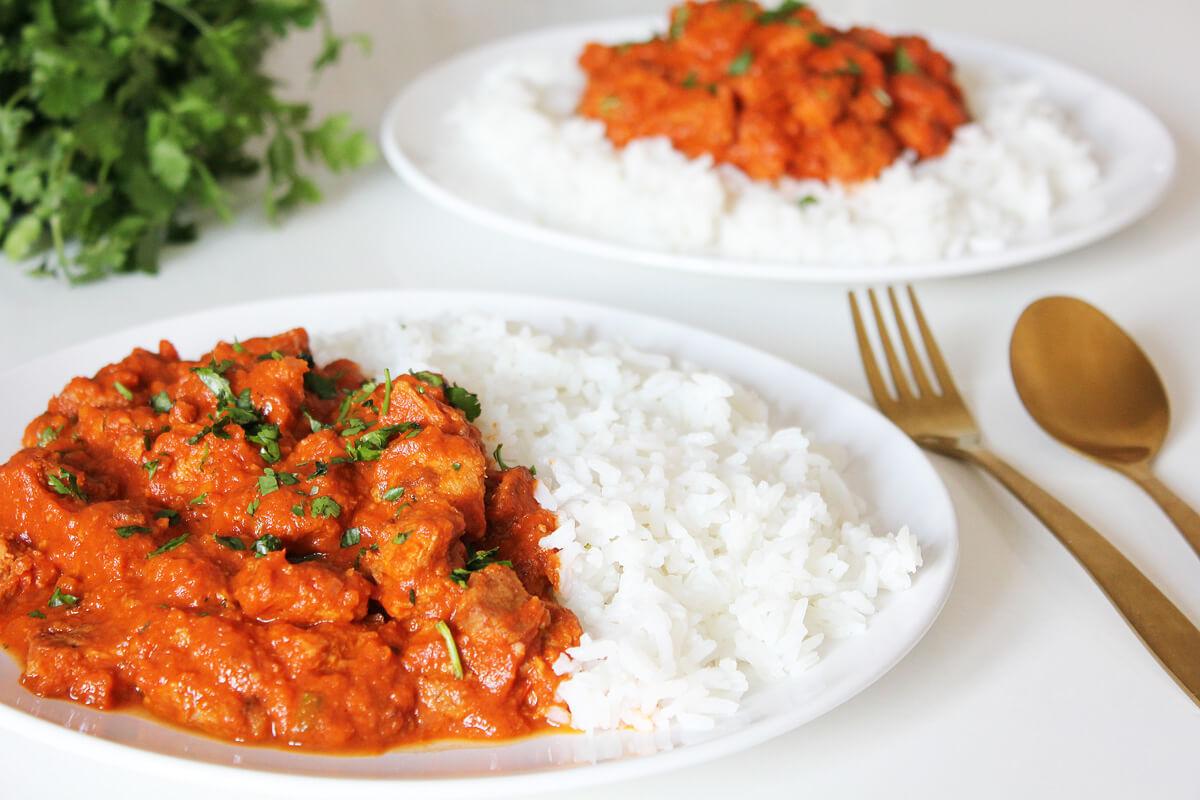 Butter chicken or murgh makhani is one of the most famous Indian dishes worldwide. The original recipe is basically chicken pieces (e.g. leftovers from tandoori chicken) in a buttery, creamy, full-bodied tomato based sauce. Even if you haven't been to India yet, you might know butter chicken from your last visits to Indian restaurants. Unfortunately this dish is even without any meat usually not vegan, because ghee (Indian butter) and cream are used for making the sauce. That's why we created our own recipe for vegan butter chicken. 100 % plant-based, pretty inexpensive, easy to make and still incredibly tasty. Instead of chicken we use dried textured soya protein chunks. They have a great meaty texture and are perfectly suited for stock-keeping. Of course you could also use tofu oder vegetables instead. But we wanted to stay with the Indian original as close as possible.
Vegan Butter Chicken
Ingredients
Vegan "Chicken"
100

g

textured soya protein chunks

1

tsp

garam masala

,

Indian spice blend

1

tsp

hot paprika powder

2

tbsp

vegetable oil

vegetable broth
Sauce
1

can

diced tomatoes

100

ml

vegan cream

2

cloves

garlic

2

cm

ginger

1

onion

,

small

1

heaped tbsp

tomato paste

1

clove

1

pod

cardamom

1

tsp

hot paprika powder

1/4

tsp

cinnamon powder

1

heaped tsp

garam masala

,

Indian spice blend

2

tbsp

vegetable oil

1

tbsp

vegan butter

,

cold
Other
140

g

jasmine rice

,

= about ½ cup

salt + pepper

fresh cilantro

,

optional
Preparation
Soak the soya chunks in hot vegetable broth. When soya chunks are soft, drain them and squeeze out any water, e.g. in between 2 cutting boards. Mix in a bowl with paprika powder and garam masala. Then fry with 2 tbsp of vegetable oil in a pan on high temperature until golden brown from all sides. Take them out and set aside for later use.

Now put the rice with twice as much water and a pinch of salt in a small saucepan. Cook on high heat until the water is boiling, then lower the heat to a minimum and let the rice cook with lid on until all water is absorbed.

Meanwhille peal and finely dice onion, garlic and ginger. Fry in the pan with 2 tbsp vegetable oil on medium high heat for about 1 minute. Add spices (garam masala, paprika powder, cinnamon powder, clove & cardamom) and tomato purée and fry for another minute while stirring.

Add diced tomatoes and vegan cream and let it cook on medium heat for about 10 minutes. Remove the clove and cardamom and blend the sauce. Stir in 1 tbsp cold vegan butter.

Add the soya chunks to the hot sauce and mix well. Season with salt and pepper (or chili powder) and serve with rice. Optionally sprinkle some fresh cilantro over it.