Even if this ominous cheesesteak sandwich does not ring a bell to you yet, you should look forward to our recipe for a vegan philly cheesesteak sandwich. Keyword cheese sauce!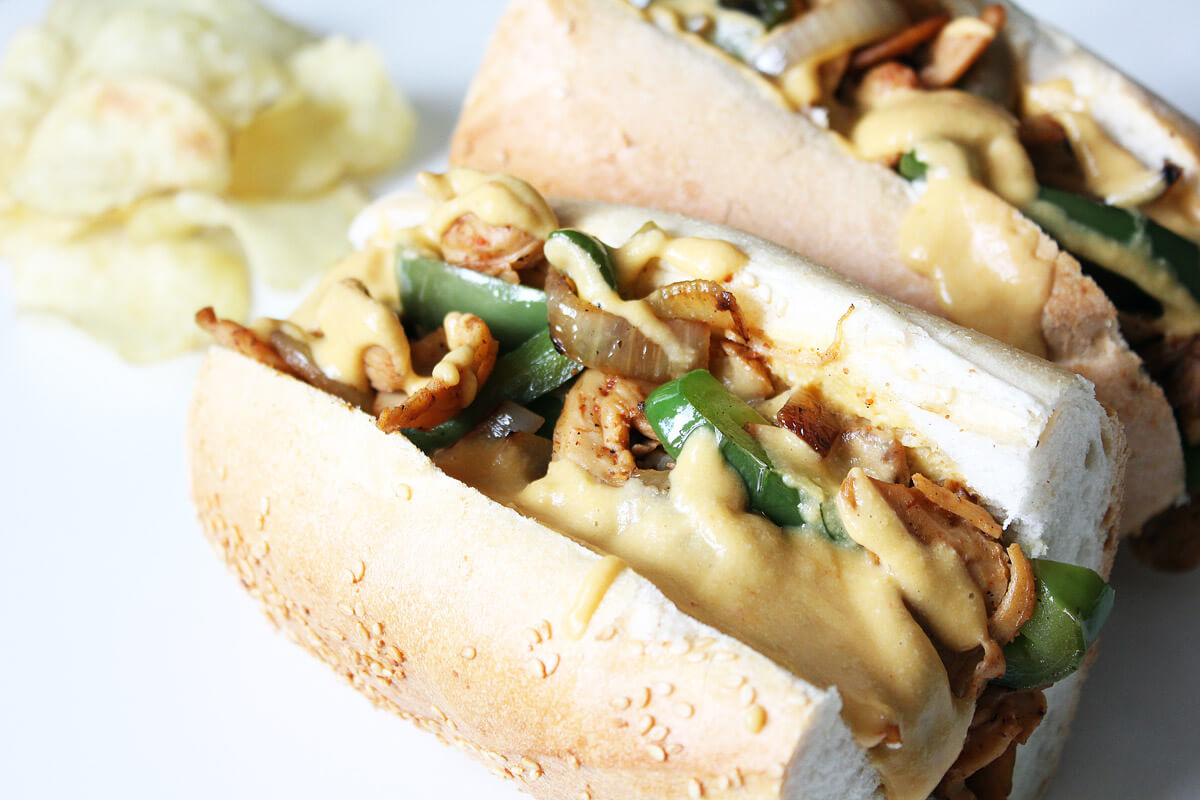 But first a short explanation in advance. The Philadelphia cheesesteak is one of the great American sandwich classics and was developed in the early 20th century. In Philadelphia. Who would have thought of that? While the sandwich was originally only covered with beef and fried onions, cheese was soon added. Today more and more ingredients such as peppers or mushrooms are added to the bread. Not a bad idea. The other vegetable components make the sandwich just a bit fresher and give it a fuller flavour.
For the vegan C&CC version of the Philly cheesesteak, we'll top some bread rolls with seasoned soy meat, onions, bell peppers and the delicious nacho cheese dip. The homemade vegetable cheese sauce is clearly juicier and more aromatic than ready-made vegan cheese. And a really good sandwich must be juicy after all. Mmm!
VEGAN PHILLY CHEESESTEAK SANDWICH
Ingredients for 4 servings (about  2,00 Euros each):
4 (baguette) bread rolls
150 g soy curls
2 onions
1 green bell pepper
1 tbsp soy sauce
2 tsp paprika powder
1 tbsp vegan worcester sauce
1 tsp liquid smoke
1 tsp black pepper
vegetable oil for frying
Preparation
1. Soak the soy curls in boiling water according to the packing instructions. Drain and allow excess liquid to drip off.
2. Prepare nacho cheese sauce according to recipe.
3. Peel the onions, cut into quarters and cut into slightly thicker rings. Cut the peppers into thin strips. Fry both with a little oil in a pan at medium to high temperature for about 5 minutes, until the vegetables are browned and soft. Remove.
4. Add some more oil to the pan and fry the soy curls until brown from all sides. Season with soy sauce, paprika powder, worcester sauce, liquid smoke and black pepper.
5. Heat the bread rolls and cut lengthwise. Then add some cheese dip. Top with soy curls, bell pepper and onions. Finish with some more cheese dip.