Every year in summer you hear the same old question: what do vegans acutally put on the grill for their barbecue? Apart from the fact that grilled vegetables can be incredibly delicious and diverse, we also enjoy a vegan steak with them. Vegan grilled soy steaks are our favourites.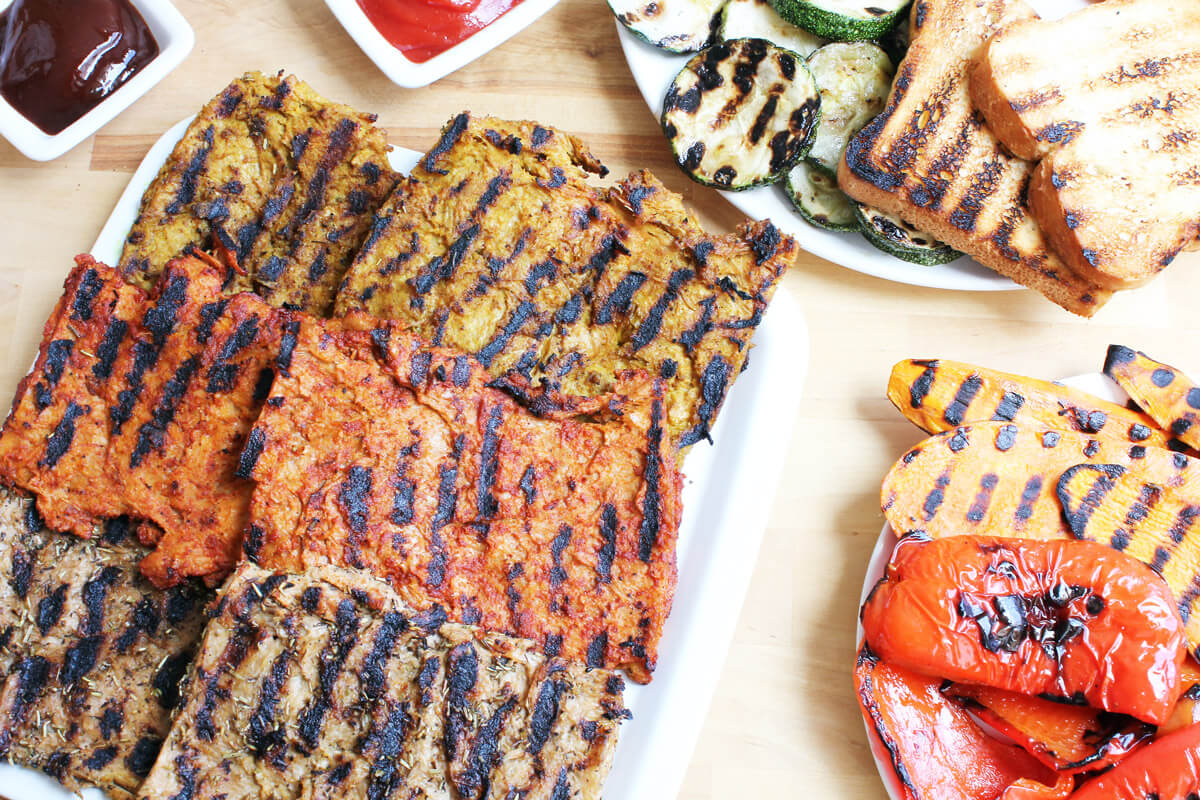 Besides the right preparation, which is very easy, the marinade is most important for the taste. We today present you three different versions. So there should be something for every preference. First, a red marinade based on tomato puree and paprika powder. Then a fresh herbal marinade. And finally a curry marinade with a slight Asian touch. The given oil quantities are the absolute minimum for success. You can't use less, if you don't want your steaks to come dry from the grill. If you want to be on the safe side, you can directly mix in a little more vegetable oil. It won't hurt.
If we are already talking about oil, we have another pro tip for you. Unfortunately, the grill steaks always dry out a little bit when they cool down. If you still want to enjoy your leftovers, you should simply fry the grilled steaks with a little oil from both sides in the pan. So they will honestly taste like freshly grilled again.
VEGAN GRILLED SOY STEAKS WITH 3 MARINADES
Ingredients for 6 steaks (about  0,70 Euros each):
6 dried soy steaks (200 g textured soy protein)
PAPRIKA TOMATO MARINADE
min. 5 tbsp neutral vegetable oil
2 tbsp tomato puree
2 tbsp soy sauce
1 tbsp paprika powder
1 tsp mustard
1 tsp pepper
1 tsp garlic powder
optional: 1 tsp liquid smoke
HERBAL MARINADE
min. 6 tbsp neutral vegetable oil
1 tbsp lemon juice
1 tbsp thyme
1 tbsp rosemary
1/2 tbsp oregano
1 tsp salt
1/2 tsp pepper
CURRY MARINADE
3 tbsp sesame oil
min. 2 tbsp neutral vegetable oil
1 tbsp soy sauce
1 tsp curry powder
1 tsp lemon juice
1/2 tsp turmeric powder
1/2 tsp ginger, grated
1/3 tsp salt
1/3 tsp pepper
Preparation
1. Put the soya big steaks in a large pot and pour boiling water over them. Soak for about 15 minutes. Turn the steaks every now and then. Drain the soy steaks, squeeze out the water and put them aside.
2. Mix the marinades separately. Now put 2 steaks in each marinade and rub it in from all sides. Let the steaks marinade for at least 30 minutes or simply overnight.
3. Grill the steaks sharply from both sides, so that they have a nice crust on the outside but are still juicy on the inside.