Spaghetti alla Carbonara is actually a very simple dish. Unfortunately it is still done wrong so often. There is no cream in carbonara and there isn't even a real sauce that has to be cooked. For the authentic Italian carbonara you basically toss the hot pasta with a mixture of beaten eggs and parmesan cheese. Unfortunately all vegan recipes I came across copied the "wrong carbonara". I've seen hundreds of recipes using oat cream, soy cream, rice cream or white almond butter thinned down with water to create a creamy carbonara sauce. So I had to come up with my own version of a 100% plant based spaghetti carbonara and it worked out so well. The combination of kala namak and nutritional yeast makes all the difference. I was blown away by the authentic taste and I hope you will be as well.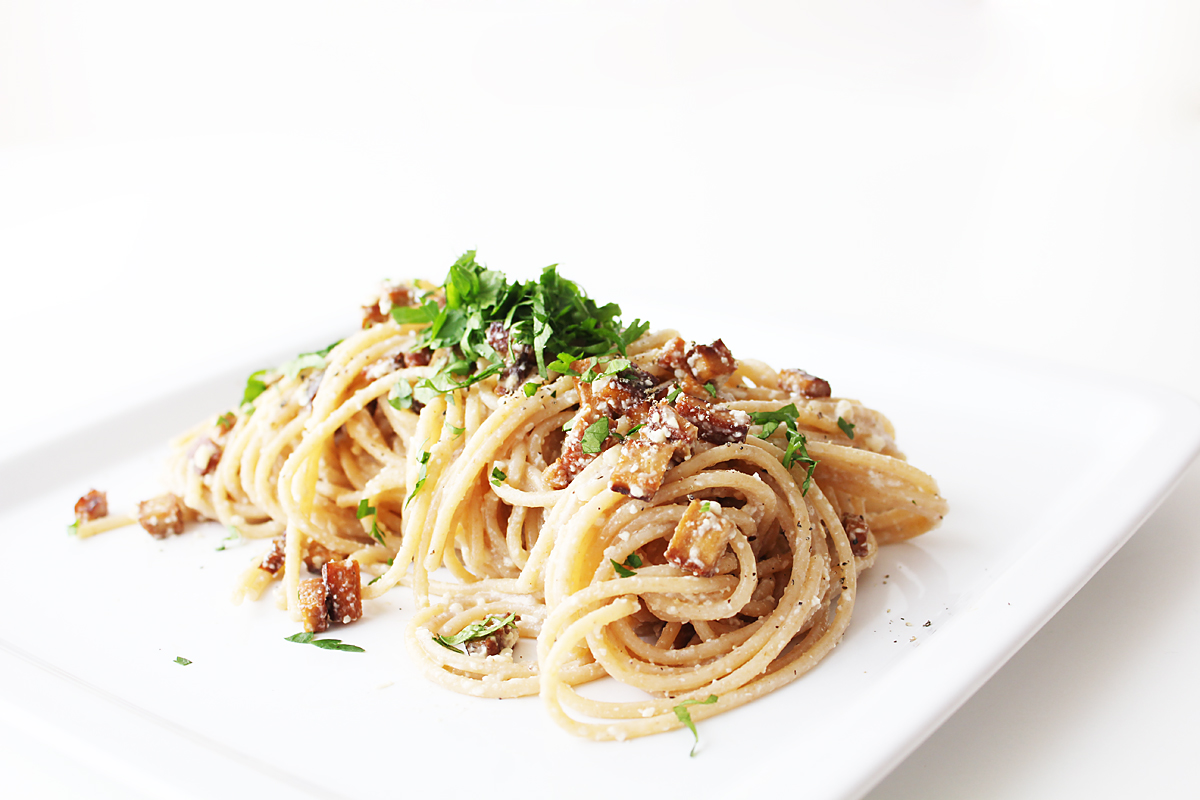 Ingredients for 2 servings (about 1,50 euro each):
250 g whole-wheat spaghetti
50 g cashews (best when soaked in water for a couple of hours)
1/2 tsp kala namak (black salt)
2 tbsp nutritional yeast
100 g smoked tofu
1 small garlic clove
about 50 ml dry white wine
1 hand full of chopped fresh parsley
olive oil
Sea salt and freshly ground black pepper
Preparation
Blend the cashews, the kala namak and the nutritional yeast with a splash of water until smooth. Add more water (little by little!) until you come up with a gooey mixture. Dice the smoked tofu. Heat a pan over medium-high heat and fry the tofu in some olive oil until golden brown and crispy. Finely slice the garlic and add to the pan. Season with a pinch of salt. Add the white wine and let it cook away. Cook the spaghetti in salted water until al dente, drain and mix with the sauce and the smoked tofu. Add 1 or 2 tablespoons cooking water if the "sauce" is not creamy enough. Remember that the spaghetti should just be coated by the cashew mixture. Season the pasta with black pepper (and more sea salt if needed) and sprinkle some chopped parsley on top. Buon appetito!