Vegan chicken drumsticks? With crispy skin? Sounds crazy at first, but it really works. And it tastes great as well. We bake and serve the vegan chicken drumsticks on simple roasted vegetables. And secretly, as soon as the camera is packed away, we put a big splash of ketchup and/or bbq sauce on the plate. But shhh!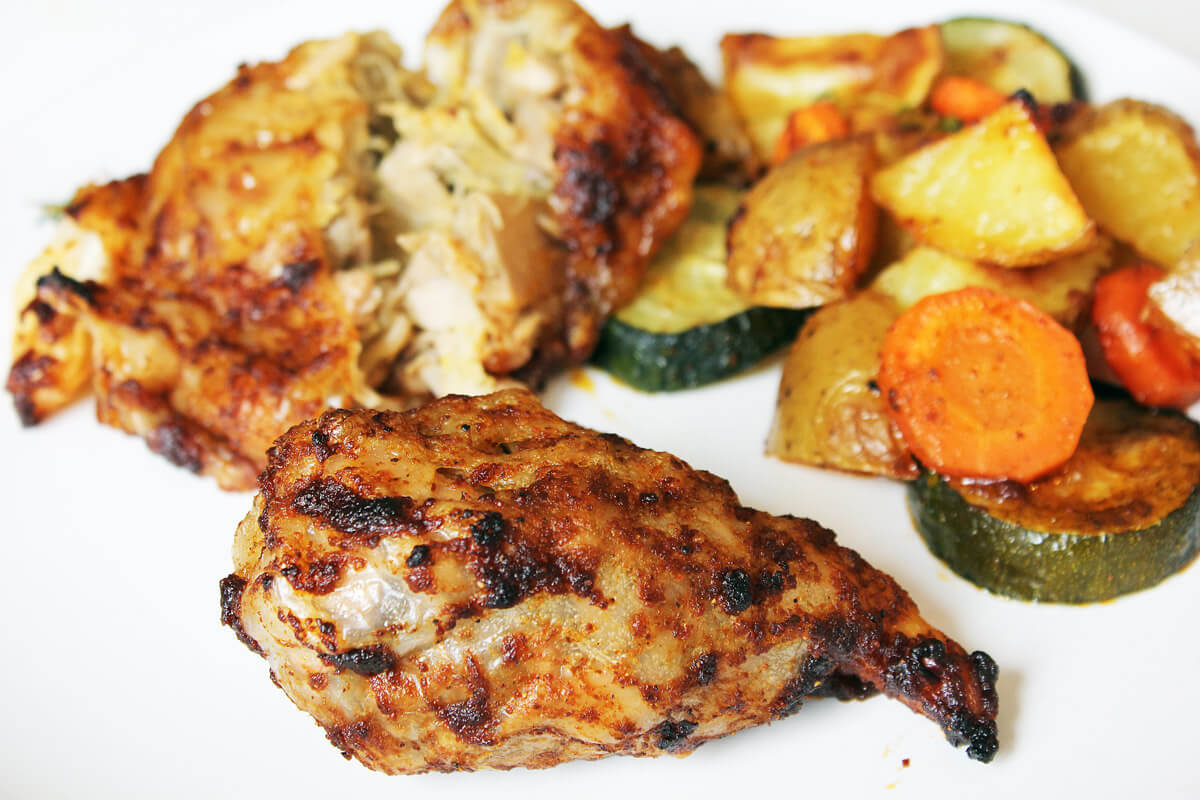 But how are vegan chicken drumsticks acutally done? The plant based "chicken meat" is made of a jackfruit seitan mixture. The jackfruit provides the stringiness (is that actually a real word?) and the seitan powder holds everything together. It's very important to use young, green, unripe jackfruits for this. You can buy those canned with brine. On the other hand you can't use the ripe, sweet jackfruit, which can be bought canned with syrup. So have a close look, what the label on the can tells you. Jackfruit, by the way, can be found in most Asian stores. But we have seen it in organic grocery stores or supermarkets every now and then, even organically produced.
Because canned jackfruit is always a bit sour, we first rinse it well, then squeeze excess water out and let it cook in some broth. That's how you get rid of the unpleasant taste. The spices do the rest.
The crispy "chicken skin" is – just like our vegan bacon – made of seasoned rice paper. It gets real crunchy on the oven and at the same time holds the "chicken meat mixture" together. Apart from that you only need a couple of spices. And we kept the roasted vegetables very simple purposely, so they don't steal the show from the vegan chicken drumsticks. 😉
We first came into contact with vegan chicken drumsticks with skin and bone in the beginning of 2016 in Vietnam. They are incredibly good in faking meat. That's what we always wanted to do as well. The recipe by dailyvegan.recipes served us as another foundation here.
VEGAN CHICKEN DRUMSTICKS ON ROASTED VEGETABLES
Ingredients for 4 servings (about  2,50 Euros each):
VEGAN CHICKEN DRUMSTICKS
2 cans young, green jackfruit in brine (drained net weight about 280 g each)
400 ml vegetable broth
1 tsp liquid smoke
80 g vital gluten powder
1 tbsp nutritional yeast
2 tsp salt
2 tbsp egg replacement powder (or a similar alternative like soy flour)
12 sheets round rice paper
optional: 6 cauliflower stalks as edible "bones"
MARINADE
5 tbsp vegetable oil
2 tbsp ketchup
1 tsp liquid smoke
1 tbsp agave syrup
1 tbsp paprika powder
1/2 tsp garlic powder/li>
1/2 tsp pepper
1/2 tsp curry powder
ROASTED VEGETABLES
800 g potatoes
2 carrots
1 zucchini
3 tbsp olive oil
1 tsp paprika powder
1-2 tsp (herb) salt
some thyme
some rosemary
Preparation
1. Drain the jackfruit, put it in a colander and rinse under water. In doing so, squeeze it with your hands. Thereafter squeeze excess water out of the jackfruit pieces, remove the hard core parts and finely chop them. Finely cut the bigger seeds, too.
2. Then cook the jackfruit pieces in a pan with the broth and liquid smoke until soft and until the liquid is completely vaporized and absorbed. Stir from time to time and mash the jackfruit pieces. Let it cool off before further usage.
3. For the roasted vegetables peel or scrub the potatoes and cut into eighths. Peel or scrub the carrots and cut into slices around 1 cm thick. Cut the zucchini in slices around 2 cm thick. Mix the vegetables with oil and spices and and put them on a baking sheet lined with parchment paper.
4. Mix the egg replacement powder with water and let it soak for a minute or two. Then add to the jackfruit. Now also add the seitan mixture and knead everything well with your hands. Divide into 6 portions. If you want the "bone look", put a cauliflower stalk into each one. Now take 2 sheets of rice paper for every chicken drumstick and dip them into a bowl of water until soft. Put them on a cutting board and cut out about 1/5 (see picture). Put one portion of jackfruit mixture in the middle and completely wrap it with the rice paper.
5. Mix the ingredients for the marinade. Brush all chicken drumsticks with about 3/4 of the marinade, put them on top of the vegetables and bake in the pre-heated oven at 200 degrees Celsius (static upper and lower heat). Bake approximately for a total of 60 minutes, until everything is well browned and crispy. Flip the chicken drumsticks after half of the cooking time and when doing so, brush them with the remaining marinade.