Never heard of a Reuben sandwich? I must admit I also came across it just last year but it was love on the first bite. It is astonishing how sauerkraut levels up a grilled cheese sandwich. Besides sauerkraut and swiss cheese, rye bread, russian or thousand island dressing and corned beef are the main ingredients of a reuben sandwich. For my plant based version I substituted corned beef with fried tempeh. On the internet I found some more versions with beet, tofu or avocado. You can easily modify a Reuben sandwich and because the dressing is made in no time this recipe falls in the category "i am hungry but don't want to go grocery shopping so I just want to create something real good out of my stocks". And between us, I think you can not have enough of those kind of recipes!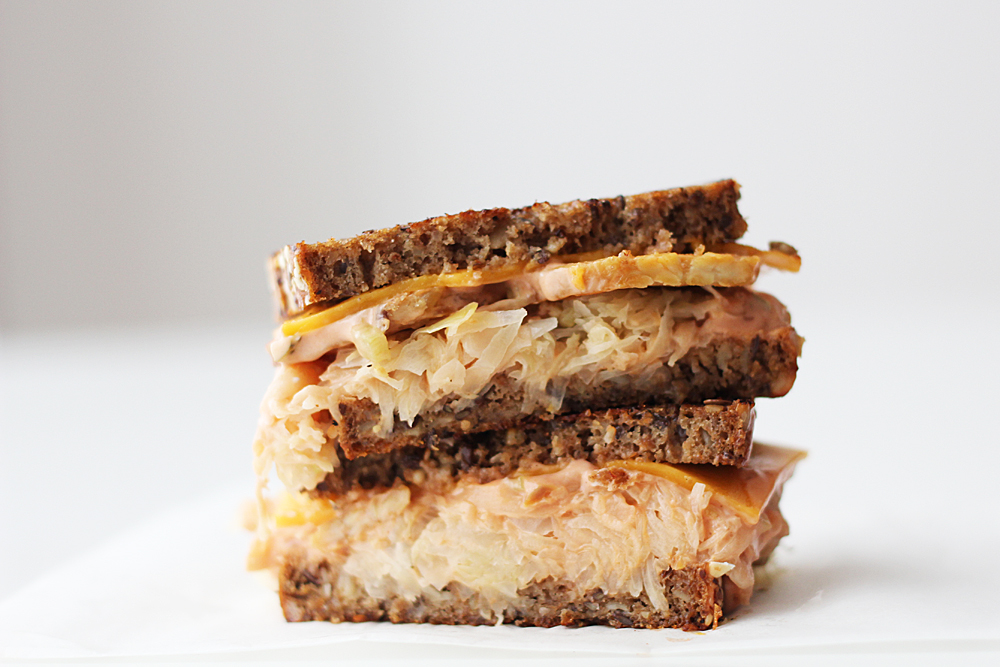 Ingredients for 2 Reuben Sandwiches (about 2,00 euros each):
4 slices rye bread
2 slices plant based cheese (e.g. "Wilmersburger würzig" or vegan cheddar)
200 g sauerkraut
100 g tempeh
2 tbsp vegan mayonnaise or salad cream
1,5 tbsp ketchup
1 tsp tabasco
1 gherkin / pickled cucumber
some vegan butter (e.g. "ALSAN-Bio Margarine")
2-3 tbsp neutral vegetable oil (e.g. sunflower oil)
Preparation
Add mayonnaise, ketchup and tabasco to a small bowl and mix well. Finely dice the gherkin and add to the sauce. Cut the tempeh into 1/2 cm thick slices and fry in a pan with 2-3 tbsp vegetable oil over medium-high heat from both sides. Squeeze excess liquid out of the sauerkraut and loosen it up afterwards.
Heat a pan over medium-high heat. Spread the vegan butter on both sides of the rye bread slices and place them in the pan. Cook until the bottom side is brown. Flip 2 of the slices and top each with 1 slice cheese, sauce, a few slices tempeh, sauerkraut, some more sauce and finally the second slice of rye bread (grilled side down). Cook for 2 minutes, carefully flip the sandwiches over and cook for another 2 minutes.