Döner kebab was invented in Berlin, which is indeed still the international döner capital. However, the choice of vegan döner is unfortunately not that big. And because we don't want to travel through the city for a nice döner all the time, we developed our very own recipe for the perfect döner kebab. Our vegan döner with two sauces is filled with tasty kebab made of dried soya steaks, following the example of our favourite döner, the Vegöner in Nuremberg. We like that much more than the versions made of seitan. It's easier and cheaper to make as well. If you can't get your hands on the large dried soya steaks (soya big steaks), you can use other textured soy protein (TSP) / textured vegetable protein (TVP) products as well (e.g. chunks). You can find those in most of the large supermarkets nowadays.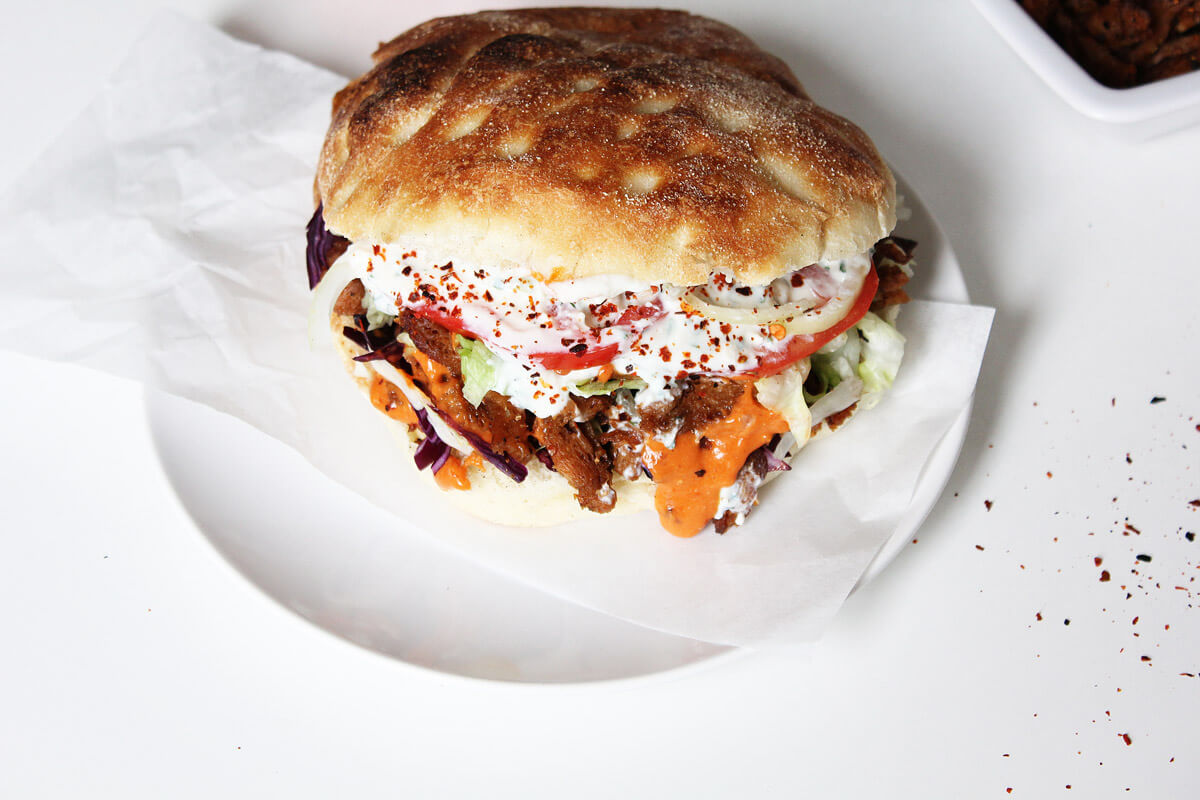 Besides the "meat", the most important thing for every good döner is the sauce. We like to order our döner with two different sauces. That's why we supply you with the recipe for the two ultimate döner sauce classics: the white herb sauce based on yogurt and the slightly hot red sauce based on mayonnaise.
For the rest you only have to slice some vegetables. Red cabbage, white cabbage, iceberg lettuce, tomato and (at least for Andi) onions are the döner toppings. If we feel crazy, we might add some cucumber as well. Moreover, you should put the döner bread in the oven before adding the toppings, so it is warm and a little bit crunchy from the outside.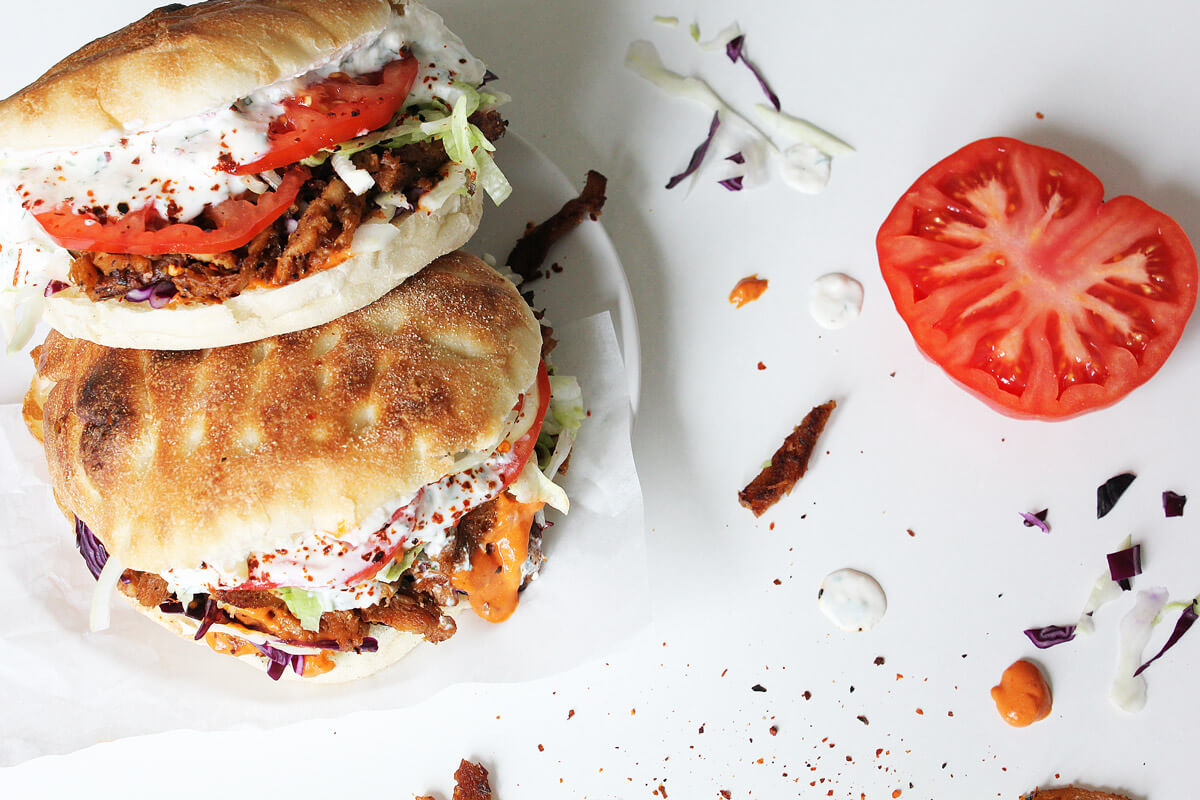 VEGAN DÖNER KEBAB WITH TWO SAUCES
Ingredients for 4 servings (about  1,50 Euros each):
4 döner bread
1 small piece of red cabbage
1 small piece of white cabbage
1 small piece of iceberg lettuce
1 tomato
1/4 onion
pul biber (Turkish chili flakes)
KEBAB
3 dried soya steaks (100 g textured soy protein)
about 75 ml neutral vegetable oil
2 tbsp döner spice
1 tbsp soya sauce
WHITE HERB SAUCE
150 g soy yogurt
1 small garlic clove, pressed
1 tsp minced parsley
1/3 tsp dried dill
1 splash lemon juice
salt
RED SAUCE
100 g vegan mayonnaise
1 tbsp ketchup
1 tsp hot paprika paste
optional: chili powder or sauce
Preparation
1. For the sauces, just mix the respective ingredients.
2. For the kebab, pour boiling water over the dried soya steaks and let it soak for about 10-15 minutes. Then drain, squeeze out the water and cut into thin strips. Fry in a plenty of oil (about 75 ml) on high heat and season with döner spice and soya sauce.
3. Cut red cabbage, white cabbage and iceberg lettuce into thin strips. Slice the tomato. Finely slice the onion.
4. Cut the döner breads open, but don't cut all the way through. Heat them in the oven at 180 degrees Celsius and then directly add the toppings and serve.