Today we have vegan tempeh and broccoli with rice. This dish may be familiar to meat eaters, because you can often find beef and broccoli on the menu at Chinese or Mongolian restaurants. Important for the taste, whether you make it with tempeh or meat, is the sticky brown sauce. It's made pretty quickly of just a few ingredients. And luckily you do not need many ingredients for the rest of the dish either. The preparation does not last longer than the cooking time of the rice. So tempeh and broccoli falls clearly in the category quick and easy.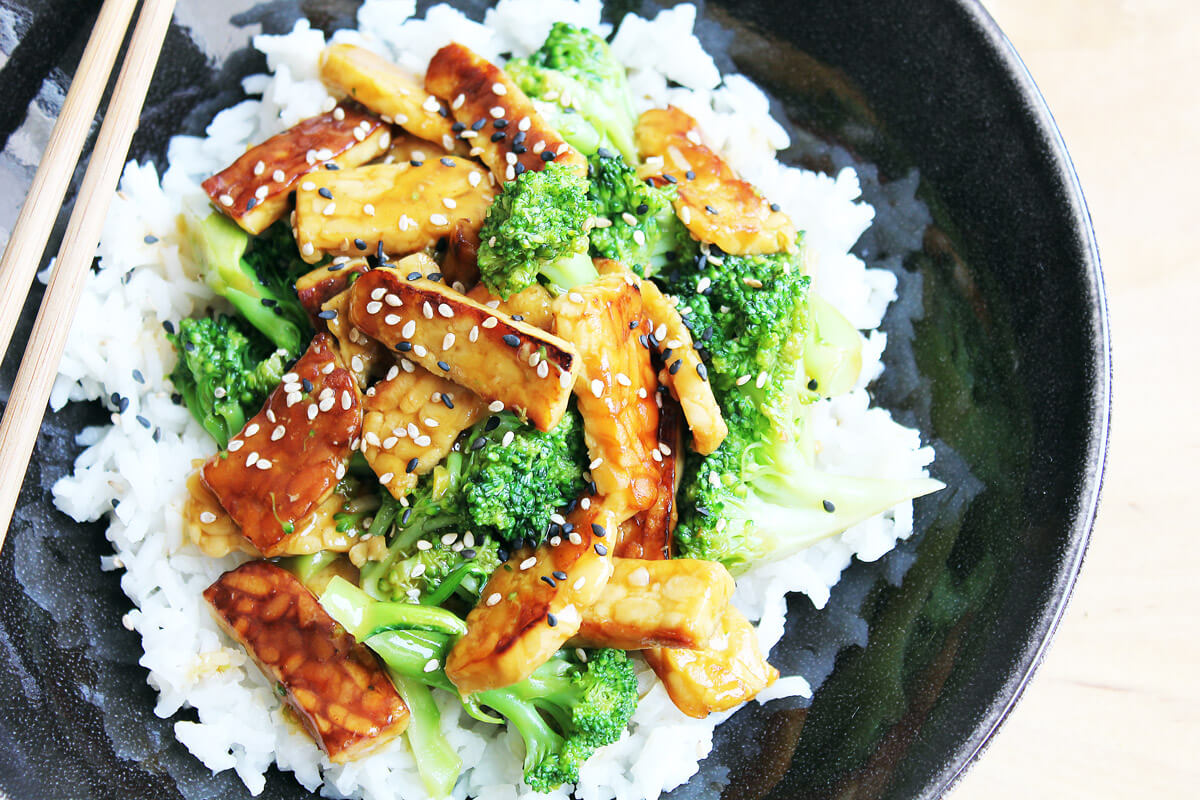 Tempeh ist a product made from fermented soy beans, which traditionally orginates from Indonesia and has a nutty flavour. Furthermore tempeh is very healthy and contains a lot of protein. By the way, you can also freeze tempeh wonderfully, so you always have some ready to cook spontaneously.
And if you had to buy the ingredients for the sauce extra and do not know what else to do with it: feel free to browse through our other Asian recipes!
VEGAN TEMPEH AND BROCCOLI WITH RICE
Ingredients for 2 servings (about  2,25 Euros each):
250 g tempeh
250 g broccoli
1 garlic clove
2 cm ginger
120 g rice
1 pinch of salt
vegetable oil
1 tsp sesame
SAUCE
5 tbsp mushroom sauce
3 tbsp soy sauce
3 tbsp mirin (sweet rice wine)
1,5 tbsp sugar
1 tbsp corn starch
150 ml cold water
Preparation
1. Put the rice with twice the amount of water in a saucepan. Season with a pinch of salt. Bring to a boil at high temperature. Then lower the heat to a minimum and let the rice cook with the lid closed. Meanwhile, the tempeh and broccoli can be prepared.
2. Split broccoli into individual florets. Bring some water to a boil in a pan and cook the broccoli in it for 2 minutes until not completely soft. Drain into a sieve and immediately quench with cold water.
3. Stir the starch first with 2 tablespoons of cold water until smooth, then stir in sugar, mushroom sauce, soy sauce, rice wine and the remaining water.
4. Finely chop ginger and garlic. Cut the tempeh into thin slices and fry with enough vegetable oil in a large pan at high temperature until brown from all sides. Add garlic and ginger and fry for about another 30 seconds. Then deglaze with the sauce. Stir in broccoli. Bring everything to a boil briefly and simmer while stirring for about 30 seconds.
5. Directly serve the vegan tempeh and broccoli sprinkled with sesame accompanied by the rice.