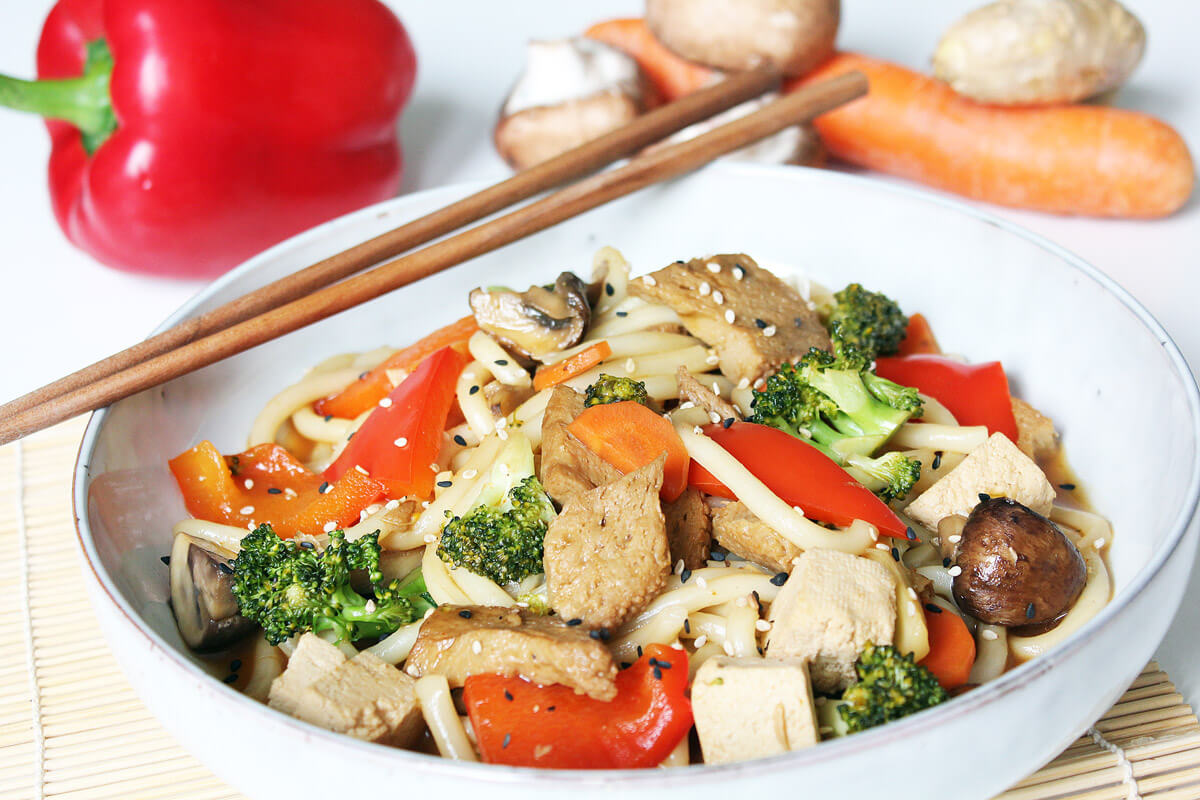 We think Asian food is always a good idea. No matter if it is Chinese, Japanese, Vietnamese, Indonesian, Korean or any other. If you stopped by here a couple of times, you should have noticed this yet. 😉 We not only love Asian cuisine because of the incredibly good taste combinations or the high vegan-friendlyness. We also like, that many dishes are prepared really quickly. For stir-fries you normally just have to cut a few vegetables. Then mix a couple of ingredients for a sauce. Add rice or noodles. Done. The quick udon noodles follow this principle.
Udon noodles are thick Japanese noodles, which are only made of wheat flour, salt and water. You can find them in most Asian stores. You should find all the ingredients for the tasty sauce there as well. Important for the special taste is the probably not that well-known, thickly mushroom sauce ("mushroom vegetarian sauce"). We were introduced to it in an vegan cooking class in Vietnam and directly fell in love. Mushroom sauce is often used in South Eastern Asia as an vegetarian or vegan alternative to oyster sauce. We think, with its umami flavour it works well in almost every stir-fry dish. And the sauce keeps for a long time. So a purchase is definitely worth it.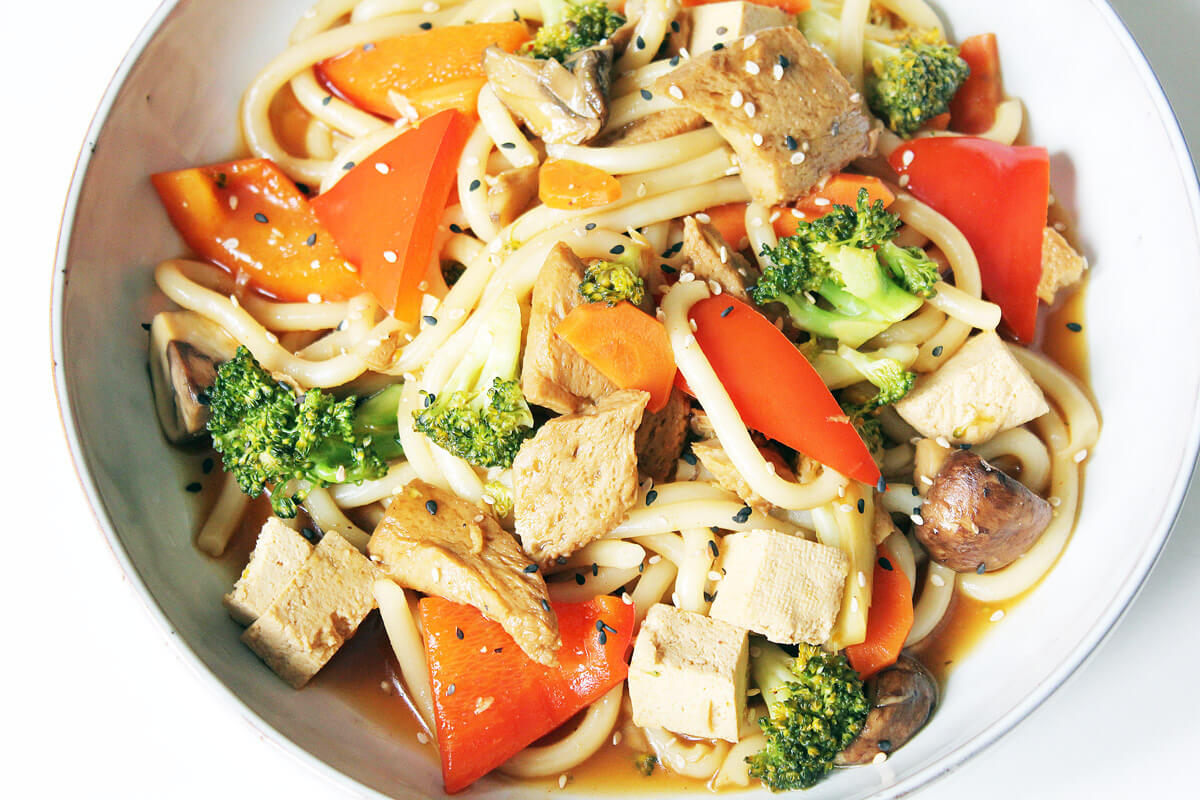 Quick Udon Noodles
Ingredients
Noodles + Veggies
400

g

udon noodles

200

g

tofu

,

and/or seitan

150

g

brown mushrooms

1

red bell pepper

1

carrot

150

g

broccoli

1

clove

garlic

2

cm

ginger

3

tbsp

sesame oil

2

tsp

sesame seeds
Sauce
5

tbsp

soy sauce

3

tbsp

mushroom sauce

1

tsp

sriracha hot sauce

1

tbsp

rice vinegar

1/2

tsp

five spice powder

1

tbsp

sugar

300

ml

water
Preparation
Peel the carrot, halve it lengthwise and cut into thin slices. Core the bell pepper and cut into bite-sized pieces. Cut the broccoli into small florets. Clean the mushrooms and cut into six pieces. Cut tofu and seitan into bite-sized pieces.

Peel and finely dice the ginger. Peel, halve and finely slice the garlic. Fry both in a large frying pan with sesame oil on relatively high heat for about 20 seconds. Then add the remaining vegetables. Stir-fry everything for about 1 minute. Add the sauce.

Add the udon noodles and the tofu/seitan to the pan. The noodles will seperate by themselves in the hot sauce. Just turn them from time to time, so they all get in touch with the sauce. After 2-3 minutes everything should be done.

Serve the udon noodles immediately sprinkled with sesame seeds.