Slowly but surely it's getting colder outside and the desire for warm food comes up again. Stews are definitely the right thing then. Our vegan Hungarian goulash is not only damn tasty, but also super easy to cook in just one pot. In addition, thanks to the potatoes in it, you don't even need a side dish. If you feel like going for totally high carb, you can of course still serve some bread, pasta or rice with it.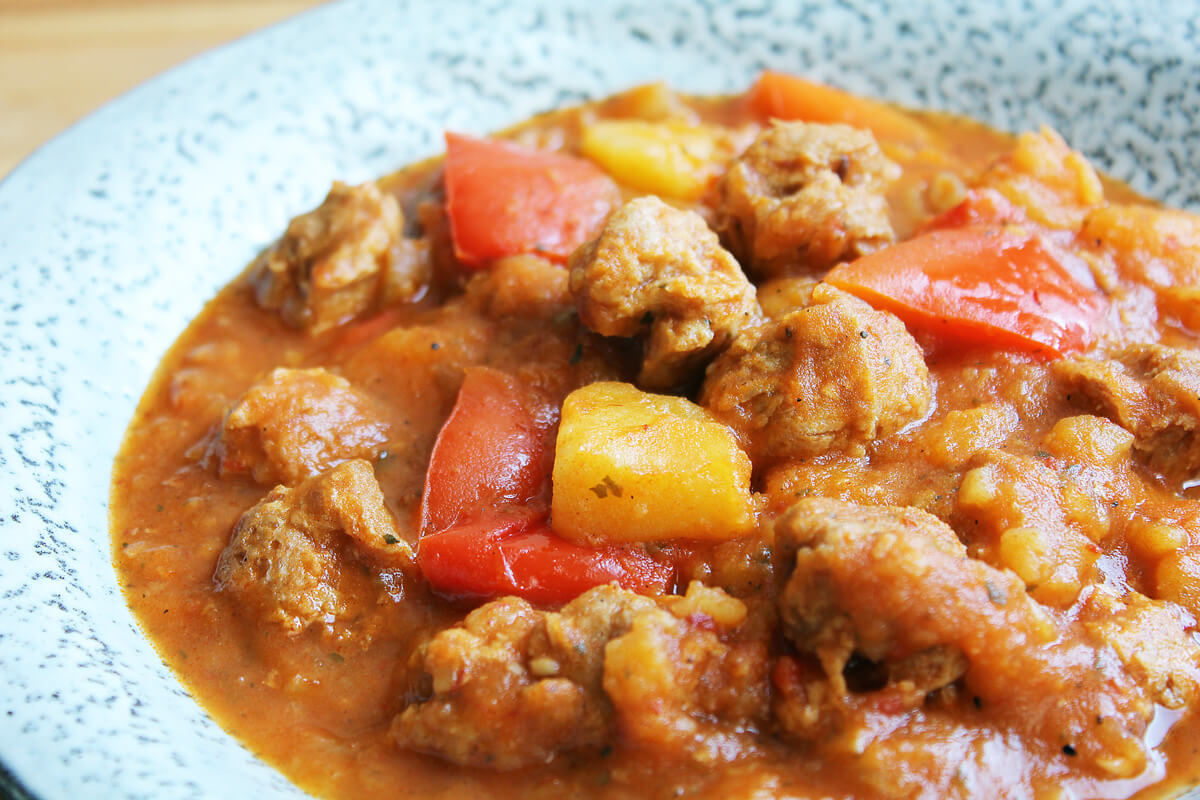 Important for an authentic Hungarian goulash is loads of paprika flavour. We use a combination of hot paprika puree, smoked paprika powder and fresh bell pepper. This triumvirate provides so much flavour that almost no other spices are needed. Onion and garlic of course is a must. And some bay and caraway complete everything.
Instead of pork or beef, we simply use soy meat as the main ingredient. More specifically, textured soy protein in the shape of soya chunks. They do not need to be soaked before as we cook them together with the other ingredients in the spicy goulash brew. This simplifies the cooking process enormously and even saves time afterwards when doing the dishes.
VEGAN HUNGARIAN GOULASH
Ingredients for 2 servings (about  1,50 Euros each):
120 g soya chunks
400 g potatoes
1 large onion
1 garlic clove
1 red bell pepper
1 heaped tbsp tomato puree
1 heaped tbsp paprika puree, hot
1 heaped tsp smoked paprika powder
1/3 tsp caraway seeds
1 bay leaf
500 ml vegetable stock
400 ml water
olive oil
salt + pepper
Preparation
1. Peel the onion and dice it roughly. Sauté in a saucepan over medium heat with a dash of olive oil for 2-3 minutes.
2. Meanwhile peel and finely chop the garlic. Add together with the soy cubes in the pot and fry everything for another 1-2 minutes. Add the tomato and paprika puree, fry briefly then add the vegetable stock.
3. Peel and dice the potatoes. Roughly chop the bell pepper. Add both together with the bay leaf to the goulash. Season with paprika powder, caraway seeds, salt and pepper. Bring everything to a boil briefly and simmer with the lid closed for about 30 minutes at low temperature until the potatoes are soft.
4. Finally season again with salt and pepper before serving.