As you might know by now I just love Asian food. With just a couple of ingredients on hand you can create flavourful dishes and this soup is the perfect example for it. Miso paste, soy sauce and mushrooms are pure flavour as they contain a high amount of "umami", which is the fifth basic taste after salty, sweet, sour and bitter. Umami can be described as a rich, savoury flavour that combines perfectly with other flavours or even enhances them. So this miso ramen noodle soup is 100% flavour created within just a couple of minutes. You should give it a try!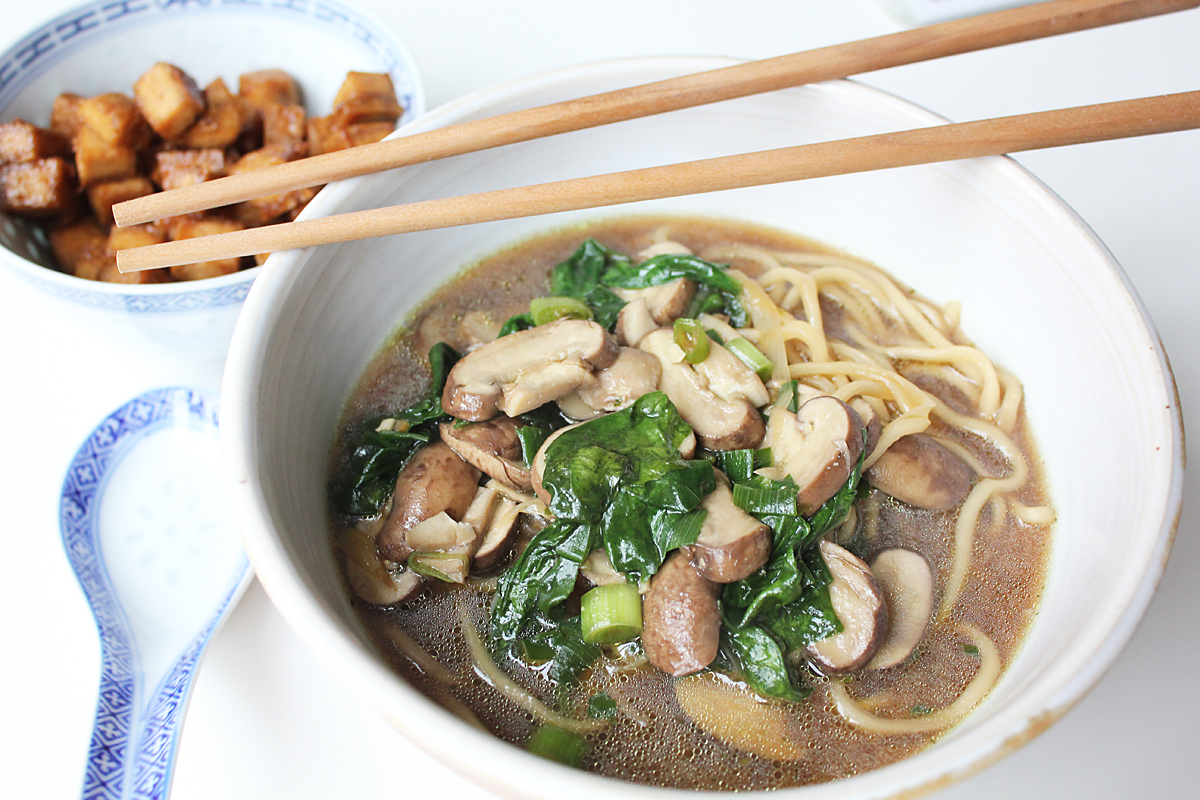 Ingredients (2 servings, 2,25 € each)
125 g ramen or mee noodles (Asian wheat noodles)
2 garlic cloves
2 spring onions
250 g brown mushrooms
1 tsp instant vegetable broth
1 tbsp miso paste
2 tbsp soy sauce
1 tbsp mushroom sauce
2 large hands full of fresh spinach
200 g tofu
3 tbsp vegetable oil
1 tbsp hoisin sauce
Preparation
1. Mince the garlic cloves. Slice the brown mushrooms. Cut the white part of the spring onions into thin stripes, cut the green part into rings.
2. Sauté garlic and spring onion white for 1-2 minutes in 1 tbsp vegetable oil. Add brown mushrooms, instant vegetable broth, miso paste, soy sauce and mushroom sauce together with 1 liter water. Bring to the boil, add noodles and simmer for 4-5 minutes until noodles are cooked.
3. Meanwhile cut tofu into bite-sized pieces. Fry in 2 tbsp vegetable oil from all sides until crunchy. Add hoisin sauce and mix well.
4. Add spinach (leaves roughly chopped, stems finely sliced) and spring onion green to the soup and let it simmer for another minute. Enjoy your miso ramen noodle soup!