Chimichurri is a herb sauce widely known in Argentina and Uruguay, for example served with grilled meat or empanadas. Of course, Chimichurri also tastes great with vegan grilled food or with completely different dishes. How about using it as a pasta sauce or as a component of sandwiches?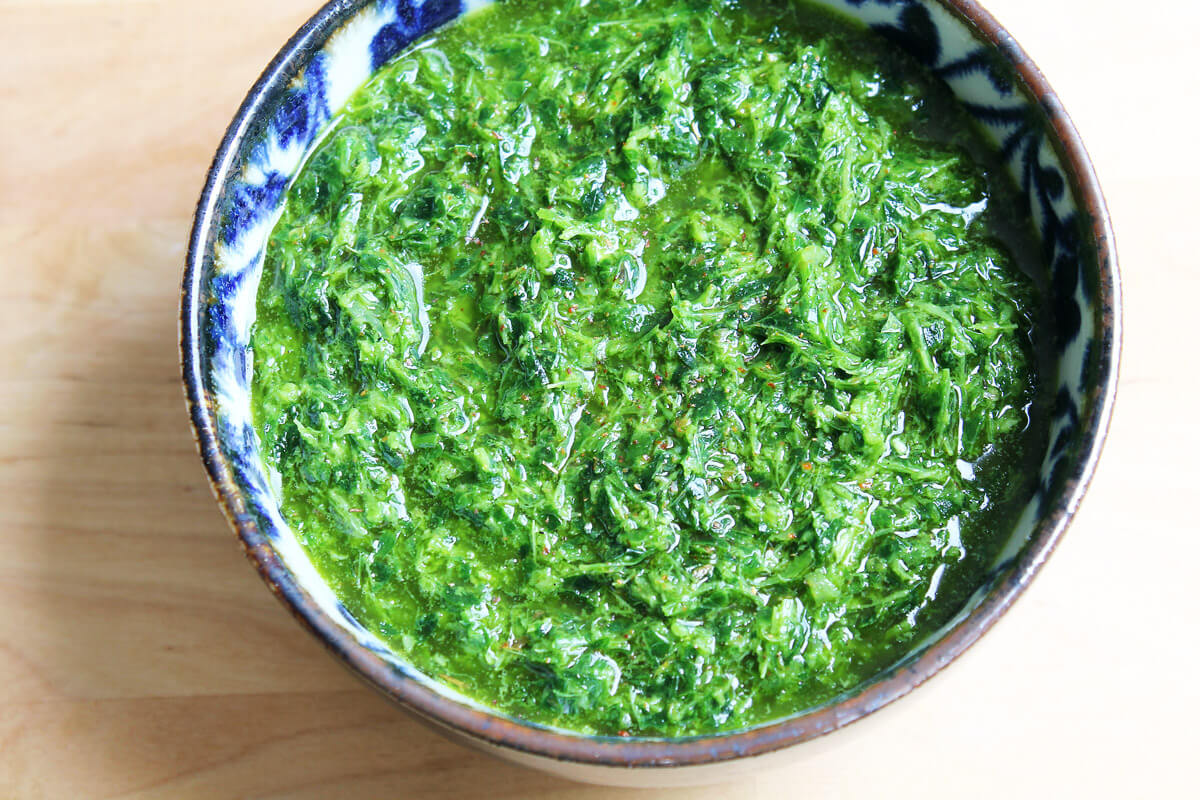 The main ingredients of chimichurri are parsley and olive oil. Basically chimichurri is kind of parsley pesto, only without cheese and nuts. Some lime juice and chilli bring the typical fresh South American flavour.
For the original chimichurri, the parsley is actually chopped very finely with a knife and then simply stirred with the oil or processed into an emulsion with a mortar and pestle. But this version is simpler, because the blender takes a lot of work off of you.
CHIMICHURRI – ARGENTINIAN HERB SAUCE
Ingredients for 1 large amount (about  4,00 Euros):
1 large bunch of parsley
2 garlic cloves
1/2 onion
1/2 lime
min. 150 ml good olive oil
1 tbsp chili flakes
1 tsp paprika powder
1 tsp oregano
1 tsp thyme
salt + pepper
optional: 1 bay leaf
Preparation
1. Cut off the hard ends of the parsley stems. Wash the remaining parsley, dry and roughly cut. Peel the garlic cloves. Peel the half onion. Cut both roughly.
2. Put everything together with the juice of the lime in a tall container. Finely chop with a blender. Gradually stir in the olive oil until the desired consistency is achieved. Now round off with the herbs and spices. Put everything in a sealed container, put in the bay leaf and, if possible, let it rest overnight in the fridge.