We love wild garlic. So much so that we like to eat it all year round. Unfortunately, it is usually only available in Germany from late March to early June. So recipes to preserve wild garlic are really worth it. Our wild garlic pesto is a real classic. Today we make vegan wild garlic butter that can be frozen just as easily. You can for example get it out again for the barbecue season in summer. The preparation is super simple and you only need 3 ingredients: vegan butter, wild garlic and salt.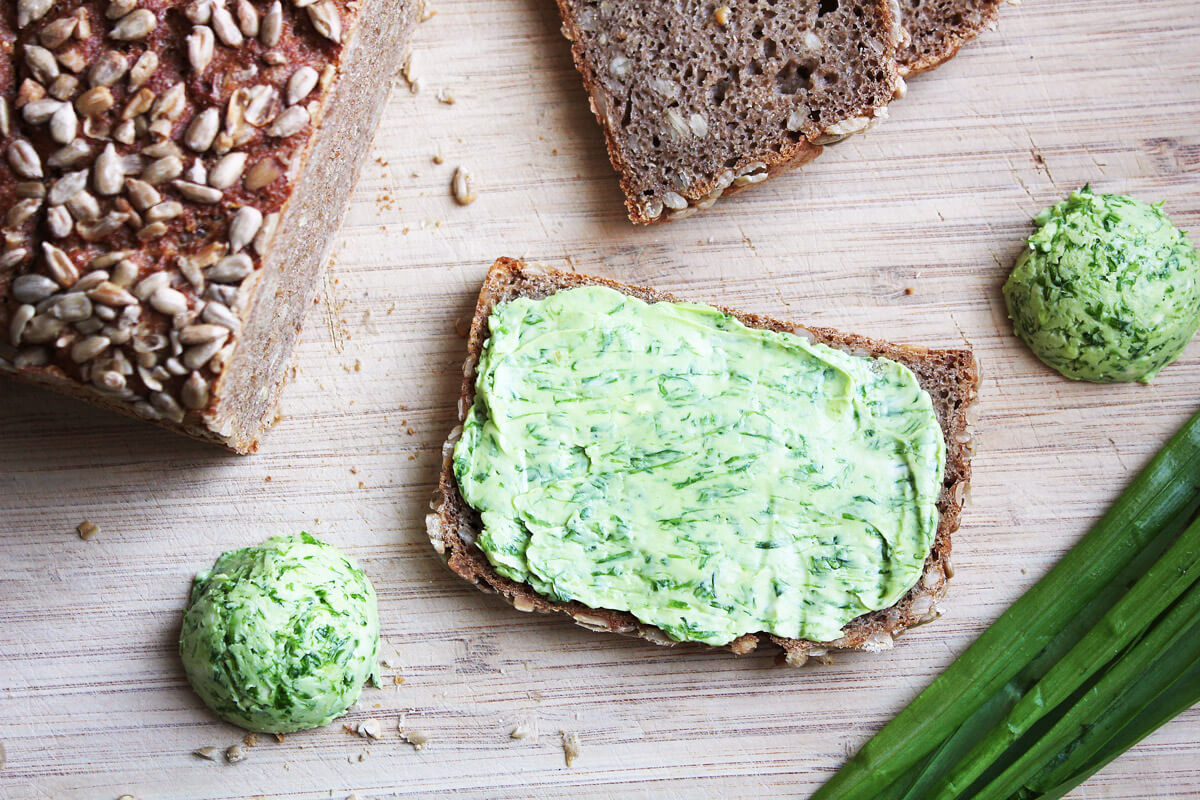 Berlin, end of March 2020: The blossom of wild garlic has started again and we accidentally stumbled into an endless field of wild garlic. Ok, actually it was not a real wild garlic (Allium ursinum). It is super rare in Berlin and Brandenburg and is even on the red list in category 1. That means it is threatened with extinction. The related few-flowered garlic (Allium paradoxum), which is also called Berlin wild garlic, sprouts in huge quantities. So you can pick in clear conscience. Said and done. A few jute bags filled and off to the kitchen. So don't be surprised if the blog shines green in the upcoming weeks.
And another tip at the end: You do not know whether there is wild garlic (or few-flowered garlic) to pick somewhere near you? Then take a look at mundraub.org and use the interactive map there.
Vegan Wild Garlic Butter
Ingredients
250

g

vegan butter

,

soft

50

g

wild garlic

1/4

tsp

salt
Preparation
Wash and dry the wild garlic. Cut roughly into small pieces with a knife.

Mix the wild garlic, salt and the soft butter (in small pieces) either in a tall, narrow container with a hand blender or in a food processor.

Place the vegan wild garlic butter in a clean container or form a roll in cling film. The wild garlic butter can be kept in the fridge for at least 1-2 weeks. But it can also be frozen wonderfully. So you have something of it all year round.