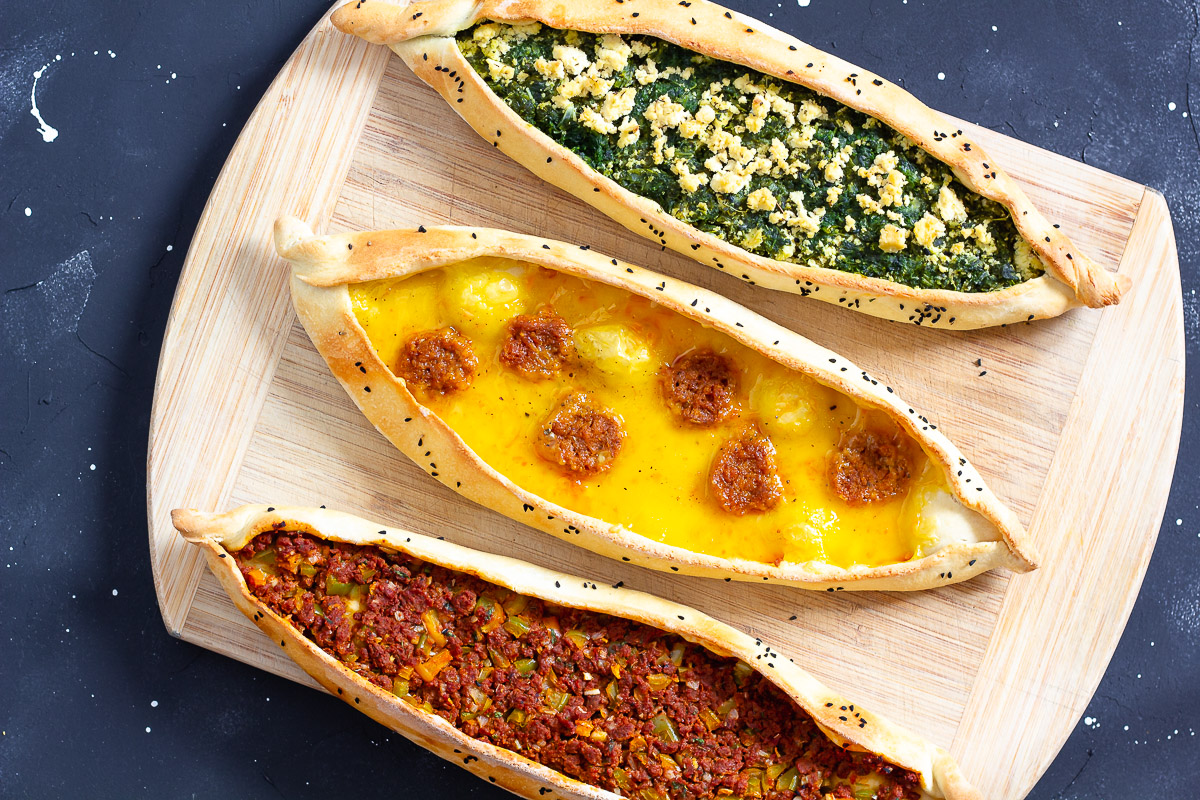 Oh for how long have we not eaten any pide? I don't know, to be honest. But in any case it was far too long ago. The best-known versions of the Turkish flat bread "boats" are filled with minced meat (Kiymali Pide), spinach and feta (Ispanaklı Pide) as well as with sucuk and cheese (Sucuklu Pide). So anything but vegan. Like most dishes in Turkish restaurants or snack bars unfortunately. Whenever they have something meat-free, there is always cheese, yogurt or egg in it, right? Very annoying, we think!
But with today, the unfulfilled pide wishes of vegans like us are over. Because we stood in the kitchen and not only came up with one purely plant-based pide, but with three delicious vegan versions: the already mentioned classics with minced meat, spinach and sucuk. You can now try them out one after the other and find your own personal favourite. Or you can have a big pide party at home (of course only within the current Corona contact restrictions) and prepare all three. It's a little more effort, but still easy to do on your own. Because none of the fillings are rocket science and can easily be prepared a few hours in advance.
For the minced meat version, we season vegan minced meat with tomatoes, peppers, onion, garlic, thyme and parsley. That's it. Well, ok, some salt and pepper is of course also added.
The sucuk cheese filling consists of plant-based grated cheese and a vegan sausage, which we cut into slices and marinate with olive oil, garlic, paprika powder, cumin and cayenne pepper. A simple sausage is pimped into sucuk in no time at all.
For our vegan spinach and feta filling, we first crumble some tofu and marinate it with olive oil, lemon juice, salt, oregano and thyme. The quick alternative to feta is ready. The spinach is allowed to briefly hop into the pan with onion and garlic and then is seasoned with salt, pepper and nutmeg.
The basis for delicious pide is of course a good dough. We put some vegan yogurt and olive oil in the yeast dough. This makes it particularly soft and tender. Otherwise, the same rules as for any other yeast dough apply.
Since the dough is supposed to ferment the fastest at temperatures of 32 – 37 degrees Celsius, which are rarely found in the apartment outside of summer, a little tip: preheat the oven very briefly so that the temperature is slightly above room temperature. Then let the covered bowl with the dough sit there for the next hour. But really only preheat very briefly, because temperatures over 40 degrees prevent the fermentation process again. Alternatively, you can place the bowl near a radiator during the heating season.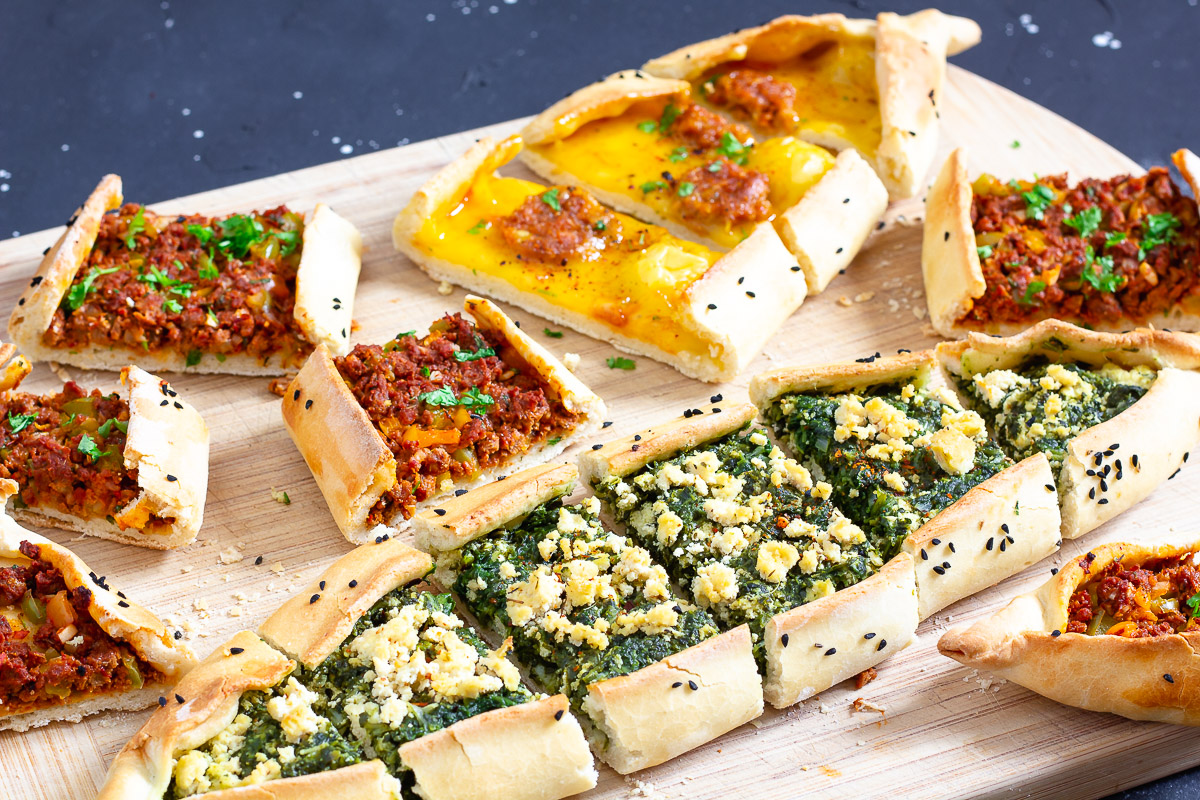 Vegan Pide - 3 Tasty Versions
Ingredients
Dough (for 4 Pide)
450

g

wheat flour

1

packet

dry yeast (7 g)

,

equivalent to 1/2 cube or 21 g of fresh yeast

2

tbsp

olive oil

3

tbsp

vegan yogurt

,

room temperature

175

ml

water

,

warm

1

tsp

salt

1/2

tsp

sugar
Vegan Spinach and Feta Filling (for 4 Pide)
400

g

frozen spinach

,

defrosted

1

onion

1

clove

garlic

200

g

tofu

4

tbsp

lemon juice

3

tbsp

olive oil

1/2

tsp

salt

1/2

tsp

oregano

1/2

tsp

thyme

salt + pepper

nutmeg
Vegan Minced Meat Filling (for 4 Pide)
275

g

vegan minced meat

1

onion

1

clove

garlic

2

tbsp

paprika pulp

,

hot

2

tbsp

tomato paste

1

pointed pepper

,

green or yellow

1/2

tsp

thyme

,

dried

3

tbsp

fresh parsley

,

chopped

salt + pepper
Vegan Sucuk Cheese Filling (for 4 Pide)
300

g

vegan grated cheese

100

g

vegan sausage

3

tbsp

olive oil

1

clove

garlic

1

tsp

paprika powder

1/3

tsp

cumin powder

1/3

tsp

cayenne pepper

,

or chili powder

salt + pepper
Other
1

tbsp

plant milk

1

tsp

black cumin seed
Preparation
For the dough, mix the flour with the dry yeast, salt and sugar. Add water, oil and yogurt and knead everything into a smooth dough for at least 5-10 minutes. The longer and stronger, the smoother the dough will be. You can do this by hand or of course with a food processor. If the dough is too moist and sticky, add a little more flour. If it is too dry and crumbly, add a few more drops of water.

Shape the finished dough into a large ball. Cover the bowl with a damp kitchen towel and let the dough rise in a warm place for at least 1 hour.

In the meantime, prepare the desired filling(s) according to the information below.

Preheat the oven to 220 degrees Celsius top and bottom heat. Divide the dough into 4 equal pieces. Roll out each into an oval flatbread and put the desired filling on it. Leave a margin of 2-3 cm on each side. Fold the edges in a little over the filling and press down gently. Twist the ends of the dough. Brush the the dough with vegetable milk (alternatively olive oil) and sprinkle with black cumin.

Place the pide on a baking sheet lined with baking paper. Bake for about 20 minutes.
The different fillings:
For the vegan spinach and feta filling: Roughly crumble the tofu. Mix the olive oil, lemon juice, salt, oregano, thyme and pour over the tofu. Finely chop the onion and garlic. Fry in a pan with a dash of olive oil. Add the defrosted spinach and let the liquid boil off briefly if necessary. Season with a generous pinch of salt, pepper and nutmeg each. Add 2/3 of the tofu. Later pour the mixture onto the pide and sprinkle with the remaining tofu.

For the vegan minced meat filling: finely chop the onion and garlic. Finely dice the paprika. Mix with the remaining ingredients and season with salt and pepper. Fill the pide with this mixture later.

For the vegan sucuk cheese filling: press the garlic. Mix with olive oil and the spices to a marinade. Cut the vegan sausage into slices and add to the marinade. Let it steep for at least 10 minutes, preferably longer. Later, first top the pide with cheese, then with the sausage. Season with salt and pepper.
Song of the recipe:

Altin Gün are from the Netherlands, but play a mix of Turkish funk, psychedelic and 70s rock. Goca Dünya means big old world. And that's where the pide comes from.