To make a real good pizza at home isn't that hard if you stick to a few basics. We want to show you these basics today. The foundation of every good pizza is of course the right pizza dough. While many restaurants use egg to make the pizza dough, this ingredient isn't part of an authentic Italian dough. Flour, water, oil, salt, yeast and sugar (alternatives) are the basis for an elastic vegan dough. Almost every flour can be used. Back in the days we only used plain wheat flour type 405 or 550. Today we love to mix different flour types like spelt flour and wheat flour and we often use the healthier whole-grain flour (at least partially). Just be creative and have a try what suits you best. So you will never get bored of homemade pizza.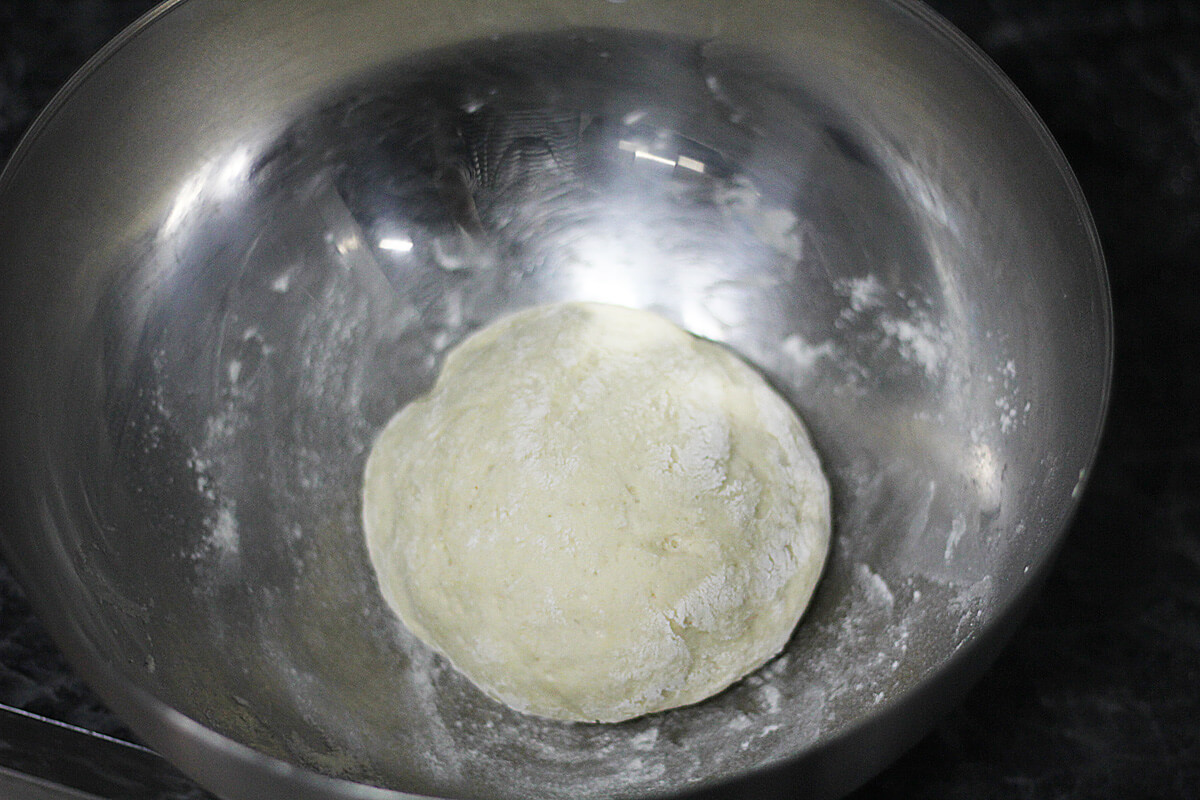 Fun fact: the original Italian flour for a super elastic dough comes by the name Tipo 00 and has more gluten than conventional German wheat flour types. But Tipo 00 usually can only be found in Italian supermarkets or in well-stocked delis.
PIZZA DOUGH (VEGAN)
Ingredients for 2 thin pizza crusts (about 0,50 Euros each):
300 g flour
1 sachet active dry yeast = 7 g (or 1/2 cube fresh yeast = 21 g)
2 tsp agave syrup (oder sugar, …)
2 tbsp olive oil
a minimum of 125 ml warm water
1 heaped tsp salt
Preparation
1. Mix flour and active dry yeast in a big bowl. Add agave syrup, salt, olive oil and the warm (but not hot) water. Knead together for at least 5 to 10 minutes. It works with your hands or a good food processor/mixer. When the dough is too moist and sticky, add a little bit flour. If the dough is too dry and crumbly, add a splash of water or keep kneading with wet hands.
2. Form a ball with the dough and dust with flour. Cover the bowl with a damp kitchen towel, put it in a warm place and let the pizza dough rise for at least an hour.
3. Preheat the oven to a full whack with a baking sheet in it for at least 30 minutes. Knead the dough again and roll it out on a floured baking parchment. Top the pizza with desired ingredients and transfer onto the (caution!) hot baking sheet. Bake at the bottom of the oven until crisp and golden brown. It takes usually only 5-10 minutes depending on your oven.