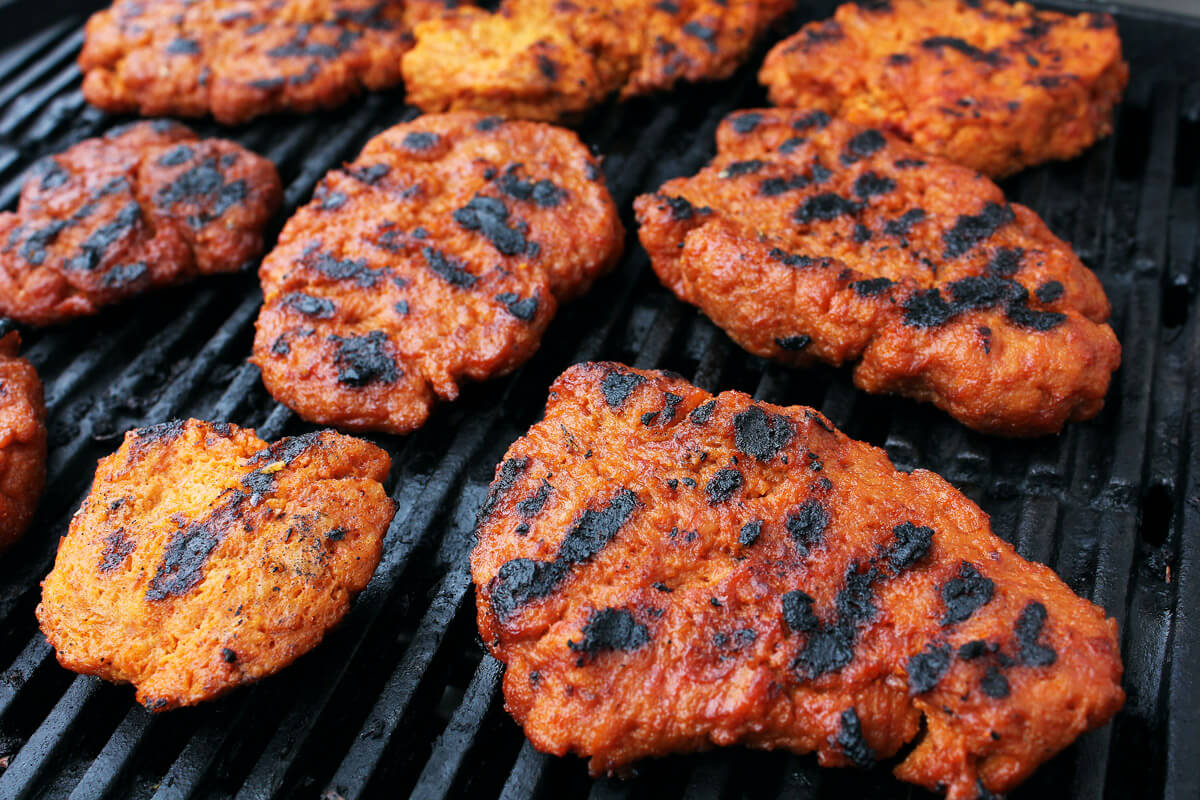 In addition to all kinds of vegetables, we also like to grill vegan steaks. For last year's barbecue season, we already shared the recipe for our grilled soy steaks with 3 different marinades. So this summer it's the soy-free counterpart made from wheat protein. We don't want to praise ourselves too much, but the vegan seitan bbq steaks turned out really good. The friends invited to the tasting were also thrilled.
For seitan we have consistently opted for baking in the oven (e.g. our simple seitan steaks) or steaming (e.g. our bratwurst and white sausages) because our experiments with simmering in broth all too often ended in squeaky seitan. It was frustrating.
Today, however, we are actually presenting a successful recipe for simmered seitan. The chickpea flour makes the seitan nice and tender. It is also important for the preparation that the grill steaks are allowed to cool down (and bathe in marinade) after cooking in broth before they are grilled or fried and served.
The taste of the marinade of course depends very much on the BBQ sauce used. So take your favourite sauce here and not just the cheapest product. The vegan grill steaks are particularly tasty when you use homemade BBQ sauce with maple syrup and apple.
Vegan Seitan BBQ Steaks
Ingredients
DRY INGREDIENTS
225

g

vital wheat gluten flour

50

g

chickpea flour

2

tbsp

nutritional yeast flakes

1

tsp

salt

1

tsp

paprika powder

1

tsp

onion powder

1

tsp

garlic powder
WET INGREDIENTS
225

ml

water

4

tbsp

beetroot juice

3

tbsp

tomato paste
BROTH
1

l

vegetable stock

,

strong

4

tbsp

beetroot juice

3

tbsp

soy sauce
Preparation
Mix the dry ingredients in a large bowl.

Mix the wet ingredients and pour over the dry ingredients. Knead everything to a smooth dough for 2-3 minutes. Cut the dough into 6 pieces of approximately the same size and let them rest for 10 minutes.

Mix the broth, bring to a boil in a saucepan and switch down temperature so that it is boiling just a little. Form the seitan pices into steaks and simmer them for 15 minutes. Take them out, let them cool and gently squeeze out the excess liquid.

Mix the marinade. Let the grill steaks soak in the marinade for a few hours, preferably overnight.

Then fry or grill briefly on both sides until they are crispy brown on the outside.