With this easy and simple recipe for a vegan tapas plate, you can bring the taste of Spain to your home. Tapas are small savoury dishes of Spanish origin and usually you enjoy a couple of them shared with your friends. True tapas are rather basic, humble and easy to prepare. I stuck to that tradition and chose a combination of warm and cold dishes that need only a few ingredients. In fact my tapas plate consists of deep fried potatoes, fried peppers, a garlic mayonnaise, olives and some bread. So simple but also so delicious. Cheap and cheerful. That's how I like it. Prepare these tapas, open a bottle of wine or beer and feel like you're on vacation.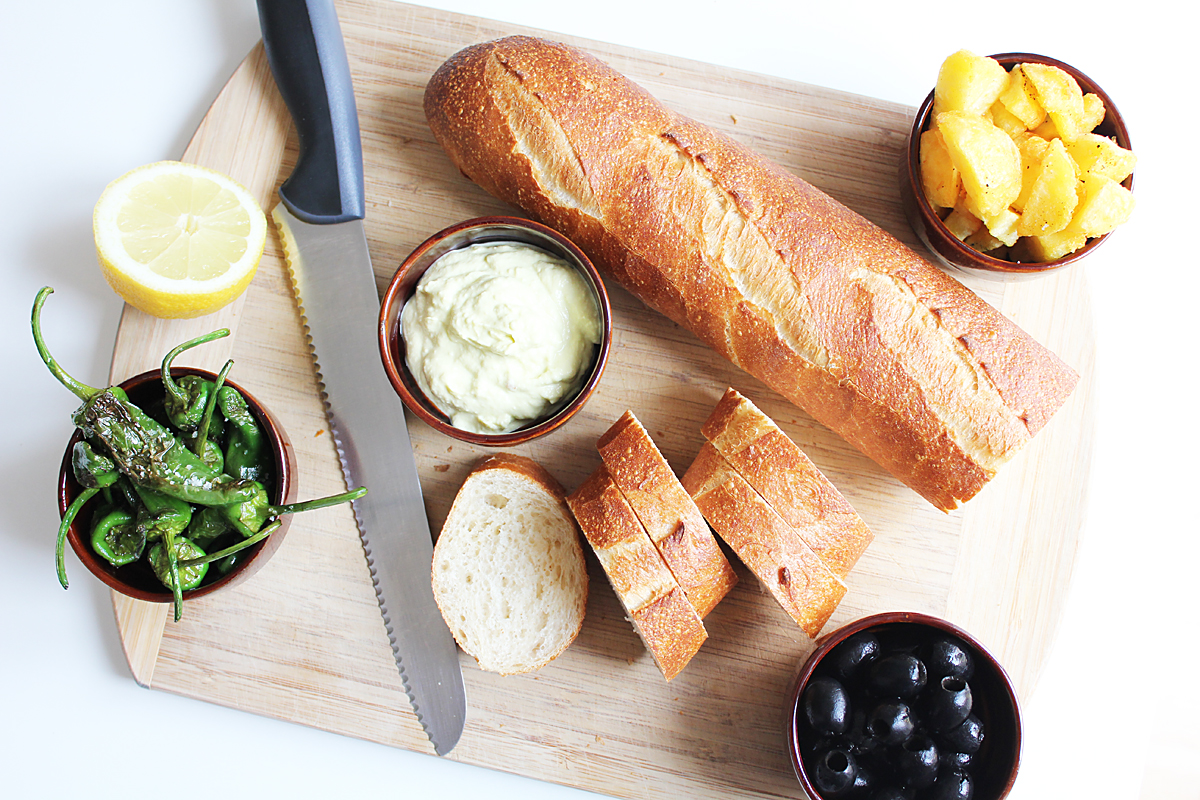 Ingredients for 2 servings (about 2,50 euros each):
200 g pimientos de padrón (padrón peppers)
3 potatoes
3 garlic cloves
3 tbsp soya milk (= about 45 ml)
100 – 150 ml olive oil + 2 more tbsp
1/4 tsp mustard
juice of 1/4 lemon
1 white bread of choice (e.g. baguette)
75 g olives
sea salt & freshly ground black pepper
enough vegetable oil for deep-frying
Preparation
For the aioli blend soya milk with lemon juice, garlic cloves, mustard and 1 tsp sea salt. While still blending slowly add olive oil until the mixture begins to thicken. About 100 to 150 ml should be enough.
For the patatas bravas cook the potatoes in boiling water for about 20 minutes until they are slightly soft but not cooked through. Drain well, let them cool down a bit and remove the skin. Cut into bite-sized chunks and deep-fry in vegetable oil until golden brown and crispy. Season with sea salt and black pepper.
For the pimientos de padrón heat 2 tbsp olive oil in a pan over medium-high heat. Add the padrón peppers and fry for 4-5 minutes until they start to shrinkle and have a charred, blistered surface. Season with sea salt.
Serve pimientos de padrón, patatas bravas, olives and aioli together with white bread.