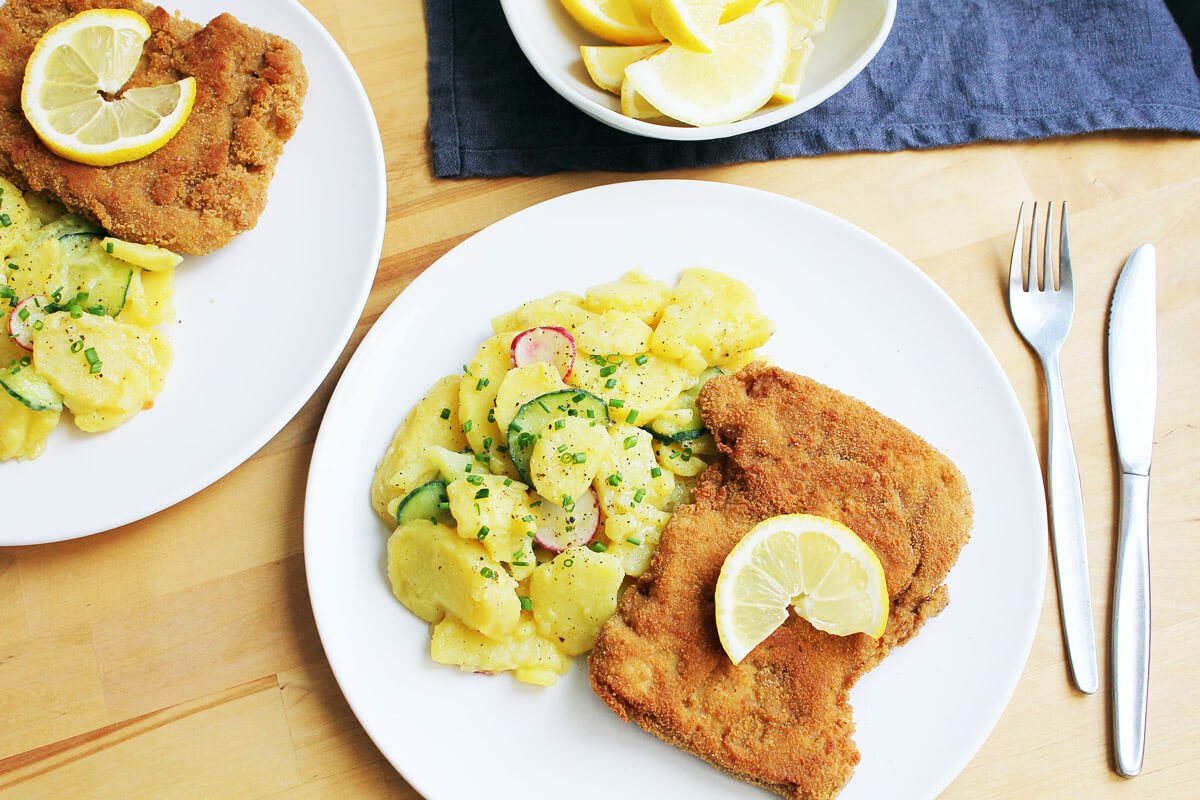 Yes, today is all about a real classic. Schnitzel with potato salad is extremely popular in omnivorous, vegetarian and vegan cuisine. Even the refrigerated shelves in supermarkets are now full of meat-free schnitzel. But they're all not that tasty. And homemade is best anyway. So make yourself ready for Cheap & Cheerful Cooking style vegan schnitzel.
We prepare the schnitzel with dried soy meat. It has by far the best and most authentic consistency. Instead of the big soy steaks, you can also use the smaller soy medallions. You can for example also bread celery slices, XXL mushrooms or seitan pieces in the same way.
We serve a delicious potato salad with a dressing made from broth, vinegar and oil with the schnitzel. You can find the even more hearty version of a potato salad with mayonnaise also on our blog. Whether with or without mayo, we are not fooling ourselves, this food is not really healthy anyway. 😉 It is definitely delicious though!
Vegan Schnitzel with Potato Salad
Ingredients
SCHNITZEL
4

dried soy steaks,

200 g textured soy protein

1

l

vegetable stock

100

g

breadcrumbs

150

g

wheat flour

150

ml

vegan milk

1/3

tsp

salt

1/3

tsp

pepper

1/3

tsp

paprika powder

1

lemon

vegetable oil
POTATO SALAD
1

kg

potatoes

,

waxy

6

radishes

1

onion

,

small

1/3

cucumber

1/2

bunch

chives

250

ml

vegetable broth

5

tbsp

white wine vinegar

4

tbsp

olive oil

1

tbsp

mustard

1/2

tsp

salt

1/3

tsp

pepper
Preparation
SCHNITZEL
Bring the soy big steaks to a boil in the vegetable broth, turn off the heat and let them steep for 15 minutes. Turn every now and then. Drain the soy steaks, press out excess liquid and put aside.

Mix about 90 g of flour with the vegetable milk, salt, pepper and paprika powder in a deep plate or bowl for the "breading line". This is the egg replacement. Prepare another bowl with the remaining flour and another one with the breadcrumbs.

Now turn the soy steaks in the flour, then pull through the egg substitute and finally turn in the breadcrumbs. Do not press the breadcrumbs to the schnitzel in order toget a fluffy breading.

Heat a large deep pan. Pour in enough vegetable oil so that the bottom of the pan is completely covered with oil. Now fry the schnitzel individually at a relatively high temperature from both sides until they are golden brown and crispy. It is best to keep the schnitzel in the pan in a steady (circular) motion and pour a little hot oil on them from time to time so that the breading can get real fluffy. Take out and drain.

Serve the schnitzel with 1 - 2 slices of lemon and potato salad.
POTATO SALAD
Cover the potatoes in a pot with lightly salted water, bring to the boil and cook for about 20 minutes at medium temperature with the lid closed. Let them cool slightly, peel and cut into slices.

Finely dice the onion and slowly sauté in a pan with the olive oil at low to medium temperature. Deglaze with the vegetable broth as soon as they are translucent. Allow to cool slightly. Mix well with vinegar, mustard, salt and pepper and pour over the potatoes.

Wash the radishes and cucumber and cut them into very fine slices. Mix the cucumber and radishes under the potato salad as soon as it is no longer hot. Possibly season again with salt and pepper and serve sprinkled with finely chopped chives.
Song of the recipe:

Just like the schnitzel Bilderbuch are also from Austria. The line "Mama kocht für alle. Mama kocht für mich und dich" ("Mum cooks for everyone. Mum cooks for you and me") perfectly suits this recipe.