Still you can find fresh wild garlic, even if the short season will be over soon. For the first time ever we've been picking it on our own and stocked up properly. We have processed and frozen most of our wild garlic harvest directly into wild garlic pesto and wild garlic butter. So we will still have some of it in the coming months. We also used some of them directly. That's how the recipe for vegan wild garlic potato dumpling fingers with orange sauce came about.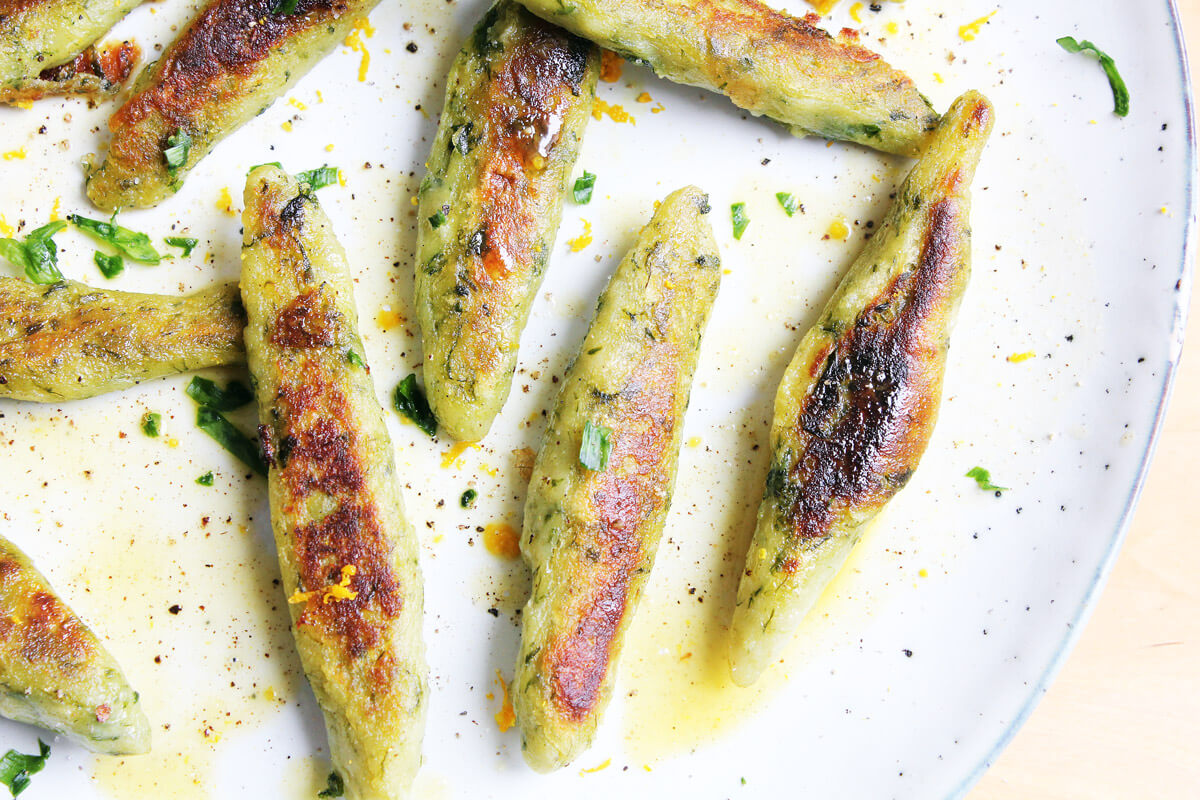 Potato dumpling fingers ("Schupfnudeln") come – just like we do – from southern Germany and have very different names there depending on the region. For example, they are also known as "Fingernudeln", "Bauchstechala" or "Bubespitzle". They consist of a potato dough and are basically the German equivalent of gnocchi. The biggest difference lies in the shape. While for gnocchi the dough is formed into small dumplings, for potato dumpling fingers it is rolled out to fingerlike shapes. Potato dumpling fingers are usually also fried after cooking in water, which is less often the case with gnocchi.
For the wild garlic potato dumpling fingers we process the wild garlic directly into the dough. Since the preparation of the potato dumpling fingers is a little more time-consuming, we serve them with a quick orange sauce, which basically consists only of fresh orange and vegan butter. But enough of the talking, here is the recipe:
Vegan Wild Garlic Potato Dumpling Fingers With Orange Sauce
Ingredients
POTATO DUMPLING FINGERS
750

g

potatoes

,

starchy

150

g

flour

2

tbsp

starch

,

e.g. potato or corn starch

1

tsp

salt

100

g

wild garlic
ORANGE SAUCE
1

organic orange

,

juice + zest

50

g

vegan butter

salt + pepper
Preparation
Cook the potatoes in salted water in a saucepan for about 40 minutes. Then drain, peel and mash them or press them through a potato press. Allow to cool slightly.

Chop the wild garlic very finely or puree briefly with the mixer. Add the remaining ingredients to the potato mixture and knead everything into a smooth dough.

Divide the dough into 4 pieces of approximately the same size. Roll them out on a floured work surface to form 4-5 cm thick sausages. Now cut them into approx. 3 cm thick slices. Roll the slices between your hands into potato dumpling fingers. Each roll should make up about 10 potato dumpling fingers.

Bring a large pot of salted water to a boil. Turn down the heat so that the water stops boiling. Add the potato dumpling fingers carefully and let them simmer for about 5-7 minutes until they float on top. Take out with a foam trowel and drain.

Heat a large pan at medium to high temperature. Add a generous dash of olive oil and fry half of the potato dumpling fingers from all sides until crispy. Remove from the pan. Fry the second half as well and remove from the pan.

Finally, add the juice and zest of the orange and vegan butter to the pan and stir into a sauce. Add the potato dumpling fingers and season with salt and pepper.