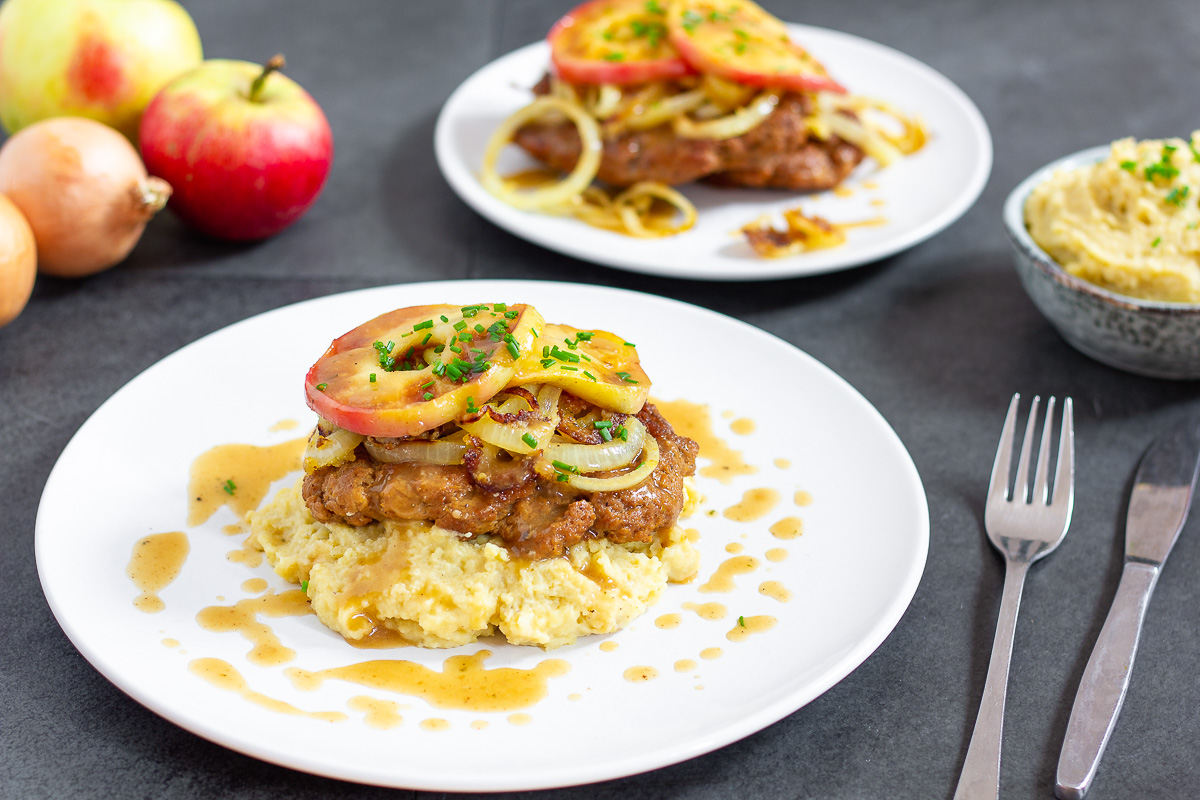 Traditional yet contemporary. Liver Berlin Style is a thing of the past. We take the classic and prepare it entirely plant-based. The result is this recipe for Seitan Berlin Style.
But what does Berlin Style actually mean? Liver Berlin Style is fried liver, mostly veal liver, served with braised onions and caramelised apple slices. A great combination of sweetness, acidity and savory flavors. As a filling side dish, usually mashed potatoes are served with it.
We stay true to this hearty combination. For our vegan version of the Liver Berlin Style, home-made seitan steak is served as a source of protein. It has a nice, firm texture and is still juicy. The seitan can wonderfully prepared in advance. In the marinade it keeps fresh in the refrigerator for a few days. So you don't have to prepare too many components at the same time.
If you want to save yourself the work of the seitan steaks completely, you could also use store-bought seitan, (smoked) tofu, tempeh, (portobello) mushrooms or simply a vegetable of your choice. As always, our recipe is only a recommendation, which you can change according to your preferences and eating habits.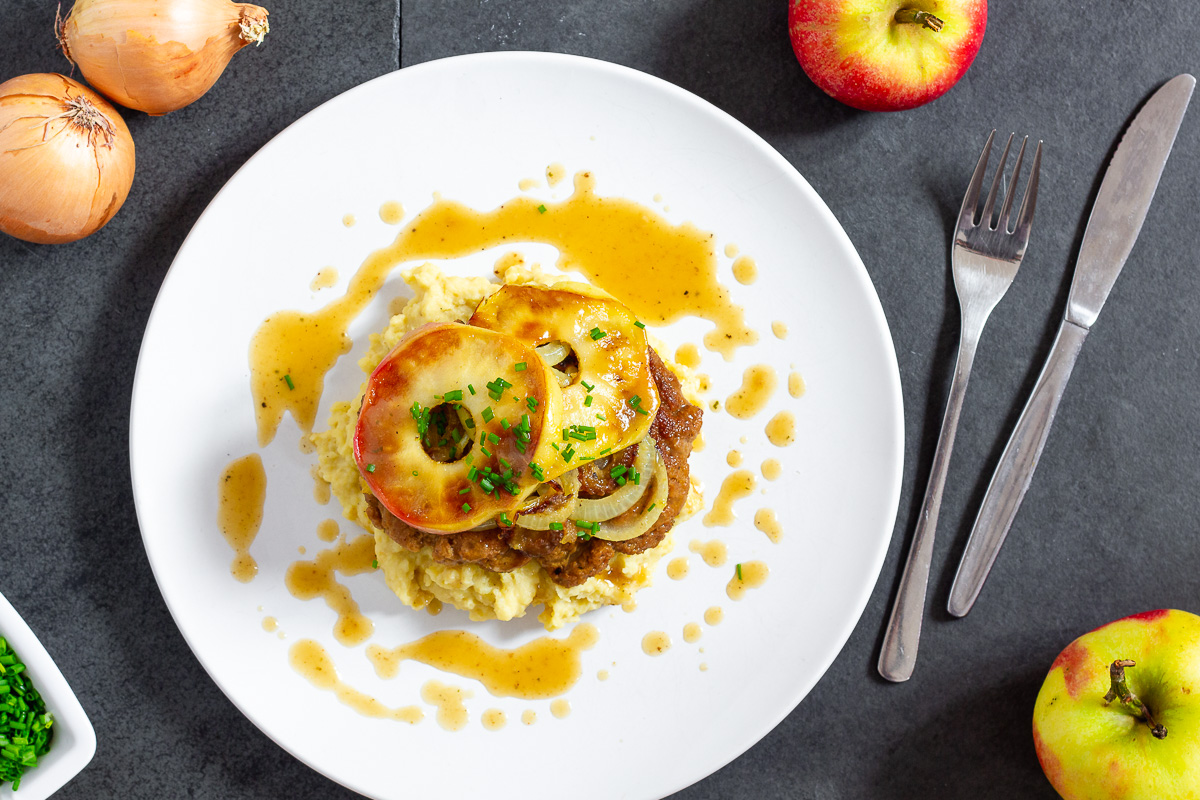 Seitan Berlin Style
Ingredients
Seitan + Sauce
4

seitan steaks

,

see below for recipe

250

ml

vegetable stock

,

e.g. from seitan making

1

tbsp

wheat flour
Mashed Potatoes
1

kg

potatoes

,

starchy

5

tbsp

vegan butter

200

ml

plant milk

nutmeg

,

grated

salt + pepper
Braised Onions
3

onions

1

tbsp

wheat flour

salt + pepper

vegetable oil
Caramelised Apple Slices
2

apples

sugar

1

tbsp

vegetable oil
Preparation
Wash the potatoes with skin on, place on baking paper and cook in the oven at 180 degrees Celsius for about 1 hour until they are soft.

Press the hot potatoes through a potato press (alternatively peel and mash). Warm the plant milk together with the vegan butter. Mix in the potatoes. Season the mashed potatoes with salt, pepper and nutmeg.

Wash the apples, remove the core and cut into approximately 1 cm thick slices. Sprinkle each apple ring with a pinch of sugar. Caramelize the apple slices in a pan with the vegetable oil on both sides over a medium to high temperature. This takes about 1-2 minutes per side.

Cut the onions into fine slices, mix with the flour and season with salt and pepper. Braise in the same pan at medium temperature with a good dash of vegetable oil for about 5 minutes.

Cover the seitan steaks nicely with the marinade on all sides before frying them. Otherwise add some oil to the pan. Then fry briefly on both sides with high heat and remove.

Then stir in the flour for the sauce in the pan and sauté briefly. Deglaze with 250 ml of stock and let it boil for 1 minute while stirring.
Song of the recipe:

"Du weißt ich liebe Dich, so viel, Berlin". <3 <3 <3
(Would you like to listen to all the songs for the recipe? Find them collected in one playlist here)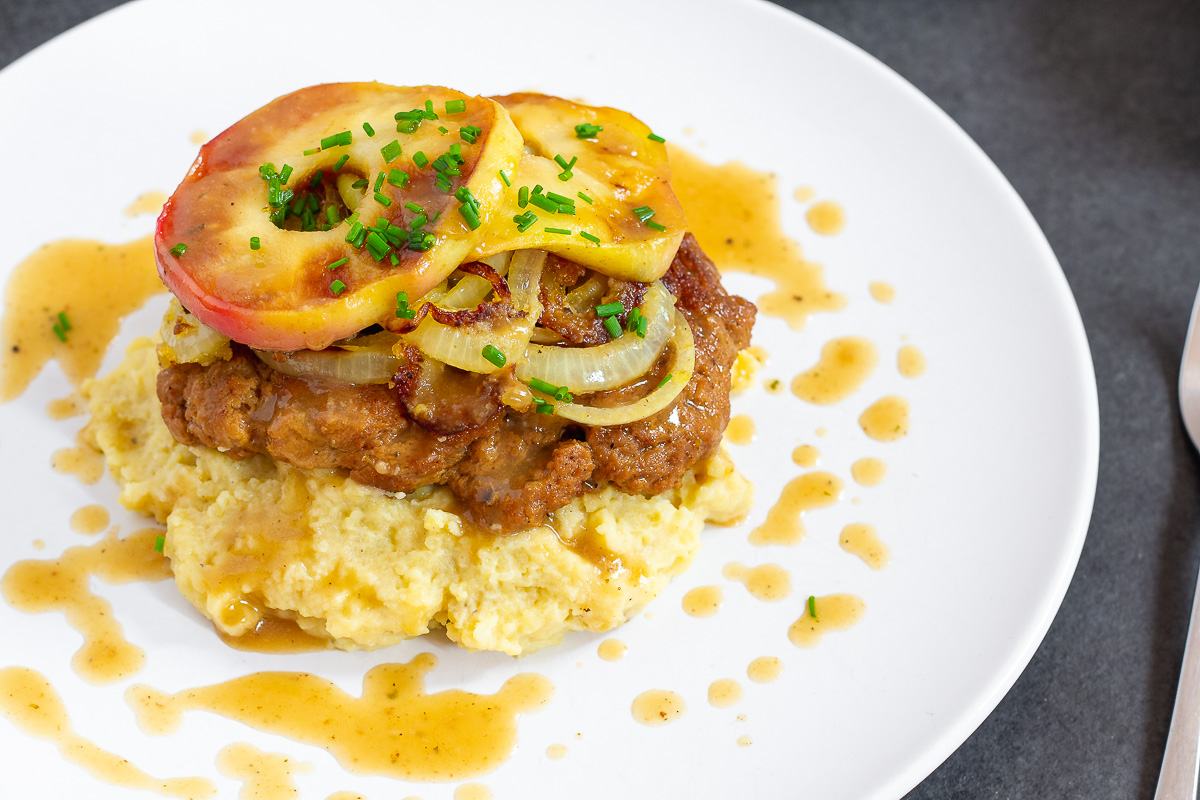 Seitan Steaks
Ingredients
Dry Ingredients
150

g

vital wheat gluten flour

35

g

chickpea flour

1,5

tbsp

nutritional yeast flakes

1

tsp

paprika powder

1

tsp

onion powder

1

tsp

garlic powder

1

tsp

cocoa powder
Wet Ingredients
150

ml

water

2

tbsp

soy sauce

2

tbsp

tomato paste

1

tbsp

mustard
Broth
650

ml

vegetable stock

,

strong

3

tbsp

soy sauce
Marinade
3

tbsp

vegetable oil

1

tbsp

balsamic vinegar

1

tbsp

soy sauce

1

tsp

marjoram

1/2

tsp

pepper
Preparation
Mix the dry ingredients in a large bowl.

Mix the wet ingredients and pour over the dry ingredients. Knead everything to a smooth dough for 2-3 minutes. Cut the dough into 4 pieces of approximately the same size and let them rest for 10 minutes.

Mix the broth, bring to a boil in a saucepan and switch down temperature so that it is boiling just a little. Form and stretch the seitan pices into very thin steaks and simmer them for 15 minutes. Take them out, let them cool and gently squeeze out the excess liquid. Keep the broth for later use.

Mix the marinade. Let the seitan steaks soak in the marinade for a few hours, preferably overnight.