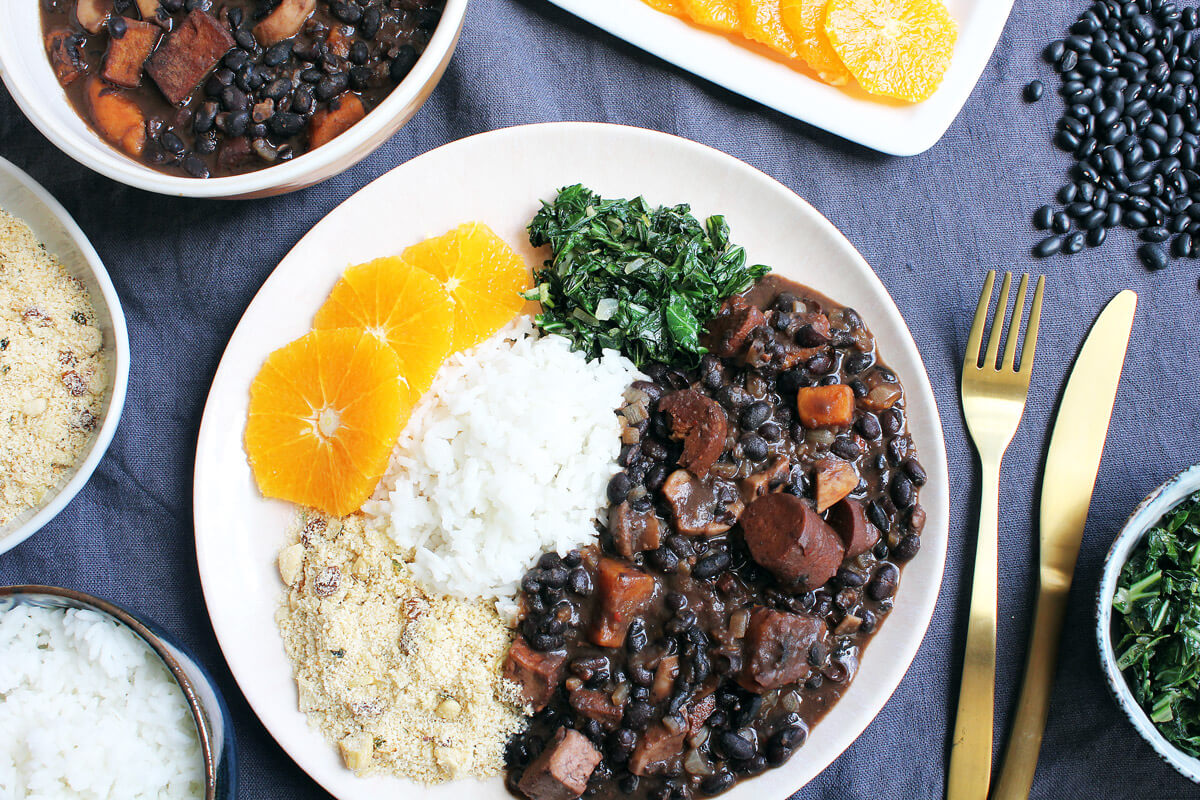 Luckily, in times of Covid-19 you can still go on a culinary journey. Today we will take you to South America and serve the Brazilian national dish. Feijoada is a hearty bean stew that is served as a large feast with farofa (roasted cassava flour), green leafy vegetables, rice and orange slices.
There are stories about the invention of Feijoada that slaves in Brazil added the remains of meat that had been sorted out by their owners to their beloved black beans. However, there is no historical evidence for this and presumably pig's nose, tail, feet and innards were more of an expensive delicacy at that time, which were not thrown away even by the richest people. So it is more likely that slaves had to cook this dish for their owners.
In Brazil, you can still find the traditional and somewhat cheaper version, which is increasingly being replaced by versions with more expensive cuts of meat. For our vegan Feijoada we of course don't use dead animals. Instead smoked tofu, vegan sausage, mushrooms and sweet potato are added to the pot with the beans. This also creates a wonderfully powerful flavour.
And for the full Brazilian experience you can start our Brazilian Cooking spotify playlist.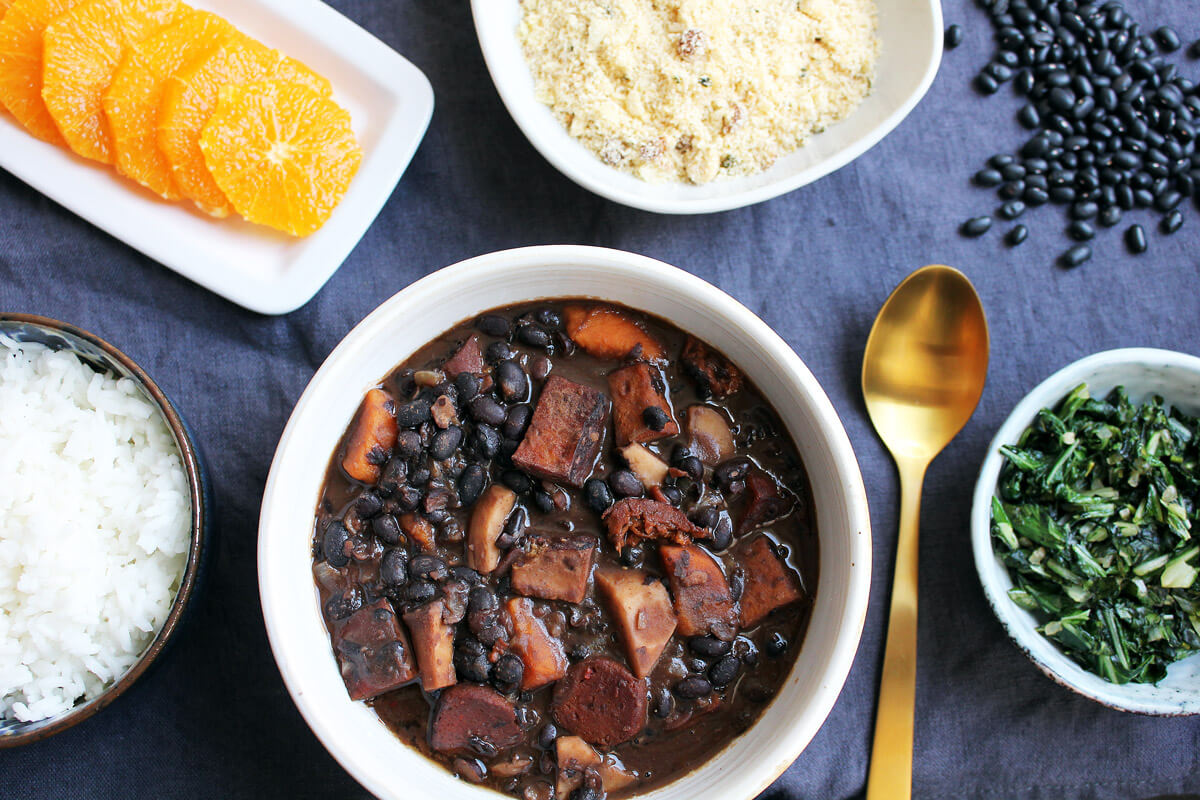 Vegan Feijoada – Brazilian National Dish
Ingredients
FEIJOADA
1

onion

2

garlic cloves

2

bay leaves

400

g

black beans

,

dried

300

g

smoked tofu

150

g

vegan paprika sausage

,

e.g. chorizo or merguez

200

g

mushrooms

,

e.g. king oyster mushrooms

200

g

sweet potato

2

tbsp

soy sauce

1

tbsp

liquid smoke

1

tsp

smoked paprika powder

salt + pepper

olive oil
FAROFA
200

g

cassava flour

,

coarse

1

onion

,

small

1

garlic clove

2

tbsp

cashews

1

tbsp

raisins

3

tbsp

olive oil

1

tbsp

parsley

,

chopped

salt + pepper
TO SERVE
1

orange

leafy green vegetable

,

e.g. collard greens, kale, chard, pak choi, ...

rice
Preparation
FEIJOADA
Put the black beans in a bowl, cover them generously with water and let them soak for at least 8 hours or overnight. Drain before further use.

Put the beans with 1.25 l of water (without salt!) in a large saucepan and bring to a boil. Skim off the resulting foam. Add the bay leaves and simmer everything with the lid on for approx. 90 - 100 minutes at low to medium temperature until the beans are cooked but still have a nice bite.

In the meantime, cut the smoked tofu, paprika sausage, sweet potato and mushrooms into bite-size pieces. Finely chop the onion and garlic. Fry the smoked tofu and sausage ​​in a large pan with a generous dash of olive oil at medium to high temperature. As soon as they turn brownish add mushrooms, sweet potato, onion and garlic. Fry for another 2-3 minutes. Season with soy sauce, paprika powder and liquid smoke.

Use the hand blender to go into the beans and briefly puree a small part of the beans so that the stew becomes creamier. Add the contents of the pan to the beans and let everything simmer for about another 15 minutes without a lid until the sweet potato is cooked through. To do this, raise the temperature slightly. Season well with salt and pepper.

Serve feijoada with farofa, fried leafy green vegetables, rice and orange slices.
FAROFA
Finely chop cashews, raisins, onions and garlic. Sauté briefly with olive oil in a pan at medium temperature.

Add the cassava flour and stir-fry for about 2 minutes. Add chopped parsley and season with salt and pepper.
Song of the recipe:

For this traditional dish we want to have a traditional song. So one of the most famous Brazilian songs is our choice. Here in the great version by Luiz Henrique Rosa from the 60s. We also have a whole Brazilian playlist.