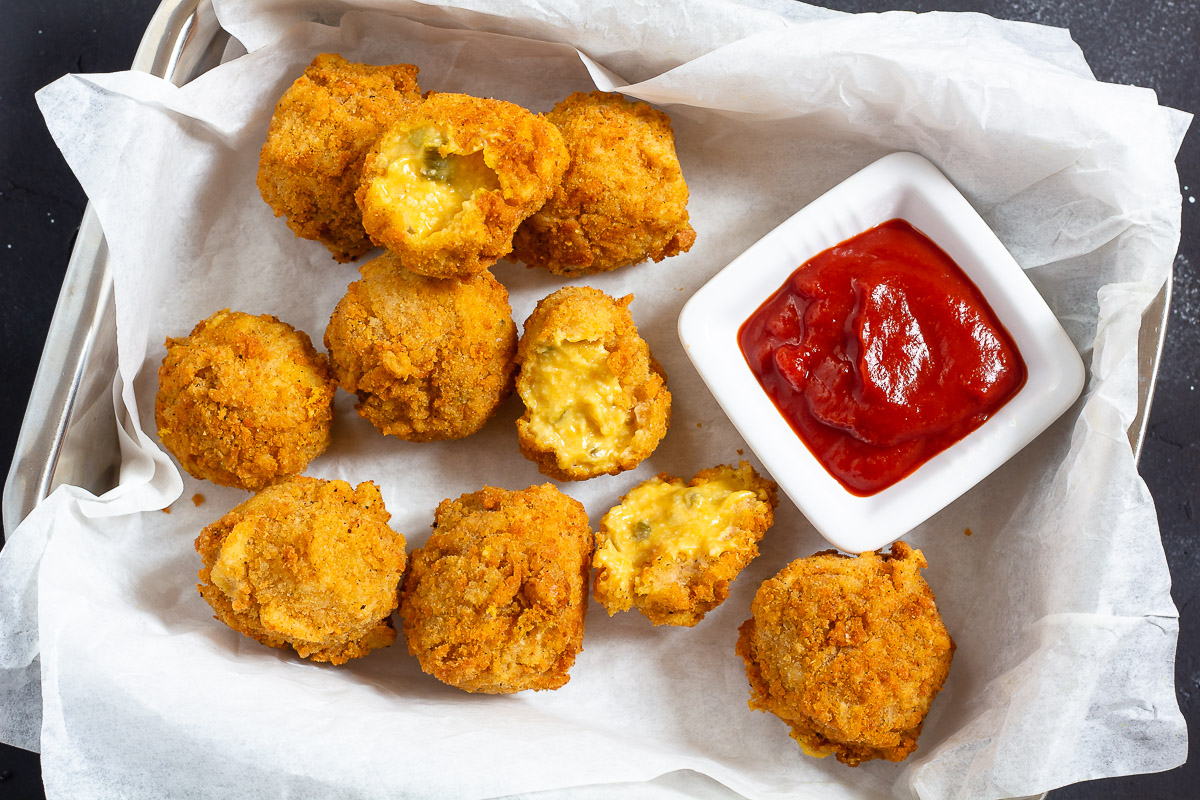 Every now and then we all have some cravings for junk food, right? In any case, Andi still has a few unhealthy taste memories from his teenage years that evoke those cravings every now and then. So we have already veganised some recipes from American fast food chains, from McRib over Big Mac and Chili Cheese Burgers to KFC-style hot wings. Next up today are chili cheese nuggets that you might also be familiar with from the Burger King menu.
Chili cheese nuggets are small fried balls that are filled with cheese and jalapeños. Since almost every supermarket now has vegan meltable cheese, you could of course simply use it to prepare the nuggets. But firstly, plant-based cheese is relatively expensive, secondly, there are often unnecessary and unhealthy ingredients in it, and thirdly, we already have a recipe for the best vegan nacho cheese dip, which is perfect as a basis for vegan chili cheese nuggets.
Our cheese mixture is based on potatoes, carrots and cashew nuts. So at least the inside of the fried nuggets is healthy. 😉 The yeast flakes bring the cheese taste. Jalapeño rings provide a pleasant spicyness. To thicken the mass, we use tapioca starch.
The sticky mixture is then packed in nugget-sized portions in the freezer, where it can solidify. This is the only way it can be breaded. We have used our mini-muffin form for portioning purposes. Possibly. you also have larger ice cube trays, small serving bowls or dessert glasses that you can use. If you can't find anything suitable in your kitchen, you can also use cling film for this. Cut it into small squares, put a dollop of cheese mixture on top of each, shape into sachets, close by twisting and put them in the freezer like that.
When the mixture is firm, it can be breaded as normal. So first turn in a little flour, then in an egg substitute (plant milk mixed with flour) and finally add a layer of breadcrumbs. Then quickly put them into the hot oil.
Everything held together perfectly when we prepared the nuggets. However, if you are having the problem of the cheese leaking out during the frying process, your breading is probably not dense enough. You could then just double the breading. To do this, simply pull the breaded nuggets through the "egg" and breadcrumbs again. This makes the breading particularly thick and leakproof.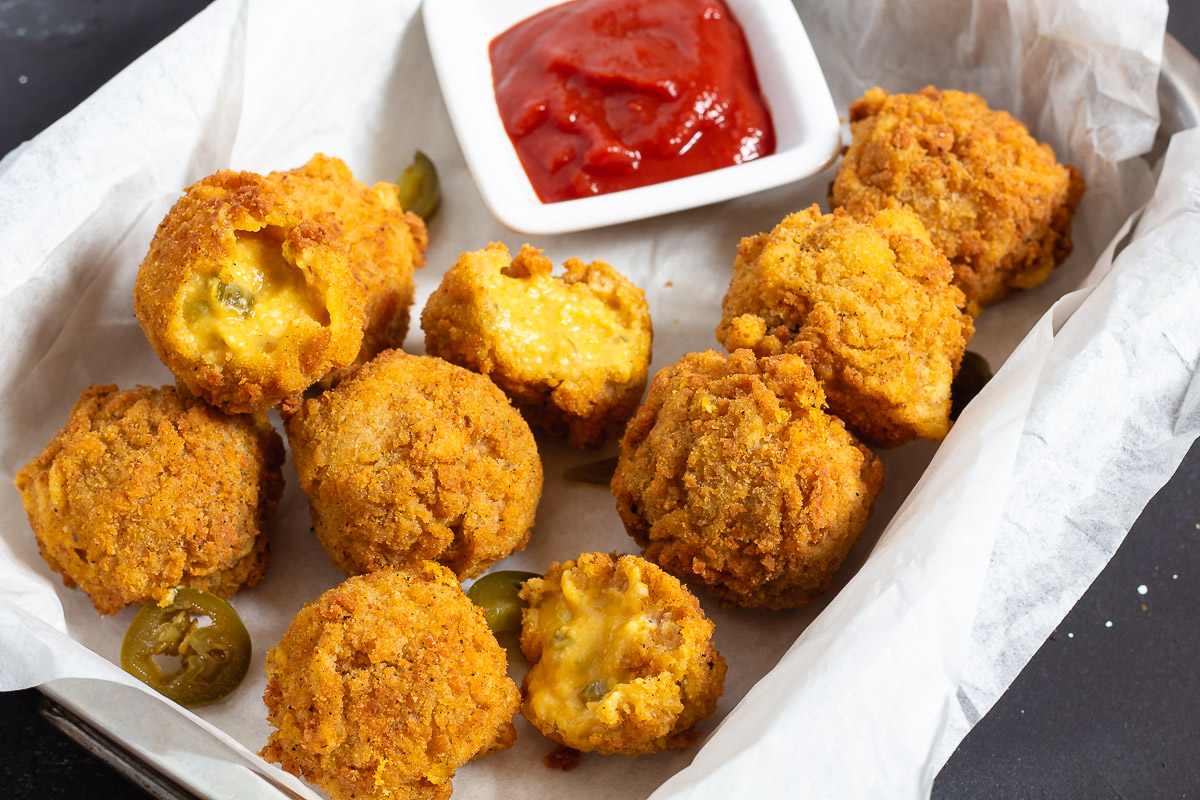 Vegan Chili Cheese Nuggets
Servings:
3
(6-7 nuggets each)
Ingredients
Filling
1

potato

,

medium-sized

1

carrot

,

medium-sized

1/2

onion

1

clove

garlic

75

g

cashew nuts

1

tsp

salt

1/4

l

water

3

tbsp

nutritional yeast flakes

2

tbsp

vegan butter

1

tbsp

tapioca starch

1

tsp

mustard

15

pickled jalapeño rings
For Breading
125

g

breadcrumbs

150

g

wheat flour

150

ml

plant milk

1

pinch

salt

1

pinch

pepper

1

pinch

paprika powder

Vegetable oil
Preparation
Peel the potato, carrot, onion and garlic and cut roughly into pieces. Put the water, salt and cashew nuts in a saucepan and cook for about 10-15 minutes with the lid closed.

Finely blend the vegetables and the cooking water with the other ingredients (except the jalapeños) in a blender. Finely dice the jalapeño rings by hand and mix them in.

Now put everything back into the saucepan and bring to the boil while stirring. Let simmer for about 1-2 minutes. The tapioca starch should now have thickened the mixture. Portion into small molds. We used a mini muffin tin for this. Small glasses, ice cube trays, etc. also work. If you don't have suitable containers at all, you can fill the mixture into about 20 small squares of cling film and seal them into parcels. Let them cool down a little at room temperature and then put them in the freezer. Let it get really solid there. This takes about 1-2 hours.

Mix about 100 g of flour with the plant milk, salt, pepper and paprika powder in a deep plate or bowl for the "breading line". This is the egg replacement. Prepare another bowl with the remaining flour and another one with the breadcrumbs.

Take the chili cheese balls out of the freezer and remove half of them from the mold with a knife. Put the other half of the balls back in the freezer, because the mixture has to be processed quickly while it is still cold. Turn each ball in the flour first, then pull it through the egg substitute and finally turn in the breadcrumbs. Now process the second half.

Heat enough vegetable oil in a saucepan or deep pan. Deep-fry the chili cheese nuggets at a relatively high temperature until golden brown and crispy on all sides. It only takes 1-2 minutes. Remove and drain.
Song of the recipe:

The song is definitely not about drugs, but about our delicious chili cheese nuggets. They also make you high and are highly addictive. "Cause I got, I got nuggets. I got, I got, I got nuggets."