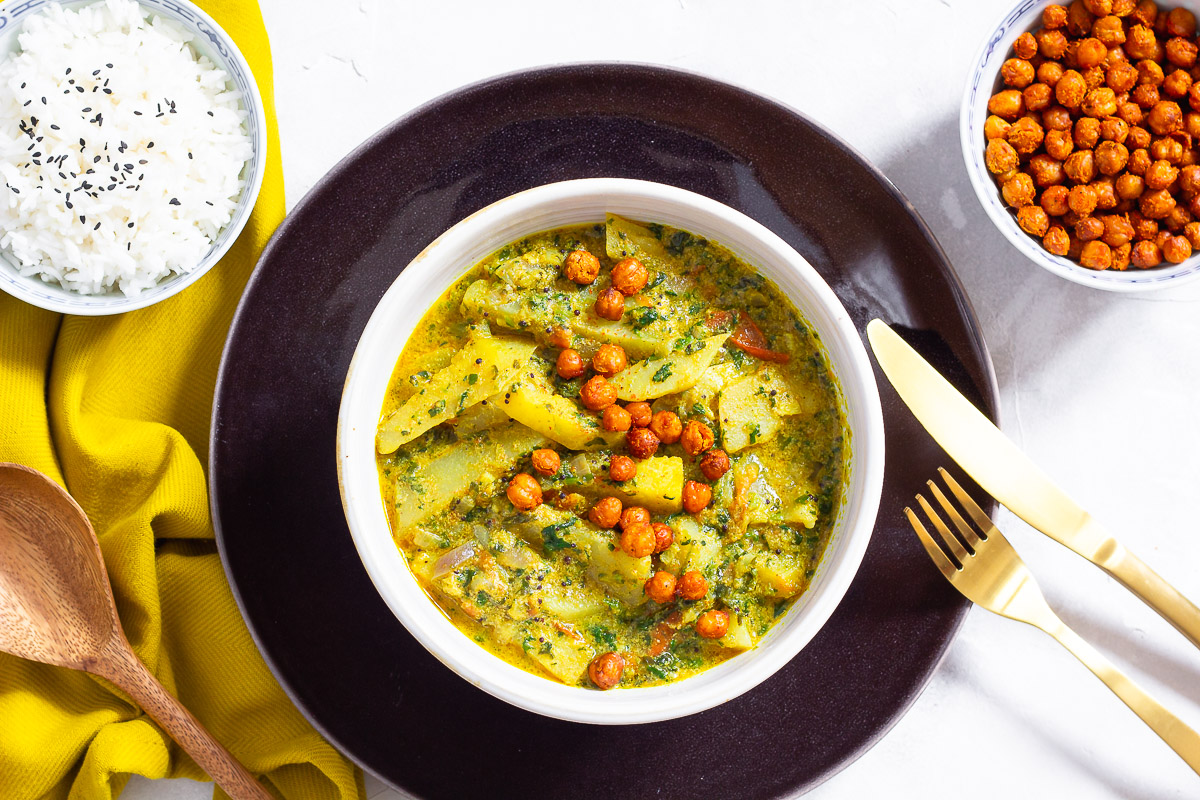 Kohlrabi in a curry? Can this combination even taste good? Yes, very well indeed. The cabbage vegetable, which is not particularly en vogue, can be wonderfully prepared with Asian spices. We have already proven this with our Som Tam style Thai kohlrabi salad. Today, however, we bring a breath of South India or Sri Lanka to the kitchen. Yummy!
The starting point for the creation of today's kohlrabi curry is our recipe for beetroot curry, which Andi brought home from Sri Lanka in 2019. If you can cook a delicious coconut curry with beetroot, it should be possible with kohlrabi too. At least that was our idea. After some online research, I realized that kohlrabi is also known in Sri Lanka and India, under the name Knol Khol. And yes, curries are made from it there too. Our idea doesn't seem to have been that strange. 😉 And in fact we really like the kohlrabi curry we put together.
As it is very typical for South India or Sri Lanka, we cook our kohlrabi curry with coconut milk. The creamy consistency goes wonderfully with the sweet, mild cabbage vegetable. A few spices like turmeric, cinnamon, mustard seeds, chilli and curry powder provide the right taste. Some spinach (if you have whole kohlrabi with leaves, you can just use the leaves instead!) is also added. But that's it. Well, almost.
Normally in the Indian region some dhal is served with vegetable curries (or with almost every meal in general). After all, lentils are a very cheap source of protein. Since we didn't want to cook a second curry this time, we opted for a couple of roasted chickpeas as a protein side dish. They not only taste good, they also provide a crunch and are super quick to prepare. All you have to do is mix a few cooked chickpeas with oil and spices and put them in the oven, where they can bake until they are really crispy. In the meantime, you can cook the curry. Easy peasy!
Kohlrabi Curry with Roasted Chickpeas
Ingredients
Kohlrabi Curry
500

g

kohlrabi

75

g

frozen spinach

,

alternatively fresh spinach or kohlrabi leaves

250

ml

coconut milk

1

tsp

brown mustard seeds

1

red chilli pepper

,

dried

1

clove

garlic

1

red onion

1

heaped tsp

curry powder

1/2

tsp

turmeric powder

1/2

tsp

salt

1/4

tsp

cinnamon powder

1/4

tsp

chili powder

1

tomato

2

tbsp

coconut oil

,

alternatively vegetable oil

6

curry leaves

,

optional
Roasted Chickpeas
240

g

chickpeas

,

cooked

1

tbsp

vegetable oil

1

tsp

smoked paprika powder

1/2

tsp

salt

1/4

tsp

pepper

1/4

tsp

onion powder
Preparation
Drain the chickpeas well. Mix the oil with the spices in a bowl. Add the chickpeas and mix well. Place on baking paper and roast in the oven at 180 degrees Celsius for about 45 minutes until crispy.

In the meantime, peel the kohlrabi and cut into sticks about 1 cm thick. If you use kohlrabi leaves or fresh spinach, roughly cut it. Peel garlic and chop finely. Peel and quarter the red onion and cut into thin strips. Dice the tomato. Have the spices ready.

Fry the coconut oil with the mustard seeds in a saucepan at a relatively high temperature until the mustard seeds start to crackle. Then add the garlic, onion, chilli and the spices. Fry briefly while stirring. Add the kohlrabi, coconut milk and tomatoes, bring to the boil and simmer with the lid closed at a rather low temperature for about 20 minutes. Just before the end of the cooking time, add the kohlrabi leaves or the spinach.

Serve the kohlrabi curry with rice or chapati. Hand the roasted chickpeas with it.