Quesadilla was one of my favourite dishes before going vegan. Yes, I totally love(d) the taste and texture of warm cheese. But never forget that for every non-vegan dish there is a plant based alternative that is atleast as good and usually way healthier than the original. So I of course haven't stopped eating quesadillas. Instead I spent a couple of hours researching, tried different alternatives and finally came up with my very own yummy version. The quesadillas go very well with my vegan nacho cheese sauce, which is basically a pimped version of the Mac & Cheese sauce.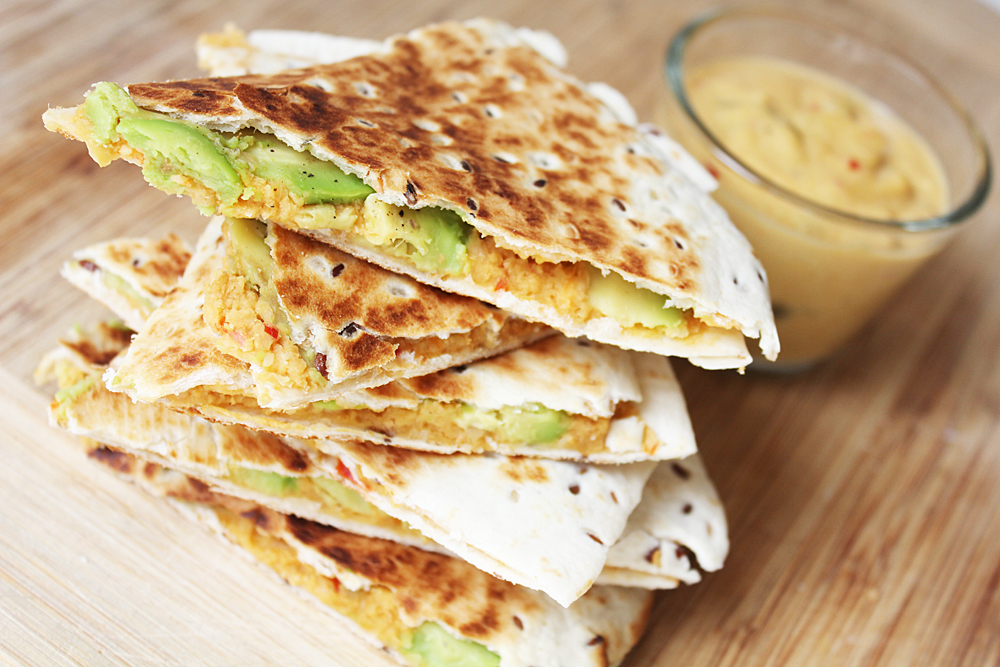 Ingredients for 3 servings (1,75 euros each) you need:
6 large tortilla wraps
1 large can chickpeas (net weight: 800 g / net drained weight: 480 g)
5 pickled red sweet chili peppers
1 garlic clove
1/2 tsp cumin powder
1/2 tsp coriander powder
1/2 tsp salt
2 limes
1 tbsp olive oil
2 ripe avocados
sea salt & freshly ground black pepper
optional: 1 small bunch coriander leaves
Ingredients for a small pot nacho cheese sauce (1,50 euros):
1 medium potato (with skin approx. 200 g)
1 medium carrot (with skin approx. 80 g)
1/2 onion
2 garlic cloves
1/4 l water
2 tsp salt
50 g cashews (unsalted)
1 tsp mustard
3 tbsp vegan butter
3 heaped tbsp nutritional yeast
1 tbsp brine from pickled jalapeños
1/2 fresh red chili pepper
1 tbsp pickled jalapeño slices
1 tbsp paprika powder
to season: sea salt & freshly ground black pepper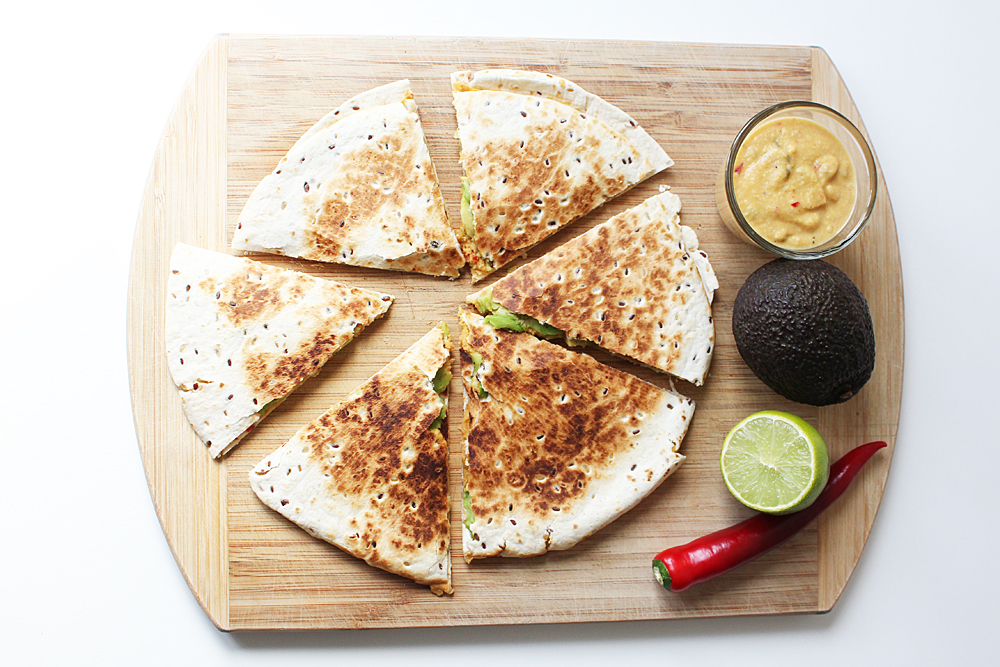 Preparation Red Pepper Hummus Quesadillas
Drain the chickpeas and blend together with red sweet chili peppers, spices and juice of 1 lime. Add olive oil and season to taste with salt, black pepper and lime juice. Half and destone the avocados. Scoop the flesh onto a board, slice it thinly and sprinkle with some lime juice so the avocado slices don't turn brown.
Put a tortilla wrap in a large pan, top with 1/3 of the red pepper hummus, 1/3 of the avocado slices and some coriander leaves (if you like). Put a second tortilla wrap on top and fry at medium-high heat without any oil for a couple of minutes until golden from both sides. Repeat with the other wraps and serve the quesadillas cut into quarters or sixth.
Preparation Vegan Nacho Cheese Sauce
Peel the potato, the carrot, the onion and the garlic cloves and chop them. Boil with 1/4 l water and 2 tsp salt in a pot until soft. This takes about 10-15 minutes. Blend the vegetables with the cooking water and all the other ingredients except the chili peppers & jalapeños in an electric blender. Soak the cashews a couple of hours in water if your blender is not that powerful. Add the finely chopped chillies and season with black pepper and salt. The nacho cheese sauce tastes best when warmed up in a pot.