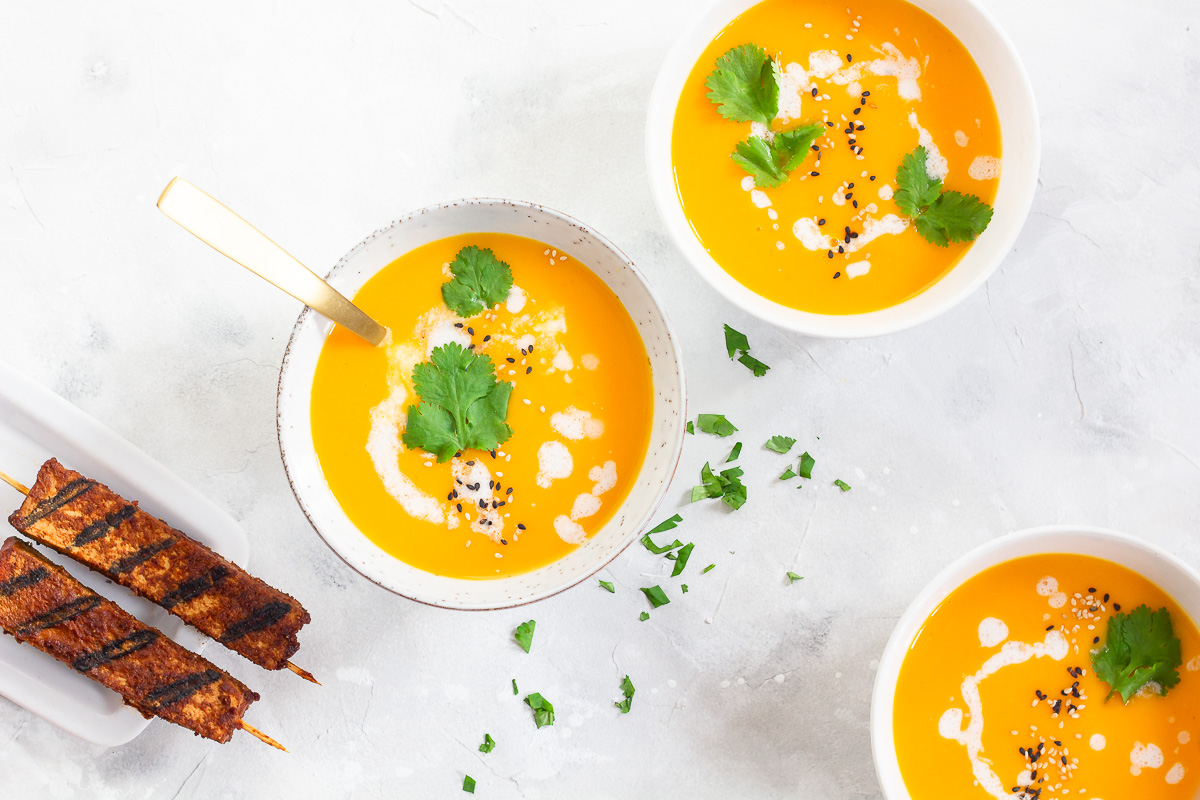 For reasons unknown, we have all sorts of delicious pumpkin recipes on the blog, but actually there was no soup among them. We have no idea how this could happen! We apologize and present a very special recipe for it today. Because this vegan pumpkin soup not only warms up wonderfully from the inside, it also tastes like a touch of Thailand thanks to the use of curry paste, coconut milk, lime juice and cilantro. Nevertheless, it is quickly prepared and extremely creamy. The perfect autumn meal. Because let's be honest: an autumn without pumpkin soup is possible, but pointless!
We serve some proteins with the pumpkin in the form of marinated tofu skewers. These are also seasoned in a Thai way. The tofu is marinated with a mixture of peanut butter, soy sauce, ginger, lime juice and sesame oil. We use maple syrup to sweeten the marinade. It combines quickly and easily with the other ingredients. Agave syrup or rice syrup are of course just as suitable. If necessary, normal sugar can also be used. Then just stir a little longer until it has dissolved.
The red curry paste gives the pumpkin soup a pleasant spiciness. If you are very sensitive, it is better to start with a teaspoon of curry paste instead of the specified tablespoon. You can always add spicyness afterwards. To take the heat away is unfortunately rather difficult. Fat in the form of more coconut milk helps at least a little.
If the soup is clearly too spicy for you, you don't have to throw it away right away. Dilute it with some vegetables (pumpkin, but also potatoes, etc.) and additional liquid (broth & coconut milk) until it is no longer too hot for you.
Since the soup can be frozen away perfectly, you don't have to worry about any leftovers. Having a ready-made pumpkin soup in the freezer on stressful days is like having an ace up your sleeve. Unfortunately, freezing only works in theory, because in practice there are never leftovers left from this liquid delicacy. 😉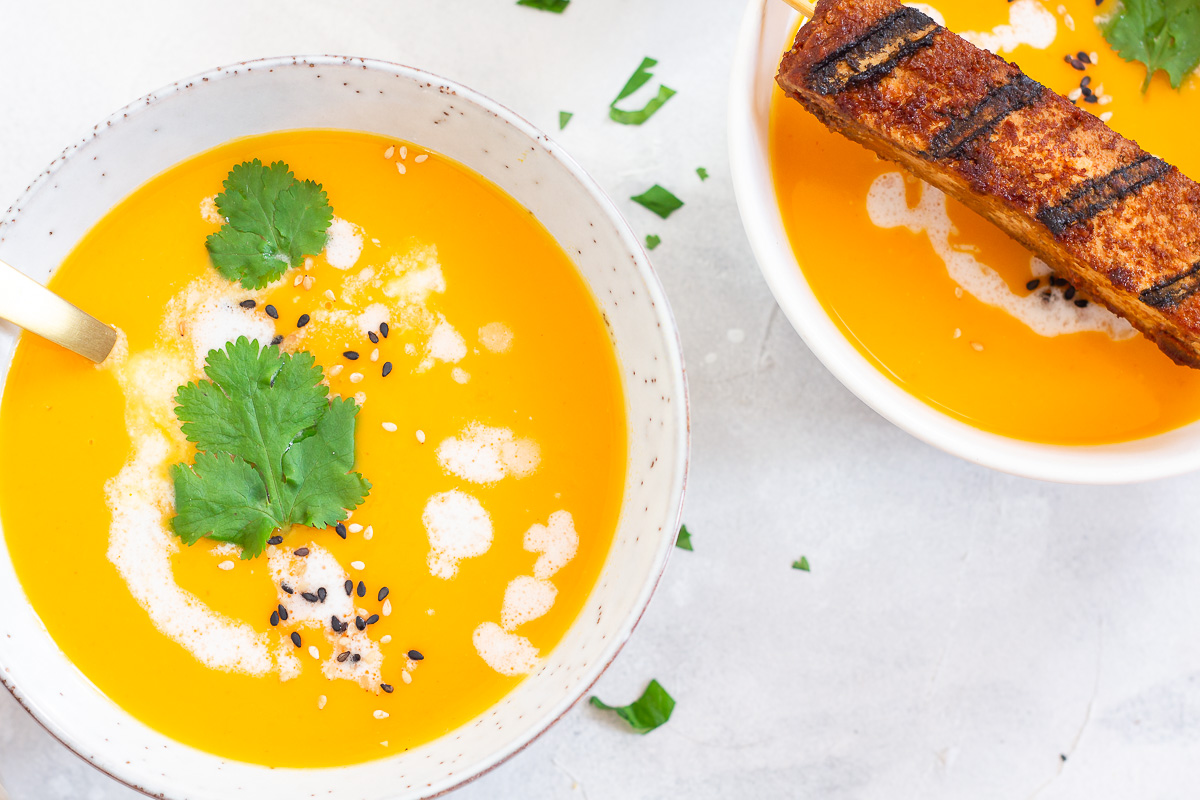 Vegan Thai Pumpkin Soup with Tofu Skewers
Ingredients
Soup
700

g

pumpkin

200

ml

coconut milk

1

tbsp

red curry paste

500

ml

vegetable broth

1

shallot

1

tbsp

coconut oil

1/2

bunch

cilantro

1/2

lime

2

tbsp

sesame seeds

salt
Tofu Skewers
300

g

tofu

2

tbsp

peanut butter

2

tbsp

soy sauce

1

tbsp

maple syrup

1

tbsp

sesame oil

1/2

lime

1

piece

ginger

,

approx. 2x2cm
Preparation
For the tofu skewers, grate the ginger and squeeze the lime. Mix with all other ingredients (except for the tofu) to a smooth marinade. Cut the tofu into strips or cubes, place on wooden or metal skewers and place in the marinade. The longer the skewers marinate, the better they absorb the taste. If you don't have much time, it is best to cut the tofu relatively thin.

For the soup, finely dice the shallot and coarsely dice the pumpkin. Heat a saucepan over medium temperature. Add coconut oil and curry paste and fry for 1-2 minutes. Add shallot and pumpkin and fry as well.

Deglaze everything with the vegetable stock, bring to the boil briefly and then simmer with the lid closed and at a low temperature for about 15-20 minutes until the pumpkin is soft. Add coconut milk and lime juice and blend until smooth. Season to taste with salt.

Grill or fry the tofu skewers from all sides at a relatively high temperature. While doing so, brush with the rest of the marinade.

Serve the soup sprinkled with chopped cilantro and sesame seeds. Serve with the tofu skewers.