This Sunday, one of the biggest sporting events in the world takes place again: the Super Bowl. For many, this is an occasion for unrestrainedly stuffing finger food. Maybe it's for you as well? But we think that you have to be allowed to do so once in a while. And homemade food is usually much healthier than convenience food anyway. Therefore, today we present you our vegan chicken teriyaki sub. It is a vegan version of the probably most famous sandwich from a large American fast food chain and thus perfectly suited for Super Bowl Sunday.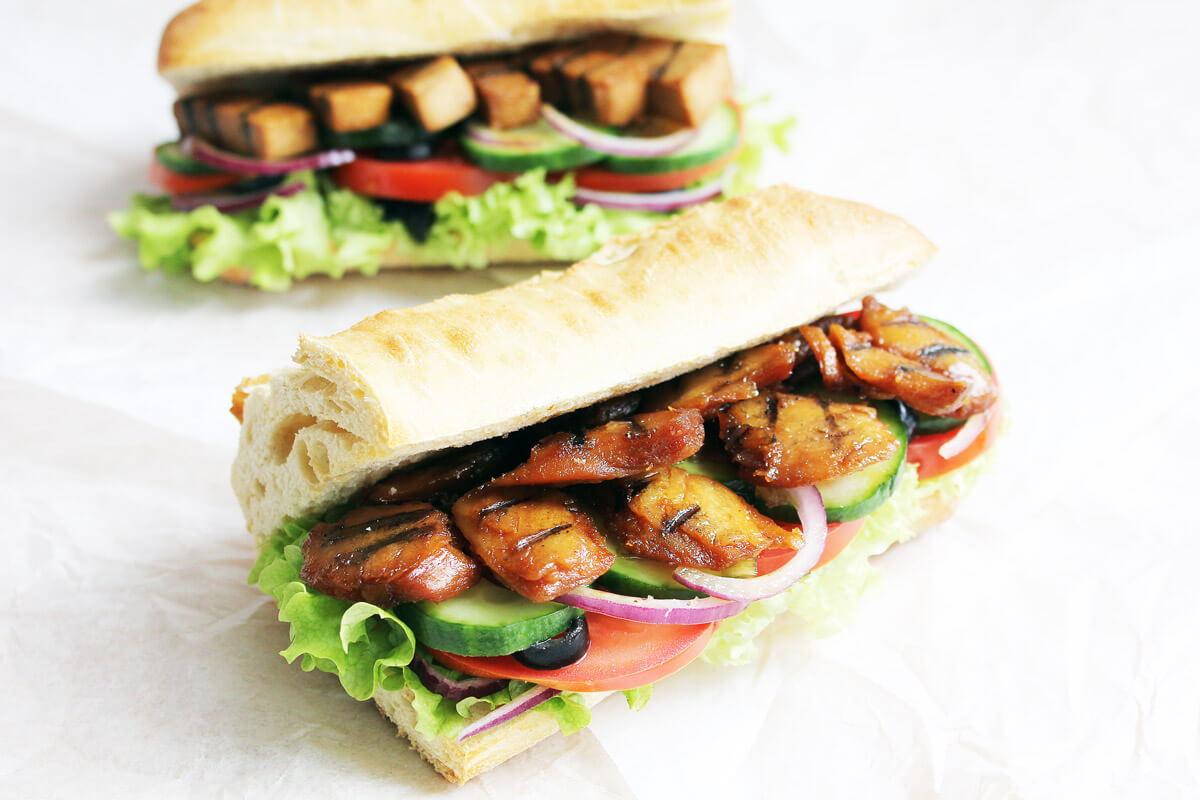 For the vegan chicken teriyaki sub we marinate tofu or vegan chicken (or both, why not) in a homemade teriyaki sauce. It is quickly mixed from only 5 ingredients. The sandwich also comes with cucumber, lettuce, tomato and olives. A dressing is still missing. Here we opted for a sweet onion dressing, which is also available in a similar form at Subway (unfortunately not in vegan). Of course, you can also simply mix a quick balsamic dressing or put a dollop of BBQ sauce on the sub instead. It's your choice.
If you want to serve up a lot of food for the Super Bowl and need more inspiration, feel free to check out our burger, sandwiches & snacks category. There you will find e.g. recipes for vegan chicken wings made from cauliflower, a pulled jackfruit burger or a vegan McRib.
Vegan Chicken Teriyaki Sub
Ingredients
SANDWICH
1

large baguette

1

tomato

1/4

cucumber

1/4

red onion

some leaves

salad

,

e.g. lollo bionda

10

black olives

,

pitted

180

g

vegan chicken or tofu
TERIYAKI SAUCE
50

ml

soy sauce

50

ml

mirin

,

swet rice wine

1

tbsp

sugar

1

garlic love

1/2

tbsp

sesame oil
SWEET ONION DRESSING
70

g

maple syrup

2

tbsp

onion

,

finely chopped

3

tbsp

white wine vinegar

1

tbsp

balsamic vinegar

1/2

tbsp

lemon juice

1

pinch

salt

1

pinch

pepper

1

pinch

garlic powder
Preparation
For the teriyaki sauce halve the garlic clove and fry in a small saucepan in sesame oil at medium temperature. Add sugar, mirin and soy sauce and bring to the boil briefly. Simmer at medium temperature for about 15 minutes, stirring occasionally. As soon as the sauce has become a little thickened, put it in a large bowl and let it cool.

Mix the ingredients for the sweet onion dressing well and briefly bring to the boil in a small saucepan. Simmer for 4-5 minutes on medium heat. Then let it cool down, too.

Cut the vegan chicken or tofu into bite-size pieces. Fry on all sides in a pan with a dash of vegetable oil or grill for even more flavor. Add to the teriyaki sauce to let it marinate.

Slice the tomato, cucumber, onion and olives. Halve the baguette lengthways, but do not cut all the way through. Roast briefly in the oven as desired. First add some sweet onion dressing to the baguette. Then top with salad and vegetables and pour some dressing over it again. Finally, add the vegan teriyaki chicken to the baguette. Enjoy!