Bánh mì is a Vietnamese sandwich and the perfect example, that a clash of cultures can result in great new things. It combines typical French ingredients like baguette and mayonnaise with Vietnamese flavours and freshness to create one of the best sandwiches I ever had. The French brought baguette to Vietnam during colonialism and since then you can find them everywhere on the streets of Vietnam. Bánh mìs are often made with liver pâté, cold cut meats, pickles, fried egg, fresh vegetables and herbs, but you can also find different kinds of vegetarian or vegan bánh mì options in Vietnam. They are called bánh mì chay and for example made with tofu or faux meat based on seitan and soy.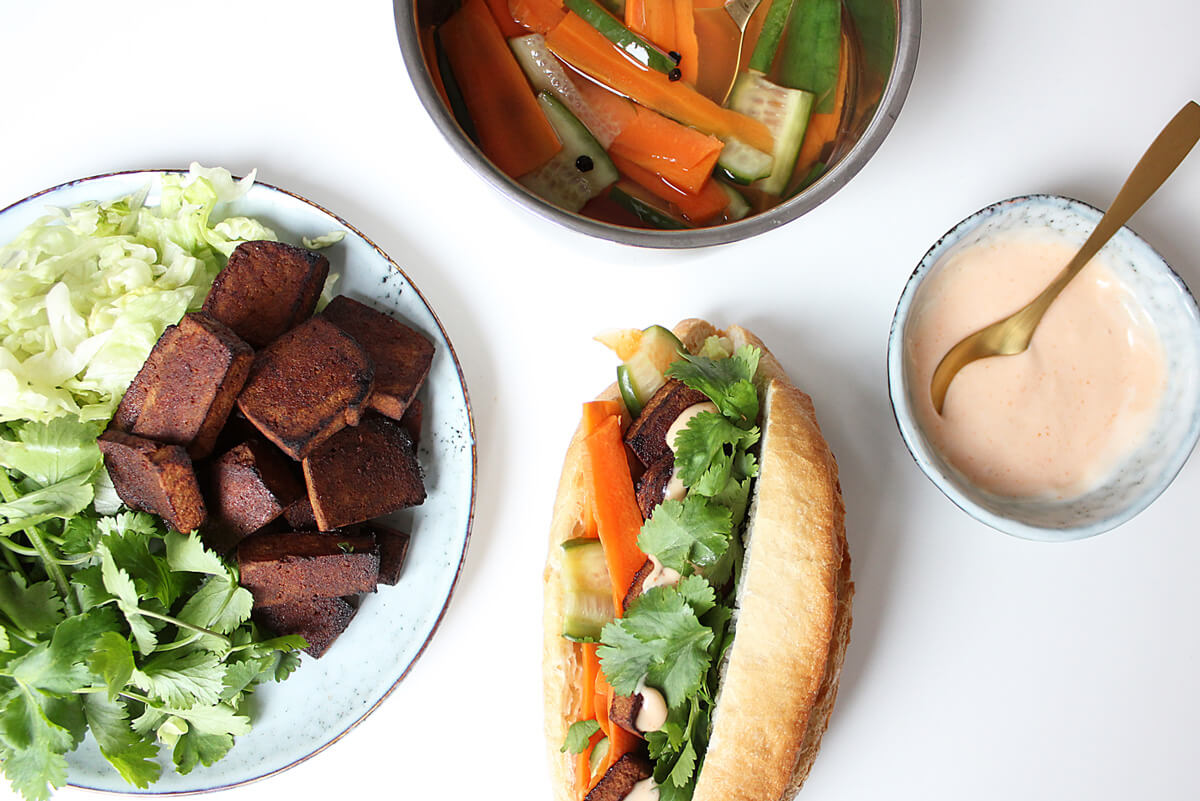 By the way, I usually get inspired by my own eating experiences and many different recipes and create my own recipe from there. But this time I stayed very close to a fantastic recipe by Lazy Cat Kitchen, which I really liked, and just tweaked a few things here and there. So I want to give Ania credit. Go and check out her blog please!
BANH MI TOFU
Ingredients for 3 bánh mì sandwiches (about 2,50 euros each):
BREAD AND TOPPINGS
3 small baguette (or 1 large baguette cut into 3 pieces)
1 bunch of cilantro
1/4 iceberg lettuce
6 tbsp vegan mayonnaise
1,5 tsp sriracha hot sauce
PICKLED VEGETABLES
2 carrots
1/3 cucumber
100 ml rice vinegar
100 ml water
50 g sugar
1/2 tsp salt
1 garlic clove, crushed
10 black peppercorns
MARINATED TOFU
300 g tofu
2 tbsp maple syrup
1 tbsp rice vinegar
4 tbsp soy sauce
1 tbsp sriracha hot sauce
3 tsp sesame oil
Preparation
1. Mix all the ingredients for the tofu marinade. Cut tofu into small chunks and put it in the marinade. Let it sit for a couple of minutes. Meanwhile pre-heat the oven to 180 degrees Celsius. Put tofu onto a paper-lined baking tray and let it bake for about 30 minutes. After 15 minutes, flip the tofu and brush with more marinade.
2. Cut or peel carrots and cucumber into thin slices (by using a knife or a veg peeler) and put them in a small bowl. Mix all the other ingredients for the pickled vegetables in a small saucepan and bring to a boil. Pour over the carrot and cucumber slices and let it marinate.
3. Mix mayonnaise and sriracha hot sauce. Roughly chop the iceberg lettuce. Finally top the baguette with sriracha mayonnaise, iceberg lettuce, pickled vegetables, marinated tofu, cilantro and you're ready to roll!