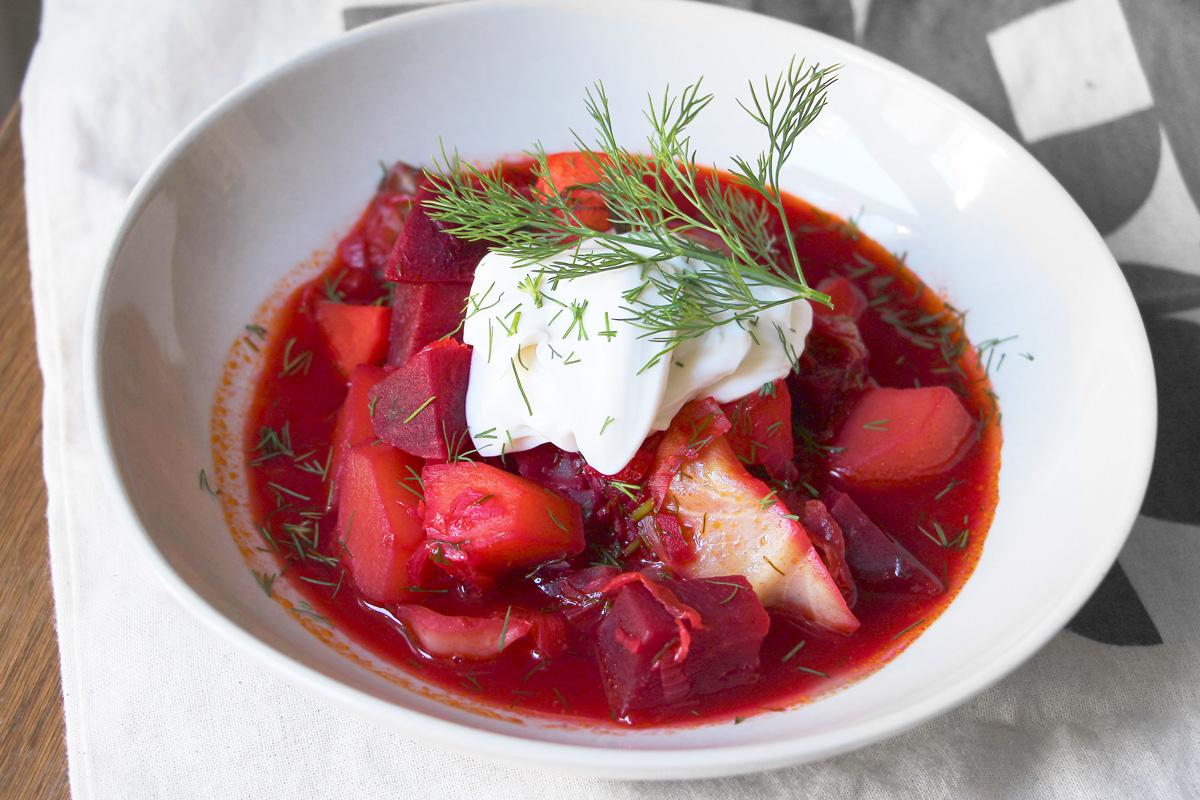 We heard about borscht from a roommate with Russian roots. Borscht is a stew with beetroot originally from Ukraine, but it is also widespread in Poland, Russia, Belarus and Romania. This recipe is our vegan version of the sweet and sour stew with lots of vegetables.
Originally, borscht is most of the time prepared with meat or bone broth. With us, of course, vegetable broth serves as the basis for the hearty, round flavour of the autumn and winter dish. A little acidity and fresh dill shouldn't be missing, as it is common for a typical dish of the borscht belt. Traditionally, borscht is served with a dollop of sour cream, which we replace with vegan crème fraiche. Vegan cream cheese also works well for this. This can be found more easily in smaller cities and rural regions.
The cooking time for the vegetables in the stew is less than half an hour. Meanwhile, you can prepare a tomato roux and toast slices of bread. The tomato roux gives the broth an even more beautiful, deep red color and gives the dish an additional, fruity note.
Vegan Borscht - Ukrainian Stew
Ingredients
Stew
500

g

potatoes

400

g

beetroot

300

g

carrots

200

g

white cabbage

,

alternatively sauerkraut

1

onion

1

clove

garlic

1

l

vegetable stock

2

bay leaves

1/2

bunch

dill

2

tbsp

vegetable oil

white wine vinegar

salt + pepper
Tomato Roux
2

tbsp

tomato paste

2

tbsp

vegan butter

2

tbsp

wheat flour

300

ml

water
For serving
bread

1

clove

garlic

1/2

bunch

dill

150

g

vegan crème fraiche

,

alternatively vegan cream cheese or yogurt
Preparation
Cut the onions and garlic into small cubes. Peel the remaining fresh ingredients and cut into bite-sized pieces.

Sauté the carrots, beetroot, onion and garlic in oil in a large saucepan and deglaze with the vegetable stock after 5 minutes. Bring to a simmer on medium heat. Add the cabbage, potato pieces, bay leaves and dill, season with salt and pepper and simmer with the lid closed at a low temperature for about 20 minutes.

In the meantime, toast the bread slices on both sides in a grill pan and rub them with a raw garlic clove.

Sauté tomato paste and vegan butter in a pan. Add the flour and stir to make a roux. Gradually pour in the water until everything combines and the liquid thickens when simmering.

As soon as the vegetables in the stew are soft, add the tomato roux and simmer for another minute. Season with a little vinegar and salt. Serve with a dollop of vegan crème fraiche, chopped dill and the bread slices. The stew tastes delicious right away, but it's even better if you let it sit until the next day.